These days, themed weddings are all the rage. Couples usually incline towards a theme wedding as having a concept makes planning the wedding much easier and rightly so. Zooming in on a single theme means easier selection of colors, decoration, venue coordination and of course, a wedding gown. If you too are flirting with the idea of having a theme wedding, you may want to think about a beach themed wedding. Beach weddings are romantic and beautiful. Not to mention there are many places you can draw inspiration from – Pinterest, Instagram, Tumblr, and what have you. You only need some creativity and a lot of imagination.
Here we will explore different hints and tips to help you plan for your perfect beach wedding.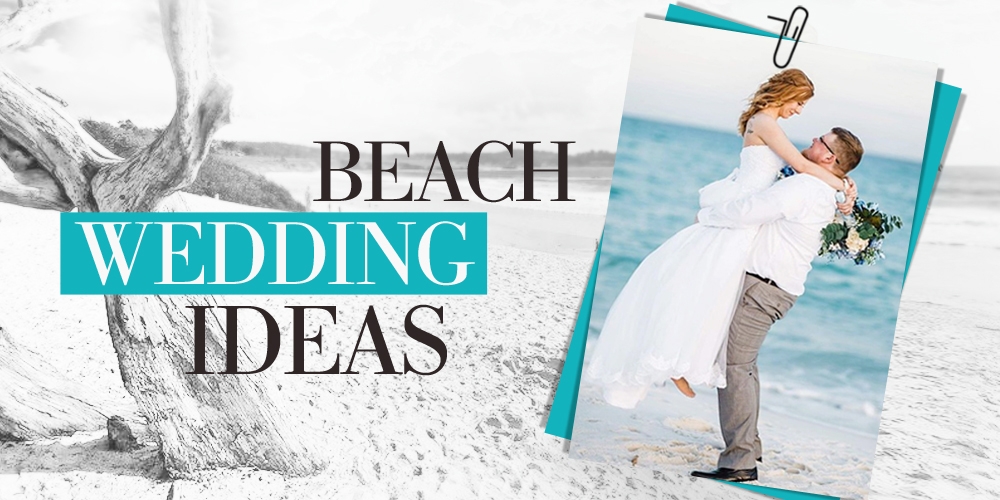 1. Unique wedding invites
One simple idea of an invitation for a beach wedding is to put some seashell patterns on the wedding card. Embossing is also a great choice. What is good about embossing is that the guests can "feel" the seashell patterns by their hand. Alternatively, you can print images of seashells, palm trees, ocean waves or a tropical sundown on the card to get your guests in the mood for your wedding.
2. A breezy wedding dress
While nothing could be more romantic for a beach setting than a traditional short and simple knee-length tulle dress, an elegant A-line chiffon wedding dress with a train is also a gorgeous choice. You can also consider a strapless or halter-topped mermaid wedding dress as they are a hot trend for beach wedding dresses in 2018.
There are wedding gowns that are specially designed for brides who wish to have an informal wedding especially for the beach. They are unusually free flowing, with simple lines, sometimes very colorful and definitely a far call from conventional. There are designers who specialize in beach wedding dresses with a beach theme. And even you do not want to get a designer wedding dress you could just get yourself a comfortable beach dress that you are comfortable wearing and get married.
3. The perfect wedding location
Wouldn't you just love a beach wedding location? Picture the waves rolling mildly on the seashore. Imagine that you're walking on crumbling white sand, in the wedding dress of your dreams, with flowers in your hair. Think of your friends and family beaming at you, with a tear or two in their eyes. Envisage standing next to that one person in the world, with the minister in front of you and the open sea in the distance.
Romantic, right? Well, that's likely why a lot of couples today are fixed on a beach wedding location. There's something so simple yet poignant about a beach wedding. And after the ceremony, everyone gets to have loads and loads of fun!
Just remember to do some research on the location you choose. A simple Google search is all that's needed for you to know about any beach wedding location.
4. Dazzling bunch of flowers
For your beach wedding, bright colors are perfect. A big bunch of flowers tied with a silk ribbon will add to that tropical feel of your wedding. While most brides-to-be pick flowers in vivid hues, including purples, hot pinks, oranges, and yellows, you can also side with softer shades. Rest assured they will make incredible additions to your beach wedding bouquet.
5. Unforgettable photographs
What can catch the excitement of your wedding better than photographs taken in front of the stunning sands and waves? For many, a beach wedding is a dream. Your wedding photographs will capture that dream for all eternity so when you are old you can share that quintessential day with your grandkids. Make sure you hire an experienced photographer to get some unforgettable pictures of your beach wedding.
6. Remarkable decorations
A beach theme is already unique in itself but if you wish to make it even more special and colorful, you can do that with the suitable decorations. From lighthouse-shaped candle stands to a wedding cake shaped like a boat and even ocean blue colored fabric for your backdrop, you can organize everything in the form of things mainly associated with a beach.
There are many ideas to choose from when planning your beach wedding. All that's required is a little time, effort and imagination, and before you know it you will be taking a dip in some amazing beach wedding ideas. If you shop around for different ideas online, you'll be able to plan the beach wedding of your dreams- oh, and one more thing. Don't forget to play the Beach Boys!