Picture yourself walking down the aisle looking drop dead gorgeous in your glamorous lace bridal gown. A pleasant thought, isn't it? Over the past couple of years, lace wedding dresses have witnessed an unprecedented growth in terms of popularity. The best part is that they are of different types, so you have a myriad of options to choose from. Listed below are six most desirable and lovely lace wedding dress ideas that you can consider for your big day.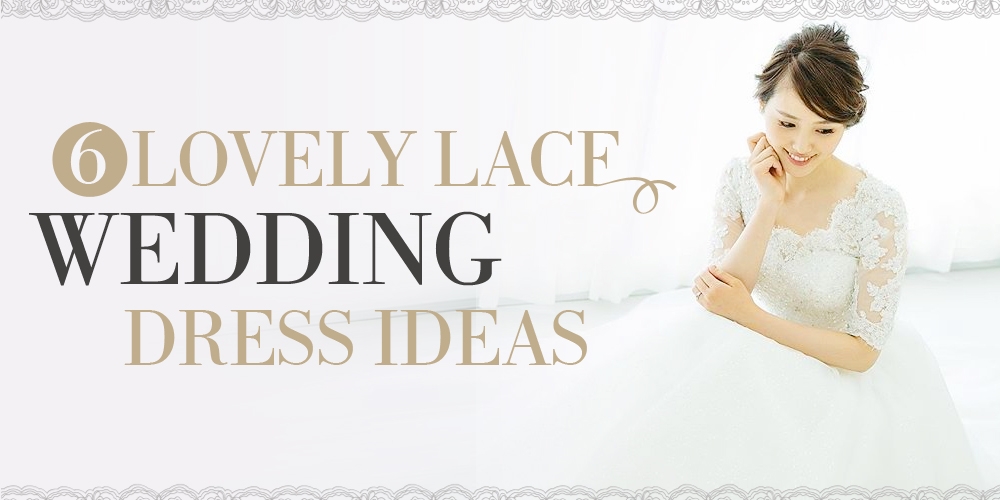 1. Empire waist lace wedding dress
One lace wedding dress that deserves special attention is the empire waist dress. This dress is incredibly sought-after and you have likely already seen it in several top women's interest magazines. This dress is absolutely gorgeous, with a long flowing look and lacy print fabric. This specific cut has been proven to be very forgiving for more or less any body type. An empire waist lace wedding dress indeed offers an urbane and graceful look for the more discriminating tastes.
2. Sleeveless lace wedding dress
The ruffled and sleek look of a sleeveless lace is all the rage with women of all different shapes and forms. A sleeveless gown was out of the question for a wedding just a few decades ago, but today it has gained burgeoning popularity. And for good reason, a sleeveless lace dress brings a contemporary style and comfort not found in other cuts. Going sleeveless is a way for you to draw attention to your beautiful arms and neckline, and even more so with a lace dress.
3. Lace neckline wedding dress
Wedding gowns with necklines embellished with meshwork have been one of the hottest wedding dress trends this year. This type of lace wedding dress has a straight from the red carpet appeal that exudes glamour and poise. A bridal gown this fabulous needs to be accessorized to the nines. A necklace simply will not do the trick, so you may want to complete your look with sparkling Swarovski crystal bracelets and a dazzling pair of crystal drop earrings. Now that is a dream dress!
4. Long sleeve lace wedding dress
When you go for a marvelous long sleeve lace wedding dress, the end result will prove itself to be an unfailing beauty. Every embroidered lace detailing can be styled to a graceful finish and as a result, a captivating look with trendsetting style is accomplished. You can also give a personal touch to your appearance with Gothic styled cuffs if the sleeves are long. This would marvelously transform your look to unique fashion fad, indeed.
5. Mermaid lace wedding dress
A Lace mermaid wedding dress turns out to be the choice dress for brides-to-be presently. This dress is among the most trending dresses on the market and rightfully so. They reveal that mermaid-like figure that every girl wants to flaunt. If you do not want to be left behind when it comes to making fashion statements on your big day, a lace mermaid dress would be perfect. From a v-neck for women with fuller busts to an embellished, beaded one to a strapless tank, you have a ton of options to choose from. With a hand-picked and elegant lace mermaid dress, it is beyond a doubt that you will turn heads when walking down the aisle.
6. Lace appliqué
Here the ornamental lace detail is sewn to the base fabric such as netting or meshwork. This style is an excellent way of folding in the allure of the lace into your wedding day look. The appliqué can be over the bridal gown or be concentrated on other areas such as skirt, neckline, or bodice. Lace appliqué represents a sense of panache and can also be tempting at the same time.
You beautiful brides-to-be, lace is perhaps the most romantic type of fabric that a fashionable bride can settle on for a more timeless, beautiful wedding. It cannot just be overlooked that wedding dresses with lace sleeves are the spotlight of edgy fashion trends to impeccably show off your fashion taste.