Weddings are a big deal. They can also be a big source of waste. If you have been wondering how to have your wedding without doing too much environmental damage, consider having a low-waste wedding. Low-waste weddings are growing more and more popular. They are often less expensive than conventional weddings and are just as satisfying. All it takes is a little bit of planning, and you can have a wedding ceremony and reception that leaves you guilt-free.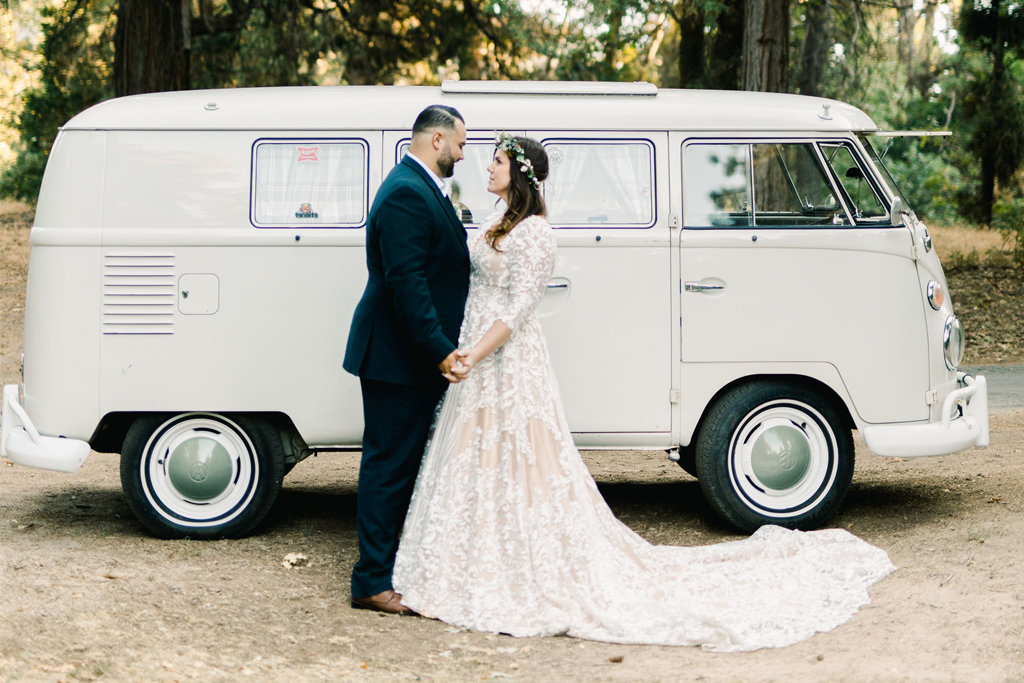 Style: #LD5190, Image Credit: Colleen kleinberg Photography 
Here are six smart ways to have a low-waste wedding:
1. Stationary and invitations
You need to notify your guests that you are getting married, so you are possibly sending out 'Save the Dates' and definitely invitations. You may also use place cards, menus, programs, shower invitations, and thank you cards later on. That is a lot of paper! Paper, of course, comes from trees. Just by printing on recycled paper makes a difference. If you want to eliminate the use of paper altogether, consider sending invitations by email which will reduce waste entirely and save you hundreds of dollars in invitation and mailing costs.
2. Menu
If you have your wedding reception catered, you can try serving food from an organic menu. Yes, it may be a little more costly, but the food served will be less harmful to the environment and better (and more delicious) for all your guests. You must also try to avoid a buffet because you will end up wasting a lot more food. Stick to plated meals instead. This also means less dirty dishes, therefore reducing water waste. With a little research and an extra buck or two, you can even find organic dinnerware.
When it comes to the liquor, you can get one of the many brands of organic liquor or you can mix the liquor with organic juices–fruit squeezed right there by your bartender will assure your guests that they are drinking the absolute freshest juice.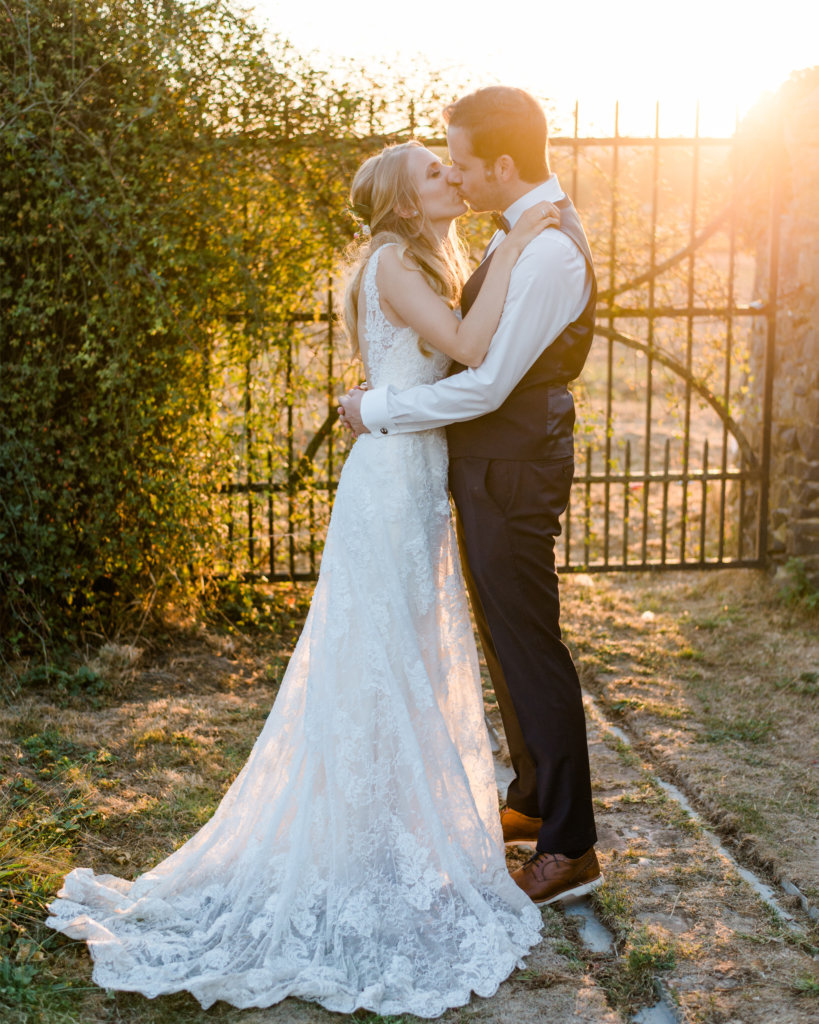 Style: #CWVT15002, Image Credit: Miriam Peuser Photography 
3. Flowers
For your wedding flowers, buy organic, locally grown blooms that are in season. If you have a green thumb of your own, you may also want to consider growing your own flowers. Do not forget to reduce, reuse and recycle. Less is more–so try not going too crazy with the floral arrangements and bouquets. Post wedding, (if your guests have not wiped them all clean), try composting your flowers, or perhaps passing them along to a hospital or nursing home. You are reusing them, and also brightening someone's day. Why would you want to waste that?
4. Dress
When it comes to your wedding gown or your bridesmaid dresses, think 'light': thin, natural fibers like silk and organic cotton. Natural fibers are better for the environment than synthetic fibers (of course!), and will more than likely be re-wearable, either as-is or with some modifications. Plus you can find a wide range of inexpensive bridesmaid dresses and wedding dress in natural fibers when you shop online. You might also consider asking family members or friends if you could wear their dress (i.e. your mother or grandmother) as an alternative to purchasing a new dress. Recycling fashion is a great way to add sentiment to your wedding while also being eco-friendly.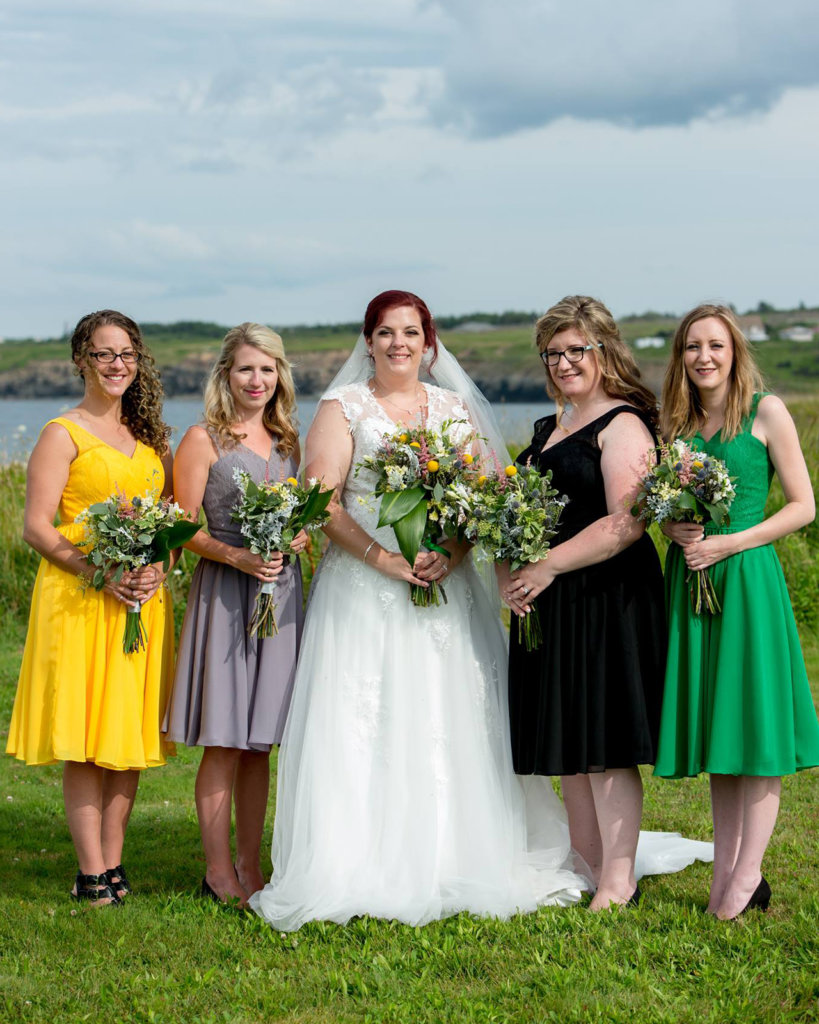 Styles(from left to right):#COZK16001 & #LD3258,Image Credit: Melissa Keel Photography
5. Rings
Mining for either gold or other gems is very destructive and involves a lot of toxins that are harmful to the environment and eco-system. Thankfully, with a bit of research, you will easily be able to come across eco-friendly wedding bands or engagement rings. Do not hesitate to ask an elder family member to pass a ring along to you too. The relative may be more than happy to keep something so valuable and memorable in the family. With a little TLC, the jewelry you may have thought gaudy will probably end up sparkling. Voila – your ring is now classy and vintage.
6. Favors
You cannot forget about favors either – to remain environmentally friendly, wildflower seeds are a bestselling choice. They are adorably packaged and fun for your guests since they get to plant them. Also consider giving out candy or chocolate, that way you can rest assured that your favor will not go to waste. Another great alternative is to make a donation in lieu of a favor.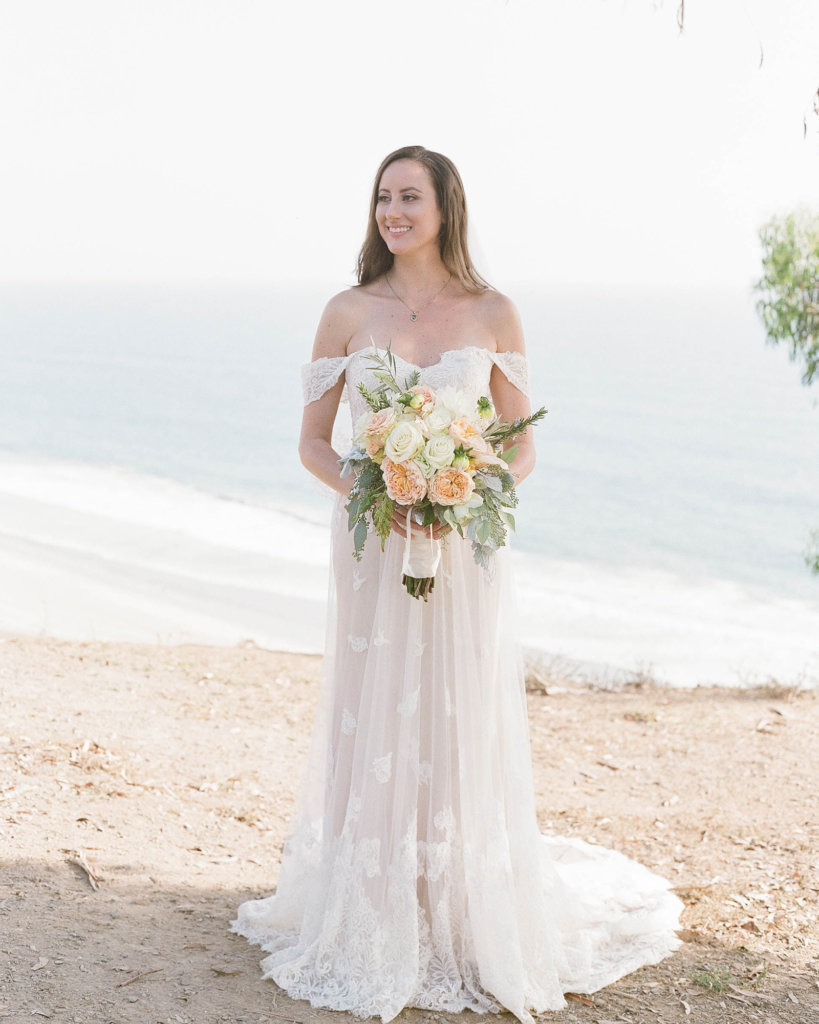 Style: #CWZT15008, Image Credit: Mieke Snepvangers
Low-waste weddings are not just a trendy buzzword anymore. More and more couples all around the world are having low-waste weddings. With the above-mentioned ways, you can throw a fabulous, yet eco-friendly wedding without all the stress.