After you have had a beautiful wedding ceremony rocking that flawless lace wedding dress of yours and hosted a marvelous reception, it's time for you to make your grand exit from the reception, with all of the assembled guests cheering as you dash off to your honeymoon. Sure you can make your escape in a typical limo, but there are more unique and dramatic ways you can exit from the reception. So here are seven creative send-off ideas that you can pick from for the perfect finishing touch to your dream wedding.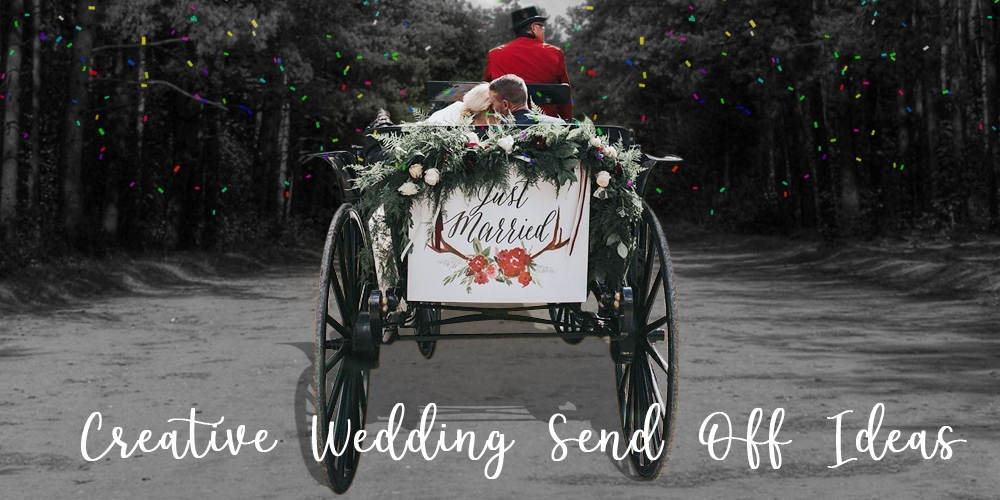 1. Sparklers
Sparklers are ideal for any wedding send-off and really, who doesn't love some good old firework? What is perhaps the most fascinating aspect of these little sparklers is their allurement. They glitter much brighter than the beading on your mermaid wedding dress or the ring on your left ring finger. A sparkler send-off is truly timeless and classic, and the best part? You can perk up the sparkler send-off by carrying sparklers yourselves as well.
2. Sky lanterns  
Many brides are now under a spell with making an exit in their flawless A-line wedding dress with magical and beautiful sky lanterns in the backdrop. The whole idea of sky lanterns is so romantic and tempting, that you would want the same for your wedding! Just picture a sky filled with hundreds of eco lanterns released just when you're about to escape the reception! Would you ever lose sight of such an iconic moment of your special day?
3. Bubbles
Wedding bubbles are another fun way to make your exit from the reception. By placing the wedding bubbles bottle near the wedding aisle, you can allow your guests to make bubbles for your magical departure.
4. Colorful rose petals
As you get everything set for your extravagant exit, your family and friends can come together to shower you with a canopy of aromatic and colorful rose petals. Rose petals are a wonderful alternative to the conventional rice or bird seed that is tossed in the closing moments of a wedding reception before the wedding couple heads off to embark on their new life with each other as Mr. and Mrs. Just Married.
5. Paper airplanes
If you are flying off to your honeymoon destination shortly after escaping the reception, the toss for your adieu should have an almost identical flavor. So, why not go with paper airplanes? Needless to say, as you dash away with your hubby arm in arm, the sky full of paper planes would look astounding. A blanket of paper planes held in the air also contributes to some stunning pictures for your wedding album.
6. Smoke bombs
The trend of smoke bombs is blowing up right now (literally!). Make an exit in the midst of the dazzling clouds of colors and create a romantic and heavenly backdrop that looks absolutely other-worldly. Not only will smoke bombs put on an epic show on your exit, but they will also make your wedding photographs unforgettable.
7. Your favorite pastime
If you believe you're an active couple, you may want to incorporate your favorite pastime into your reception exit. If you get married in the winter, you could strap on a pair of skis, and swish off, hand in hand with your significant other. A pair of jet skis would be just as fun in the summer (obviously, you would need to be near water).
If you want to provide your guests with one last thrill at the end of the evening, then, by all means, surprise them with a creative send-off. Needless to say, if you have exhausted your creative wedding planning energy and drained your budget on a grand chiffon long sleeve wedding dress, there is nothing wrong with the old-fashioned get-away: a car bedecked with old shoes and tin cans for luck.
Happy married life!