Accessories are an important part of every appearance and offer a whole new opportunity to express oneself. The most important item on a bride's list is her wedding dress but no bride will be ready to walk down the aisle without some gorgeous accessories to complete her final look.
Bridal accessories work as the final finishing touch to the wedding look for a polished and refined appearance. We've come up with some must-have accessories to help you get organized for your big day!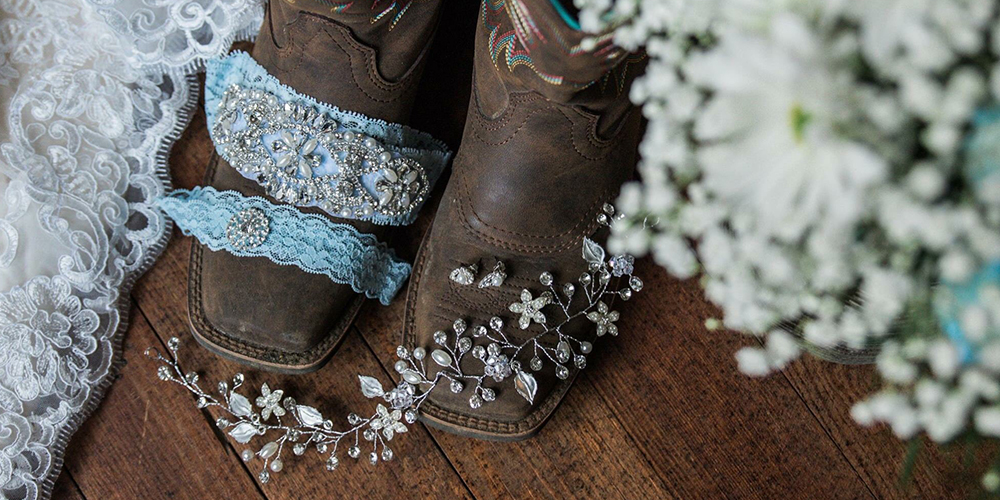 1. Shoes
Shoes are the most important accessory for your wedding. If you're looking to add a quirk to your big-day ensemble, your shoes are the best place to start. Match your wedding dress with a cream or white lacey peep toes or make your outfit pop with metallic heels or textured laser-cut heels. A bold color like flaming red or cobalt blue can help to build a statement look.
2. Hair Accessory
A gorgeous hair accessory can a hefty dose of style to your overall outfit. You can choose from a variety of options- tiara, crystal headbands to flower crowns and simple hairpins, the options are limitless. If you're opting for a traditional veil, you may pick an extravagant hair accessory whereas if you're opting for a birdcage or a blusher veil you can keep your accessory fairly simple. It's all about finding the right balance between your accessory and the overall look.
3. Earrings and Necklace
Customary bridal jewelry includes the engagement ring and the wedding band. However, if you're going for a modern look, try adding a delicate neckpiece or elegant earrings to stand out from the crowd. Consider the neckline of your dress and play with the sizes of your jewelry. However, remember to stick to only one accessory at a time as an over-the-top combination can draw attention away from your face and ball gown.
4. Outerwear
If you're getting married in the chillier months, enjoy the magic of the season with a wrap, shawl or any form of outerwear to keep you warm while also serving as a standout accessory. A faux fur coat is equal parts romantic, glam, and warm. You can also opt for a bolero or shawl to match your gown. It will work as an extra coverage especially if you're getting married in a place of worship.
5. Gloves
A simple pair of gloves works as a standout accessory in a vintage themed wedding. Adorned with feminine details, bridal gloves come in a variety of styles in materials like lace, satin, and crochet. You can even incorporate it in a modern look with more contemporary options like nude beaded designs and fingerless styles. Though an uncommon accessory, they work wonderfully to add a uniquely personalized look to your big day!
6. Sash
If you're looking to perk up your look, a sash is the best way to jazz up your mermaid wedding dress. They are often studded with sequins and rhinestone in intricate designs. Modern sash designs also feature sequins, floral belts as well as crystal sashes. You can even DIY your sash to inculcate your personal style into your wedding day.
7. Bridal Bracelets
Bridal bracelets work best for minimalistic brides who prefer to keep their look fairly simple. It is a classic wedding accessory and chances are you're going to be wearing it long after you've said "I do.". From delicate pearls to geometric cuffs, there's a bracelet for every bridal style. Mixing different materials, shapes, and sizes can have a big impact on the finished look.