Disney princesses have a really special place in the hearts of little girls. But that's not to say that grown-up women can't join in on the fun. Women's penchant for princesses and fairytales now seems to seep over into the wedding industry. In fact, Disney-inspired fairytale weddings are a new niche for brides and princess coinsurers to explore. For a variation on the typical wedding, many brides-to-be are combining their big day with Disney themes to create a magical fairytale wedding.
If you too want to have an elegant, Disney-inspired wedding celebration of your love, why not consider having a Beauty and the Beast wedding theme? Such a celebration can be an unforgettably beautiful wedding experience that you and your guests will talk about for many years.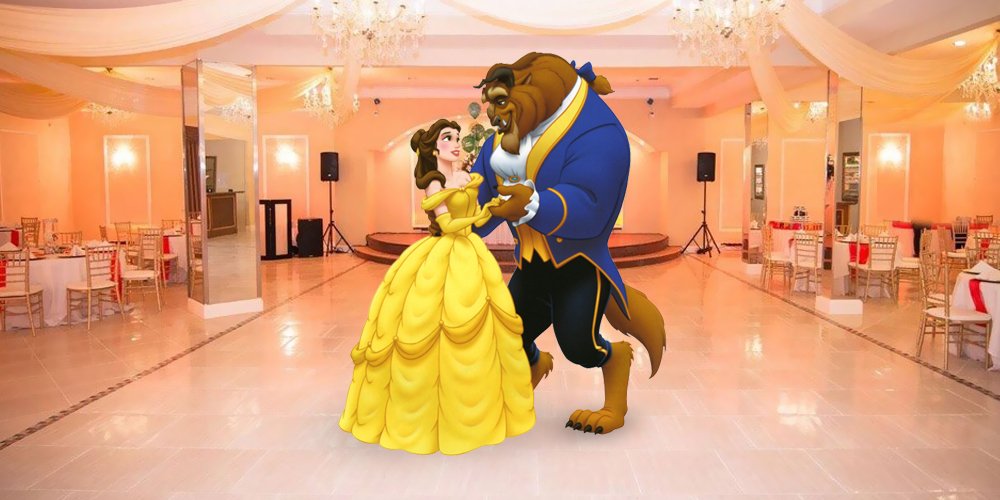 1. Start with a magical location
Before anything else, you need to pick a location to get married. Disneyland is a great place to have a "Beauty and the Beast" wedding ceremony. Not only is the location visually stunning for photographs, but it will also set the right mood for your wedding. That being said, if Disneyland is not in your budget, you could easily set up a chateau or princess theme at your local church or recital hall.
2. Look like a princess
Choosing the right wedding dress for your Beauty and the Beast wedding is really important. You, after all, have to play the role of the beautiful Belle. Most wedding gowns whose designs are inspired by fairytale princesses are elegant sheaths that flair somewhere around the knees into a gorgeous train – think a white or if you dare, a soft yellow princess gown or a ball gown wedding dress. By choosing such a wedding dress, you can lay the foundation for a tasteful homage to the Beauty and the Beast theme of your wedding.
3. The girls need to look like princesses too
It would be fun to have each member of your bridal party dressed as a different princess. For example, since you are wearing Belle, they could each wear Cinderella, Snow White, Rapunzel, Aurora, Ariel, Jasmine… you get the idea. Just make sure their dresses are colorful – mix and match bridesmaid dresses would look just in place for your fairytale princess-themed wedding.
4. Have a breathtaking entrance
If you want to make your wedding even more unique, special and true to the theme, you can also consider hiring a horse and carriage, if you can afford it. You can have your chauffeur gallop you down the street to the front of the wedding venue with your white horses leading the way. As you arrive at the venue, walking in your beautiful A line wedding dress, the trumpeters can then start blowing on their trumpets announcing your arrival – just like a princess. If this isn't a jaw-dropping entrance, we don't know what is.
5. Go zany with the favors
For your wedding favors, you can recreate the props from the Disney classics such as the mirror or rose enclosed in a glass case. You can also consider serving tea in Mr. Potts. Or, give out Cogsworth clock or Lumiere candles for a magical effect. Classic and sweet, try Belle and Beast favors in chocolate. The popular princess and beast head shapes are available in cookies and chocolates as well as a cookie cutter for making your own creations. Decorate your sweet treats with icing by making faces or writing your and your spouse's names. Present them on reception tables in glass serving dishes for an elegant look.
6. Wow your guests with the invitations
Beauty and the Beast-inspired wedding invitations are never a bad choice. With them, you can rekindle joyful memories and place a very blissful, pleasurable mood to your wedding. A beautiful card tied with a graceful rose-colored ribbon, one that has a rose imprinted on it will be fantastic!
7. The icing on the cake
Your wedding cake is going to be one of the main decorations of your wedding – more spoken of than the flowers on the tables or the wedding favors taken home. After the wedding, your wedding-cake topper can be used as a keepsake to display, to remind you of the wonderful memories of your day. If you're looking to crown your cake with something that is both stylish and special and fits your Beauty and the Beast theme, you can consider featuring toppers such as the classic ballroom scene or stained glass windows. Also, when has a castle cake topper ever looked too much?
8. Have Fun with the Music
Be creative with the music you choose to set the tone for your beauty and the best wedding. If your wedding has a majestic theme, then you will most likely want more regal, courtly sounding music. Of course, you could always pay homage to the Disney's Classic by using the enchanting instrumental scores from the 1991 animated version of Beauty and the Beast. The entire soundtrack album of the 2017 adaptation of Beauty and the Beast will also be an excellent choice for your wedding music. You can even make your entrance to the song "Evermore."
Whether you simply want to include a few subtle references everywhere in your wedding or go all out with the theme, the beauty of taking inspiration from Beauty and the Beast is that whatever you do, it will undoubtedly make your wedding beautiful, magical and unforgettable.