While a pre-ceremony first look might make for a sweet memory, it is not for everyone. Some brides love the first look while others prefer to wait for a grand reveal.
If you're contemplating whether to have a sneak peek before walking down the aisle or save that magic for later, we've rounded up 8 pros and cons to consider!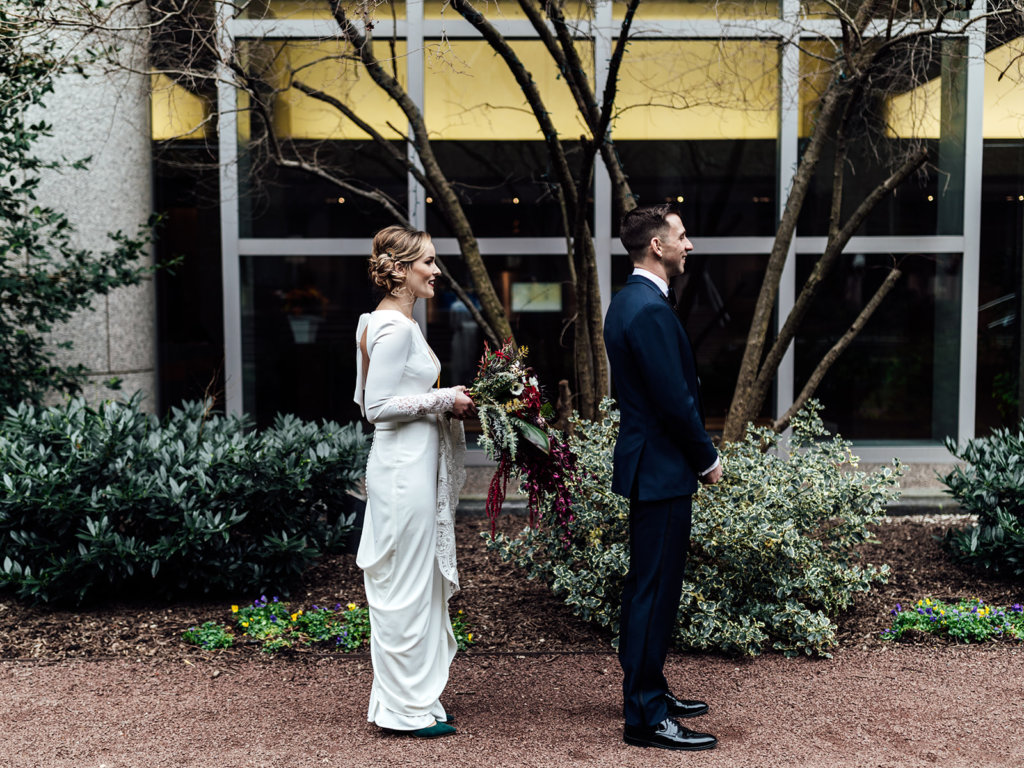 Style: #1064, Image Credit: Jessica Manns Photography
1. Pro: It's A Great Photo Opportunity
First looks generally come with a pre-wedding photoshoot. Having your photographs taken just after you get ready means you're going to look your best and you can end up with a ton of good shots for your wedding album. You can choose any location of your choice, however, make sure it's secluded to prevent any guests from seeing you. You can also ask your photographer to arrange for some interesting backdrops and props to give you a full on photoshoot experience.
2. Con: Your Day Will Have To Start Earlier
Taking photos before the wedding means you and your entourage will need an early start to your day to get your hair and makeup done in time. If you're having a brunch wedding or considering a daytime ceremony, you may have to wake up at the crack of dawn just to be ready in time!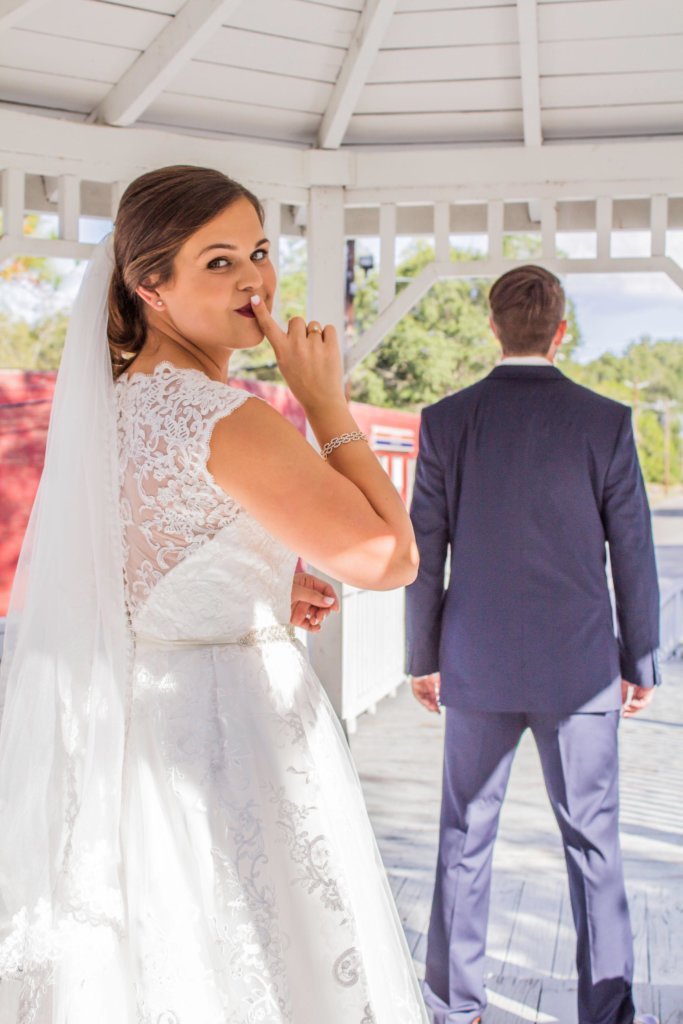 Style: #LWXT16001
3. Pro: It Can Ease Off Nerves
Generally, there's a lot of emotional build-up on the wedding day and it's given you're going to be nervous and have a lot of jitters! A first look allows couples some intimate time together, provides reassurance and can ease off nerves before the ceremony. This will be the only alone time the two of you will get during the day, so savor the moment and really bask in it!
4. Con: It Can Take Away A Bit Of The Magic
Avoiding the first look altogether creates an element of surprise and builds excitement. The first time you and fiance see each other during your big day is a special moment you're going to cherish forever. And if you really want that first look to happen at the altar and share the moment with your loved ones, a pre-ceremony glimpse can take away that special moment from you.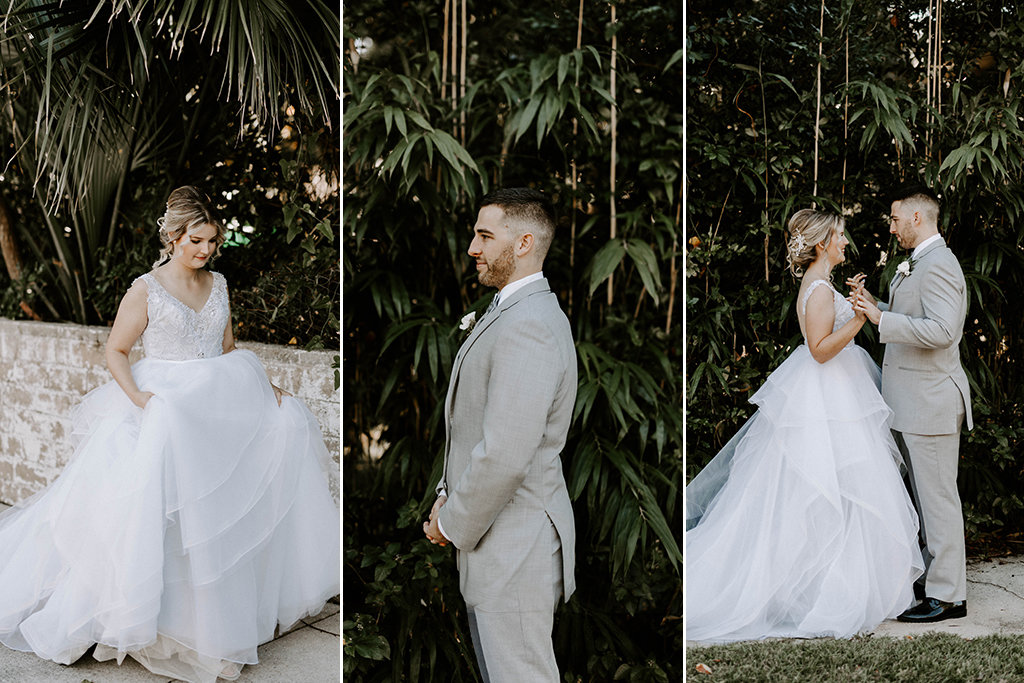 Style: #LD4981, Image Credit: Taylor Kaderly Photography
5. Pro: You Can Make The Most Out Of Your Photography Session
An aisle reveal means you'll have to schedule your photography session during the cocktail hour, between the ceremony and the reception- which means it's going to be a tight schedule. With a first look, you don't have to worry about being late to your own reception or keeping your guests waiting while you have your 'sweetheart' photos taken with your partner. This also means you can mingle and enjoy with your guests during the cocktail hour.
6. Con: Your Wedding Attire Could Take A Beating
If you're taking your photo shoot outdoors, your bouquet could end up getting a little dry and wilted especially if the day is warm or breezy. Your wedding dress could also gather up some dirt especially at the hem and you do not want to feature that as you walk down the aisle. Moreover, all that posing means your carefully coiffed hair and makeup might need a touch up before the real ceremony begins.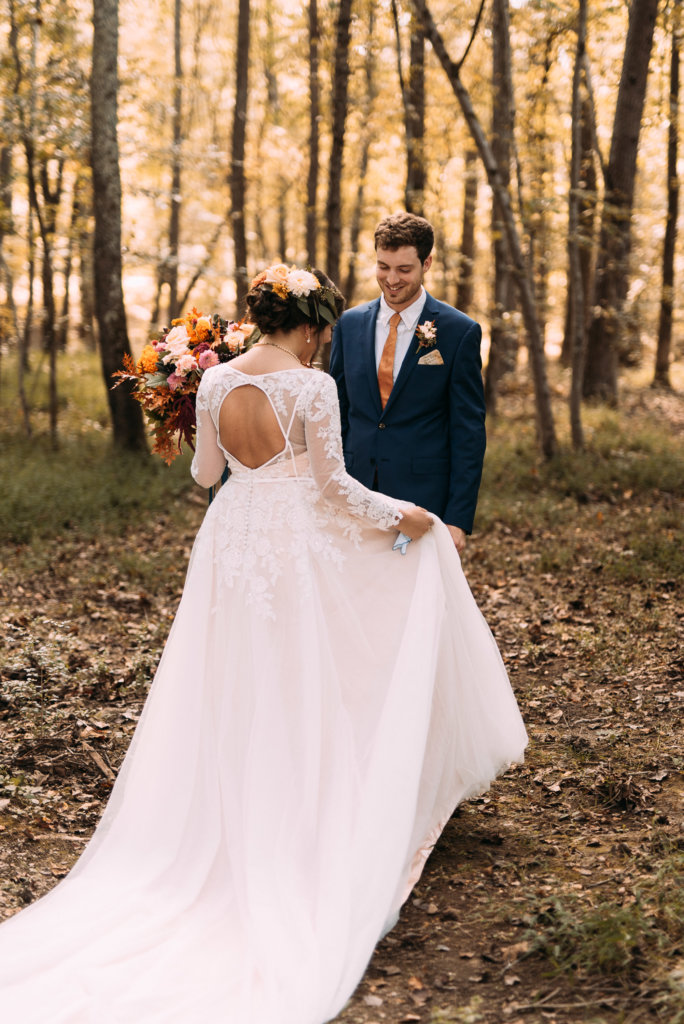 Style: #LD4432, Image Credit: Mary Claire Photo
7. Pro: You Can Get The Waterworks Out Of The Way
If you're an emotional person, its guaranteed that there is going to be a lot of tears during the ceremony. It is every bride's dream to not sob hysterically at the altar so if you think you're going to be one of them, a first look could help to get some of those feelings out of the way beforehand. This will help you gather some composure before your big day begins.
8. Con: It Could Get A Little Awkward
If you were hoping for a private, candid moment with your partner, you may end up being more reserved than you thought in front of the camera. With your photographer and videographer documenting your every move, things could get a little awkward and uncomfortable, especially for self-conscious couples.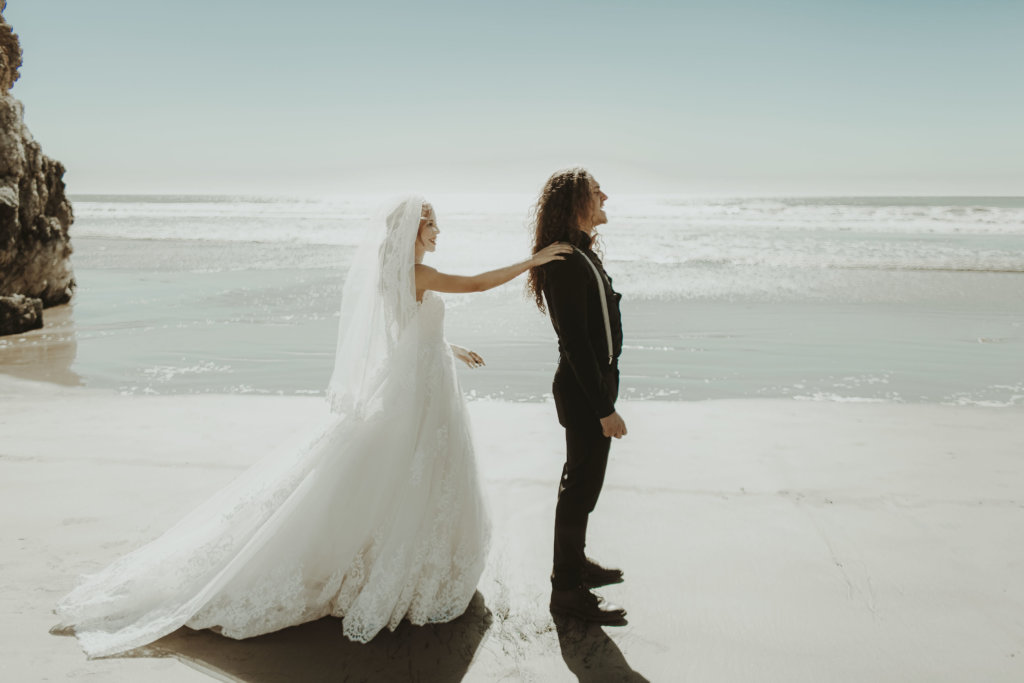 Style: #LWXT16001, Image Credit: Ranucci Photography
A good solution would be to ask your photographer to take photos and videos from further away so that you can still share a private moment without having the camera too much on your face all the time.
If you want to do a first look yet maintain an element of surprise, you could do a first look without your veil or any other special accessory that you be wearing during the day to keep some suspense and give a sweet surprise to your partner at the altar.