Your wedding day is likely going to be the most special day of your life. You have planned for your big day for months (perhaps even years) and you definitely wouldn't want the whole affair to be nerve-racking and overwhelming for you. So we have compiled a list of 8 tips to help you eliminate the stress on your wedding day.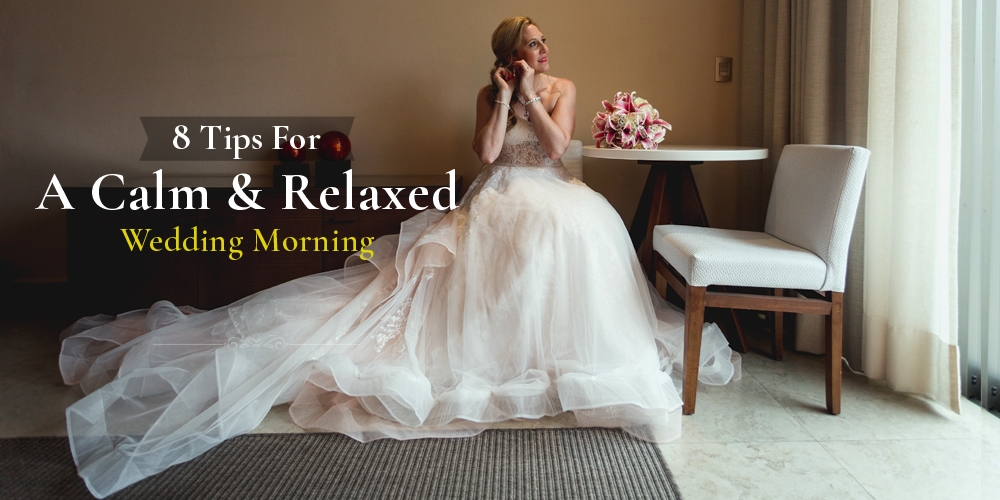 1. Hire a makeup artist and hairstylist
If you want to be composed and relaxed on your wedding morning, it is best to engage a professional for not only dressing you up in your lace wedding dress but also for your wedding makeup and hair. No doubt, your wedding day is going to be a buzzing affair and you are likely to come up against a lot of complications throughout the day. Don't let your wedding look be one of them. Not to mention a professional makeup and hairdo will ensure that you look perfect on your big day.
2. Get ahead of yourself
From your beautiful wedding gown to the venue, plan everything well ahead of time to be organized and stress-free on your special day. One way to make sure you have all aspects of your wedding covered is by making lists. As you progress and cross items off your lists, you will feel less overwhelmed and better prepared, more relaxed on your wedding morning. Having said that, don't go all out for an absurd level of perfection when organizing things as it will only stress you out more.
3. Get a good breakfast
With everything going by so fast on your big day, it is in fact very easy in the fun and celebration to not remember to eat. As a bride, the last thing you want is to feel weak or sick throughout the day or blackout after one glass of champagne. So, make sure you take some time off and eat your breakfast so you do not come across any embarrassing fate.
4. Allow yourself time to get dressed
You don't want to run late to your own entrance. It is ideal to get into your long sleeve wedding dress well ahead of time so you are not in a frenzied rush. Allow yourself to soak it all in and take in the magnitude of your special day. This is one way you can get off your feet and enjoy your wedding day.
5. Plan the photography too 
In order to make your wedding photographs look effortless, you will have to put in a good deal of time and effort into planning those pictures. Ironical, isn't it? You need to figure out what kind of pictures do you wish for and where do you want them. You also don't want to leave anyone behind so make a list of all the people you want in the pictures.
6. Keep your phone away
Your wedding day is one of those golden opportunities where you can actually get rid of your phone for one day and nobody would complain. Let someone else handle the queries from suppliers or from friends that call to confirm the wedding location because they misplaced the invitation (this happens more than you would think!).
7. Write that speech
If you are delivering a speech at the reception, do yourself a favor and put it in order ahead of time. You may get sick with nerves when you have to leave in an hour and still haven't prepared your speech. Do the important things before the wedding day – that way you can be at ease and enjoy getting ready.
8. Have a contact list
Write down all your suppliers and their contact details. That way if you need them on the day, you have their numbers at your fingertips. It is most likely a brilliant idea to give it to the groom, your maid of honor and to your wedding coordinator at the venue. Better safe than sorry.
So, there you have it – our list of tips to make sure you are free and easy and have the best possible day, free of stress. What's crucial here is that you don't cram too much into too little time. You have to get your hair and makeup done. After that, the flowers need to be dropped off. You have to get dressed (which can take half an hour if you have a ball gown wedding dress) before the photographer shows up. Then, as you would expect, you want some time to enjoy yourself and perhaps enjoy a champagne toast. So, plan your time accordingly and keep your day running like clockwork.