Planning a wedding is a difficult task as there are a million small details that need to be worked out before the big day. Even if you have been absolutely on top of the planning, a few things can still slip through the cracks. Do you wake up in the middle of the night in a panic thinking that you have skipped something important? If yes, then you know exactly what we are talking about here. But don't worry! Once you go through this down-to-the-wire wedding planning checklist, you can put your mind at ease knowing that you have everything under control.
Style: #LD5066, Image Credit: Bright Photography 
1. Check in with vendors
Reach out to all your vendors to confirm everything and go over the details a few days before the ceremony. All of your vendors should be aware of the date, the exact time, the venue and the number of guests arriving. Remind them of any special arrangements you could have made ahead of time. You should also provide them with a phone number (not yours) in case any additional communication needs to take place during the wedding day.
2. Finalize the guest count
At least a week before your wedding, reach out to any guests who may be dragging their feet with an RSVP. If the first message does not elicit a response, it is absolutely fine to leave a second message a few days later that politely states that if you do not hear back from them by a certain time then you will have to assume that they are unable to attend the wedding.
Image Credit: Wah Photography
3. Wrap your wedding favors
Something else which is not usually done until the final days before the wedding is wrapping the wedding favors. If at all possible, save yourself some stress and try to get this done at least three weeks ahead of the wedding. You would not believe how many brides stay up late the night before their weddings wrapping favors (it always takes longer than you expect).
4. Plan a bridesmaids' luncheon
When you are taking care of the last-minute details, don't forget about planning a bridesmaids' luncheon. The luncheon is normally held two or three days prior to the wedding ceremony and is the perfect time to thank all of your attendants for being in your wedding and to give them their bridesmaid gifts.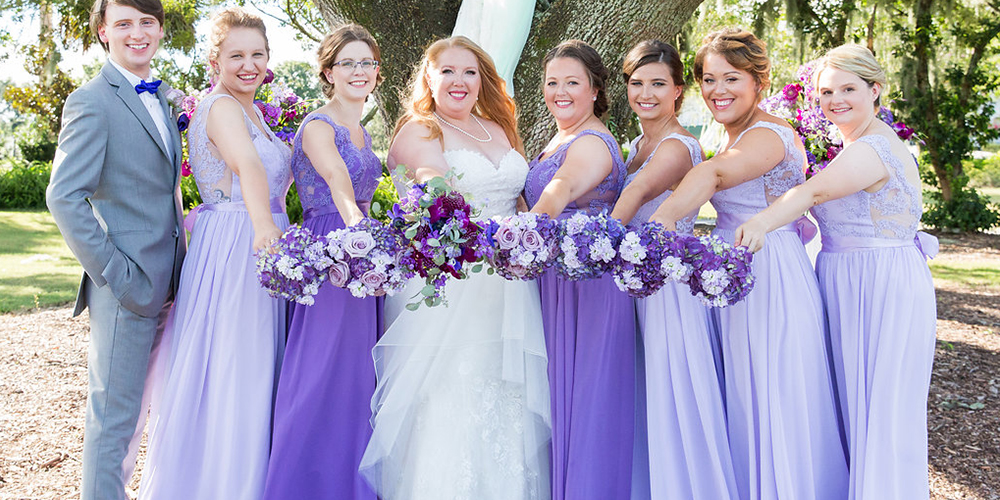 Styles(from left to right):#LWZT15040 & #PR3263,Image Credit: Olivia Caine Photography
5. Pre-arrange your honeymoon
Your honeymoon will be the trip of a lifetime, and the last thing you want is any kind of snafu along the way. So make sure your bags are packed and that your tickets and passports are handy. Plus, when doing your honeymoon planning, pay in advance for as much as you can. Incidental expenses like tips and souvenirs are manageable, but if you slip up on budgeting for hotel taxes, spa treatments, or car rentals, you can easily outrun your budget on site.
6. Do a final outfit run through
Schedule your dress fitting a week or two ahead of the wedding. Go to pick up your beautiful wedding dress and make sure that it looks exactly the way you want it to. If needed, you may want to have a couple of last minute alterations. You should also have your wedding shoes picked up by now. Practice walking and dancing in them. Make sure that the shoes are comfortable enough since you will be having them on all day long.
Style:#LD3906, Image Credit: MC Farlane Photography
7. Rehearse!
The rehearsal for the wedding ceremony is typically held the day before the big affair. To make your rehearsal run without a hitch, sit down and decide in which order you would like to have your attendants fall in, and which groomsman and bridesmaid will be paired together during the recessional.
8. Finalize your vows
All that's left on the list now is the dreaded task of speaking your own vows and unless you want to make your vows off the cuff, write them down and practice what you have to say during the wedding. You see, making grand statements about your love in large public settings isn't always the easiest thing to do.
9. Make sure to put aside some "you" time
Even if it does not seem to make much sense to just sit back and be at ease for a bit, what with all the things that need to be figured out but considering what day it is going to be, you don't want to have a bridal meltdown.
Double-check your list, remember to breathe, and everything will be okay!