At Cocomelody, we see so many bridesmaids seeking help online with their dress choices. They are so torn between following the bridesmaid dress customs and going unconventional. We believe that since every bridesmaid has a different personality, body type, height, and preference, it would be a little unfair to have everyone wear the same dresses. So, mix & match bridesmaid dresses a little, allowing different personalities to shine through. If you are a bridesmaid looking to buy the best fit, we've got you covered. Here are some suggestions for doing so without getting overwhelmed when dress shopping.
How to Mix & Match Bridesmaid Dresses?
The right bridesmaid dresses are a major mood setter for you girls, your bestie, and the entire gathering. So, it is natural for you to want to stand out yet be and feel yourself. And if you're an unconventional squad, you'd want to give the mismatched trend a try. There are so many great ways to arrange bridesmaid dresses, allowing you to show off your style and match the wedding theme. So let's not keep you girls waiting. Here's what our stylists have to share:
Same Color, Different Dress Styles
This is the easiest to accomplish – pick the same color but different dress styles according to the individual body types. It helps you achieve that unified and classic look, just how it is traditionally. So, select a single color and fabric, and go all out with the style choices. Each one of you will be able to wear the silhouette, neckline, and length that you feel the most confident in.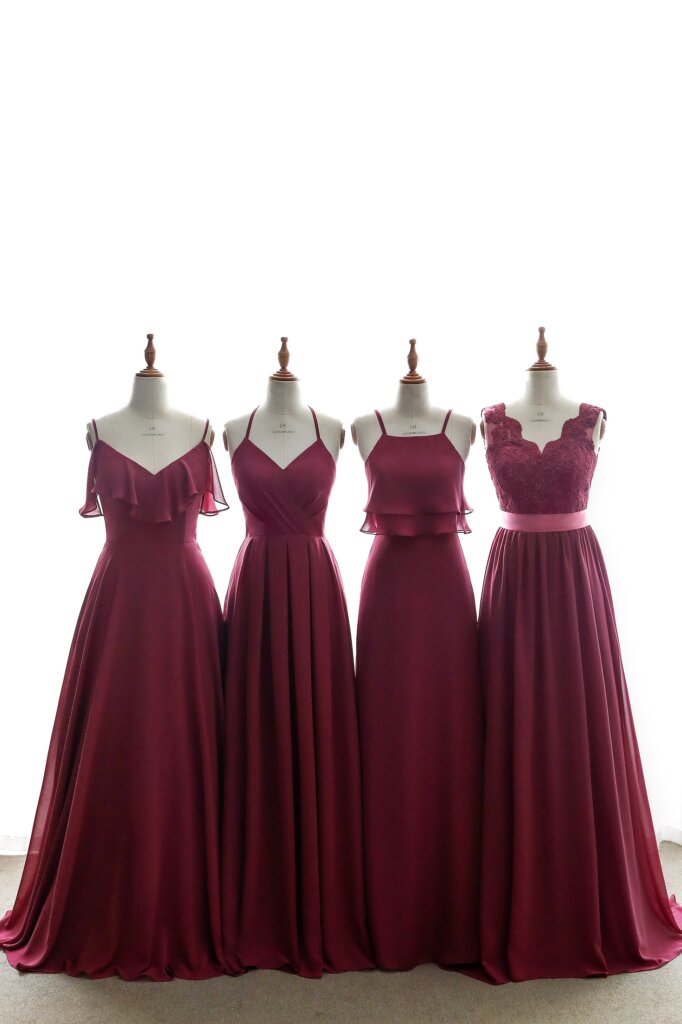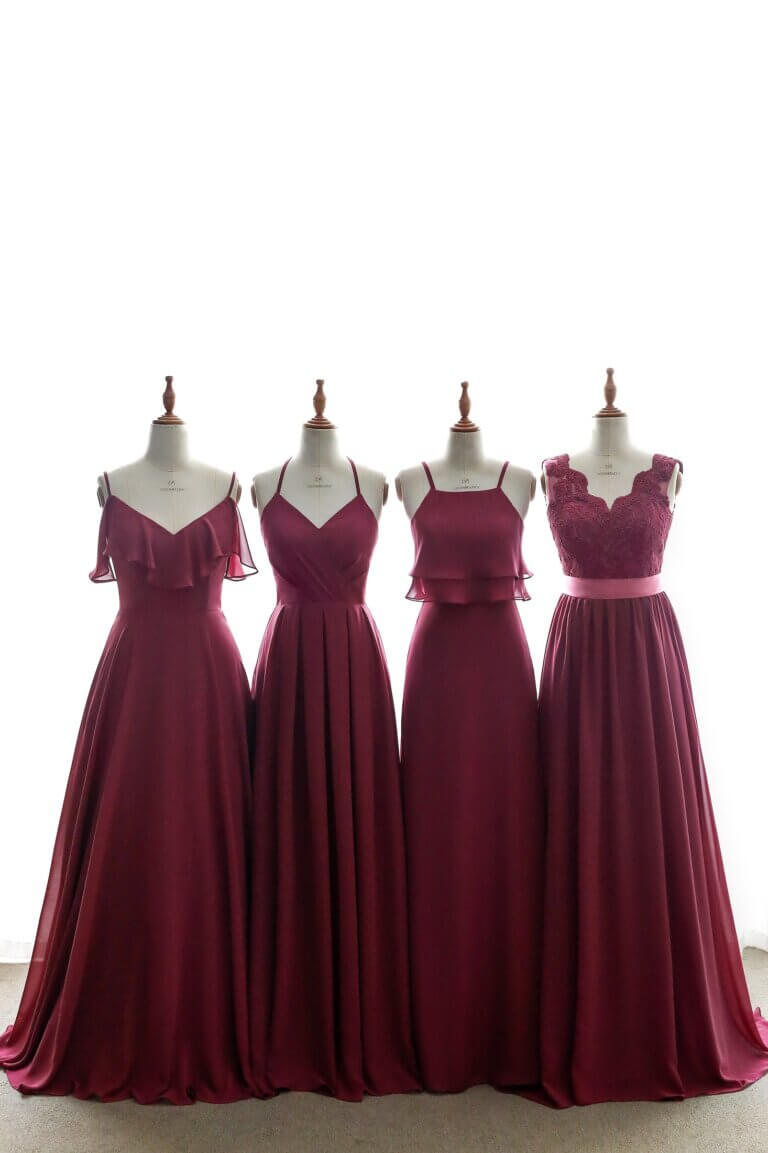 Dress styles: PR3570; PR3572; PR3577; PR3263
Same Dress Style, Different Colors
Like style preferences, color choices can also feel a little personal to each of you. So why pick only one color when you can feature many? Generally, you can choose an A-Line silhouette and then evenly spread different colors as per everyone's liking. But, make sure you are complementing each other on the color range. This is another easy-to-coordinate bridesmaid dress arrangement flattering every type of body and personality in the entourage.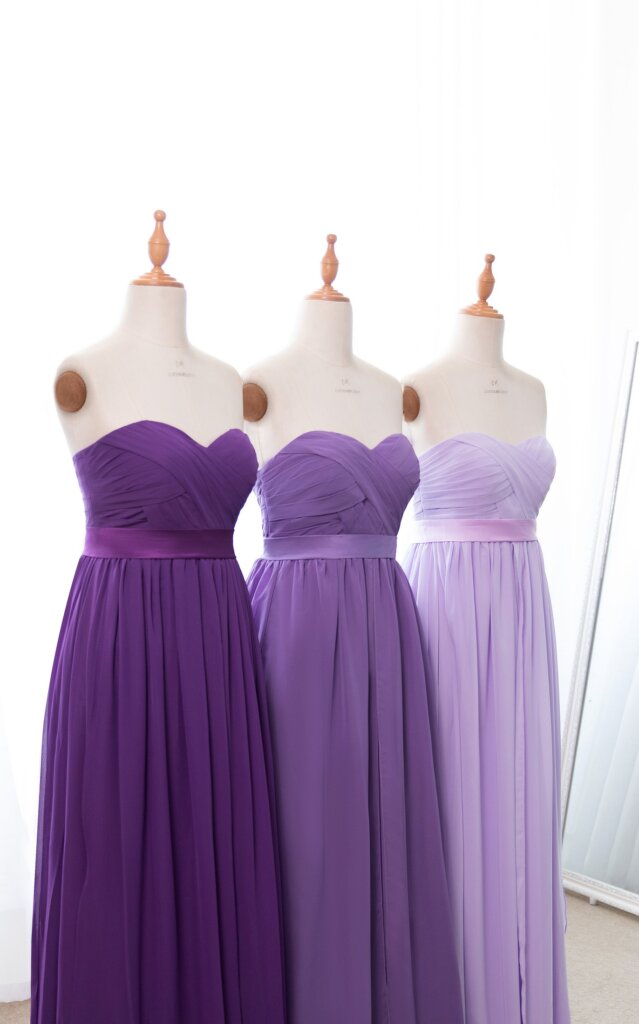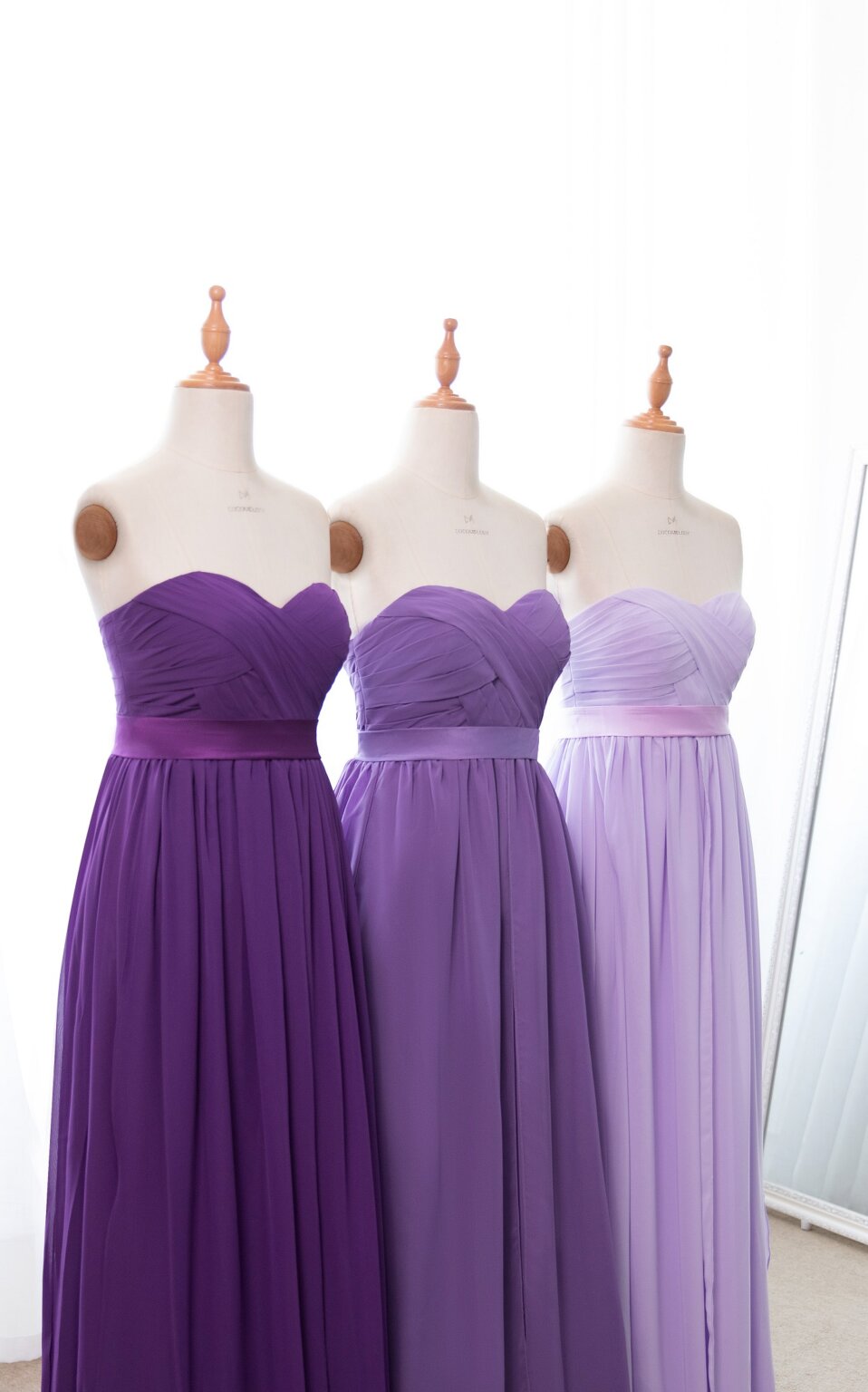 Dress style: COZF140A1
Mixing Styles and Colors
This one's a true mismatch – choosing different styles and colors – and also requires the most work. But you can always work along with the colors from the same family, so it looks sophisticated and flawless. Also, you can pick somewhat similar silhouettes, necklines, waistlines, straps, and lengths. It can be challenging to develop that cohesive look, but it is truly worth the effort. We are sure there will be a dazzling outcome, with varying shades and the choicest styles put together for a unique overall mix & match bridesmaid dress look.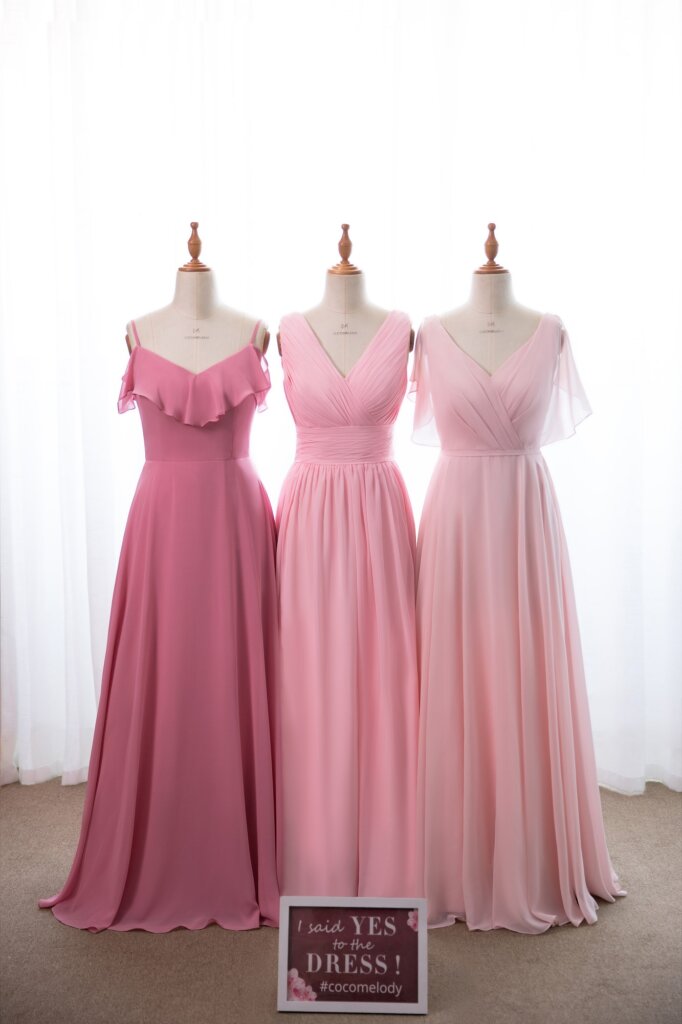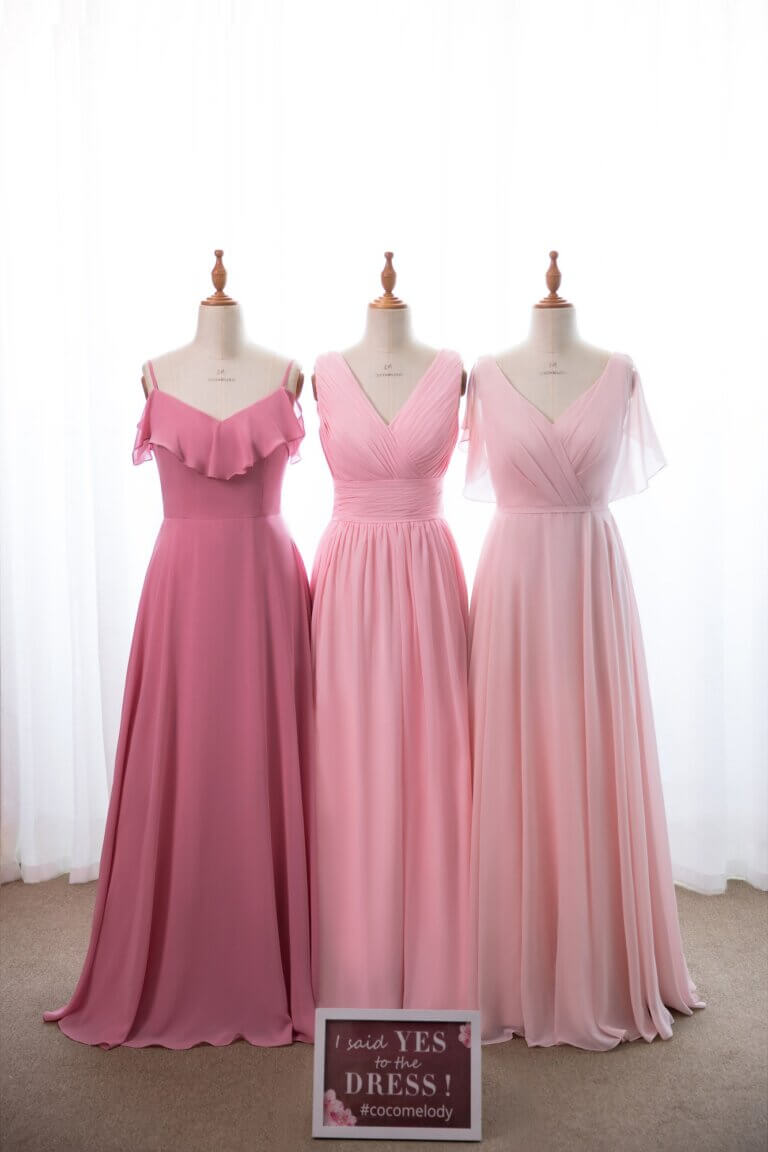 Dress styles: PR3570; COAF1500A; PR3568
Styling Mismatched Bridesmaid Dresses
Even though the purpose is to have mismatched bridesmaid attires, you'd want to appear unintentional yet planned. So, tie all dresses together with some common detail, or you'll risk looking chaotic. Try to stick to similar lengths, as both short and long don't work together. Order swatches to determine the ideal color palette. Remember, don't work in different directions. Go shopping together, coordinate all attires together, and find comfortable, confident, and affordable fits. It will compliment your body while authentically exhibiting your individuality.
Shop Mix & Match Bridesmaid Dresses with Cocomelody
If you plan for a mix & match bridesmaid dress theme for your bestie's wedding, the above guide will help you work out different dress options with ease. But it is always good to involve a dress stylist to help you decide what will flatter your body while staying true to your individuality.
At Cocomelody, we offer 60+ color options and multiple styles. Our designers make sure no matter what body type you are, there is something in store to suit your preferences. You can certainly find that flattering fit for your bestie's big day. With Cocomelody bridesmaid dresses, you can enjoy the best of both worlds – carry your favorite style while reaching the visual consistency of the ceremony.
Check out our collection online, and you'll be stunned at just how much you have to explore, experiment, and say yes to. We make bridesmaid dress shopping fun, easy, and worth every effort. Here are our mix & match bridesmaid dresses for you. Happy shopping!