Royal weddings have long been an inspiration for many, and we look forward to them with immense enthusiasm. We are all a little too obsessed with them. Even the most apathetic of us might have someday seen a story of what the royals are wearing, how the stage is set, about the guests, and other such developments. But can real weddings add a similar charm and magnificence? Why not! If you wonder how to add a little splendor to your own wedding, here are some tips to steal.
Choose the Right Look To Describe Yourself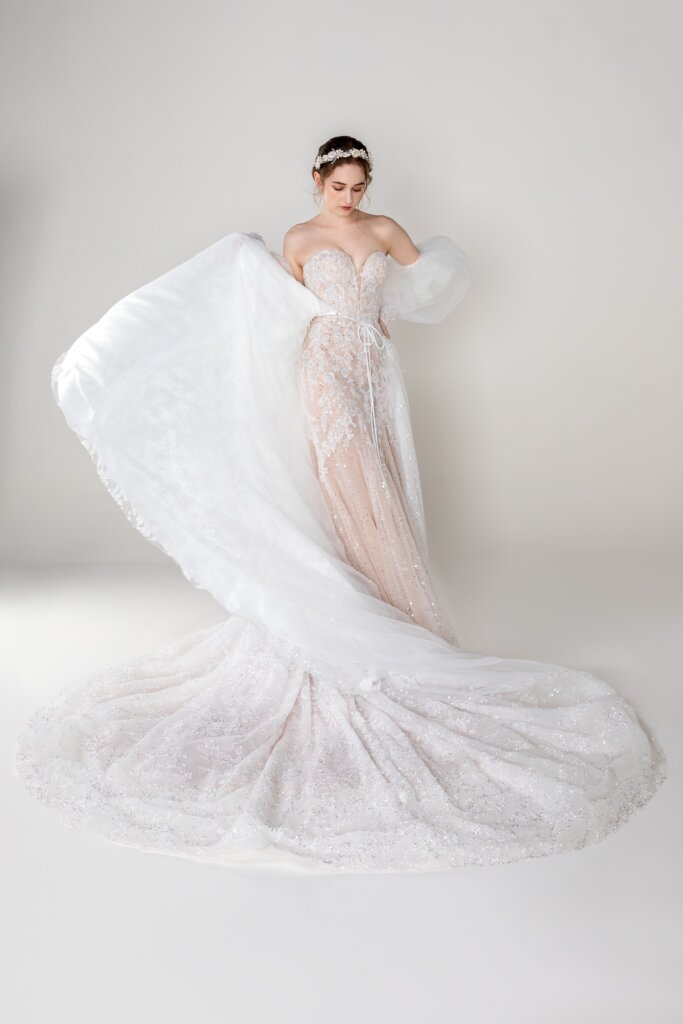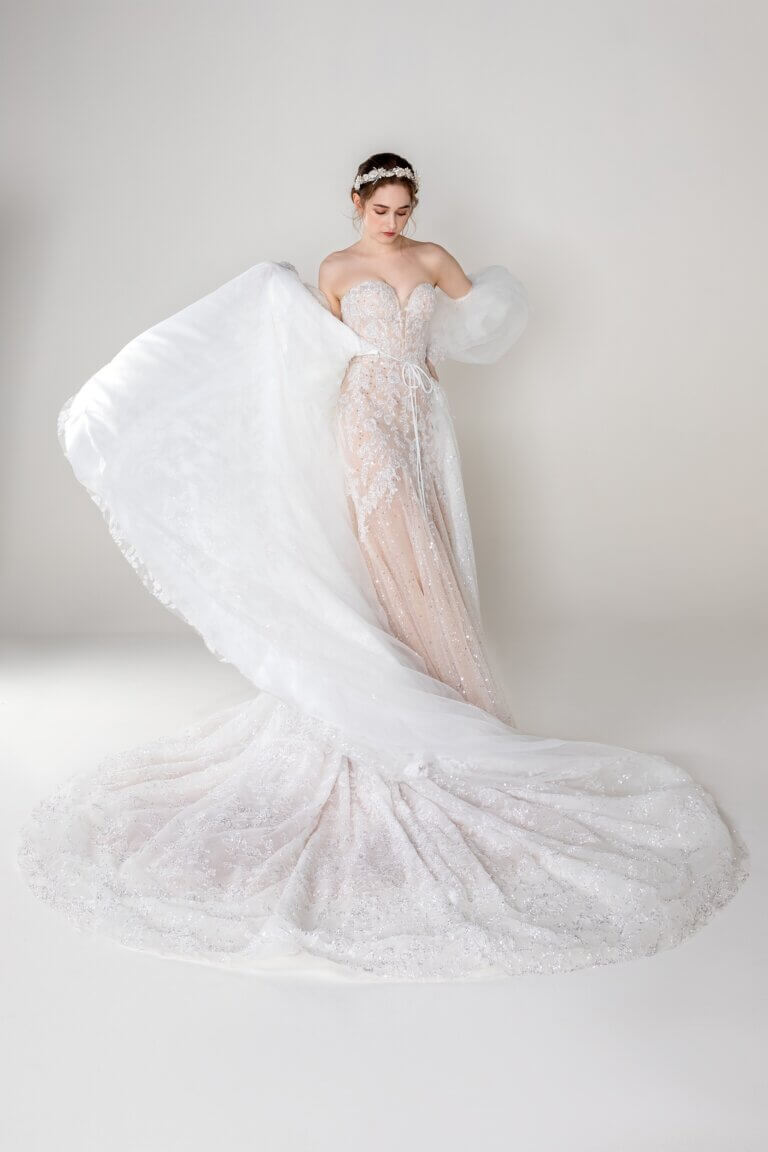 Dress style: Juliette CW2493
Before you start to contemplate what you will be wearing on your big day, look at some styles of the women who came before you. Here are four iconic wedding dresses to take inspiration from:
Queen Elizabeth II
This one's a famous royal wedding gown of all times and till date is a choice for many brides. The dress was an intricate, dreamy, and extravagant creation for those (and future) times. Seed pearls, silver threads, tulle appliques, and crystals made it to the bridal gown. Embroidered silk tulle veil and train in star-shaped patterns created a halo effect encompassing the bride.
This bridal dress had far more detailing than any other of those times. Besides, it is one of those gowns that didn't sweep away with changing trends but stands strong to date. The queen also donned a diamond fringe tiara, open-toe satin sandals, and pearl necklaces and earrings. She also carried a bunch of British-grown all-white orchid flowers to complete the look.
If this is your favorite, get yourself a similar vintage, sparkling, sequins wedding dress. Try our styles: CW2381, CW2493, and CW2484.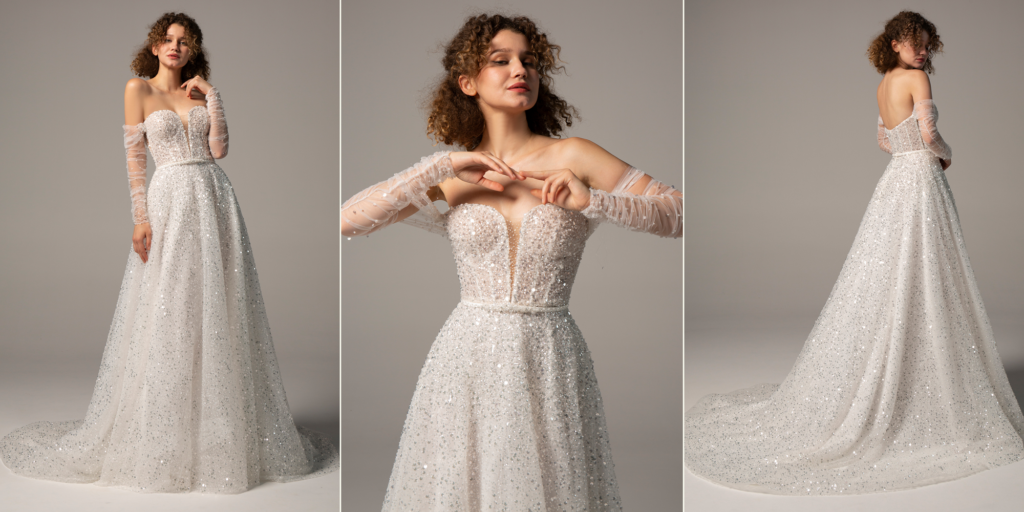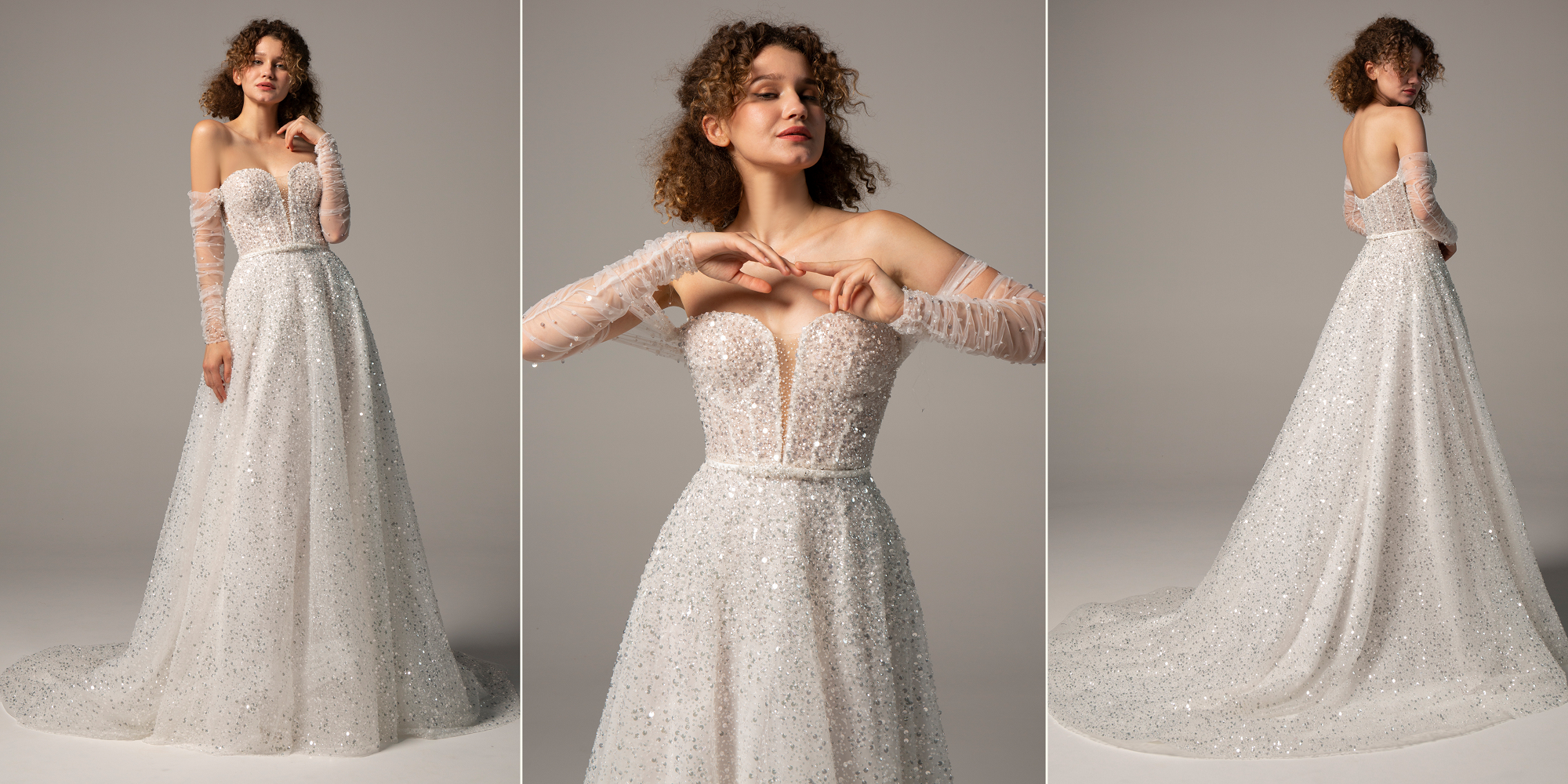 Dress style: Zoey CW2381
We always welcome customizations.
Princess Diana
Royalty brides always make a statement with their dresses and accessories. Be it an encrusted tiara or a cathedral-length veil; there is some form of drama to the outfit. But, make sure you don't cheapen the look while taking inspiration from royal bridal styles. Remember, we are trying to achieve class, not trash.
Princess Diana, for instance, wore a romantic, fairy-tale, ivory silk taffeta wedding gown. The dress featured a curved and ruffled neckline, voluminous sleeves, with a fitted, boned bodice.
It was intricately embroidered with frilled lace, sequins, and thousands of pearls. The veil was as long as the 25-foot train on the gown. Now, that is quite a regal and dramatic look. But isn't that what royalty is all about – class with intense charm.
Design your Diana-inspired dream dress with Cocomelody.
Custom wedding dress options are also available.
Kate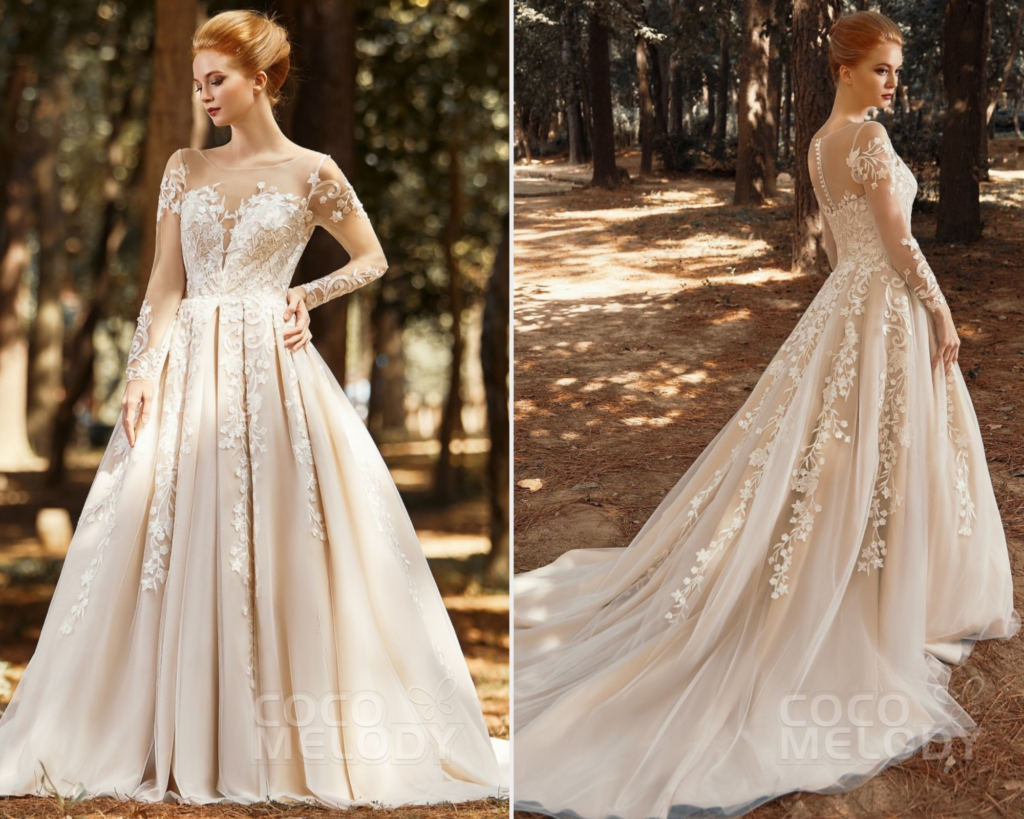 Dress Style: Zahra CW2299
It has been over a decade since Kate Middleton and Prince William took their vows. But one thing we cannot stop obsessing over remains their wedding ceremonies and how insanely relatable they are till today. Royal or not, you can certainly draw inspiration, and Kate's outfit can no doubt be replicated to real wedding attires.
This super elegant and simplistic coat dress look is such a steal. Wearing an off-white, V-neck dress with long lace sleeves, Kate looked gorgeous, and so can you. Kate's style is a popular choice for brides-to-be, and you can easily incorporate your personal preferences to bring out that wow factor into your outfit.
Get a Kate-inspired wedding attire from Cocomelody. Check out these styles: CW2299, LD5731, and LD4432.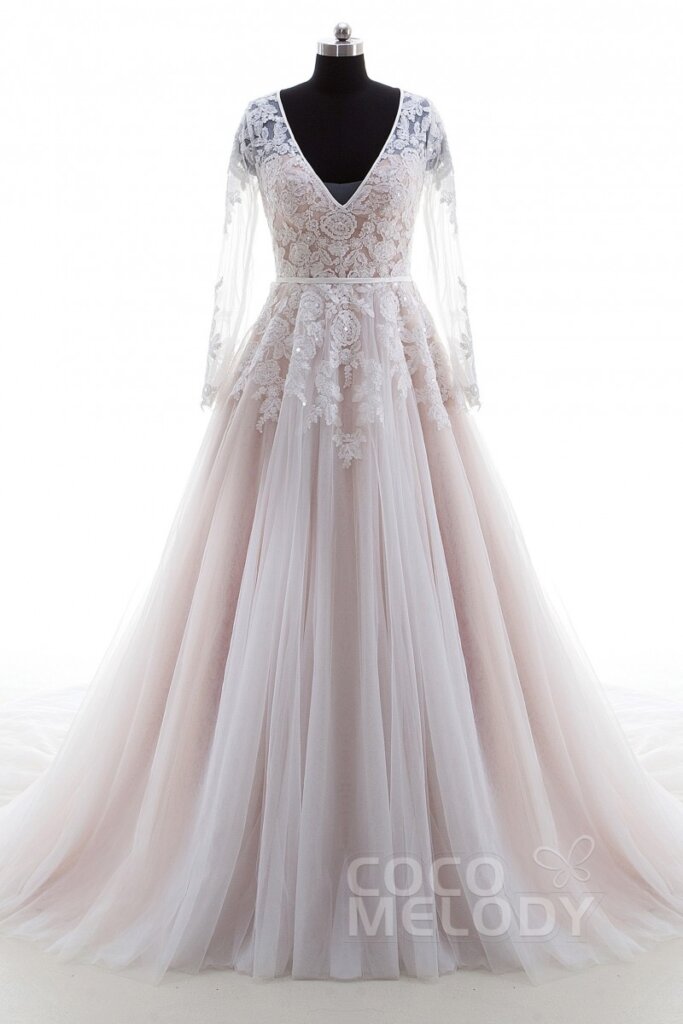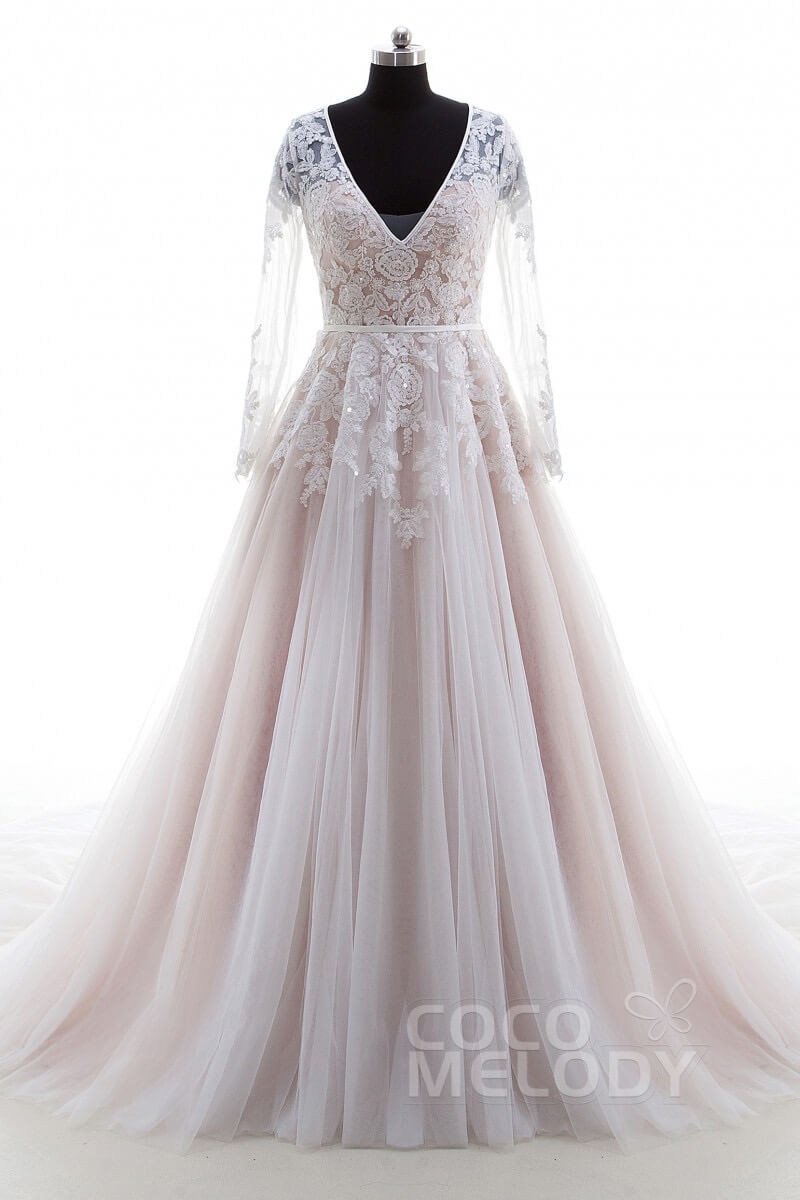 Dress Style: LD4432
We always welcome customizations.
Meghan
Royalty is all about composure and grace. So another head-turning royal bride on this list is Meghan Markle, who wowed the gathering with her tasteful, elegant, and chic style. Meghan flaunted a down-to-earth, classic, and no-fuss style and personality.
Her beautiful ensemble featured a minimalist, modest, unembellished style with a bateau neckline, silk fabric, and three-quarter-length sleeves. It further had a train with an inbuilt triple silk organza underskirt, and to augment the dress, Meghan wore a 16 feet long hand-embroidered veil.
Undoubtedly, her designers did a great job setting the standards for future brides. So, set the stage for your own royal wedding with sheer elegance and poise like Meghan. She looked fab on her big day, and so can you!
Steal her style, check out similar products from Cocomelody: CW2486, CW2488, CW2214, and CW2218.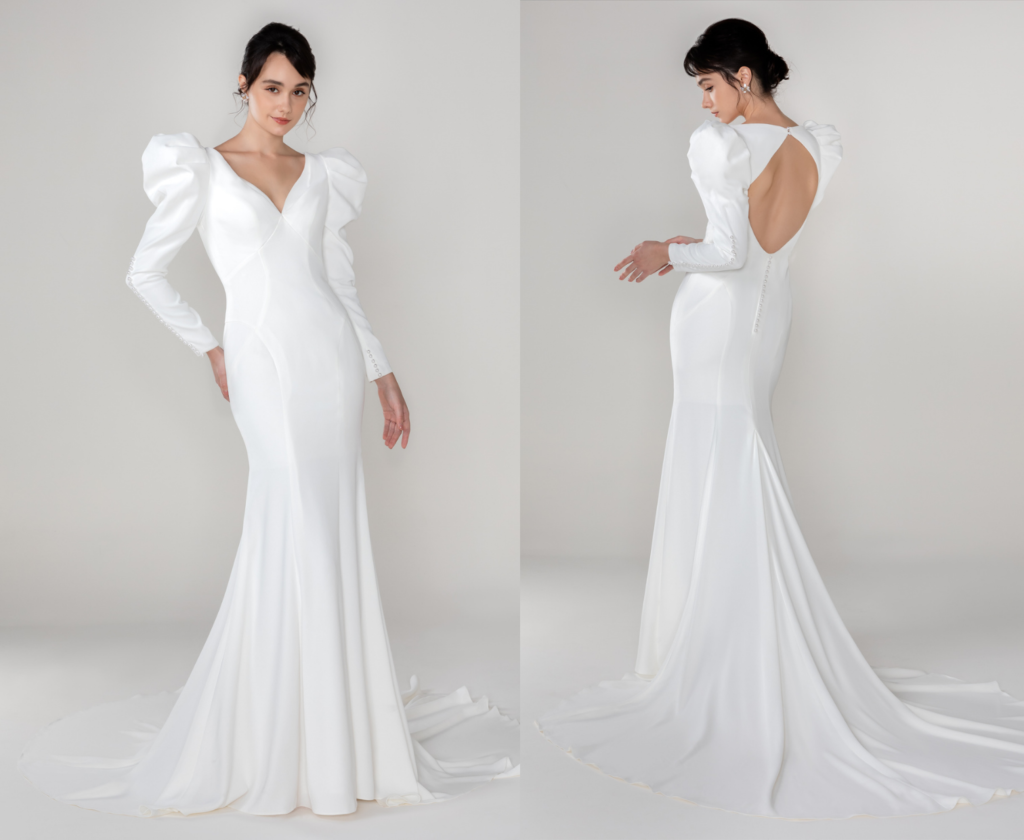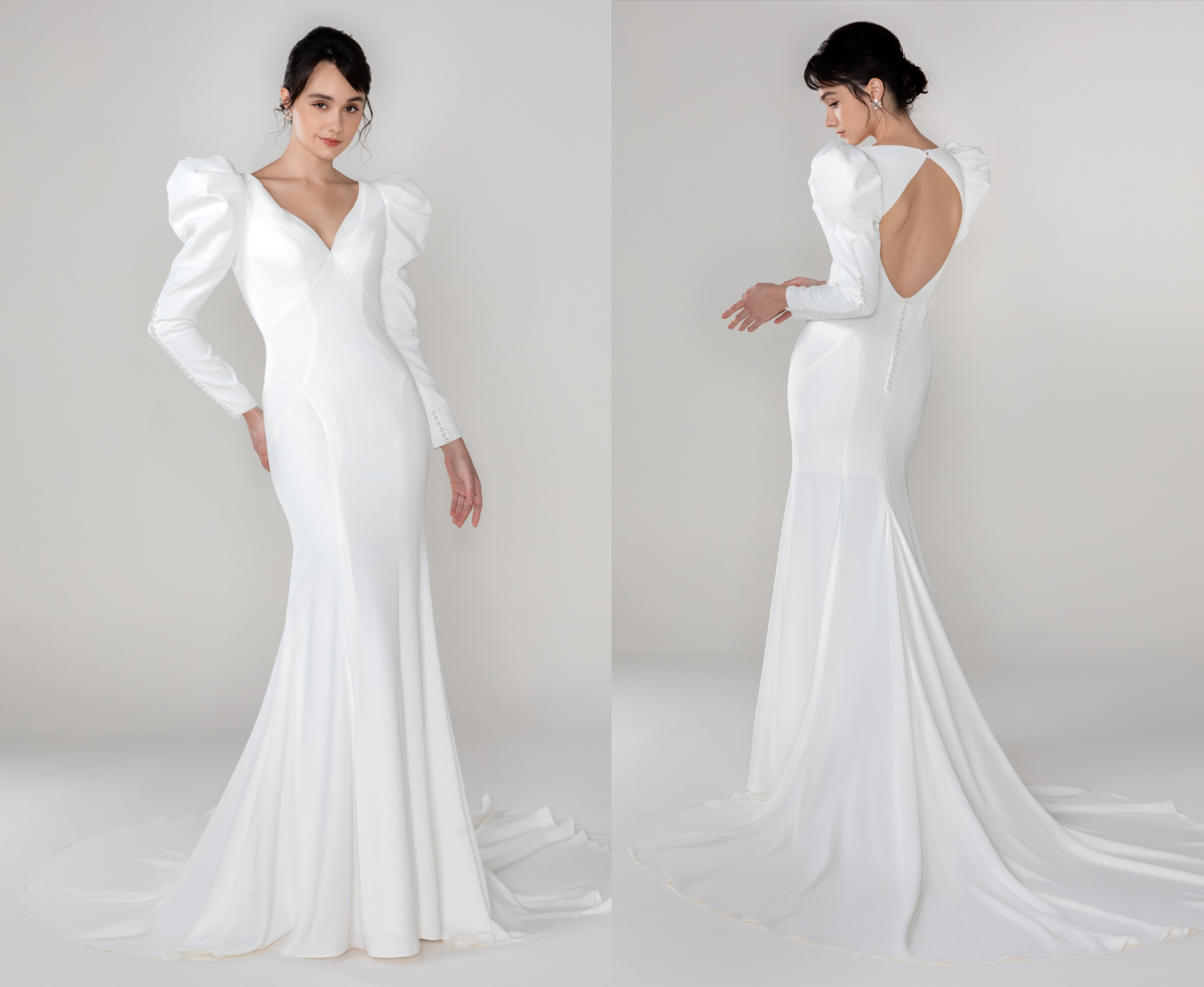 Dress Style: Louisa CW2486
We always welcome customization.
Choose Cocomelody for Your Royal Wedding Inspired Outfit
To honor all-things-royal and impress your guests, stop by our store and get a stately dress and accessories of your dreams. Schedule an appointment, and we will be at your service to find the best fit for your big day.