Cocomelody Bridal Boutique San Diego
San Diego brides, Cocomelody Bridal Boutique is excited to announce the opening of our new shop in the vibrant city of San Diego! Our team has been tirelessly preparing for this moment, selecting only the most beautiful and unique wedding dresses and accessories for our brides. We understand that finding the perfect dress can be overwhelming, which is why we are here to make the process as enjoyable and stress-free as possible.
Cocomelody Bridal Boutique San Diego
Convenient Location in Little Italy
Our new shop is located in a convenient location in Little Italy San Diego, making it easy for brides from all over the area to visit us. As everyone knows, Little Italy is a vibrant and lively neighborhood located in downtown San Diego. It is known for its rich Italian heritage and culture, with many Italian restaurants, bakeries, and cafes lining the streets. The neighborhood is also home to a number of art galleries, boutiques, and small businesses, making it a popular destination for both locals and tourists.
Trendy Bridal Gowns Selection
Plus, with our wide selection of dresses and accessories, we are confident that we have something for every bride. Whether you are searching for a traditional ballgown or a more modern, sleek design, we have options to suit your personal style and taste.
Popular A-Line Wedding Dress
A-line wedding dresses are certainly a popular choice among brides in many different locations. A-line wedding dresses are characterized by their flared shape, which is narrow at the top and gradually widens towards the bottom. This creates a flattering silhouette that is suitable for a variety of body types. A-line dresses are also often made with lightweight fabrics, making them a comfortable choice for warm weather weddings.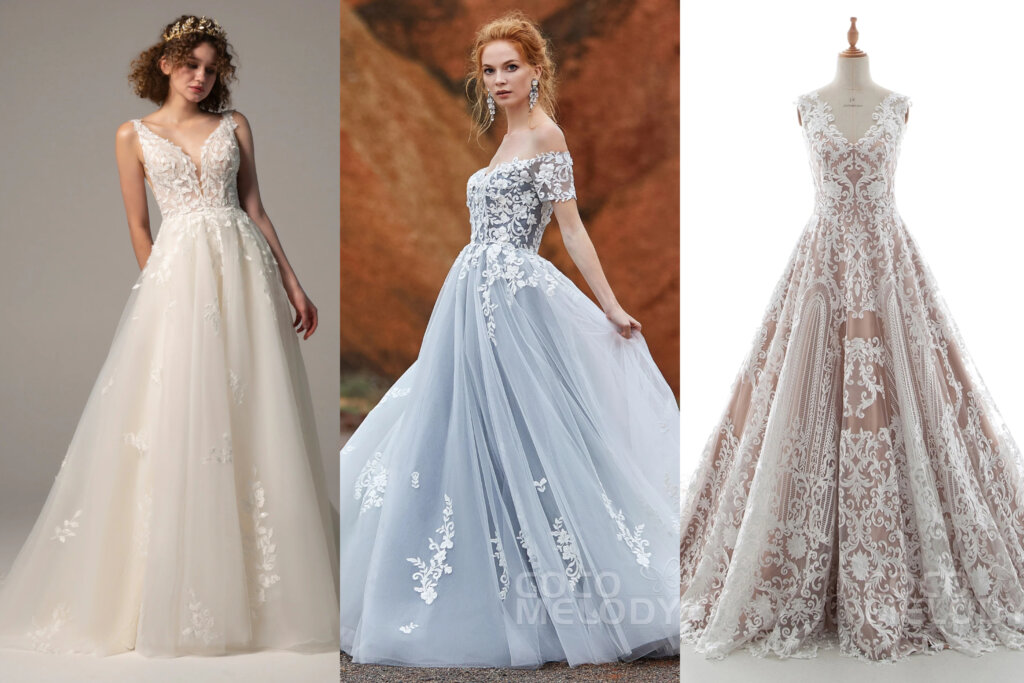 From Left to Right: ALEXA (#CW2368)、  GIULIA(#LD5830)、#LD5190
Classic Fit And Flare Wedding Dress
The Fit & Flare silhouette is the perfect balance between comfort and style. It is fitted through the bodice and hips, and then flares out at the waist to create a flared or A-line silhouette. These dresses are known for their hourglass shape, which can be very flattering for brides with a variety of body types.
From Left to Right: YARA(#CW2302)、 JANA(#CW2380)
Versatile Trumpet Wedding Dress
Trumpet wedding dresses can be dressed up or down depending on the wedding theme and location. The flared skirt of a trumpet wedding dress allows for more freedom of movement, making it easier to dance and move around on your big day.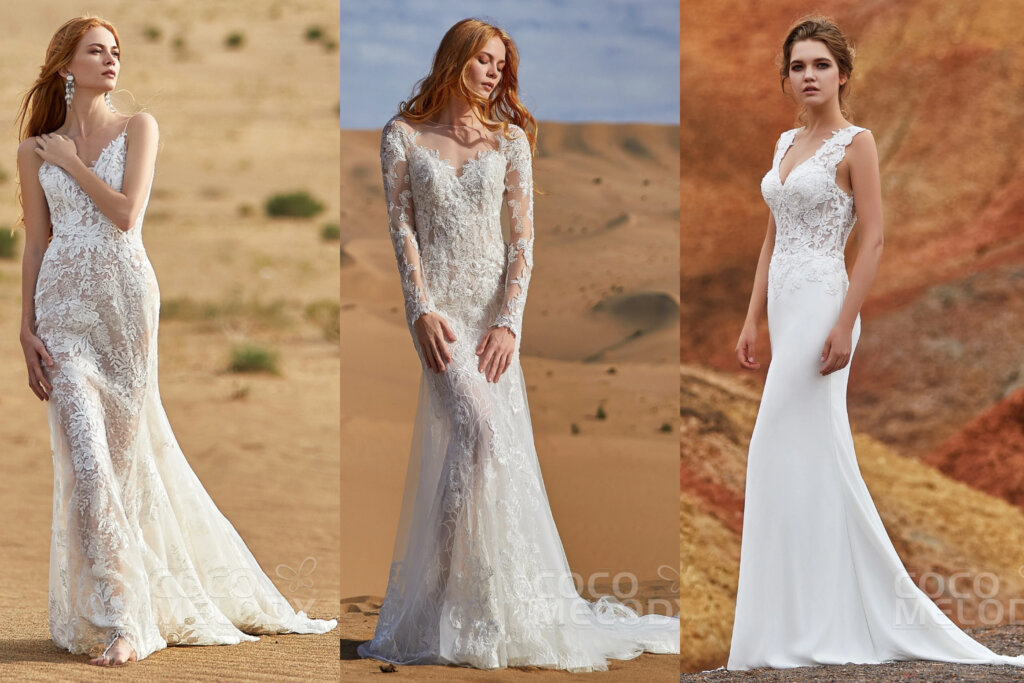 From Left to Right: GINGER(#LD5808)、KAIA(#LD5838)、TAYLOR(#LD5816)
Sexy Mermaid Wedding Dress
Mermaid Wedding Dress is a popular choice for brides who want a form-fitting dress that still allows for movement and a bit of drama. These dresses are especially well-suited to brides who have an hourglass figure, as they showcase the curves and contours of the body. If you are interested in wearing a mermaid wedding dress, you may want to consider trying on a few different styles to see which one best suits your body type and personal style.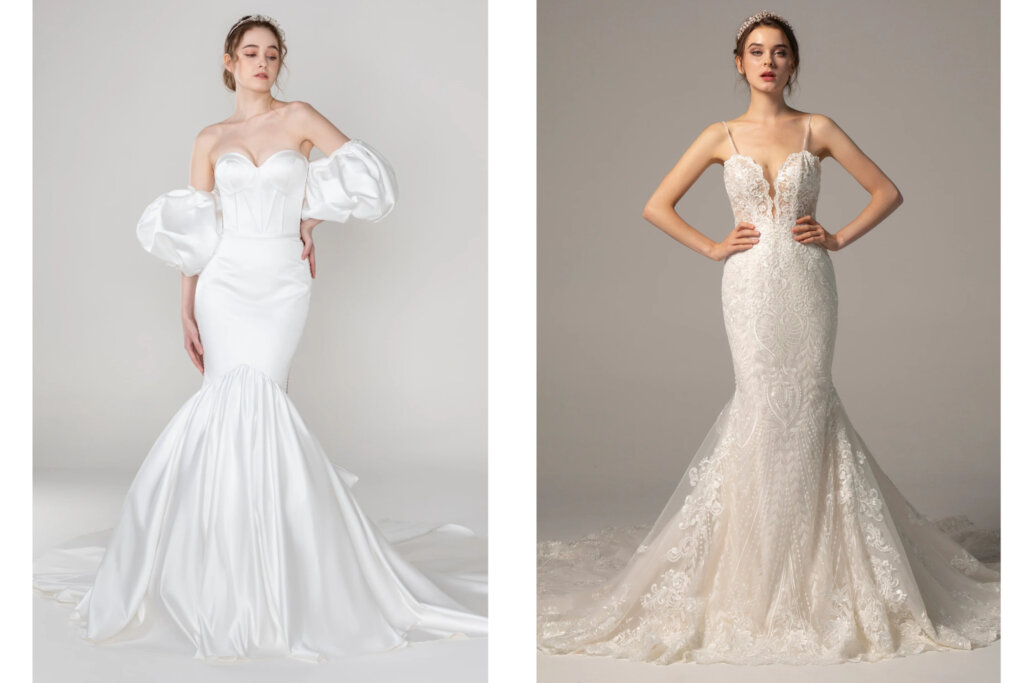 From Left to Right: JILLIAN(#CW2487)、SALMA(#CW2376)
Make Your Booking Today
Cocomelody knows that finding the perfect dress can be a daunting task, which is why we have trained our experienced stylists to help guide you through the process and find the dress that makes you feel like the best version of yourself on your big day.We can't wait to meet you and help you find the dress of your dreams! Stop by our new shop in San Diego and see all that we have to offer. We know you'll fall in love with our selection and the personalized attention you'll receive from our stylists. We look forward to being a part of your special day and helping you say "I do" in style.
Make your booking here.
Wedding dress fitting