Hashtags are a thing of the twenty first century that is if you are talking about the modern ones. Who remembers when the hashtag was known as "number symbol" or "pound sign"? Nowadays it is hard not to mention something without a hashtag.
As social media becomes more and more prominent in our everyday lives, hashtags have skyrocketed into becoming the modern link to pictures, images, gifs, memes etc. By setting a hashtag in front of a quote, you can easily find hundreds and thousands of pictures related to your search. This can certainly make your quest for inspiration easier and faster because you have many options to choose from and it is all done by one click.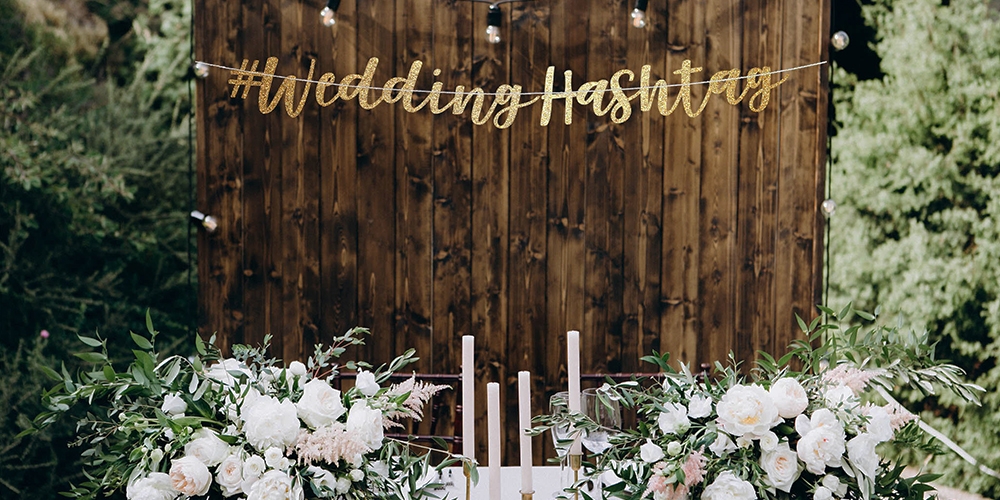 Although some brides might decide to keep their wedding private and only restricted to those who attended, there are many brides who decide to do just the opposite and display as much as they can from wedding preparations to the final result. Wedding hashtags are a fun way to involve everyone in your wedding, it does not matter if it is friends, friends of friends, family, extended family, people who will be attending or not. Everyone will be informed of your wedding progress as it comes along if they look up your hashtag.
Hashtags have become so popular for weddings, events, birthdays etc. that there are companies that will create your own individual slogan professionally, so that you can be certain that it will be one of a kind but keep in mind that they may come at a cost. If you would rather come up with something yourself or would rather not spend your budget on a customized one, then go for it. In addition there are free hashtag generators which can make the search much easier or can help you get an idea.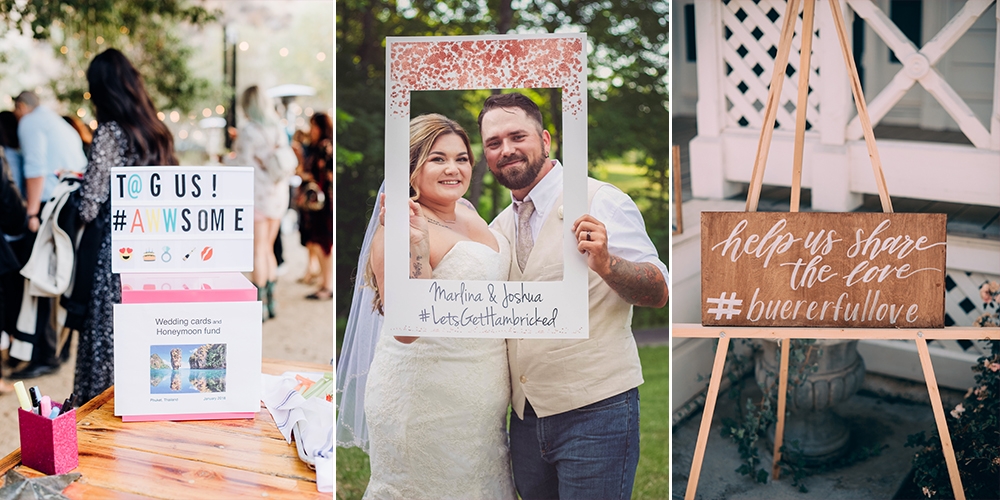 Here are a few possibilities on how to come up with a fun hashtag for you big day:
Wordplay (last name: Denzel/ e.g. #DenzelInDistress)

Favorite Movie Quote (last name Scott/ e.g. #BeamMeUpScott)

Make a poll on social media (see how creative everyone can get, you would be surprised!)

Think of puns, inside jokes and alliterations

Portmonteaus (e.g. Brad Pitt and Angelina Jolie #brangelina)

Personalize with a quote you and your future husband live by

Keep it simple (try using easy to spell words and names)
The key to using a hashtag successfully is to make sure that it is known and remembered by everyone! How to do that you may ask? It is actually fairly simple. Have your hashtag printed on your Save-The-Date cards, wedding invitations, napkins, programs etc. A nice way to also keep it memorable is to have signs set up at the tables.
In the end it does not matter if you hire someone to make your wedding slogan or if you sit down and get creative with it, if it is long or short, is funny or serious. What matters is that the hashtag has meaning for you, you future husband and your special day. #ThisIsYourHappilyEverAfter