Would you consider wearing a black or a pink dress on your big day? Not too long ago, bridal gowns other than white, champagne or ivory shade were virtually unheard of. But non-white dresses have begun to slip into the bridal market for the past few seasons, and we love it! As a matter of fact, pastel and nude shades have become some of the most well-received wedding dress trends of this year.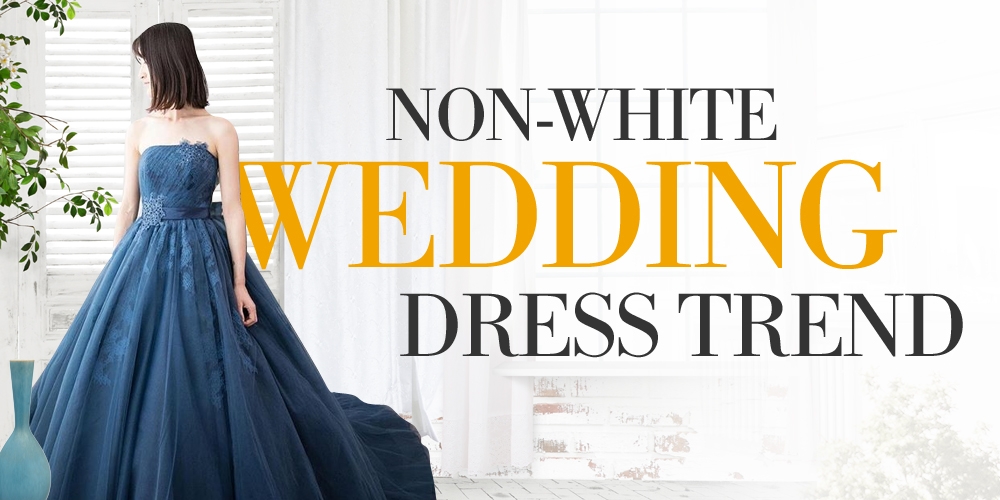 Here, at Cocomelody, we are obsessed with offbeat, non-white wedding gowns. Not only are they gorgeous but are meant for a bold bride who is eager to fly in the face of the tradition. With that said, we are excited to offer an array of dresses that are unique and chic for brides who are not willing to keep up with the bridal white tradition.
1. If you want to make a bold and dazzling statement when you are walking down the aisle, you may want to look at shades that look excellent at all times of year and go beyond all the seasons. These may include pink, orange or coral red. But of course, you do not have to color block everything. On the other hand, you can consider mermaid wedding dresses with red coral and pastel pink embellishment in corset area as it can beautifully express the rustic and unique backdrop of your big day.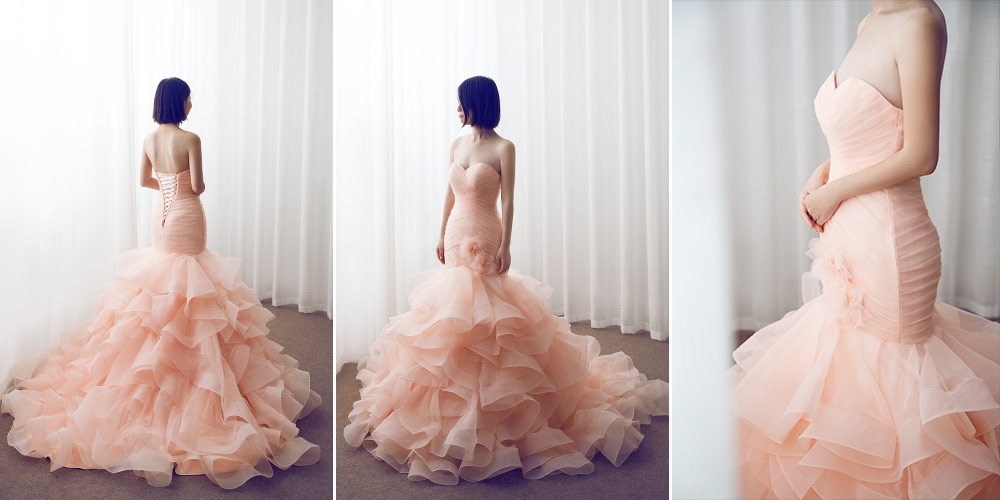 2. Another non-white trend we simply cannot get enough of right now has to be gold, which is odd because in the days gone by, the thought of having any gold featured on the wedding dress really put some brides off. But the bridal penchants have most definitely taken a glittering u-turn since and today, this spectacular metallic shade is one of the most desirable wedding gowns style among soon-to-be-brides. Popular bridal gown style – A-line wedding dresses look especially dazzling in gold.
3. We are also smitten with the vintage styling of lace wedding dresses in neutral blue. Bold red lips, minimalist pearl jewelry, and an elegant updo – all enhance this flowing and exceptionally stunning look, with not one hint of a white bridal gown in view. So effortlessly glamorous!
4. And let's not put away pink. Pink tones are historically considered the shade of love and passion. So why would you not want to be dressed in the most passionate color on one of the most romantic days of your life? The color pink is linked with passion, grace, charm, delicacy, and love. Pair that with a classic and timeless ball gown wedding dress, and there is not a single thing that can stop you from looking drop dead gorgeous. Again, going colorful does not mean having to be dressed in an all-out block color. Smart use of ornaments and colored adornment can drastically improve the look of your wedding gown.
5. A black dress will work wonders for brides who want to look absolutely special for their big day and go against with what is customary. If you too want to stand out in your wedding gown, a black gown would be perfect. It will certainly exude a different kind of elegance and grace.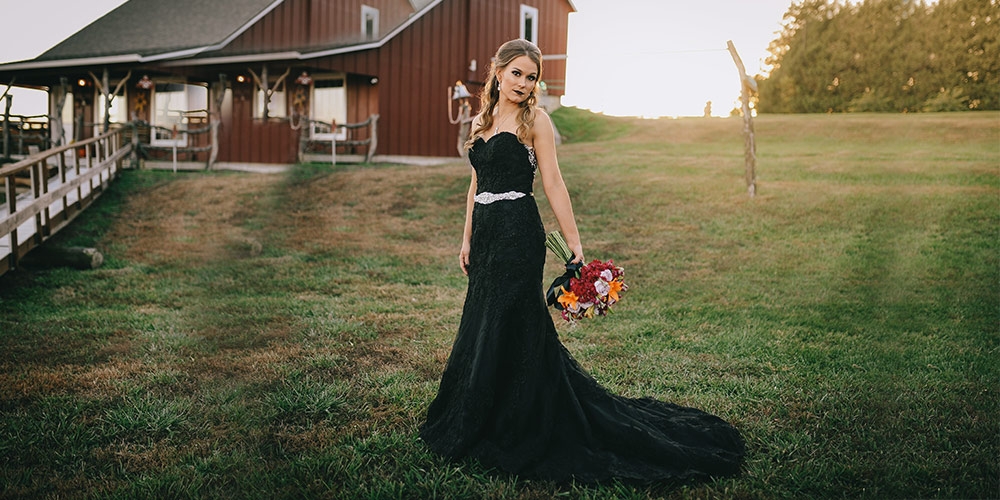 The best part about wishing to put on a non-white wedding gown is that you can spread out your limits of exploration much further than your local bridal boutique. A non-white wedding dress does not exclusively have to be a bridal gown and so you can incorporate designer dresses and evening or special occasion wear into your shortlist of potential dresses, awarding you much more choice ranging from inexpensive high-street designs to more lavish gowns.
On top of that, your maid of honor can sport just about any color: conditional on what you will be putting on. Pastels in any tone flatter a blush or beige dress nicely. For example, lavender, grey, blue and mint. Or you could have bridesmaids wear white, black or ivory for a less conventional look. Some other in-demand bridesmaid dress tones are metallic shades of silver, champagne and gold. All of these shades look wonderful matched with a rosy or neutral non-white wedding gown and will make your wedding special and unforgettable.
So, what do you think? Would you dare to wear a non-white dress on your big day? Well, you may want to give it a try once and for all you know, you might just fall in love with a colored bridal gown!