From the soft shades of lavender to vibrant violet hues, purple is a wedding color for all seasons. The color purple is generally associated with elegance and refinement and works well for spring/summer weddings.
There are so many shades of purple that you can incorporate in your wedding and bridesmaid dresses are a fantastic way to play with this fabulous shade.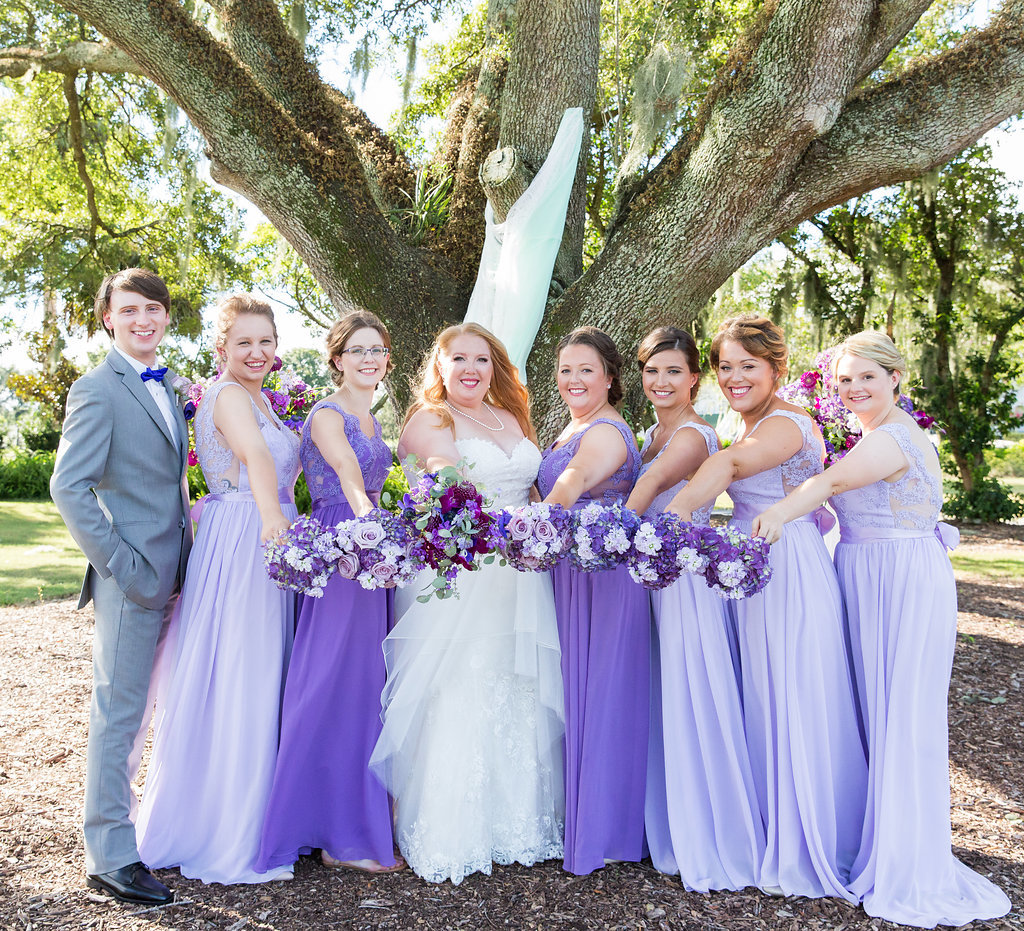 Style: #LWZT15040 & #PR3263, Image Credit: Olivia Caine Photography
Here are some of the most popular purple shades you can choose from:
1. Plum
This is the darkest shade of purple and is almost seem like a deep wine. It works well with grey and gold and is perfect for fall weddings.
2. Violet
This bright hue works well any time of the year. The darker hue creates a wonderful contrast with the skin and can make your bridesmaids look brighter and stand out from the crowd.
3. Orchid
Orchid is a more dignified shade of purple and is usually preferred for church weddings. The exotic and graceful orchid represents love, luxury, and strength.
4. Lilac
Lilac is more subdued purple and this color is more easy going and lighter on the eyes.  It is known to stimulate and soothe the mind and emotions.
5. Lavender
Lavender is a soft and elegant purple shade that is perfect for spring weddings. It is a lively color that communicates romance and feelings of nostalgia.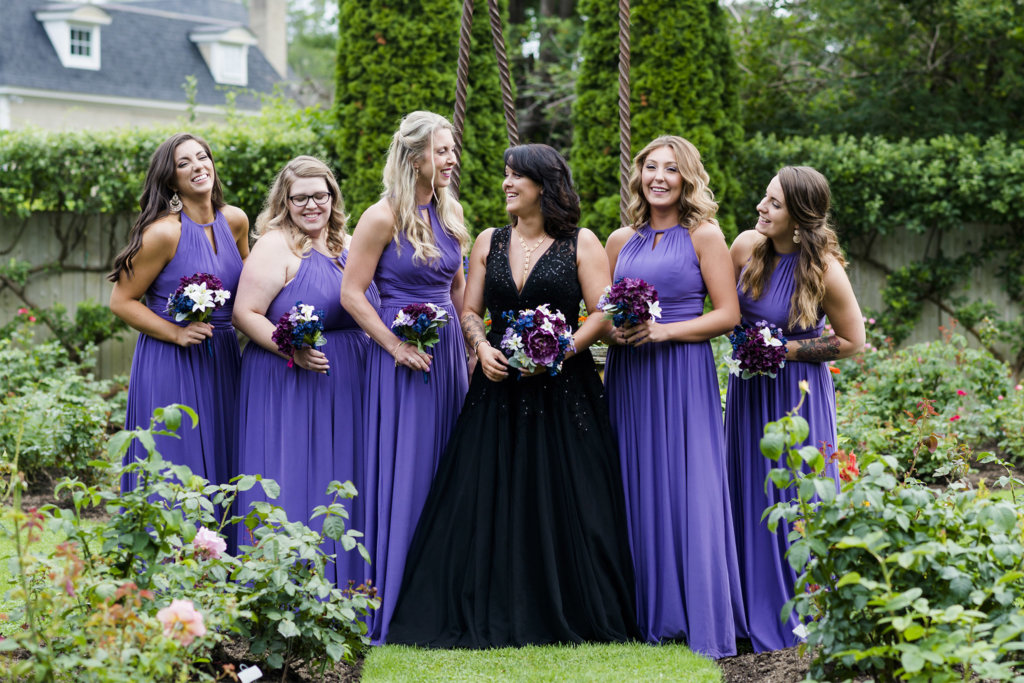 Style: #LD3932 & #COZF17019, Image Credit: Lauren Liz Photo
Mix and Match Purple
You can try mixing different shades of purple for a fun burst of purple collision that is simpler and less complicated to put together. Or try using a combination of purple and various colors to create a surprise element for your guests. It can be a great way to incorporate different colors in your wedding as well as create a gorgeous color effect in your bridesmaid's looks.
An interesting combination is purple and blue. They are very popular colors to brighten up your wedding decor as well. Try choosing a few dresses in lighter shades of purple such as lavender and lilac and combine them with dresses in different hues of blue like a periwinkle blue or a bright dazzling blue.
For a fall or winter wedding, darker shades of purple, such as violet and royal purple can be used in combination with a dark navy blue to create a regal bridesmaid look.
Another classic and noble combination is using a mix of purple and silver. You can use a piece of matte silver jewelry or a sparkly belt with the dresses for a winning combination.
Purple and gold also create a magical fusion. Ask your bridesmaid to wear golden heels along with their purple dresses and you're sure to wow your guests with it!
 Image Credit: Elizabeth Burgi Photography
You can also try other ways to incorporate this romantic wedding color :
Bouquets
Purple flowers make fabulous bouquets. Try a mix of purple flowers, such as lavender and violets and add a lot of greenery to it.  Berries can also go well with these flowers. Tie them together with vines to create an authentic bouquet or wrap them in white or brown ribbons for a delicate, neat look.
Gifts
A bottle of dried lavender petals and a violet perfume can make fantastic souvenirs for your guests. The scent of lavender is known for its calming and refreshing notes and can keep you and your guests in a good mood all day long.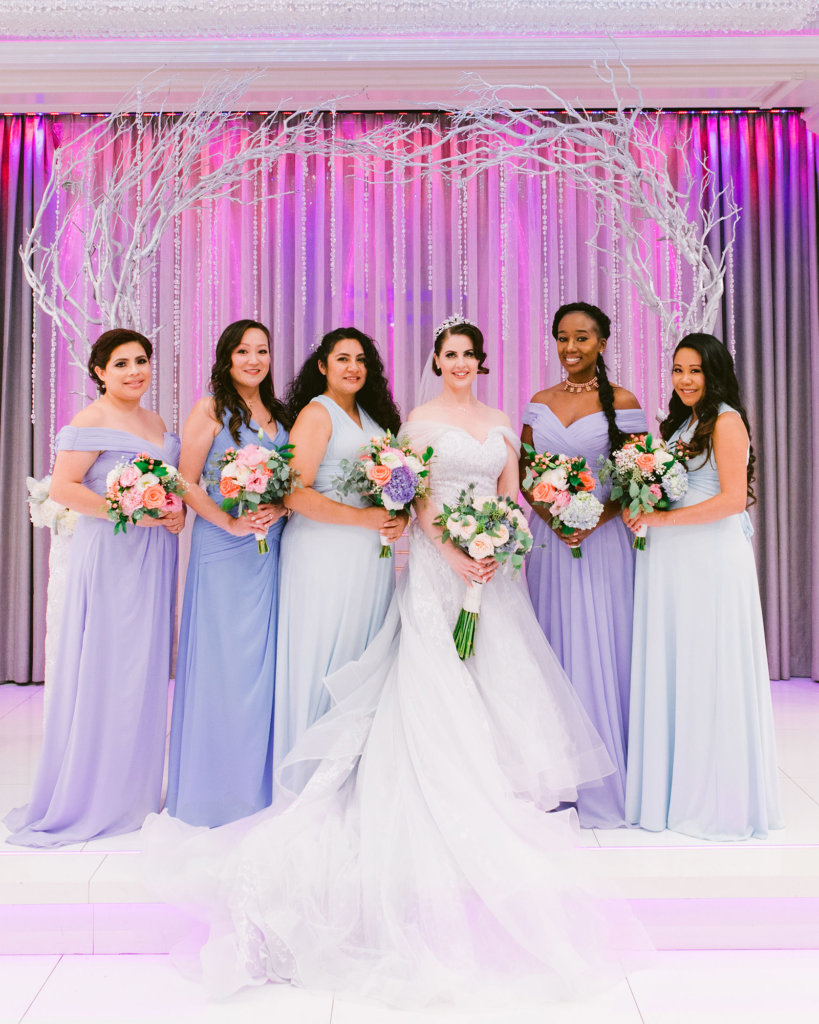 Style: #LD5054, Image Credit: Elizabeth Burgi Photography
You can also incorporate purple in your table decorations, as your wedding cake color or in your overall floral decorations for the wedding. This color is extremely versatile and there are no restrictions on how you can use this sweet, romantic color at your wedding.