"All that you are is all that I'll ever need." — Ed Sheeran​ 💘 Ciara and Katie's wedding in Southside, AL had major fall/rustic vibes and we're feeling a bit enchanted. And we just can't stop obsessing over Ciara's dream dress. Words cannot describe how stunning they were, just check those pics below!
All photos were taken by Savannah Kay Photography.
Wedding Dress Style: #LD3734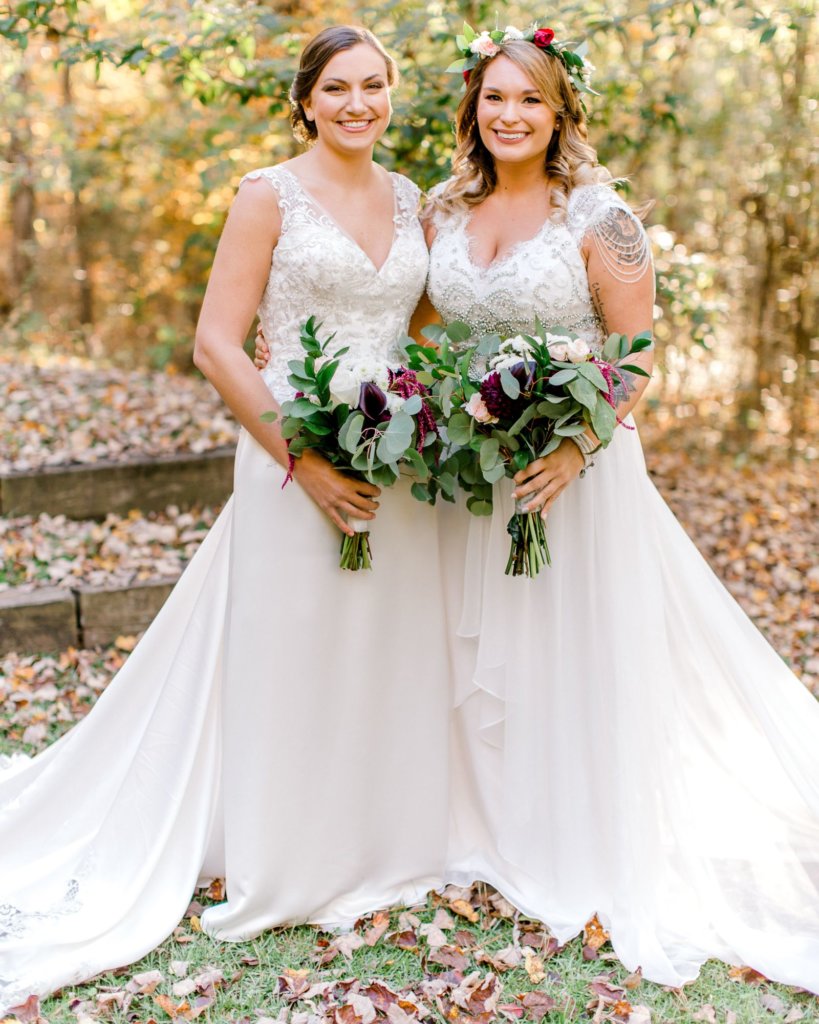 Q: Any advice or tips for future Mrs.?
Take all of the help you can get! If you have anyone willing you relieve some stress, let them do it! I am somebody who likes to be in control of everything, but once I realized it's absolutely impossible to plan a wedding on my own.. A weight was lifted off of me.
Q: What was the inspiration behind your wedding theme?
Our wedding theme was based off the time of year. My wife & I really enjoy fall weather, so we incorporated pumpkins, darker floral arrangements & etc. to bring out the season we love the most!
Q: Tell us your love story! Where & How did he propose?
Truth be told, we met at Taco Bell. Haha. I went out with one of my girlfriends expecting to have a chill night out, but ended up being the best day of my life & I didn't even know it. Katie proposed to me in Louisiana under the "Tree of Life" in Aubon Park. We took that trip specifically to see Taylor Swift in the pit & I went home being an engaged woman! By far, the best weekend of my life besides my wedding day.
Q: How would you define the message "Dare to Love"?
Taking chances! They always say, "always dress your best, you never know who you will run into." If that's not the truest statement of my life, I don't know what is! I was in a very weird place in my life when I met Katie, but taking a leap of faith & giving my all to her was the best decision I've ever made.
Q: What was the best/most memorable part of the day?
Definitely being introduced as a couple & jamming to my favorite song, "Return of the Mack" by Mack Morrison.
Q: Where did you hear/find CocoMelody?
I saw CocoMelody on an advertisement on Instagram. When I started my wedding dress journey, I had no idea what I wanted. I went to a few local stores around my hometown & left with nothing. Late one night, the advertisement showed up again.. So I went on a whim to find my dream dress. When I found it, I couldn't stop thinking about it! I told myself if it were meant to be, things would line up & it would happen.. & it did!
Q: What did you love most about your #CocoMelody dress (es)?
The detailed beading work was my absolute favorite. For the price I paid for my wedding dress, you could easily have guessed it to be over a couple thousand. In reality, it was within my budget & I was completely in love with it!
Q: What do you think about CocoMelody and the customer service?
I would definitely recommend CocoMelody to a friend! The customer service was phenomenal! Whenever I'd send an email to follow up, I was always responded in a quick professional manner. I couldn't of asked for a better dress for my wedding day & I am so grateful everything was perfect!