After ten long years relationship, Elissa finally could have her fairtale princess moment fulfilled by helding a garden wedding last September in New South Wales, Australia. Planning a Wedding during the pandemic was definitely a challenge, but they made it ! Congratulations to this sweet couple and thanks for sharing all these beautiful moments and memories with us here!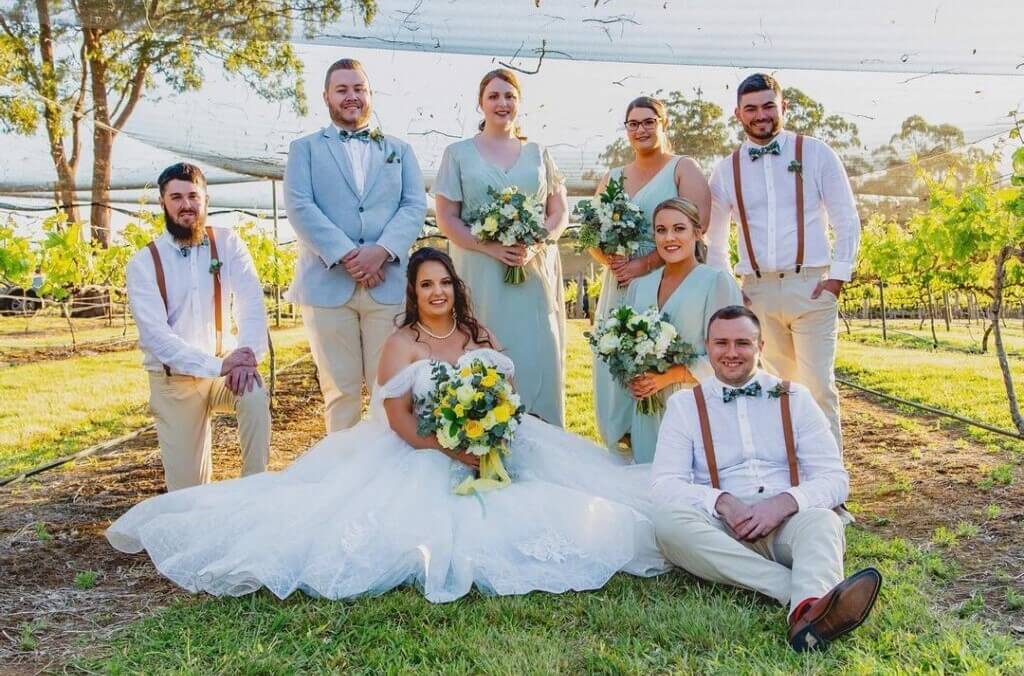 Photo Credit:  @elissaxxjoy ; Wedding Dress Style: Aspen #CW2169
Q: Any advice or tips for future Mrs.?
Know your limits. Ask for help! Remember to breathe.
Q: What was the inspiration behind your wedding theme?
Our venue lends itself to a romantic garden theme.
Q: Tell us your love story! Where & How did he propose?
James and I started dating in the last week of year 12 having gone through all of high school at Wauchope High, graduating in 2010. Yes we've been together for a while. When I got my job a real estate 6 years ago he said if I got him a house he'd get me a ring. So last September when we got the keys to our newly built home he got down on one knee and proposed. Finally! We set the wedding date for the following September 26th on our 10 year dating anniversary. The bushfires were happening very close and leading up to Christmas everywhere was busy and booking out so we didn't end up with an engagement party and decided to focus on the wedding. Our wedding venue was picked after our first two options got deposits for the date we wanted literally days before we were going to scope them out but it worked out for the best. The venue had such a lovely atmosphere and meant we could keep the ceremony and reception in one place. Then Corona happened.
Planning through the pandemic was tricky but we did it! We were lucky we didn't have to postpone at all, we held out thinking, hoping that everything would calm down by September. The pandemic actually helped us to keep our guest count down and we ended up with a comfortable 60 people, only having 2 couples unable to attend due to being out of state. I almost threw the towel in when the second wave started but James convinced me to keep going. There needed to be something good in this hectic year. The only thing that really threw us was when they allowed dancing for 20 of the official party. Rearranging the schedule to accommodate this 2 days out was such fun, NOT! Everything came together and James and I celebrated our wedding day with those nearest and dearest to us with only minor hiccups. I wish I could do it again and again!.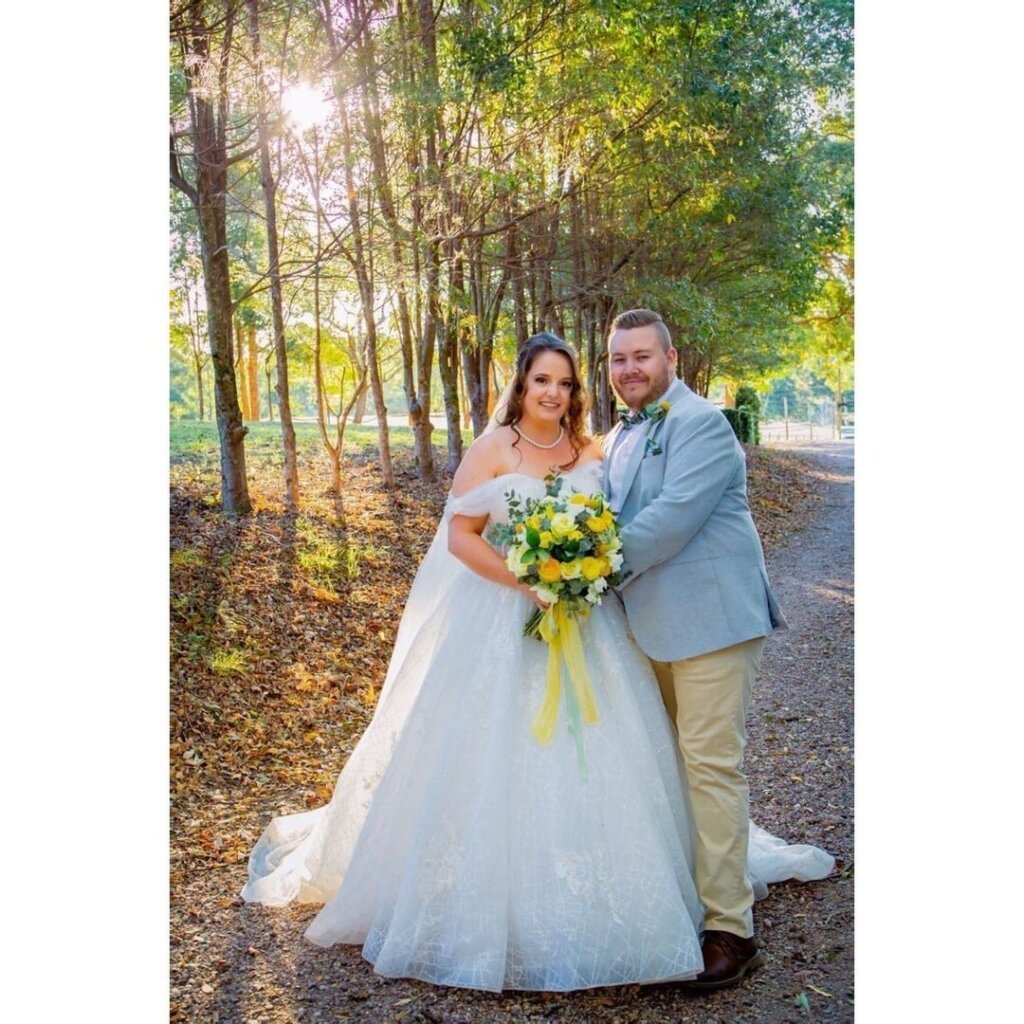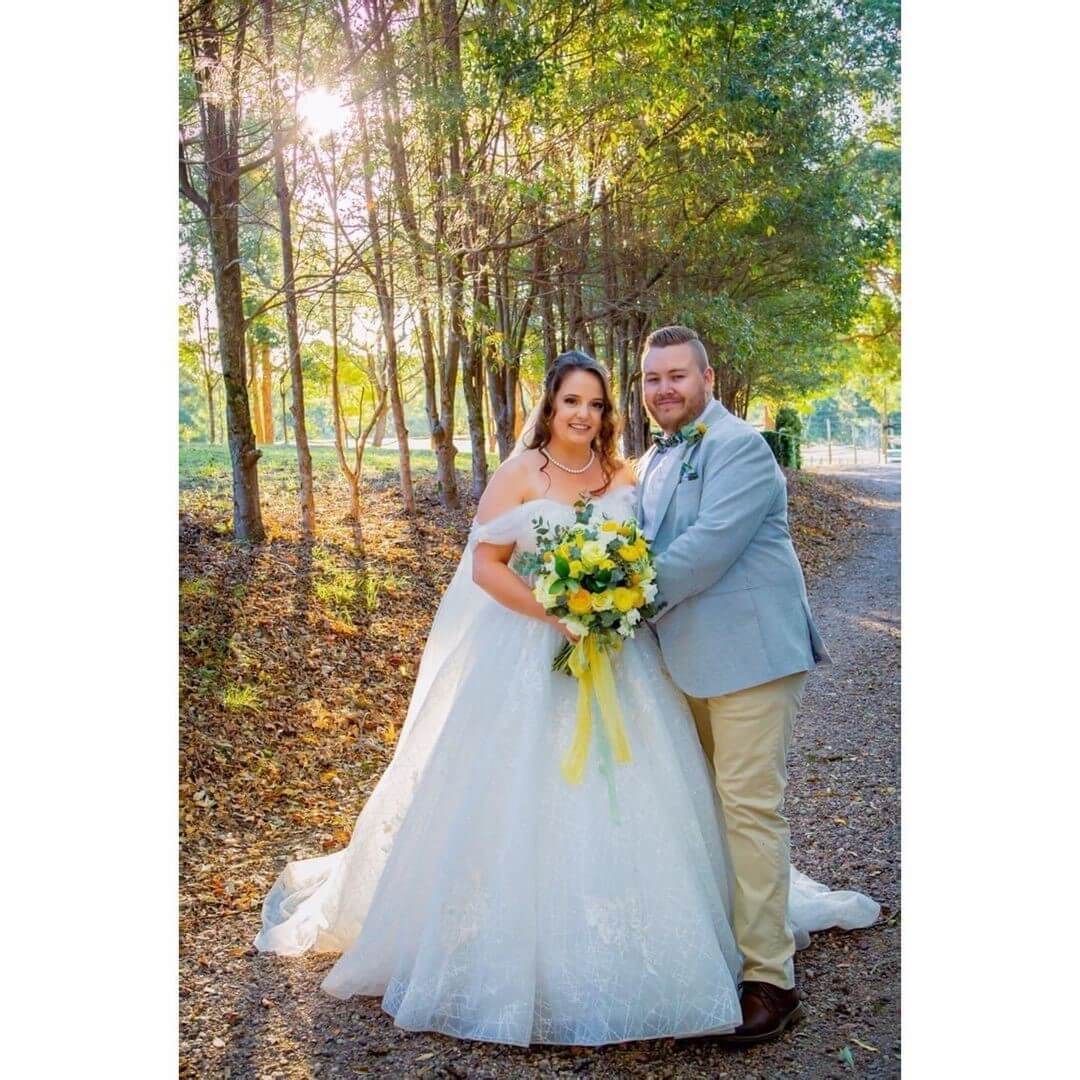 Q: What was the best/most memorable part of the day?
Our First Dance. We chose "I can't help falling in love with you" by Elvis. James' Nan passed away a few years ago and she loved Elvis, so that was our dedication to her.
Q: Where did you hear/find Cocomelody?
I first stumbled across Cocomelody on Pinterest YEARS ago while planning my big day way before the ring, as everyone does. At first I thought it was a hoax with prices so low. I am glad I was mistaken.
Q: What did you love most about your #Cocomelody dress?
Aspen was everything I wanted in a wedding dress and more! I was looking for a fairytale princess moment. My late Grandfather would call me his princess so this was my nod to him. I was very close to actually wearing a tiara too and sewed a blue heart into the dress from one of his shirts so he was there with me. I knew I wanted a ballgown/A-line style and first was looking at LD5066, it was just what I wanted. But as soon as I laid eyes on Aspen in the 2020 collection everything else paled in comparison. Lace, glitter, beading, appliques!! Just so perfect for me!
Q: What do you think about Cocomelody and the customer service?
I couldn't fault a thing! The customer service team – 100/10, always happy with any of my enquiries and very easy to talk to. Made me feel confident with my purchase across the globe. The Dress – 1000/10, With custom measurements it fit like a glove. The construction and material quality is fantastic. I was more than happy to tell everyone who asked where I got my dress. And will continue to recommend Cocomelody to anyone looking for their perfect wedding dress.