Patty McCrystal and Christopher Ford tied the knot with a unique wedding theme that captured the essence of the Southwest Gothic style. Their wedding was held in New Mexico during the beautiful fall season. If you're looking for inspiration for a one-of-a-kind wedding, you'll love the ideas that made Patty and Christopher's wedding truly unforgettable. In this article, we'll dive deep into the details of their wedding, exploring the theme, the location, the decorations, and more.
Any advice or tips for future Mrs.?
On the day of, if you don't have a wedding planner (we certainly didn't), assign two or more willing point-people who are NOT in the wedding party to help the bridal party and the groomsmen get ready and stay on a timeline. This includes things like grabbing clothes bags or bouquets from other parts of the venue, playing messenger to the photographer, bringing water, snacks, and champagne, etc. Other than that, remember to frequently pause, breathe, and take in everything with gratitude. The day goes by insanely fast, and it's easy to almost disassociate — everything about the day is so strange and unique and wonderful. Everyone you love is there to celebrate you and your partner — allow yourself to feel that love fully!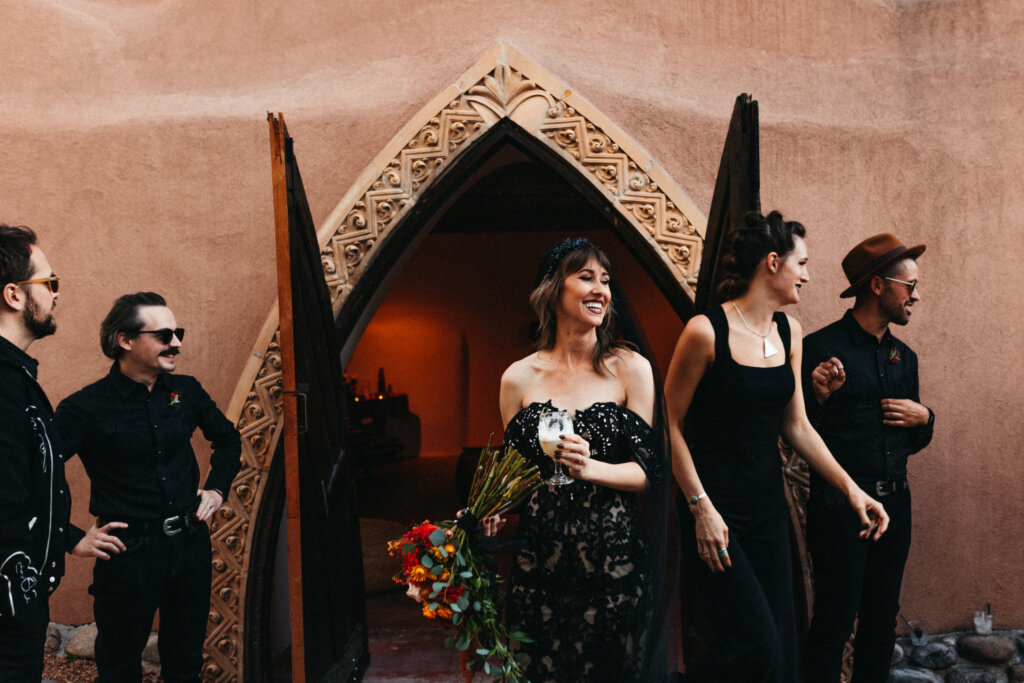 Photo Credit: Kyla Fear ; Dress Style: ANA, CW2318
What was the inspiration behind your wedding theme?
Northern New Mexico has been our home away from home throughout our relationship. We've had so many magical and unforgettable experiences there, so we couldn't think of a better location to gather with all our friends and family. I have a fairly "alternative" style and personality, and Christopher and I both wanted the wedding theme to wholly reflect our unique taste. I'm grateful to have gotten married at 32, an age that's typically more inviting to self-confidence about personal preferences, without worrying about satisfying anyone else's expectations. For the decor, we leaned into dramatic fall southwestern decor with a gothic twist. The bride & groom table had vintage goblets and brass candle holders surrounded by a swath of black silk, lanterns, little bones and antlers, and local flora picked around the venue. The other tables had burnt orange tablecloths with lanterns and more flora picked by friends.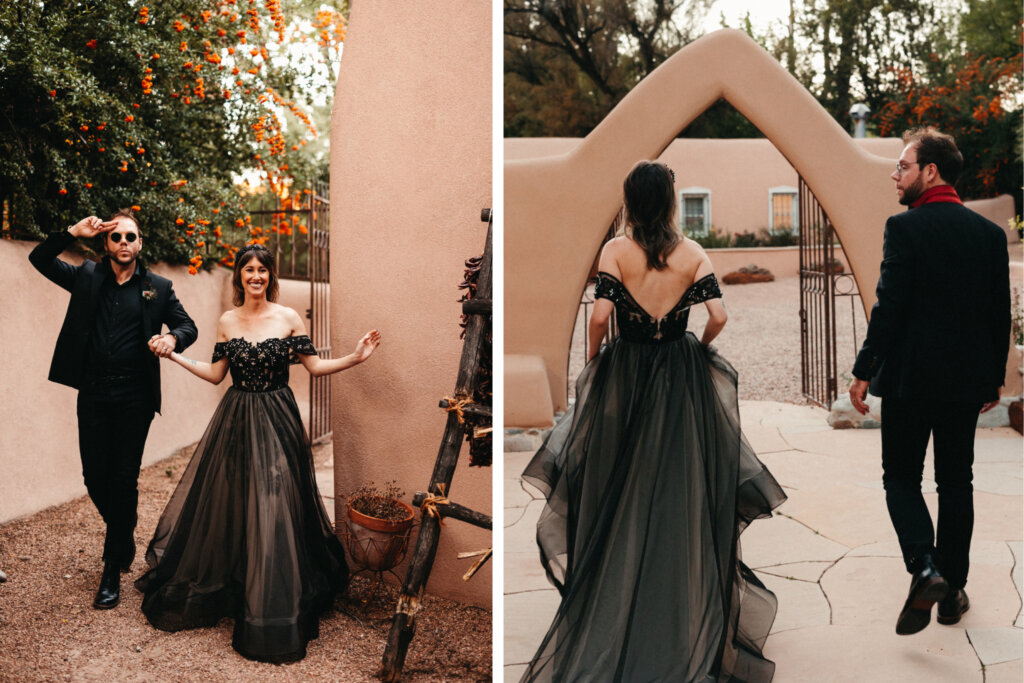 Photo Credit: Kyla Fear ; Dress Style: ANA, CW2318
Tell us your love story!
Christopher was a full-time traveling singer-songwriter when I met him. Me and my best friend (eventual maid of honor) went to the Oriental (an old music venue in north Denver) to see a local band headline, and caught a bit of Christopher's opening set. Afterward, we chatted him up by the venue bar, and quickly hit it off. We alternated between watching the next few bands and hanging out in the green room, where we drank tall boy PBRs and goofed off and got to know each other. By the end of the night, Christopher asked if I wanted to kiss him on the balcony, and I did. I left that night with his number and a few of his records. The next day we started texting, and never really stopped. A few weeks later, I visited him in his home town in Des Moines, and in the following months met him on the road in New York and Chicago. He made his way to Denver for a few shows by that fall, and I gave him a proper Colorado welcome tour (lots of hiking, foodie tours, speakeasy stops, etc). He began entertaining the idea of moving to Colorado, and did so within the year. But before he moved in with me, we took our first couple's trip to New Mexico, and I showed him the magic that was Santa Fe and Taos, two of my favorite places to visit since I was a kid. We'd been dating for about 6 years, living together for about 5, when he proposed to me in NYC, on a trip that included my best friend. It was a very sweet full-circle moment.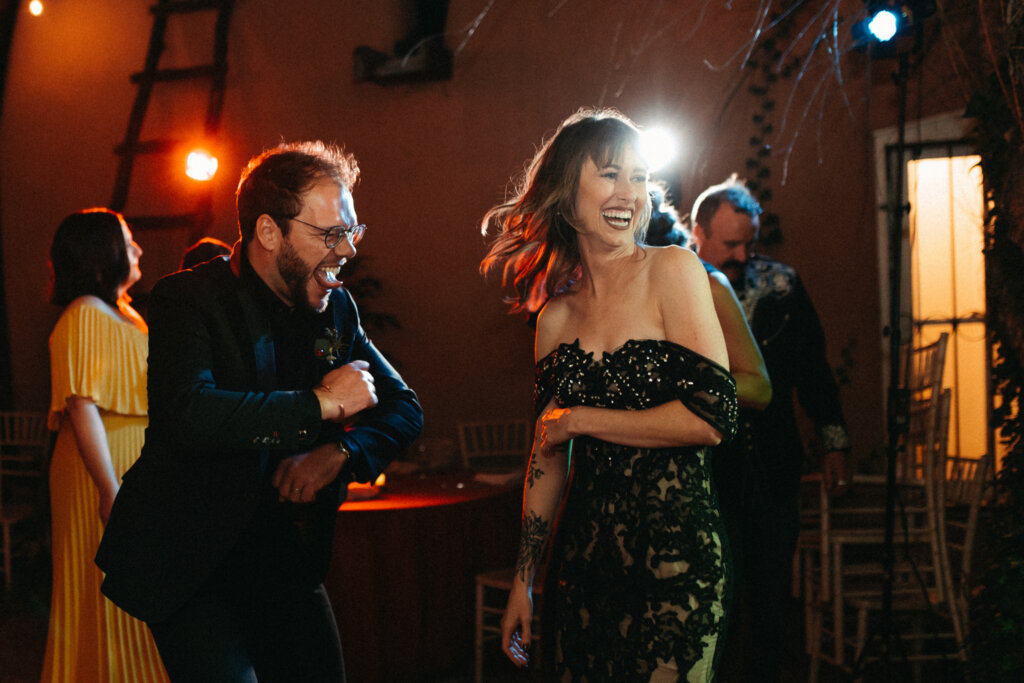 Photo Credit: Kyla Fear ; Dress Style: ANA, CW2318
The best/most memorable part of the day?
Dancing was by far the most fun part. Getting out on the dance floor with friends and family felt like the peak moment of celebration. There were no more plans or places to be, I could just cut loose and enjoy the playlist I had worked so hard on, which I made sure to fill with bangers from every era. Even the catering crew complimented the playlist – they were singing along and dancing in the venue's kitchen!
Where did you hear/find Cocomelody :
Either Google search or Instagram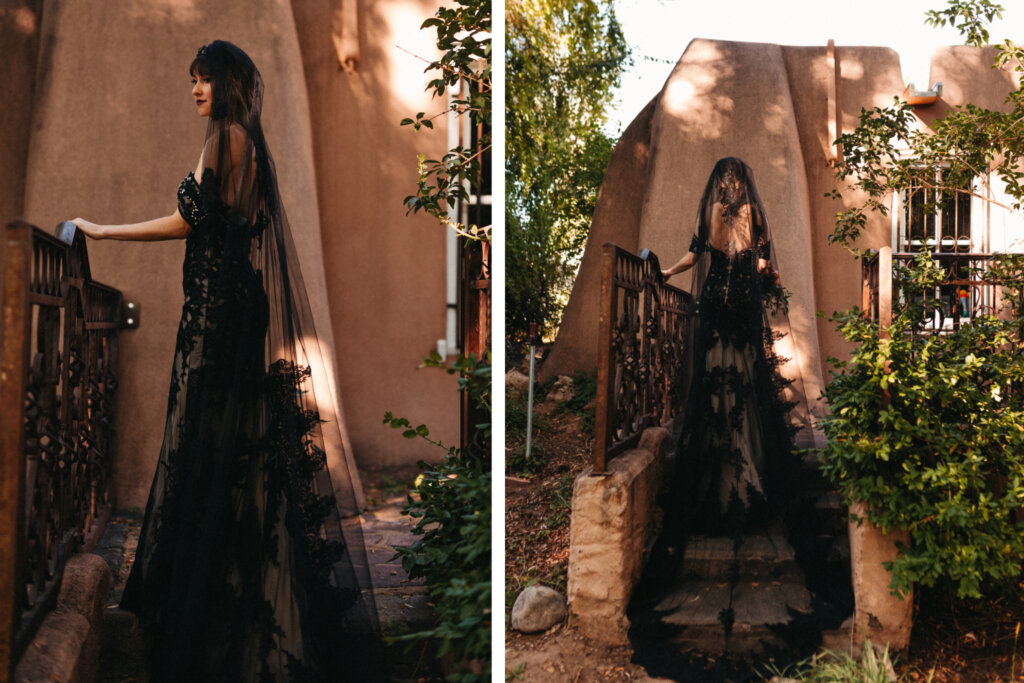 Photo Credit: Kyla Fear ; Dress Style: ANA, CW2318 & Veil Style: CV0232
What did you love most about your Cocomelody dress?
The unique style of the dress and gown completely floored everyone. I knew I would never get married in a white dress, but I didn't want a dress that felt underplayed or casual for the occasion. I still wanted one-of-a-kind beauty and drama, and that's what I got with my COCOMELODY gown and veil!
What do you think about CocoMelody?
Couldn't have found a more perfect dress and veil anywhere else. So gratful!