ONE dress, MANY looks, to get you the best of both worlds.
Changing into multiple dresses for different wedding functions seems fun and fantastic. It is becoming "the norm" for brides, so to say! Brides are mostly doing two outfits — one for the ceremony and the other for the wedding party. But this also calls for a bigger budget and doubled shopping stress, which might not be feasible for every bride. Also, it contributes to fast fashion for many.
The solution? A Convertible Wedding Dress!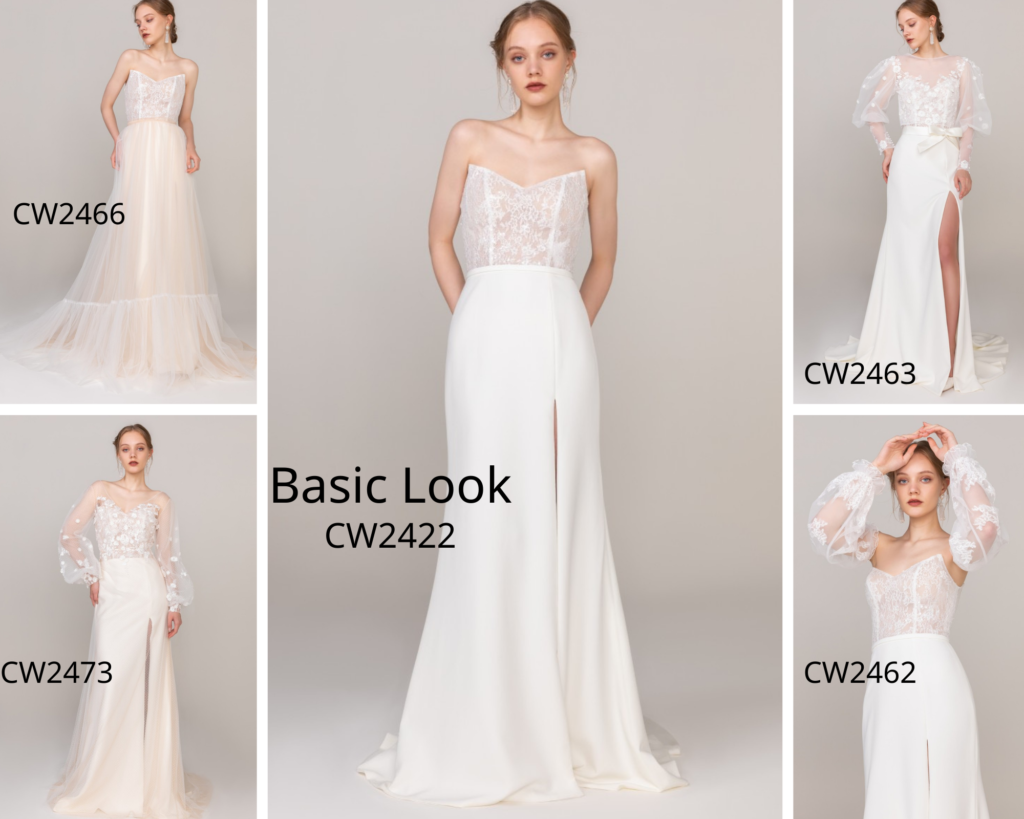 Usually, it is a sheath/ short dress with an overskirt transforming into a traditional A-line or ball gown dress, i.e., featuring two styles in one. And don't worry girls, a convertible dress is stylish, very much practical, definitely a thing, can offer customizable styles, and fit almost everyone's budget.
At Cocomelody, we have some stunning convertible wedding dresses that will help you steal the show. Not just two-in-one, but our 2022 Convertible Wedding Dress sports multiple looks. You will be surprised at just how many styles you can minimally and gracefully create with a single dress and a few add-ons. So, take the stress out of your wedding dress shopping and look to Cocomelody for inspiration.
2022 LILY WHITE COLLECTION – ONE DRESS, MULTIPLE LOOKS
At Cocomelody, we usually use two different types of silhouettes – A-Line and Trumpets. Our sizes mostly range from 0 to 28, but we can also accommodate other-than-standard sizes, i.e., custom sizing. With our Lily White convertible dress collection, you will find outer dresses (shells), detachable overskirts, and even cute belts and other accessories to suit different tastes.
Dani CW2422, our sexy stunner, can be styled in 12 incredible ways. This base gown is made to measure to flatter every bride's figure, which is then paired with toppers, overlays, and underlays to transform your look and take creative tailoring to a whole new dimension. Our team continues to push boundaries with innovative bridal wear outfits for a breath of fresh air and practicality every year.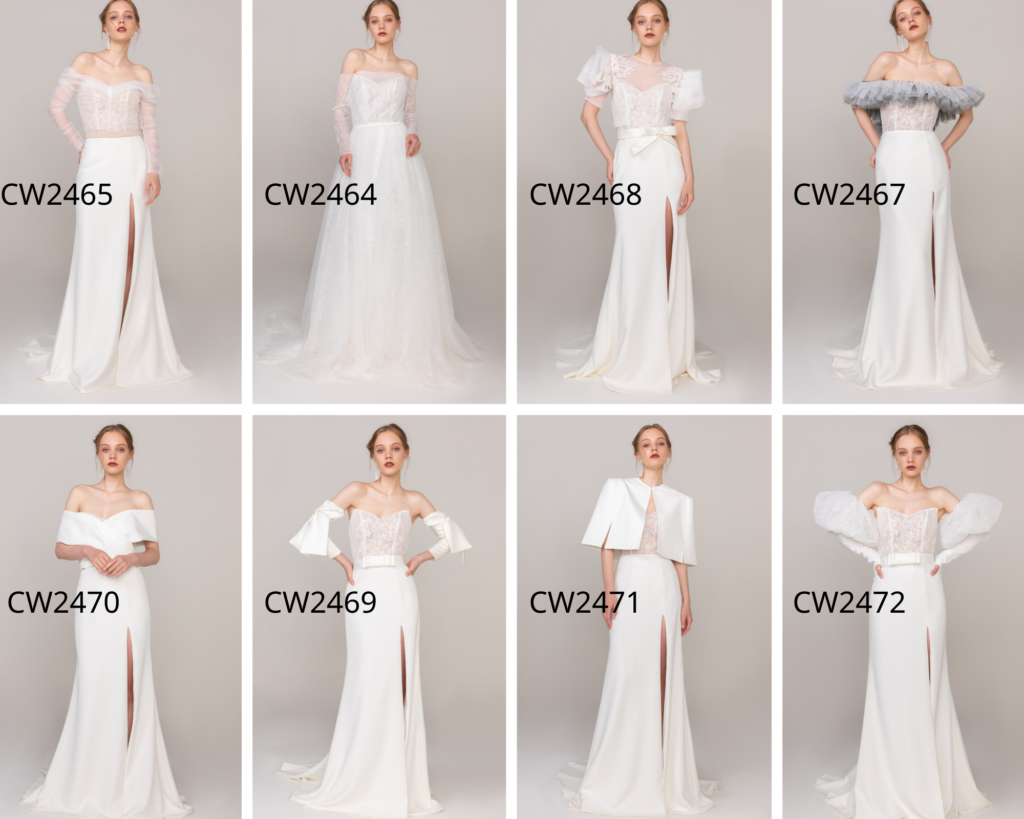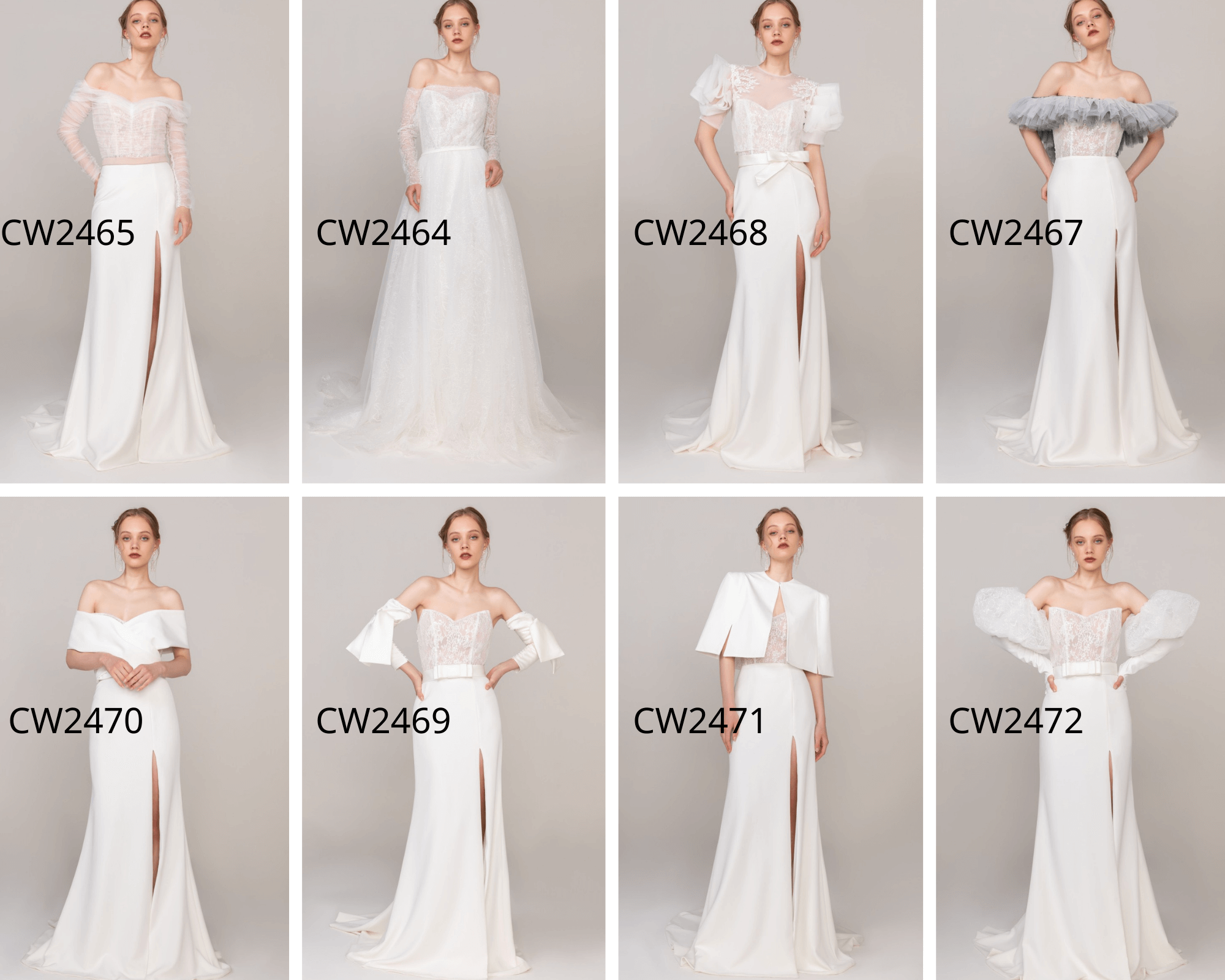 THE LOOKS
Wish to create a dreamy and oh-so-stunning look? Make heads turn with CW2463 Viviana. It is a two-piece outfit featuring a bolero and an inner dress. You can also add more details with a simple and chic belt and bring your look together.
Take the basic inner dress to the next level and fulfill your boho dreams with CW2466 Yaretzi. It comes with a sheer Chantilly lace corseted bodice on the inside and a voluminous detachable tulle skirt outside.
Dress for a fall/winter wedding with CW2473 Zainab, an ultra-feminine two-piece ensemble featuring dotted swiss tulle fabric, floral V-neckline bodice, poof bishop sleeves, and closed with pearl buttons at the back.
READY TO TRY ON THE DRESS OF YOUR DREAM? 
Radiating and looking your best throughout the wedding day is a lot to ask from a single wedding dress. But what if you don't have the budget for multiple outfits? Well, here is where a convertible, many-in-one wedding dress steps in. Pair it up with some clever and unique accessories and juggle between different looks like a PRO!
Wanna learn more price-friendly convertible wedding dress? Visit Cocomelody website to pick your dress make the most of your looks!
At Cocomelody Bridal Boutique LA store we also offer convertible wedding dresses that look even more luxurious. Speak to our friendly and professional stylists, and we will help you find the dress of your dreams. Schedule your appointment with Cocomelody today and shop the best.