The term trunk show is often tossed around vaguely in the bridal industry. But if you are just starting with your bridal business or looking to attract more qualified leads, it is a magical word for you.
Trunk shows allow to-be brides to view a collection they might not have the chance to see otherwise or in-store. And it is also a vital part of the business from the retail perspective.
Collaborating with Cocomelody to set up your trunk show can offer numerous advantages to increase your clientele and profits.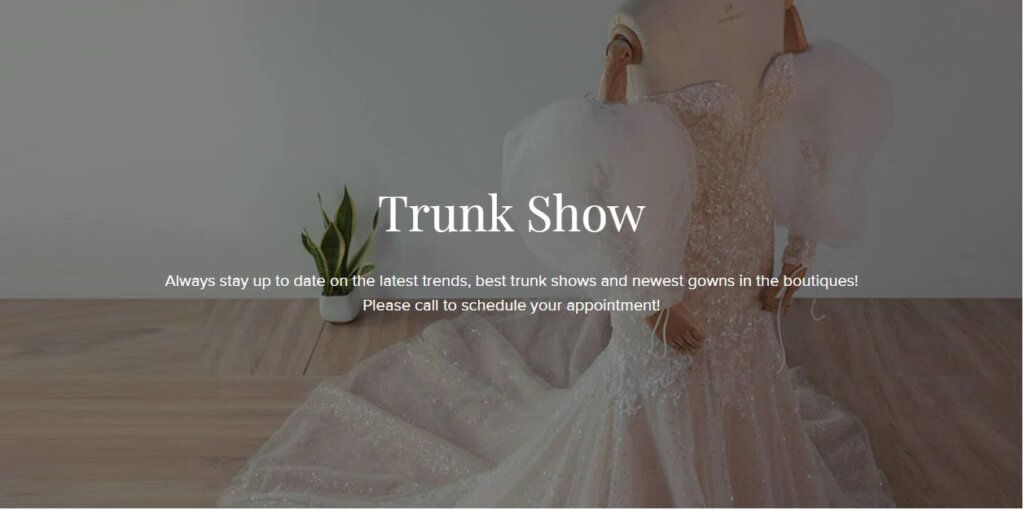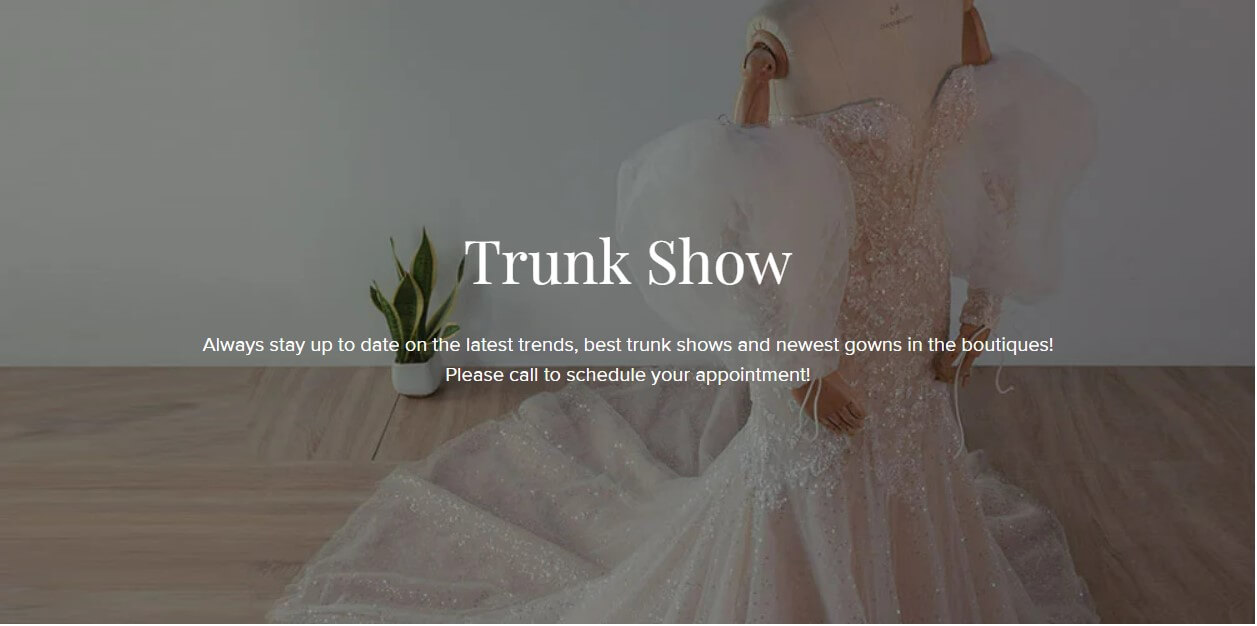 Featuring In a Cocomelody Trunk Show
Featuring in a Cocomelody Trunk Show allows existing local partners and potential ones to introduce designer wedding gowns to their customers for a specified period, boosting their sales and reputation.
In the past, we have hosted several trunk shows all over The States and have plans to keep doing so in the future as well.
So many to-be brides got the opportunity to find their dream dress from a selection that wasn't seen before. And our partners got to see their customers try on those beautiful outfits and listen to their valuable comments.
It is like showcasing straight-off-the-runway bridal styles. The event is fun, very much exclusive, and usually lasts for a few days.
Partner Benefits
Create a buzz with customers
Low-cost promotional event
Receive free samples
Showcase designs for long
Increased profit sharing
Benefits For to-Be Brides
Directly learn about the designer
View and try-on the latest styles
Undivided and personal attention
Get the best possible price
Same-day purchases
Get more details about our upcoming trunk shows – Click Here
How It Works & What To Expect?
Trunk shows are such a win for everyone. Store owners get to spread the word, and brides get to experience a never-before bridal extravaganza. If you are a bridal shop owner in the United States looking to widen your prospects, we can help.
Receive Your Samples
When you partner with Cocomelody to set up your bridal trunk show, we deliver 6-12 samples to your store. All of these are from our 2022 AW collection and other hot sellers.
Showcase New Designs
You can showcase these designs to your to-be brides for a duration of 2 weeks, which is a big advantage, as you get more time to interact with, understand, and cater to your audience.
Higher Commissions
Besides offering top-notch designs, there is also a big focus on boosting overall profitability for your boutique to survive and thrive. So, when you feature in a Cocomelody Trunk Show, there is higher profit sharing, i.e., 50% net sales commission assurance. When we collaborate, plan, promote, and market well, it boosts your revenue daily.
Marketing Boost
Trunk shows have enduring power. These are a natural fit for the bridal industry. When featuring in a Cocomelody Trunk Show, you can showcase an extended product line (one that is different from your usual), meet and greet a newer audience, and promote your store without tying up your dollars.
Only Pay Shipping
To get started, all you need is to pay the shipping costs, and you can straight away enjoy increased traffic in your bridal store. Also, the shipping fee is only $599, which isn't a bad deal for the benefits you get.
Want To Keep The Samples?
If you wish to keep any samples after the show concludes, you can order six of those at a wholesale price. The $599 shipping remains refundable, i.e., it will be deducted from the final order payment.
Looks promising? You think you can benefit from this collaboration? Request a trunk show today, and we will help you navigate the specifics to level up your playfield.