Planning a wedding is an exciting time, but it can also be overwhelming. One of the most important decisions a bride will make is choosing the perfect wedding dress. While there are plenty of online options available, shopping for a wedding dress at a physical store offers a unique and personalized experience. Cocomelody is a leading bridal store that offers an extensive collection of wedding dresses and bridesmaid dresses, and the in-store shopping experience is second to none.
Find Cocomelody Bridal Shops Near You. (Store Locator)
Unconventional Black Wedding Dresses
In recent years, black wedding dresses have become increasingly popular. While they may be unconventional, they are the perfect choice for brides who want to make a statement on their big day. Black wedding dresses can be elegant and sophisticated, and they are a great way to add a touch of edge to a traditional white wedding. At Cocomelody, you'll find a wide selection of black wedding dresses that range from classic and timeless to modern and trendy. Whether you're looking for a long, flowing gown or a shorter, more fitted dress, you're sure to find something that you love.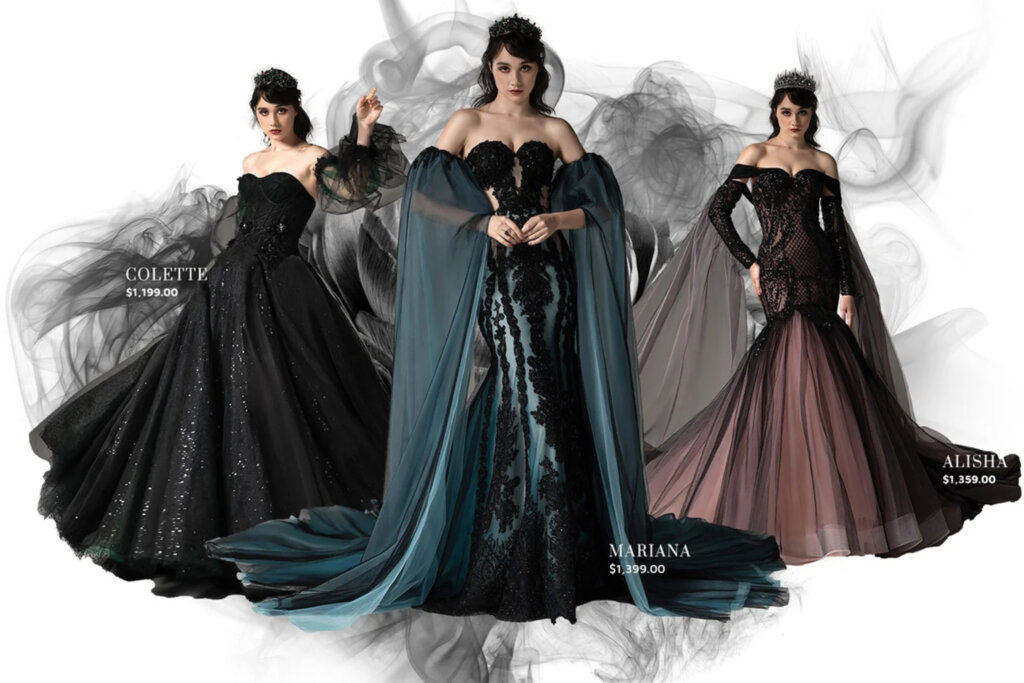 Styles: MARIANA #CW2504、ALISHA #CW2508、COLETTE #CW2506
Cocomelody 2024 New Collections
Cocomelody is always at the forefront of bridal fashion, and their 2024 collections are no exception. With a range of styles, materials, and embellishments, these dresses are perfect for any bride-to-be. From classic ballgowns to modern, minimalist styles, there is something for everyone. With the latest trends and styles, the 2024 collections offer a unique and personalized shopping experience. Whether you're looking for something that is traditional or something that is more contemporary, you're sure to find a dress that you love at Cocomelody.
See more 2024 New Collections.
Bridesmaid Dresses Available at the Store
Choosing the perfect bridesmaid dresses can be just as important as choosing your own wedding dress. After all, your bridesmaids will be standing by your side on your big day, so you want to make sure they look and feel their best. Cocomelody offers a wide selection of bridesmaid dresses that are both stylish and affordable. From classic, timeless styles to more contemporary and trendy designs, there is something for every bridesmaid. Whether you're looking for matching dresses or something more eclectic, you'll find the perfect bridesmaid dresses at Cocomelody.
See Bridesmaid Dresses collection.
Shopping for a wedding dress and bridesmaid dresses at Cocomelody is an experience that every bride-to-be should have. With a wide selection of dresses, knowledgeable staff, and a personalized shopping experience, it's easy to see why so many brides choose Cocomelody for their bridal needs. Whether you're looking for a traditional white wedding dress, an unconventional black wedding dress, or something in between, you're sure to find something that you love at Cocomelody. So if you're ready to start your wedding dress shopping journey, head to Cocomelody and find the dress of your dreams.
Wedding Dress Try On – Cocomelody San Diego. Make your booking.
Wedding Dress Try On – Cocomelody San Francisco. Make your booking.
Wedding Dress Try On – Cocomelody Los Angeles. Make your booking.