So you have decided to get married on May the Fourth A.K.A. Star Wars day? Well, congratulations on choosing an almost-too-great-to-be-true wedding date. We would like to take this opportunity to utter the classic pun, "May the fourth be with you!"
We are all Star Wars fans here, aren't we? So, if you want to pay homage to this classic space-opera at your wedding, we are sharing with you some ideas inspired by one of the most epic sagas in history that you can feature in your wedding day.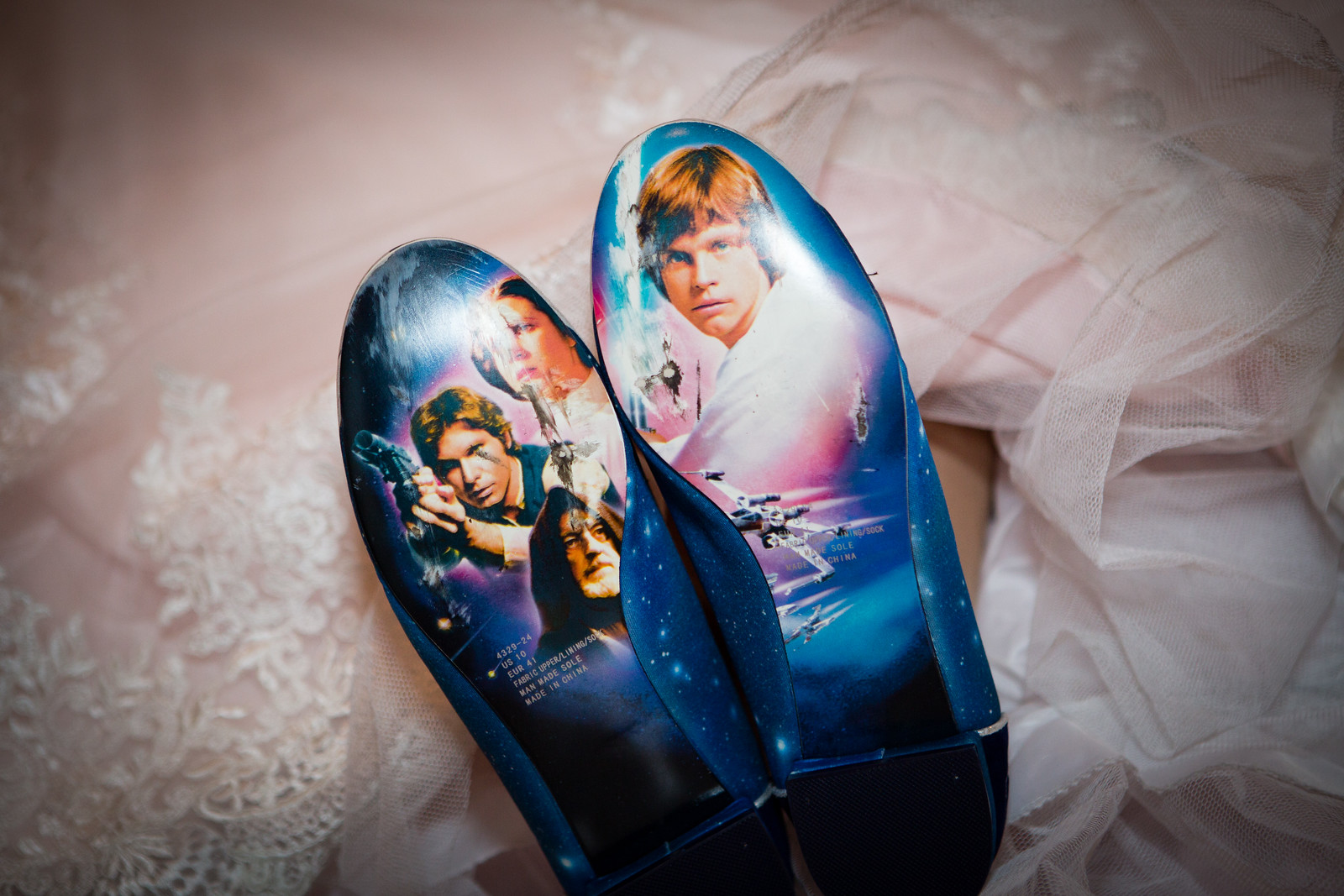 1. Customize your stationery, you must
If your wedding date happens to fall on a Star Wars fan's holiest day, take full advantage of it and incorporate it into your wedding stationery – imagine your menus in bright yellow, scrolling through a dark galaxy or "All Jedis Invited to our alliance" printed on your invites.
2. Décor from a galaxy far, far away
Send your guests on an intergalactic journey with millennium falcon serving trays, Death star centerpiece, and glittery, starry tablecloth. Here's another fun idea: use directional signs like "Tying the knot on Tatooine", "Hors d' Oeuvres on Hoth," or "After party in Alderaan".
3. Rock the "Leia" look
When it comes to your bridal look, you can go classic with a look inspired by Princess Leia. Because Princess Leia tends to favor white, a white wedding dress is what you should wear. Consider a wedding gown that has a high neck and extremely demure lines and yet is soft and flowing enough to hint intriguingly at your figure – perhaps an A-line wedding dress or you can even buy a custom wedding dress online. And, yes, you can accessorize with side hair buns and a delicately feminine blaster.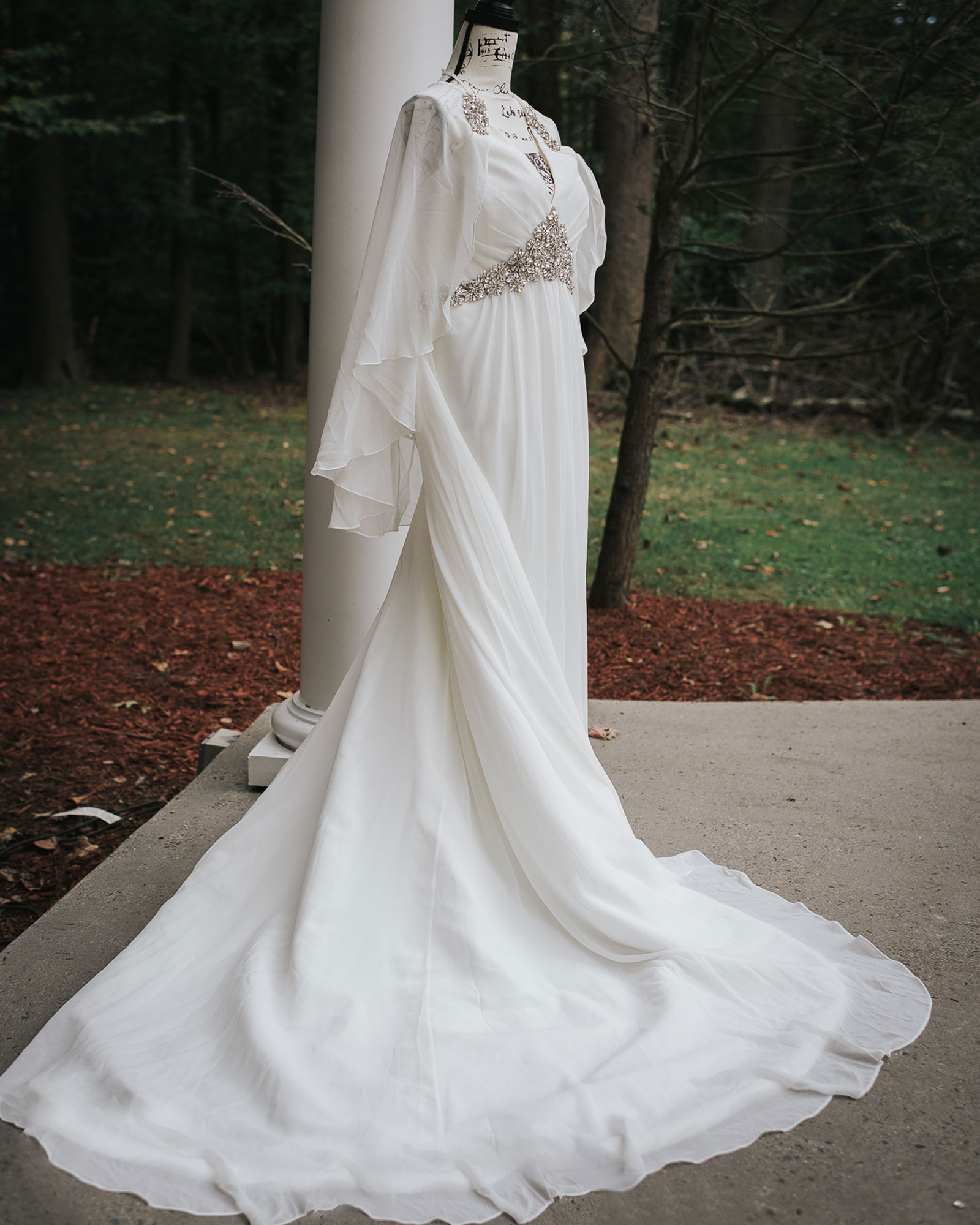 Style: #CWLT16011, Image Credit: SLY Photography 
4. Nerd out by quoting your favorite character
Can there be a better way to announce your love than by quoting your favorite character(s) from Star Wars? We don't think so. You can put your own creative spin in the quotes or just rip one off directly from the movie. The "I love you" "I know" from Han and Leia is one such awesomely adorkable quote fit for your Star Wars wedding.
5. Get rings to match your 'fanatical Star Wars enthusiasm'
You'll be pleased to know that you can easily find many, many wedding ring and band styles to harmonize with your Star Warsian tastes. Some of your inspiration points can include droid hardware, R2's cobalt blue panels or Princess Leia's iconic side buns. If you prefer something more subtle, however, you can absolutely go for a traditional ring with your favorite quote from the movie engraved on it.
6. Get the minister in on it
Can you imagine for a second the wedding minister dressed up as Obi-Wan Kenobi? That would truly be an affair to remember!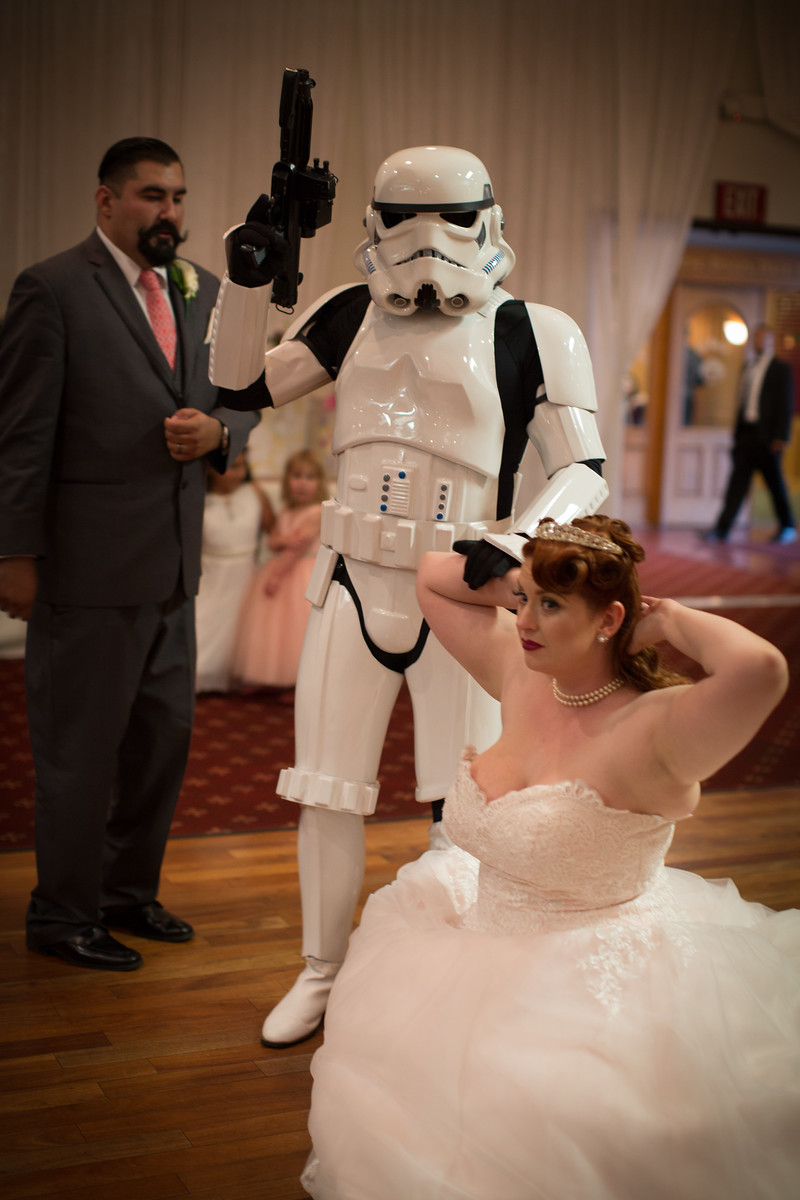 Style: #B14A0052, Image Credit: Jenn Spain Photography
7. Top the cake with an icon
Similar to the rings, you can find a wide range of Star Wars-inspired cake toppers to add a little more personality to your big day. A Jedi and Sith is one idea for an amazing cake topper. If you want to give homage to the Millennium Falcon's captain, though, a Han Solo cake topper is what you should go for. Too loyal to the Galactic Empire? Pick a stormtrooper cake topper. And, of course, how can we forget the most iconic pop figure in all of history, Darth Vader. A Darth Vader cake topper, or even his iconic helmet, would make for an amazing cake topper!
8. First dance…err… intergalactic battle
For your first dance, we suggest you don't dance at all, but instead have a staged one-on-one lightsaber fight. It could be between you and your partner or between the bridesmaids and groomsmen. So long as everyone can keep it fun, it's an exciting idea.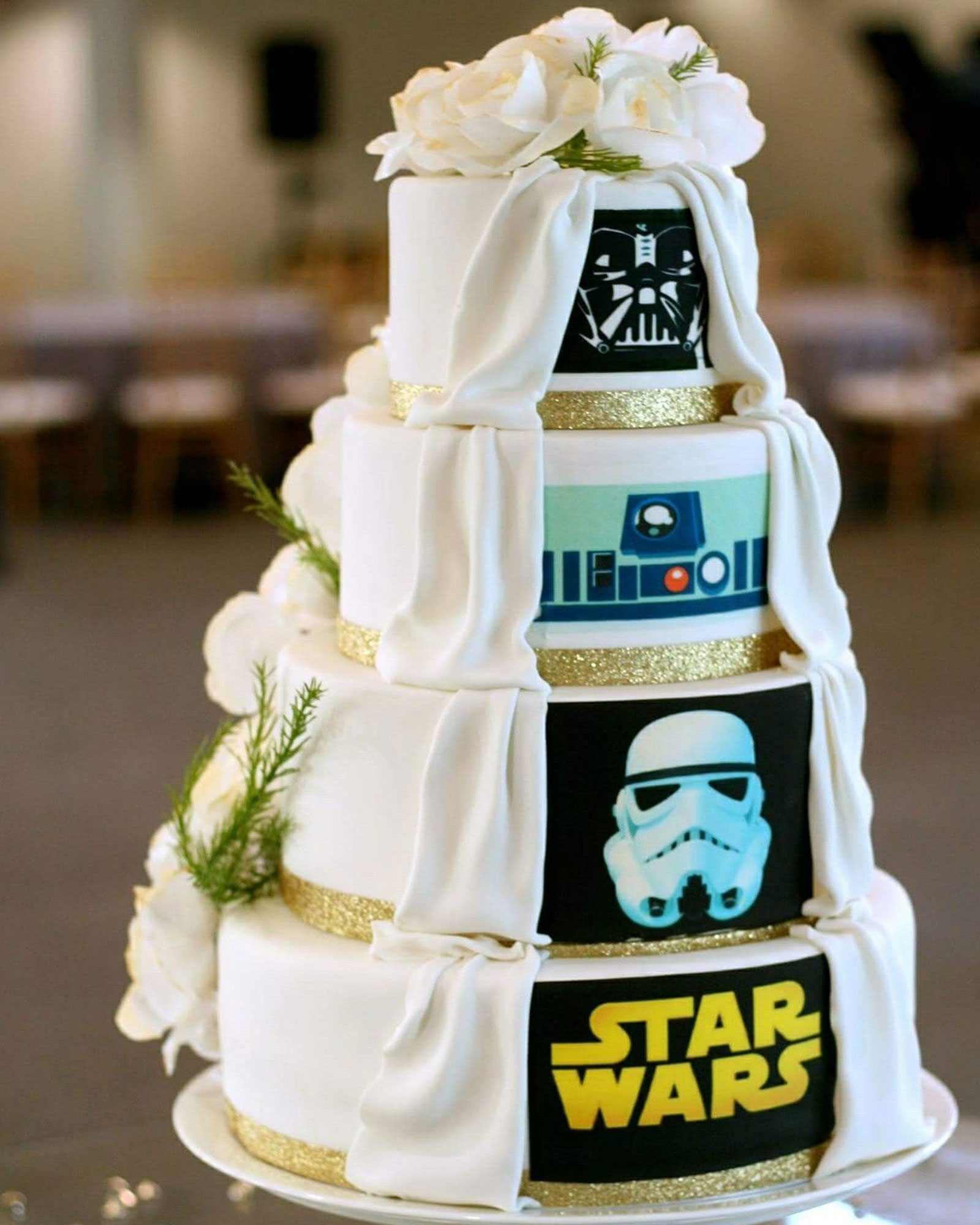 Image Credit: Pinterest
9. Don't forget the lightsabers
The most iconic weapon in the history of the silver screen, the weapon of a Jedi, a lightsaber can't be missed from your big day. You can use lightsabers to create a striking recessional archway or reception entrance or break them out for a non-traditional photo shoot.
10. Special guest appearances
You can invite some of your friends from the Galactic Empire at your wedding. You can have Stormtroopers guard the door at your ceremony and mingle with guests… or R2-D2 can make a cameo, complete with a bow tie.
Now that you are armed with the tools needed for your dream wedding in a "Galaxy far, far away", exchange ideas and begin planning! Be sure to have fun along the way!