A minimalist style emphasizes your best features and enables your natural beauty to shine through without looking excessive or exaggerated. Minimalistic gowns feature clean lines and fabrications to create pristine wedding gowns that will have every modern bride saying "I do."
If you're one of those brides that love a simplistic style, check out these 10 simple wedding dresses that you're sure to be head over heels in love with: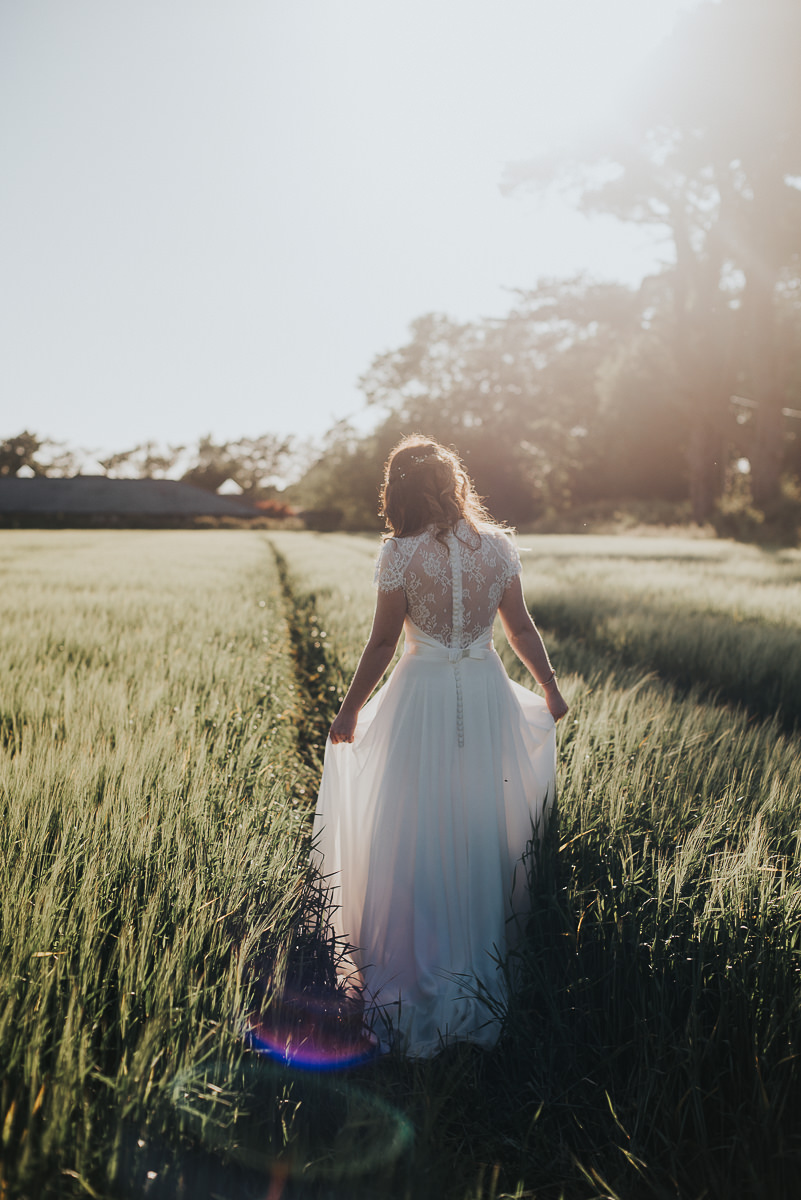 Style: #LD2676, Image Credit: Simon. from the Smith Photography
1. Style LD2676 from LB Studio Collection
This Grecian-style wedding gown comes in a sheath-column silhouette. The flowy chiffon skirt allows for movement and ends in a natural sweep train that makes the dress perfect for summer weddings. The dress is adorned with a pleated feature that gathers at the waist giving a cool, bohemian vibe to the dress while the delicate lace detailing around the sleeves and the plunging V-neck makes the dress look feminine and graceful.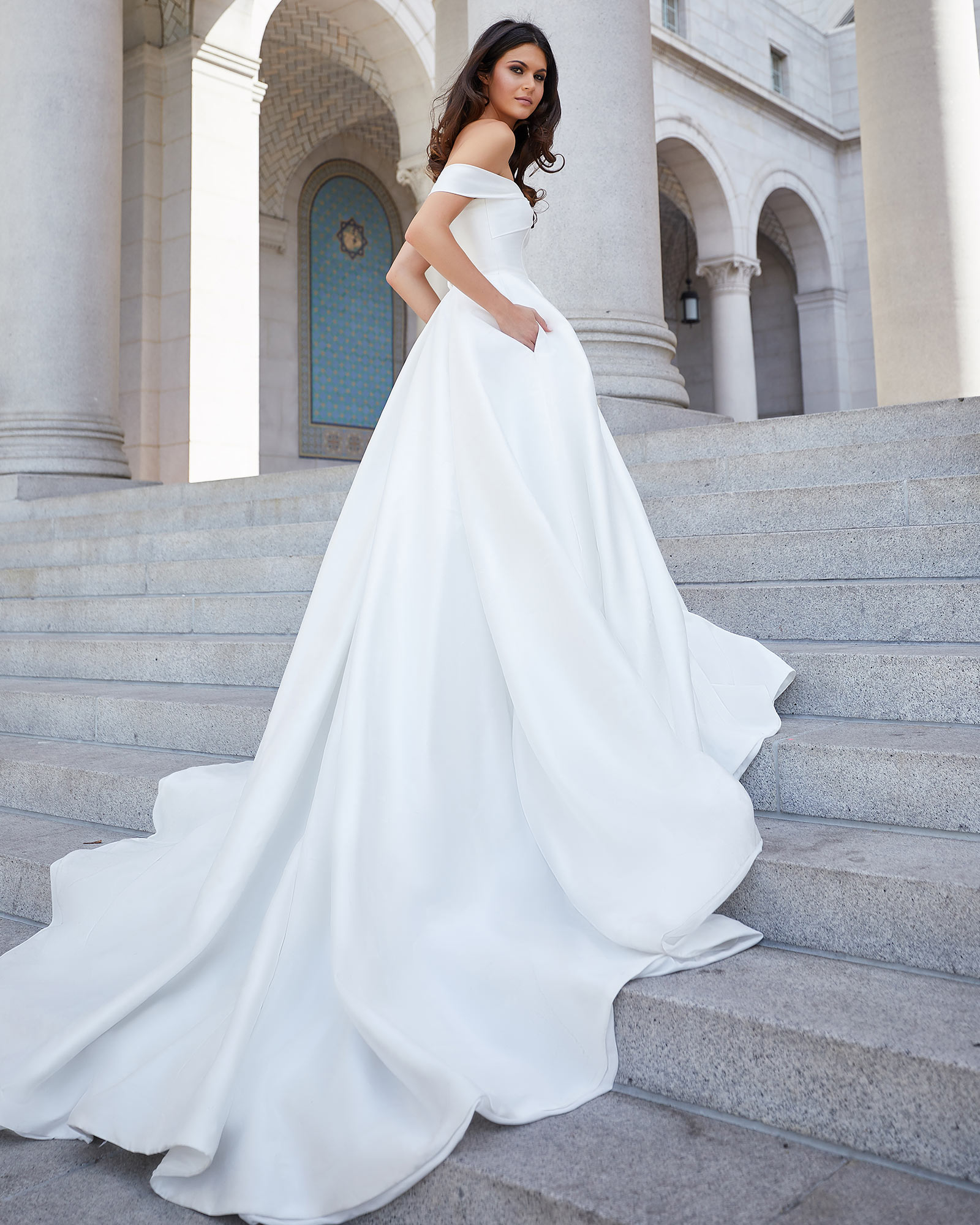 2. Style LD5801 – Anne Dress from Classic Collection
This modern silk and satin gown is the epitome of the new clean trend. The dress features an A-line silhouette and is devoid of any lace and sequins and exudes simple glamour. The off-the-shoulder neckline gives the dress a dramatic twist and the back is has a tie-up design that gives it a classic look. The highlight of the dress, however, is its magnificent bowed back that gives the dress its unique charm and style.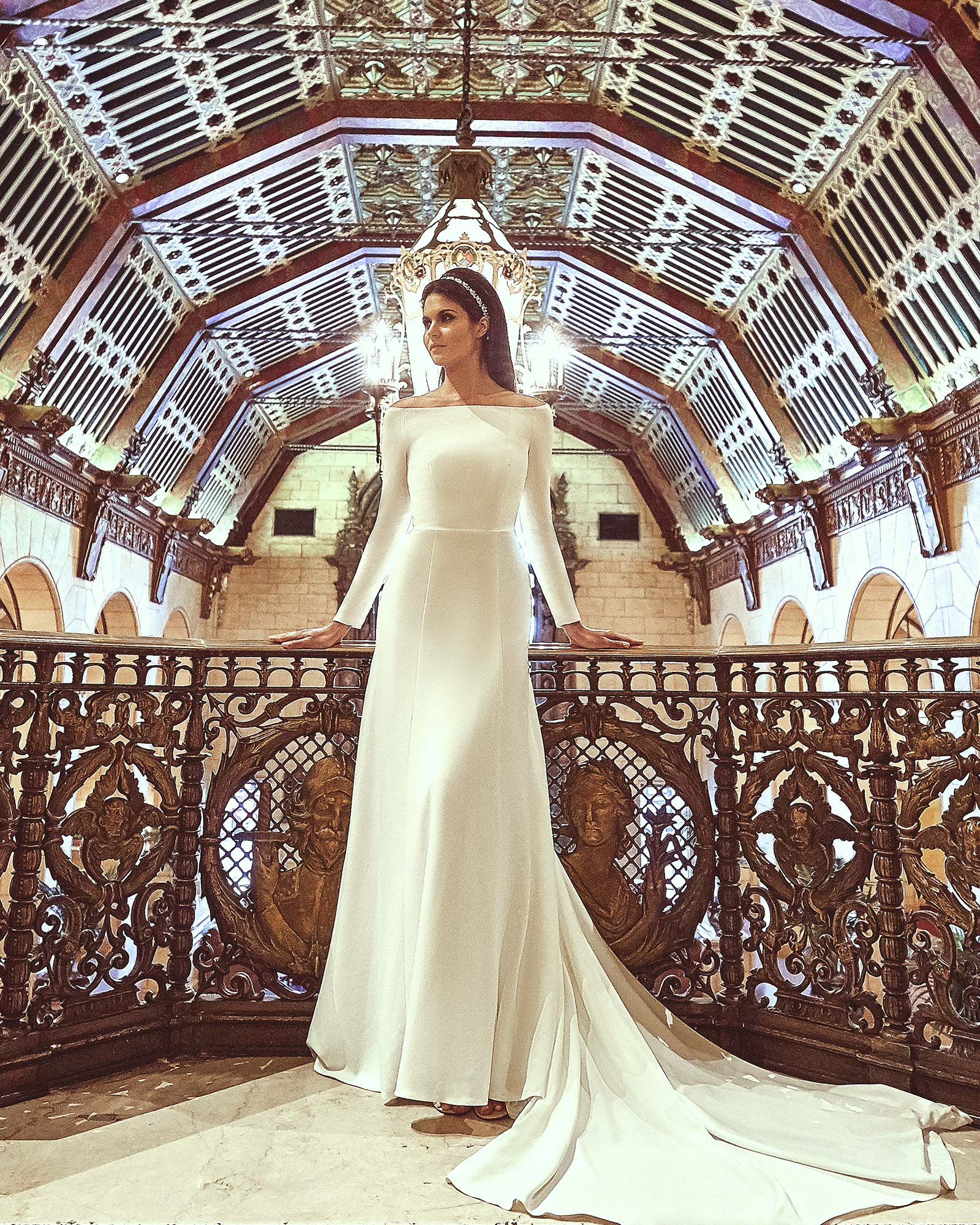 3. Style LD5770 – Meghan Dress from Classic Collection
This wedding dress is perfect for a bride looking for a simple wedding gown that is not too distracting. The dress comes in a trumpet-mermaid silhouette in a knitted fabric that sits close to your body and highlights an hourglass shape. The dress features clean lines and an off the shoulder neckline. The simple zipper back is complimented beautifully by a glorious chapel length train that will make you look and feel like royalty.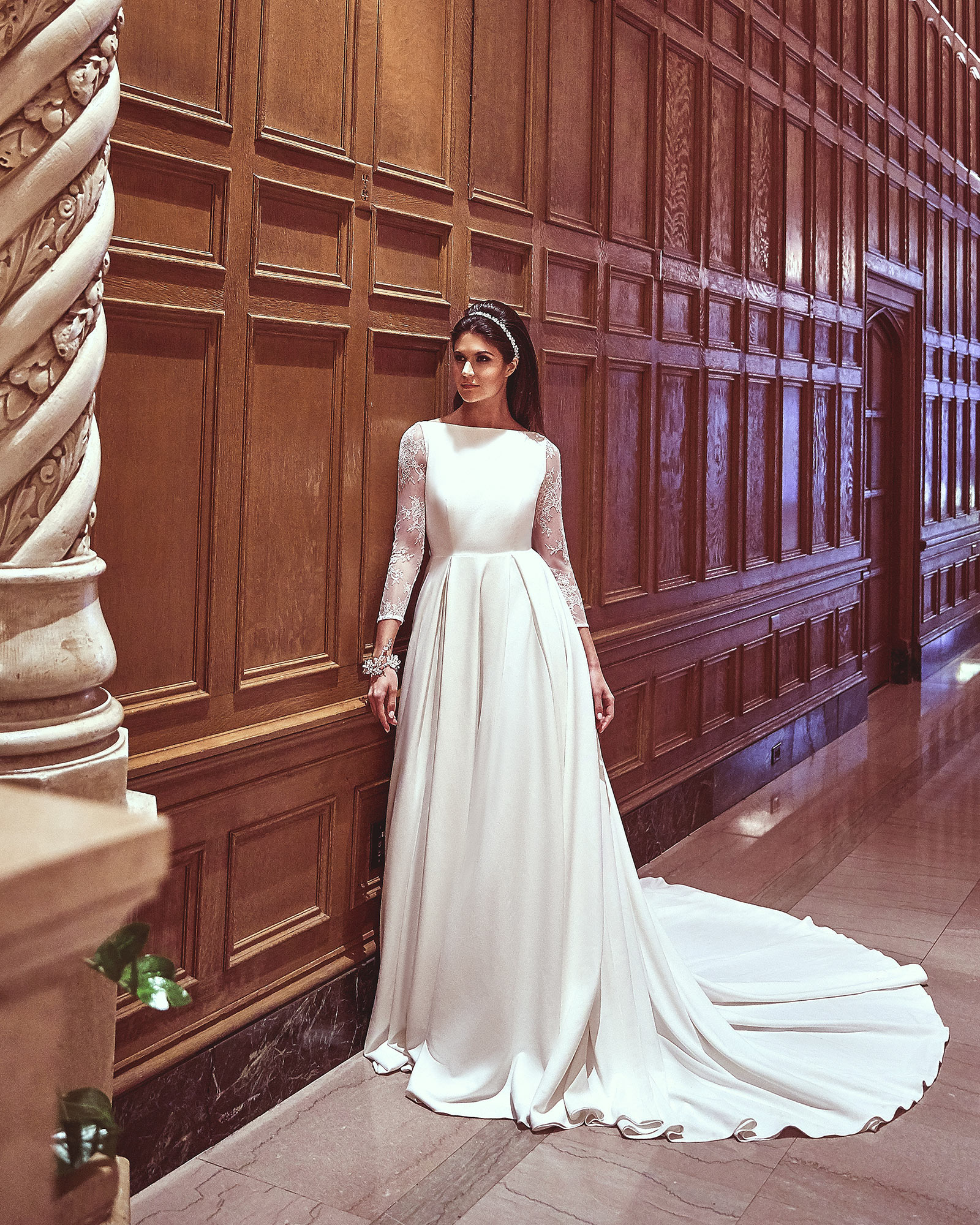 4. Style LD5771 – Diana Dress from Classic Collection
This A-line wedding dress comes in a crisp, modern design that features a bateau neckline and sheer full-length sleeves with exquisite lace appliques. The dress comes in a knitted fabric that is cinched at the waist and flows down into a court style train. The back of the dress features a zip closure that looks clean and minimalistic. This sublime number is straight out of a fairytale and will leave you feeling like a true princess.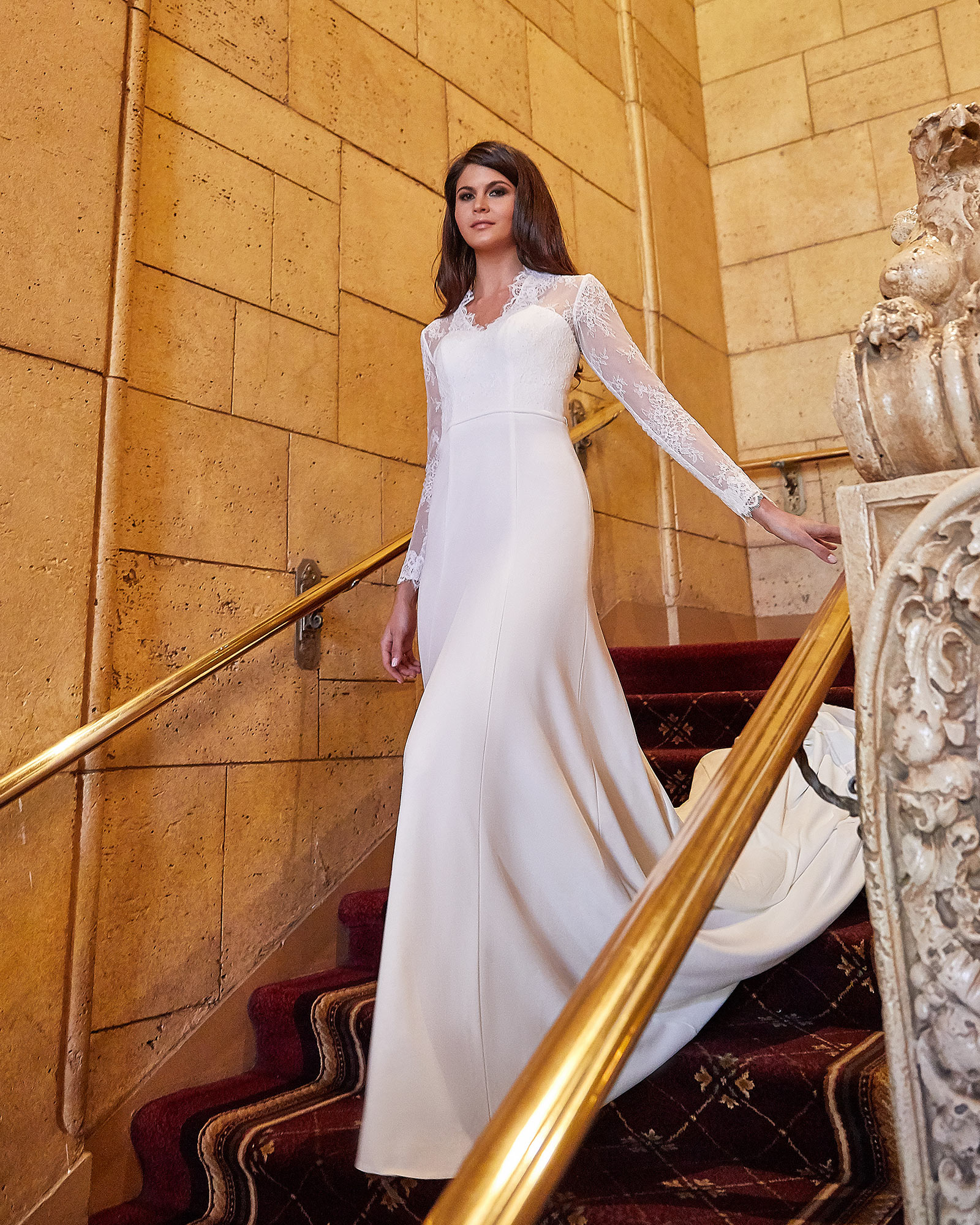 5. Style LD5768 – Kate Dress from Classic Collection
This graceful wedding dress has a modest V-neckline and a sheer back that looks ethereal and elegant. The intricate lace detailing throughout its sleeves and torso gives a dress a delicate, divine look. The knitted fabric is lightweight and floaty and flows into a chapel length train that looks dreamy and romantic.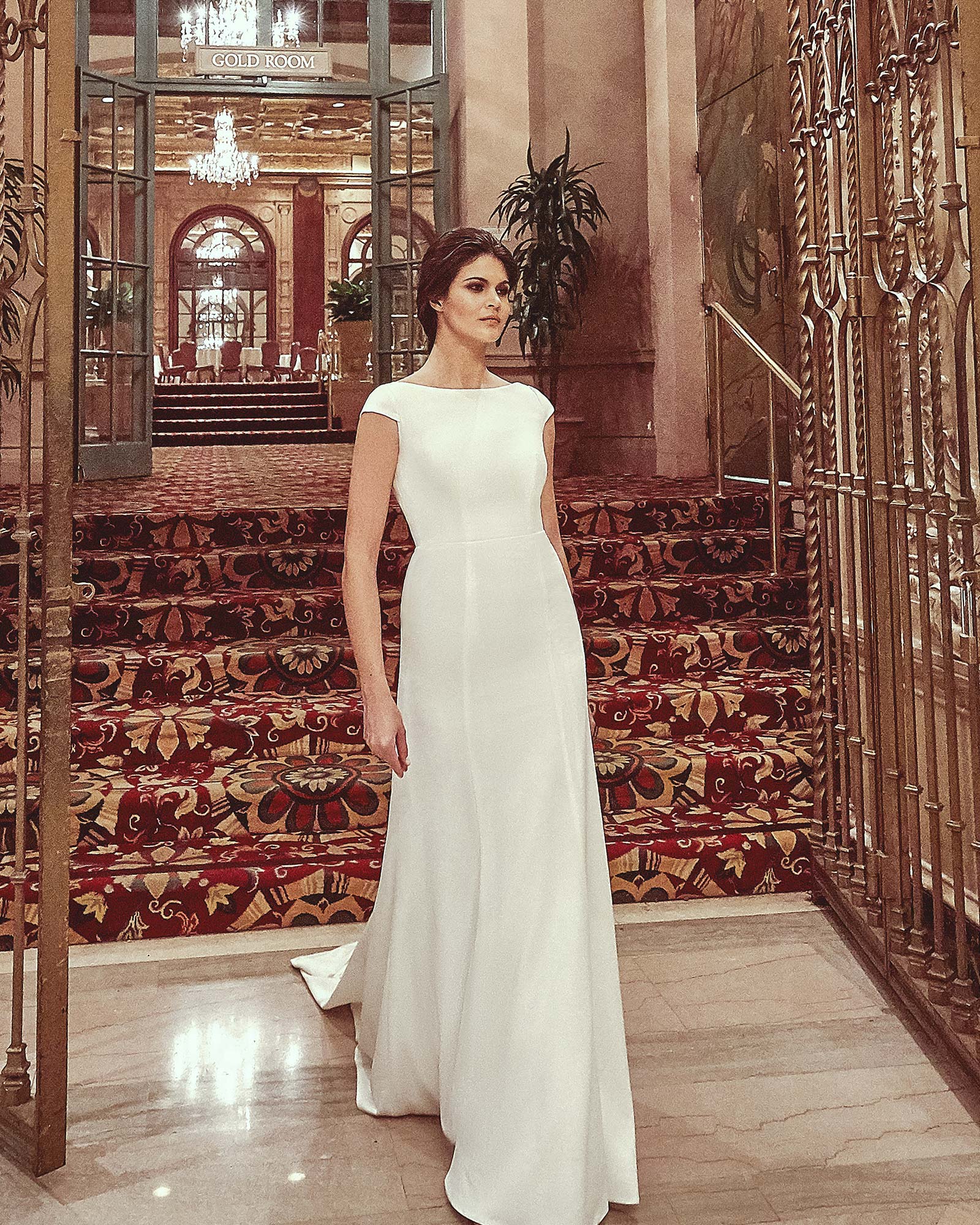 6. Style LD5769 – Cardine Dress from Classic Collection
This modern wedding dress is the embodiment of less is more. Made from a soft, knitted fabric that is lightweight and breathable, this wedding dress is perfect for summer nuptials. The boat neckline works well with the trumpet silhouette of the dress and chapel length train gives it an alluring vibe. The dress features clean cuts and simple lines and is well suited for a minimalist bride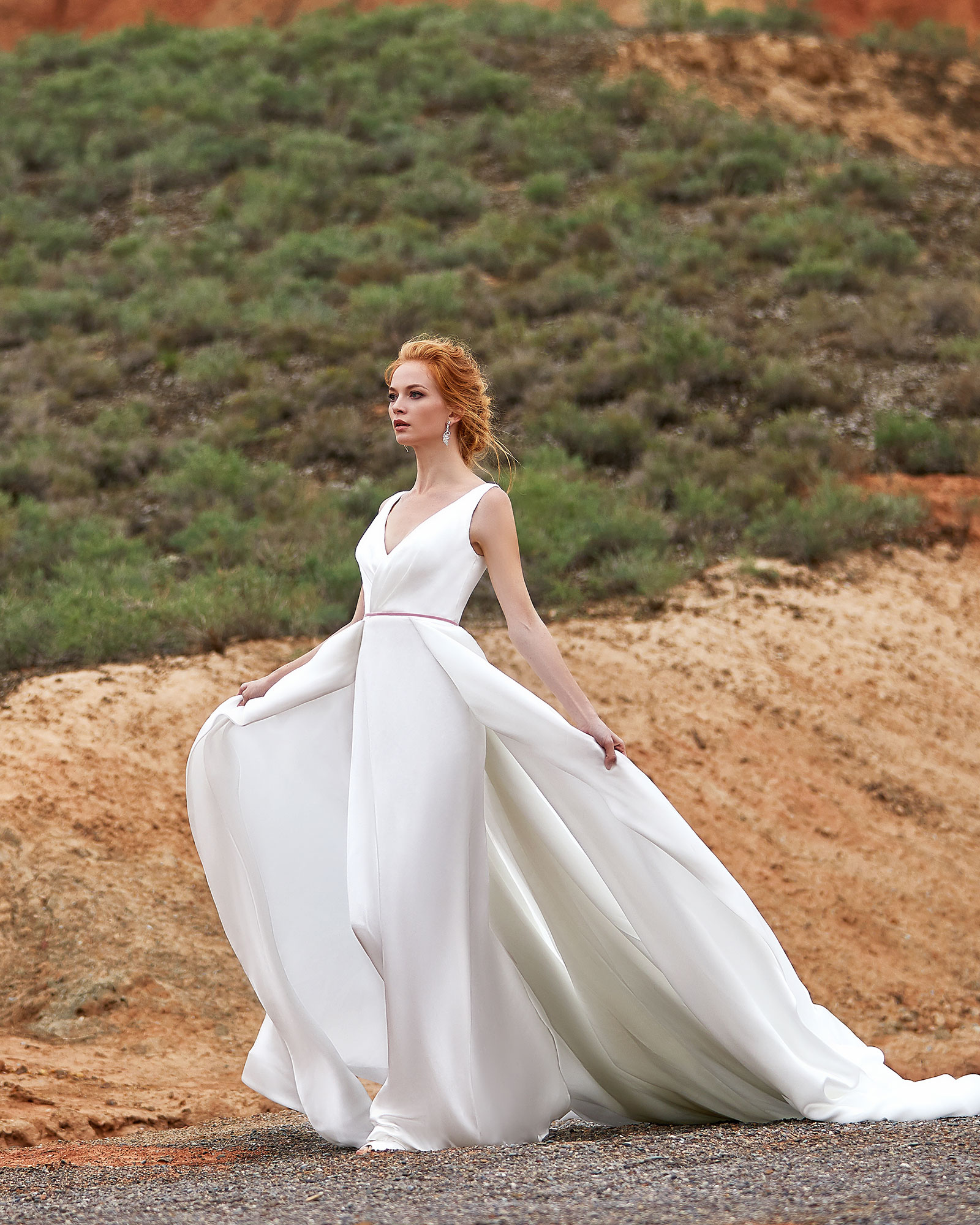 7. Style LD5803 – Margarette Dress from Classic Collection
This extraordinary wedding gown is minimalist yet far from simple. Made from a fine pearl yarn fabric, this dress has a subtle gloss that looks refined and ultra-fine. The sleeveless number has a deep-V neckline and a cinched waistline. It also features a floaty cathedral train overlay that looks enthralling and almost dream-like.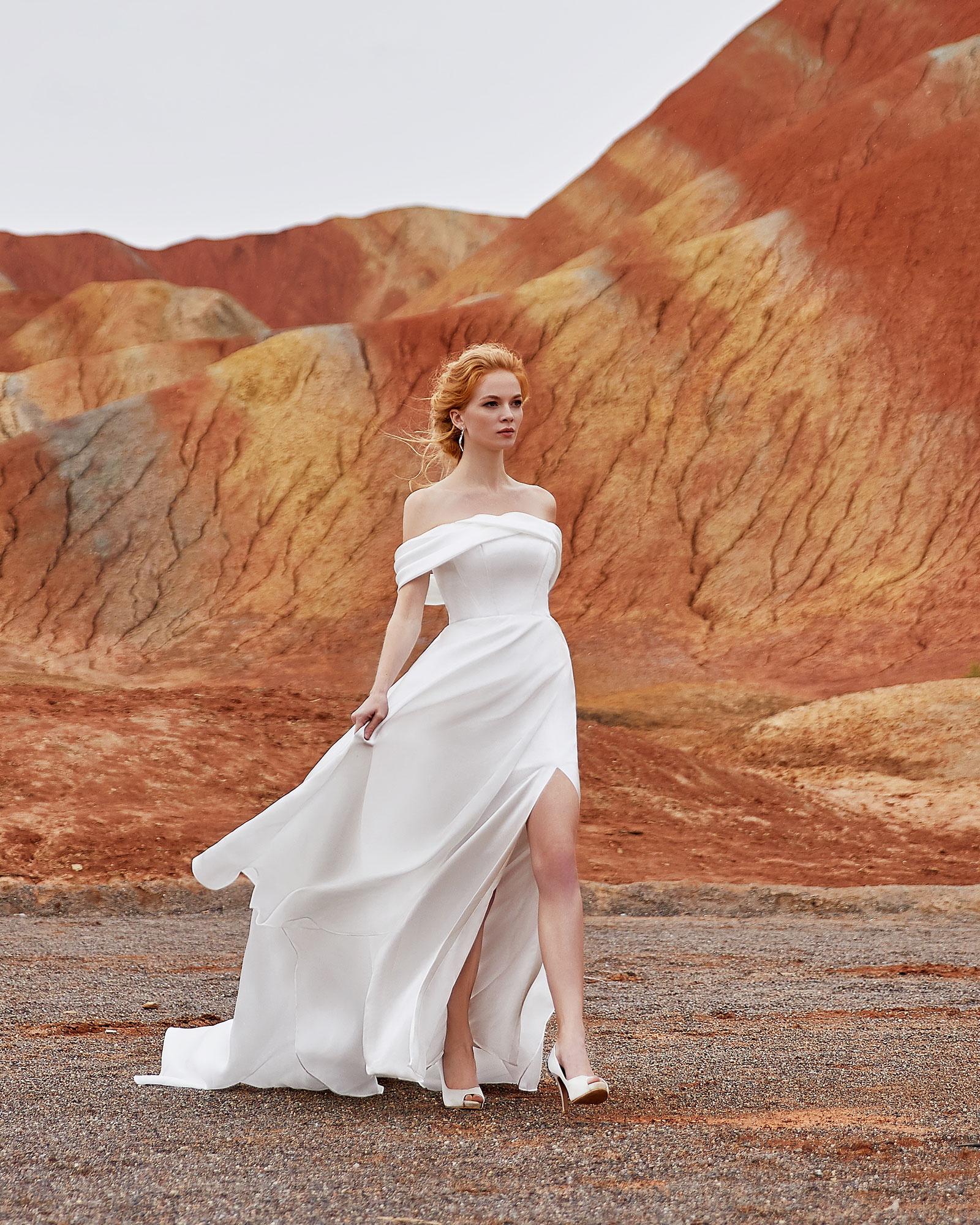 This dress comes in a similar pearl yarn fabric but has a more bold and intriguing look as compared to the previous one. The dress features a floaty off-the-shoulder neckline that looks graceful and enticing. One cannot miss the thigh-high split along the side of the dress that gives it a sophisticated, sexy edge. This dress is perfect for a casual outdoor celebration and can be worn all day, from the ceremony to the reception!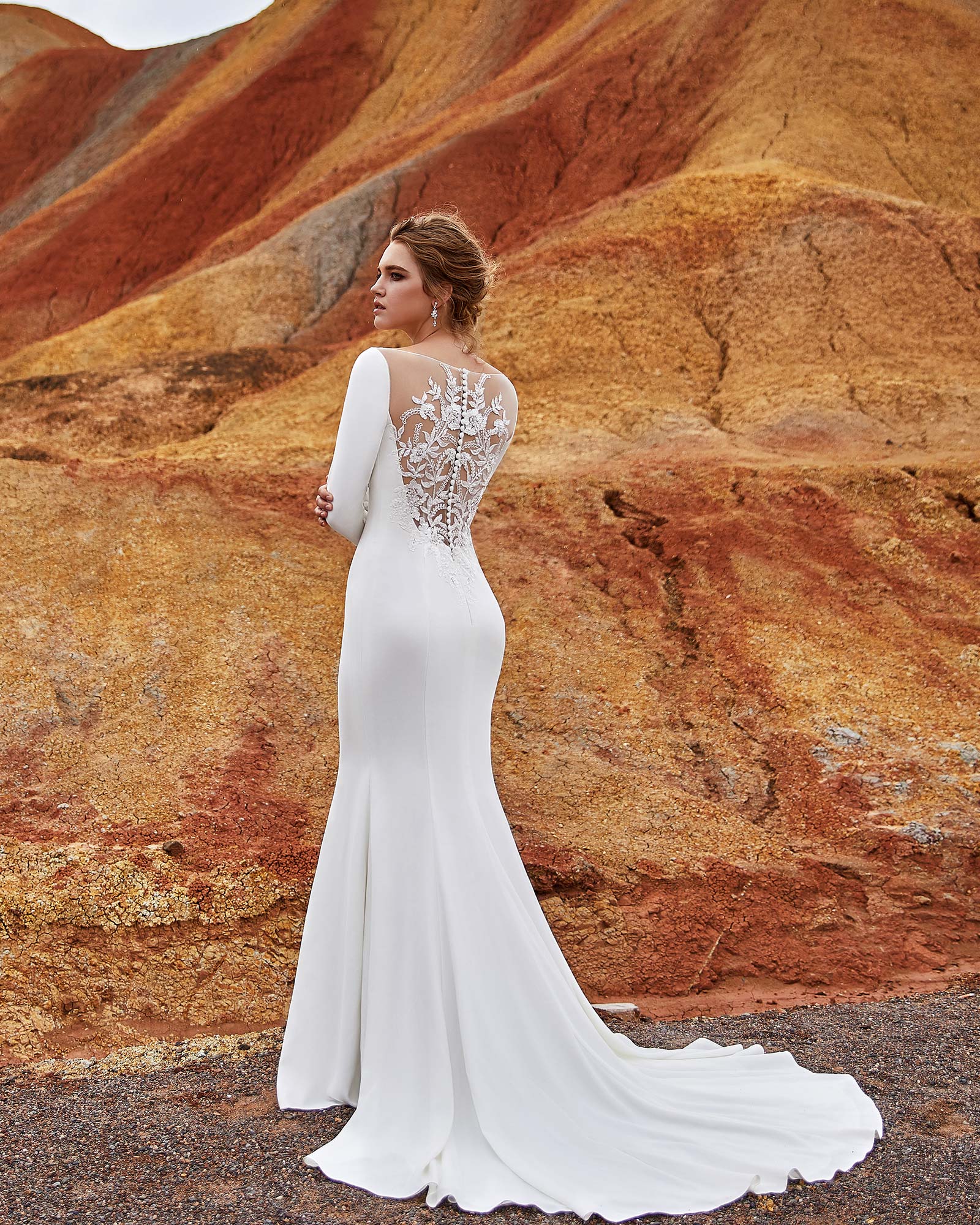 9. Style LD5817 – Greta Dress from Classic Collection
This stunning wedding gown is straight out of dress heaven for the minimalist, sophisticated bride. Featuring a bateau neckline and full-length sleeves, this modern piece is classy and enthralling. Its breathtaking back is adorned with intricately placed lace appliques and gorgeous beadwork that gives the dress an elevated contemporary look.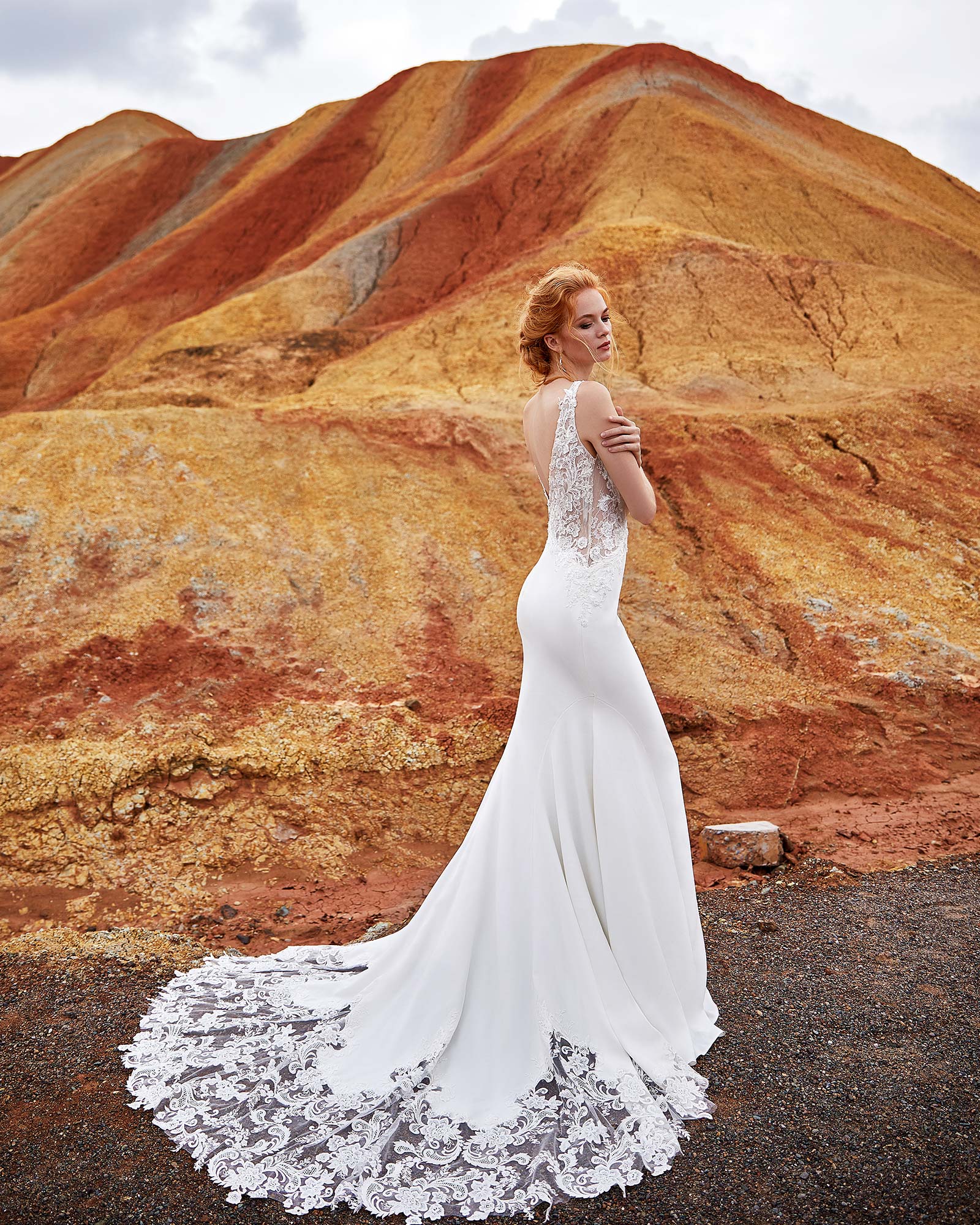 10. Style LD5818 – Viola Dress from Classic Collection
All eyes at the back with this stunning mermaid style number! While the front is fairly modest, the back has much to offer with its V-back design that is embellished with exquisite floral lace and intricately places beading that lends the dress a dazzling, divine look. The embellishment continues alongside the waist drawing our eyes towards its natural, graceful waistline. The bottom of the dress is equally eye-catching with embellished lace train that will leave any bride feeling divine.