Do you want your wedding to be unique and personalized? Of course you do! One of the themes that can make your wedding just the way you want is the exciting rainbow wedding theme. The seven vibrant colors of the magnificent rainbow (Red, Yellow, Orange, Green, Blue, Indigo and Violet,) are enough to make your big day unforgettable and special.
Applying a rainbow theme at your wedding is not very challenging either. As a matter of fact, it can be a really fun and pop of color experience. Here are ten unique ways you can effortlessly incorporate this fun theme into your big day.
All photos are from Ninety Nine Photography.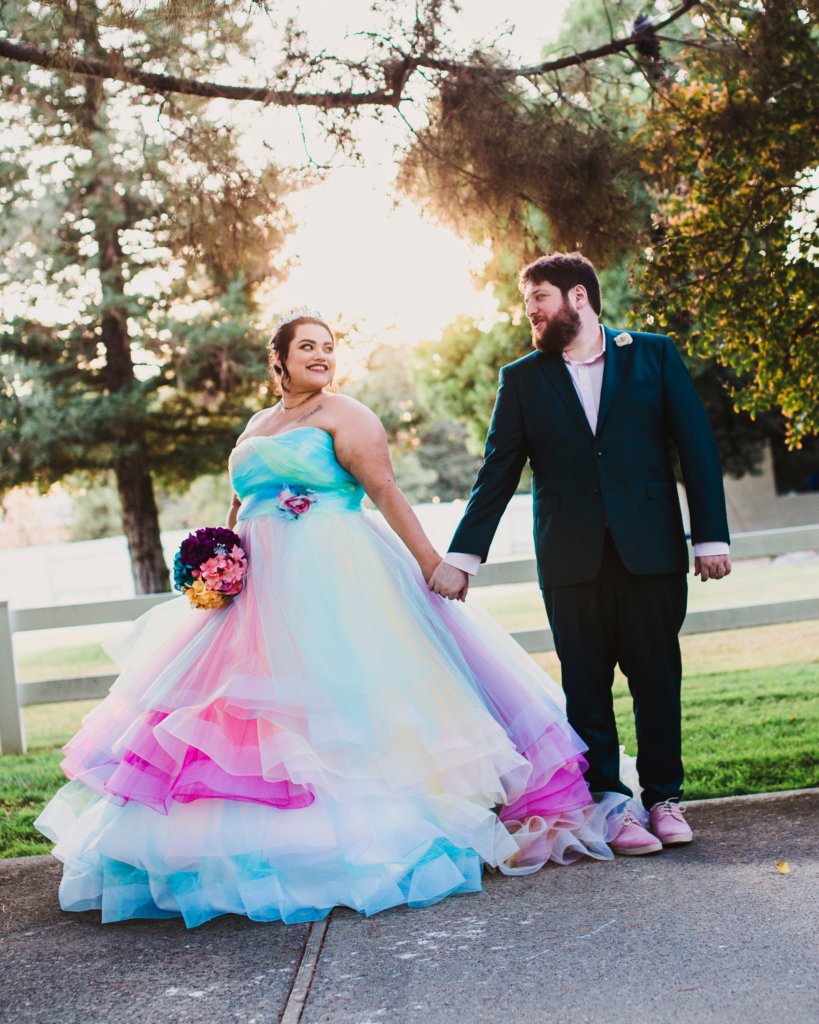 A. Kaleidoscopic décor (Rainbow wedding decor)

1. When applying a whimsical rainbow theme for your wedding ceremony and reception, we suggest that the first place you start is with your lovely blooms. You can have the centerpieces, and floral arrangements have one or two of each of the seven colors of the rainbow in different arrangements. You can do the same with the bouquets.
2. Choose two of the rainbow colors for your tablecloths and then lay each table alternately with the colored tablecloths. For example, one reception table can have yellow tablecloths and the next one can have orange, the next one yellow then orange, and so forth. Do the same with the chair tiebacks. In a similar way, you could use three colors for your draping, say yellow, blue and violet.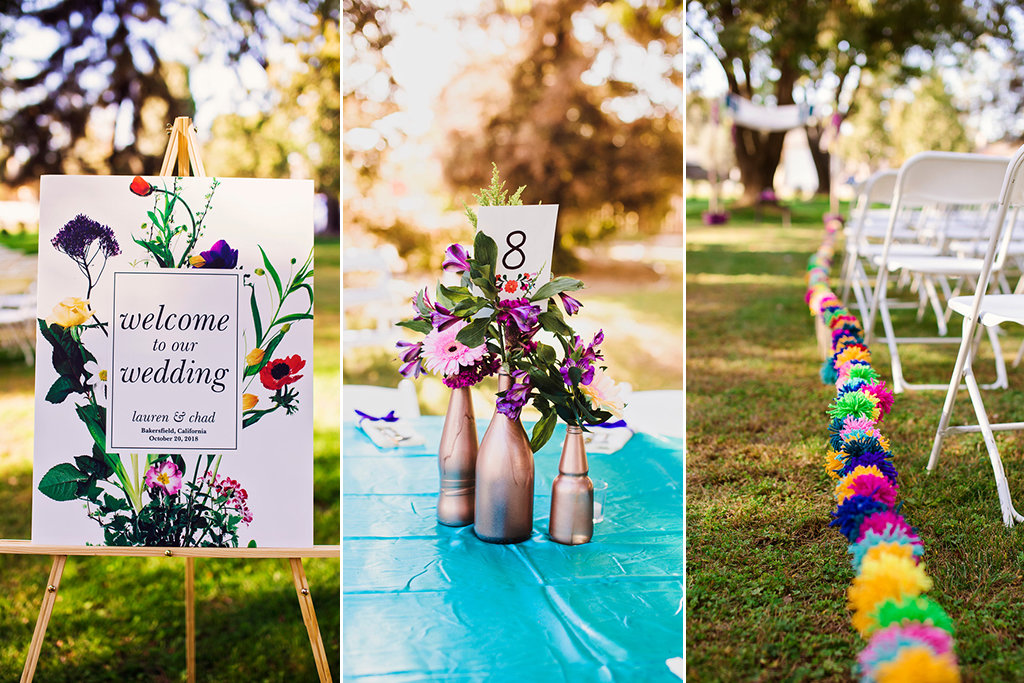 B. Whimsical papers
3. Create wedding invitations that seamlessly incorporate all the colors in an elegant yet fun way. You can opt for a red and yellow invitation with small details of each color, such as a violet ribbon, orange paper, green text, and a blue and indigo décor item.
4. You can also incorporate the different colors of the rainbow in your menus, name cards, and seating plan. That being said, be sure to use the colors in a subtle and uniform manner as you do not want the colors to be all over the place or look at odds with your elegant wedding.
C. Tempting rainbow slices
5. Tastefully decorate a white wedding cake with each of the colorful flowers that you have picked out for your flower arrangements. At the top of the cake, you can have your baker create a bride and groom standing under a rainbow. This way, it will tie into your whimsical wedding theme like a dream.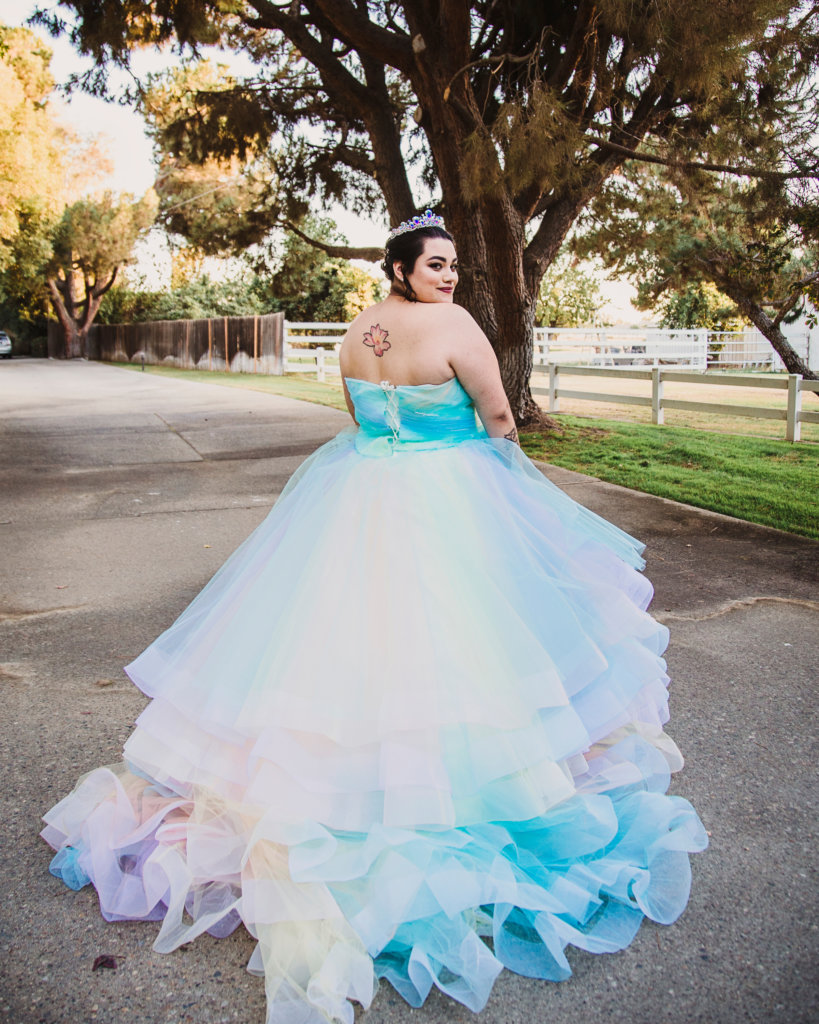 D. Splash colors onto the outfits
6. Choosing the perfect rainbow wedding dress is one of the essential elements of planning a wedding. For your whimsical rainbow-themed wedding day, you can break free from the tradition of wearing white (only if you want!) You can consider buying a beautiful colorful wedding dress or an astounding A-line wedding dress in lovely colors like pink, magenta, blue or lilac. A colored dress will not only make you look and feel gorgeous but also enhance your big day's wonderful motif.
7. Why stop at your bridal gown? Take the rainbow theme in your wedding look one step further by wearing your favorite colored heels rather than a standard white pair of shoes. You can do the same to your multi-colored sweep train too.
8. Add the finishing touches to your gorgeous wedding gown by accessorizing it with colorful adornments. Keep in mind that when it comes to accessories, it is best to go subtle. Too many or too bold tones can run the risk of looking tacky.
9. Why not have also had the members of your bridal party wear different color dresses? Their flower bouquets can also match the color of their dress gowns! Just make sure that the color of your bridesmaid dress complements your wedding gown as well as the overall wedding theme.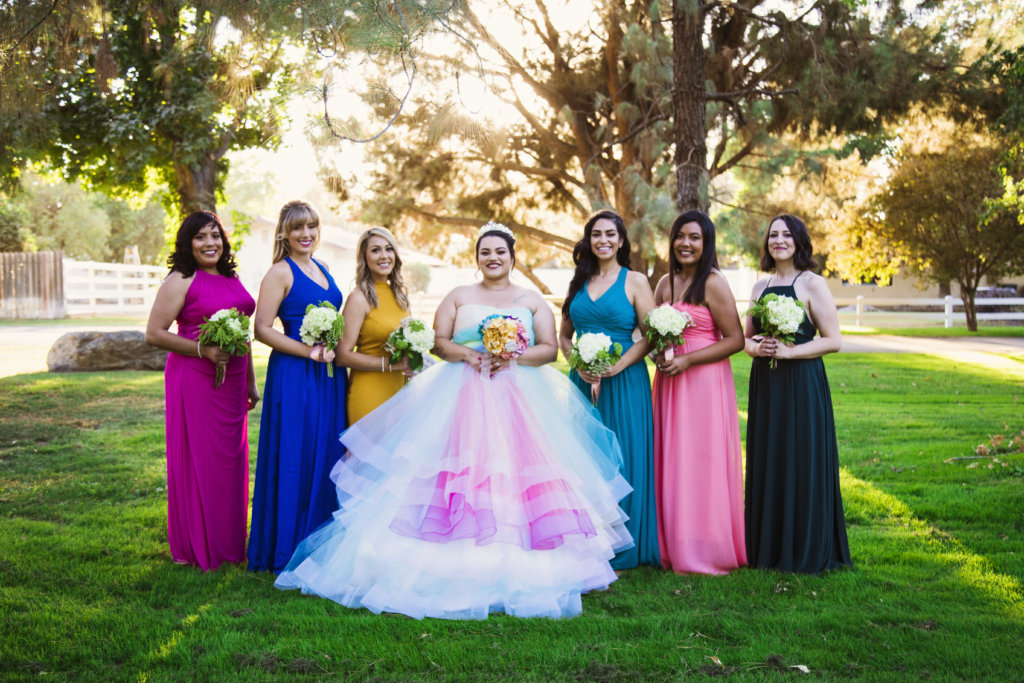 E. Glowing favors
10. Have some fun with the wedding souvenir ideas. You could have rainbow-themed gift boxes with colorful sweets, such as jelly beans inside. Another great idea to incorporate wedding colors is to use different color gift wraps and tie each one with a different color ribbon.
Or perhaps, you can have different color baubles printed with your names. These fun and creative favors are sure to win your guests over.
A rainbow-themed wedding is fun, playful and, of course, colorful. Keep in mind, though; you should refrain from overdoing the use of colors in order to keep the wedding theme balanced. Just plan the color palette that you are going to use to keep uniformity in everything.