We really don't know what we love more! The newlywed glow? The gorgeous sunset backdrops or Keely's perfect bridal look in unique blue hue? Just awooning over this laid-back newfoundland wedding in Black Duck Brook, Newfoundland, Canada! Wish Keely & Michael a life time happiness!
All photos were taken by Erica Flynn Photography.
Customized Version of Wedding Dress Style: #LD3932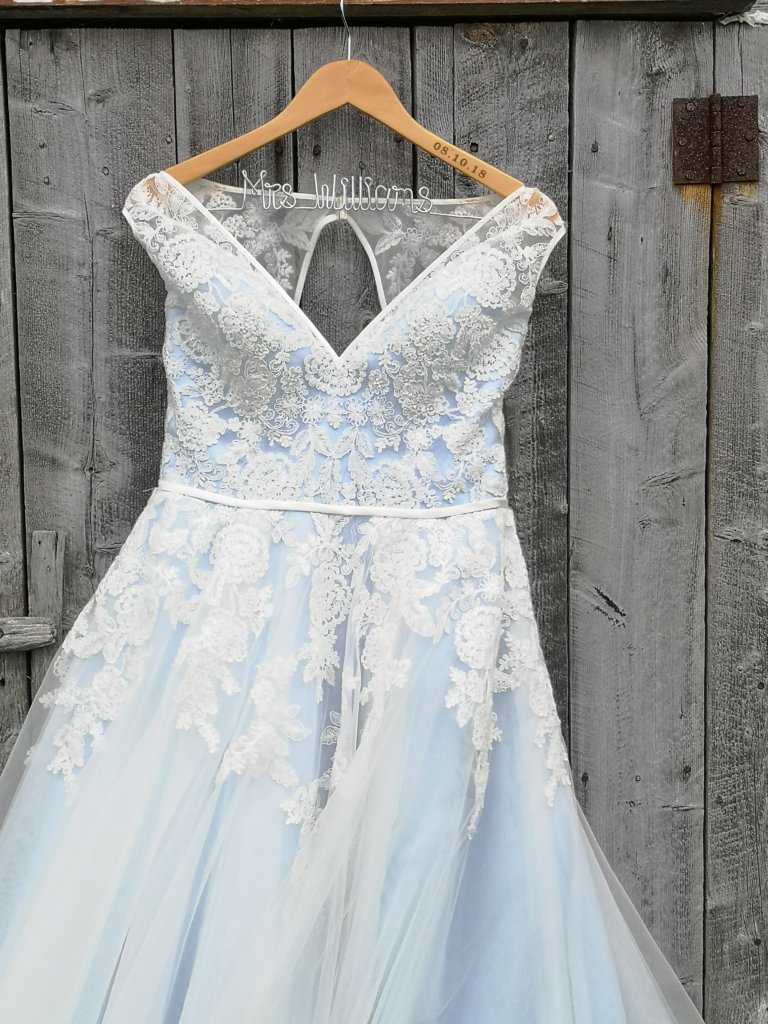 Q: Any advice or tips for future Mrs.?
Wedding advice: Get the best photographer you can afford. Make time for photos, they will last longer than the company of your wedding guests. Don't spend a fortune on a wedding gown when you can order a beautiful, well-made Cocomelody gown for a fraction of the price.
Marriage advice: Don't take yourselves too seriously.
Q: Tell us your love story! Where & How did he propose?
It was Christmas 2015. He made a big deal about me opening my "very special" gift after everyone else had opened theirs. Of course I hoped it was a ring! But when I opened my gift I saw that it was a 'Funko Pop' figurine of Dean Winchester from my favorite TV show, Supernatural.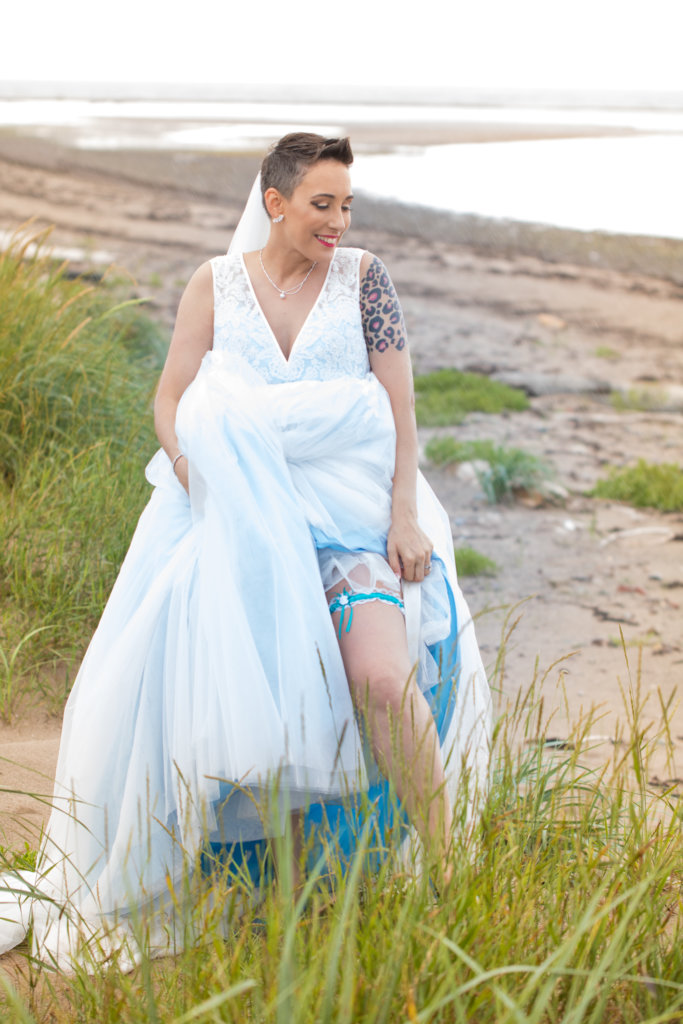 As I tried to hide my disappointment, Michael kept asking if I liked my gift. He also kept urging me to take the figurine out of the box, which I thought was weird because he knows I don't like unboxing collectables.
Anyway, I decided to take a closer look at said figurine and that's when I saw a red ribbon tied around its neck. My eyes grew wide and I said " Wait a minute ! Dean Winchester doesn't wear bows!!" I tore into that box so fast! To my (and my now-stepdaughters) delight there was an engagement ring tied to the red ribbon. It may not be the most romantic story but I love telling it..and it sure is memorable!
Q: How would you define the message "Dare to Love"?
As a second time bride, Dare to Love is a motto that hits home for me. The first time was easy. There was no risk. No daring. I was young and naive and doing what I thought I was supposed to do. But Falling in love and marrying a second time? That takes courage. A love you are willing to risk your heart for is infinitely more meaningful than any other.
Q: What was the inspiration behind your wedding theme?
Newfoundland was my inspiration. I wanted to bring my husband and step daughter to my home province and show them how beautifully wild it is. I wanted them to experience Newfoundland culture and hospitality. They both ended up calling in love with the island and the people. We plan to move there permanently in the next few years.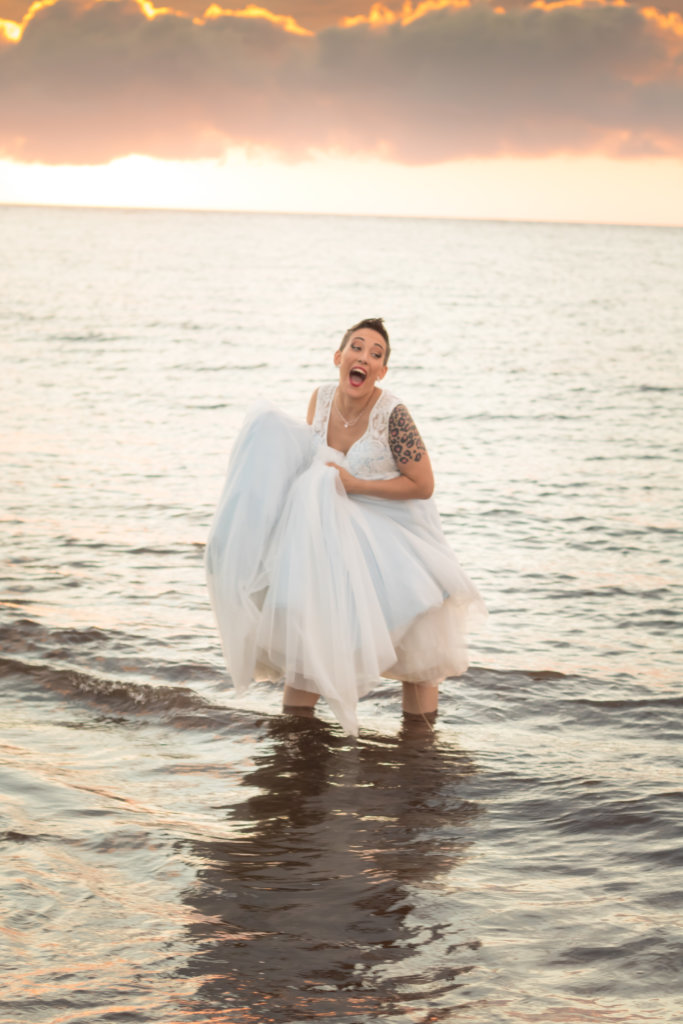 Q: Did you enjoy the wedding planning process?
I loved every minute of it.
Q: What was the best/most memorable part of the day?
Somehow that day there was a mix up and my sister couldn't find her bridesmaid dress. By the time we located it we were running late. We ended up having to drive 120km h along the twistiest roads you've ever seen. My maid of honor was driving with her 4-ways flashing. People were pulling over to let us pass. The craziest part was instead of panicking and crying and being a wreck I was laughing and having the time of my life with my bridal party! We arrived half an hour late and not a minute too soon ! The marriage commissioner had another wedding to get to and she was about to leave when we finally showed up.
Q: What did you love most about your #Cocomelody dress?
The color of my wedding dress! I wanted so badly to have an ethereal look on my wedding day and I had my heart set on blue!
Q: What do you think about Cocomelody and the customer service?
Cocomelody is excellent. I even got an email asking if I was sure about sizing . Nothing but great things to say about the whole experience.