Can you think of any person you know who is not active on at least one social media profile? With the exception of maybe your grandparents (maybe), you would be hard pressed to find anyone. Facebook, Instagram, Twitter, Snapchat, Pinterest and other social networking sites have made every single aspect of our life more interactive than ever before. So, how can something as monumental as weddings stay offline?
We know that you have a ton of other, far more urgent things to take care of than to share your wedding on social media, but doing so is only going to make your big day all the more special! It really makes perfect sense for you to incorporate social media into your big day, and here are five creative ways you can do just that.
1. Spread the word on Facebook
Facebook is not only good for memes, prank videos and non-political people debating over politics; it is also an excellent way to get the news out. Think about it: how exciting would it be to see those likes and well wishes from all of your friends and family members who could not turn up at your big day pile up?
One thing you must refrain from is to get carried away in your excitement. Of course, your Facebook friends are interested in following your wedding updates, but that does not mean you have to go overboard and spam them with all the details and pictures.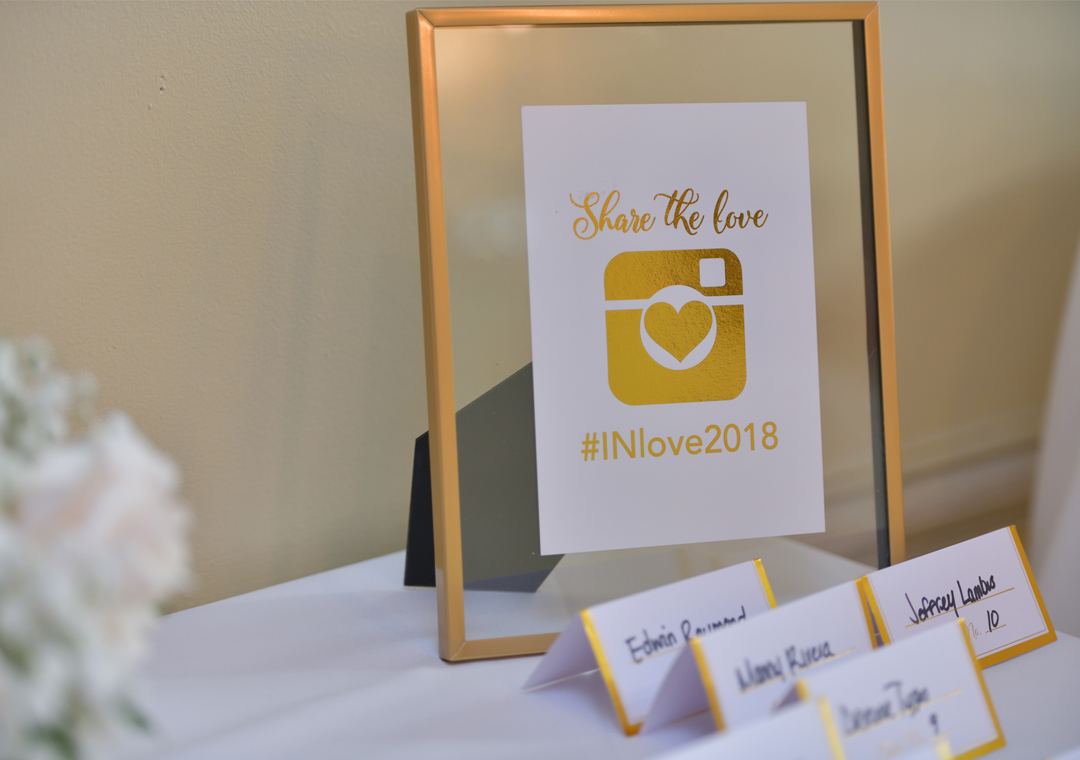 2. #hashtag it on Instagram
Instagram is a fun way to share your life with your loved ones instantly through a series of pictures, but you already know that! What you might not know is that it can also be used to document your wedding. One way to do that is to create a hashtag exclusive to your wedding. Wedding hashtags are shooting up in popularity, and it is not hard to see why. After all, using hashtags is the perfect way to keep all of your guests' photographs in one place.
But, your wedding hashtag is only nifty if people actually know about it. With that in mind, try to pick a hashtag that is easy to remember but not too run-of-the-mill at the same time. Perhaps a combination of your names or your wedding date would do. What more? You can include your unique wedding hashtag on your wedding invitation as well!
3. Turn your selfie game up a notch with Snapchat
Your gorgeous trumpet wedding dress, the mouthwatering cake, the picturesque venue: tying the knot means keeping an eye on a lot of details to create the moment of a lifetime. For that reason, it is crucial that you capture all those picture-perfect moments by hiring an expensive professional wedding photographer… or you can just take a beautiful selfie and add fun filters on it on Snapchat for free. Now, would you rather want a formal, posed wedding portrait of years passed by or a more candid, natural photograph? If you went with the latter, Snapchat is just what you need. The photo-sharing social media platform makes all the more sense in other events that lead up to a wedding – think, the proposal or wedding announcement.
4. Live stream your big day on YouTube
Friends and family who are unable to attend your wedding in person really do miss out on all the magical moments of your big day. Well, that might have been accurate a few years back, but that is really not the case anymore. Today, you can easily live stream your big day on YouTube and share the intimacy and memorable moments of your wedding ceremony with loved ones who could not join you on your big day, family members living across oceans or state lines and friends who might be bedridden or under the weather.
Oh, and the cost of streaming your wedding is also – for the lack of a better word – unreal! It is practically free. Nonetheless, if you want to make your live streaming look like a high-end production, you can also turn to one of the many companies that specialize in these services.
5. Set up a photo booth
Looking for a unique way to make your big day a little more unforgettable and interesting? Try renting social media photo booth for your wedding. It is guaranteed to supply a fun and unforgettable way for you and your guests to interact and create amazing mementos of your special day.
Incorporating social media into your wedding is one of the best ways to make your day more unique, fun and memorable for you and all of your guests.