Officially obsessed with this wedding! Myriam & Sven held a beautiful autumn wedding in Quebec, Canada. Love the venue, the Fall colors and the decor which set the theme by itself. There's also a unique Football theme for Sven and an Alice in Wonderland theme for Myriam on the sweet table. And more, both of Myriam's bridesmaids were stunning in #GrapeJam!
Customized Version of Wedding Dress Style: #LWXF14004
Bridesmaid Dress Styles: #PR3554 & #PR3570
Wedding Veil Style: #CV0013009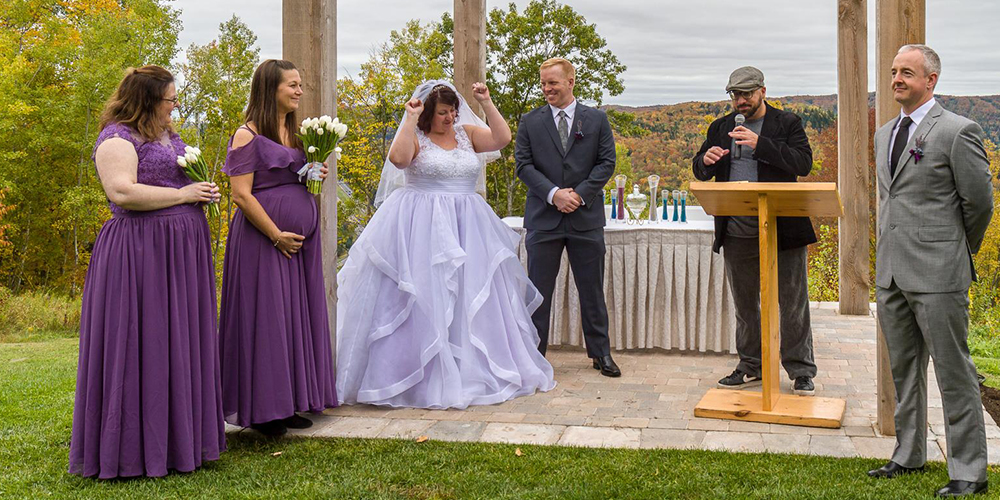 Q: Any advice or tips for future Mrs?
On the day of the wedding, things will happen and there's nothing you can do. Just be prepared to let it go, even if you are a perfectionist like me ! Your day will be perfect, no matter if a small detail doesn't work out like you planned it. I mean, my officiant (a family member) forgot the vows part in the ceremony and our day was still the most beautiful one ever!!
Q: Tell us your love story! Where & How did he propose?
We met online 4 years ago. On our first date, it was love at first sight. As soon as we shook hands, I knew he was the one. He proposed in June 2017, in our house, with a trail of pictures of us and little love notes that lead me to him in our room. My romantic man was on his knee when I entered the room.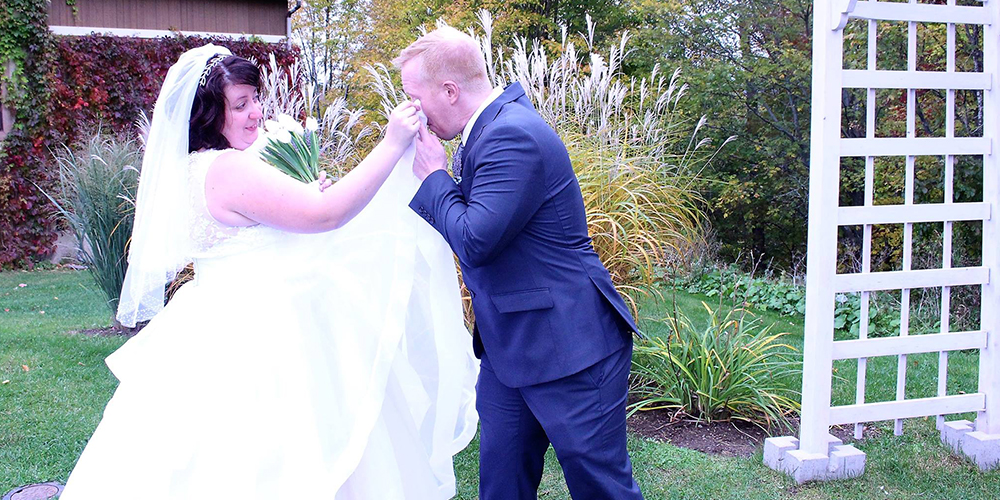 Q: Did you have a particular theme or color scheme? Is there a story behind this color theme and why you chose it?
My husband is a huge NFL fan so we took the colors of our favorite teams (Oakland Raiders (Black and silver) and Minnesota Vikings (Purple and gold) to decorate the venue. I had a purple underlay in my dress, thanks to the endless customizing possibilities that Cocomelody offered! I made our sweet table to match our personalities and passions.
Q: Did you enjoy the wedding planning process? Why or why not?
I loved it and discovered I wasn't bad at organizing things ! I'm on the perfectionist side so it wasn't always easy as I was putting pressure on my shoulders to deliver something perfect. I also suffer from anxiety so a lot of details were difficult to go through. At the end, our day went very smoothly and I was able to appreciate every minute! I also love to do some arts and crafts so I had fun personalizing the decorations.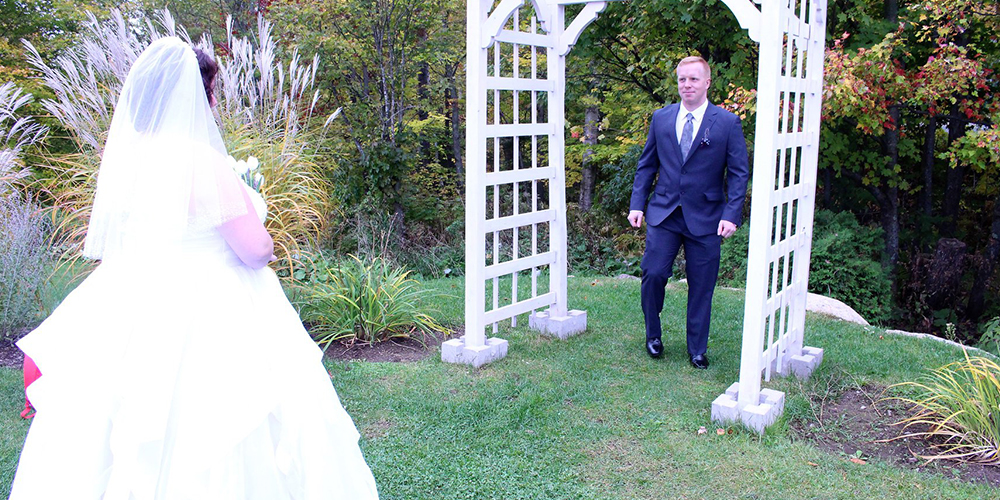 Q: What was the best/most memorable part of the day?
We chose to do a first look before the ceremony, to have this moment to ourselves, away from the crowd. To relieve the stress a bit, I played a prank on my fiancé and had one of his friends dress up with a white dress! My fiancé couldn't stop laughing! Then, we did the "real" first look and it was a very tender moment between us.
Q: Why did you choose Cocomelody for your bridesmaids?
I wanted them to choose their styles but I also wanted them to wear the same color. Cocomelody was the obvious choice because of the variety of bridesmaid dresses and colors.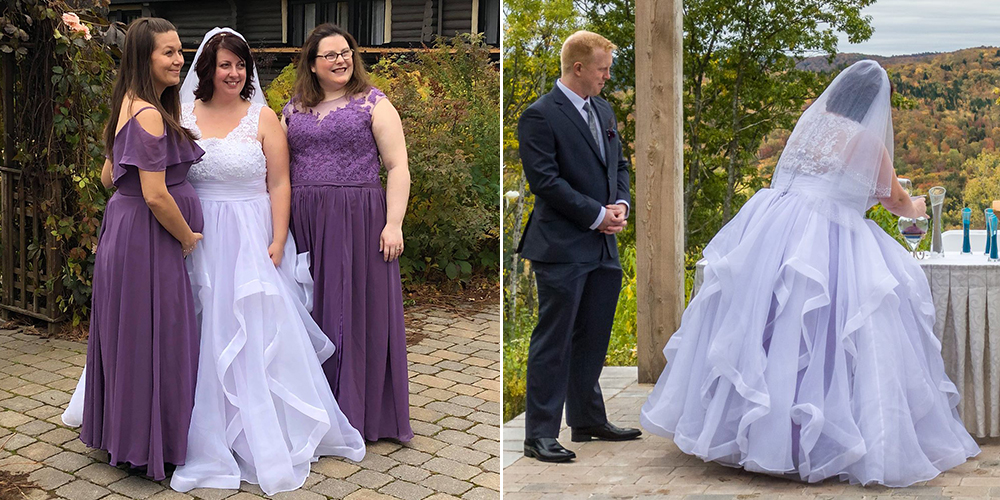 Q: What did you love most about your #Cocomelody dress?
The fact that I could customize my wedding dress to fit my personality and my body type. The dress was absolutely perfect, with a waist line that was comfortable, wavy skirt with a purple underlay to add a subtle but fun surprise at the bottom, and a sparkly and romantic top with a custom neckline.
Q: What do you think about Cocomelody and the customer service?
The customer service was absolutely perfect. Having the same person answering my emails were a plus and I really loved the personalized service (thank you Joy!!). Because I was doing a custom style, they made sure all the measurements were perfect so that the dress would be fitting without the need of alterations. I was nervous to order online (even though I made a lot of research and was convinced that my choice was safe), but Cocomelody's service was amazing and my dress was fitting like it was done by the fairy godmother from Cinderella!