We believe that spring is the best season to tie the knot. It is, after all, one of the most romantic times of the year. With all the fresh blooms, the pleasant afternoons and the return of the birds, there are plenty of wonderful inspirations for a spring wedding. Having said that… Nothing has impressed us more than these six greenery-inspired wedding ideas.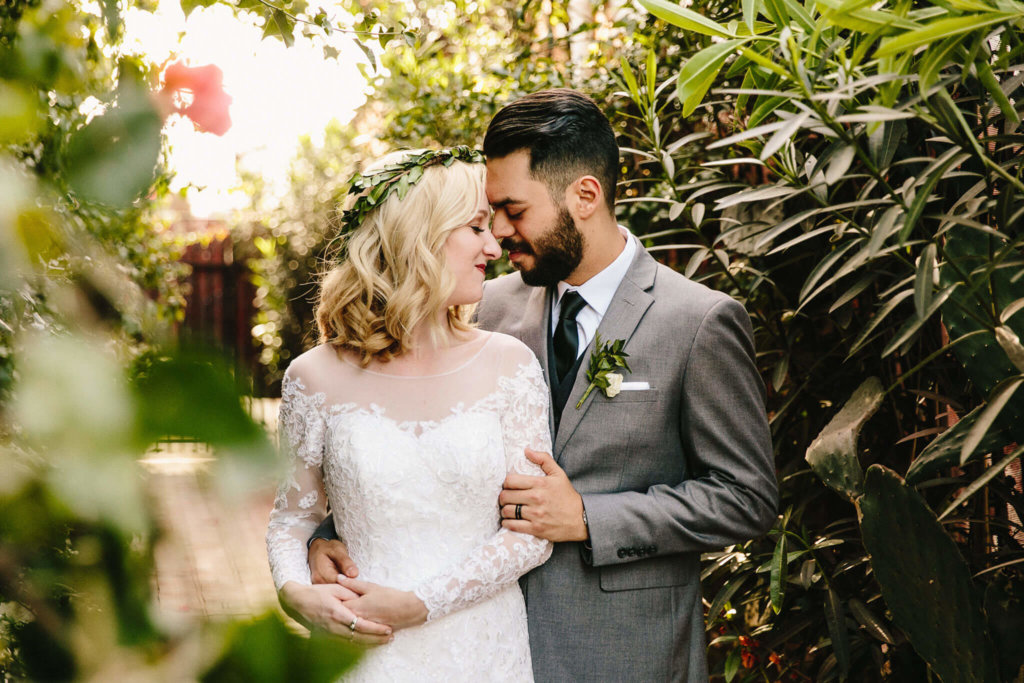 Style: #LD3906, Image Credit: Mcfarlane Photography
1. Wreaths
Wreaths can be a lovely addition to any style of wedding. While your mind might jump to an evergreen Christmas wreath, there are plenty of other types of greens to use for wedding wreaths all year round. Aromatic eucalyptus leaves, fragrant herbs, classic boxwood, laurel leaves, and large magnolia leaves are just some of the materials that can be used to create elegant non-holiday wedding wreaths. A round wreath is always enchanting, especially because the eternity symbolized by a circle is very fitting for a wedding. Other specialty shapes can also be very appealing, such as a contemporary square wreath (especially nice in boxwood) or a romantic heart-shaped wreath.
2. Garlands
Garlands have many uses when decorating a wedding. Simple green garlands look elegant wrapping the poles of an arbor for an outdoor ceremony. Top with an ethereal sheer white cloth for a clean yet romantic altar decoration. If you like the sparkle of ornate chandeliers and crystal wedding jewelry, dot your garland with large, teardrop-shaped crystals to catch the sunlight and shimmer. Green garlands look marvelous draped over the doorway of a country church, a rustic old barn, or your own front door for a wedding at home. If having a traditional long head table, a garland of lush greenery can be swagged across the front of the table. Add some gorgeous flowers to the greens if you wish, such as pink roses.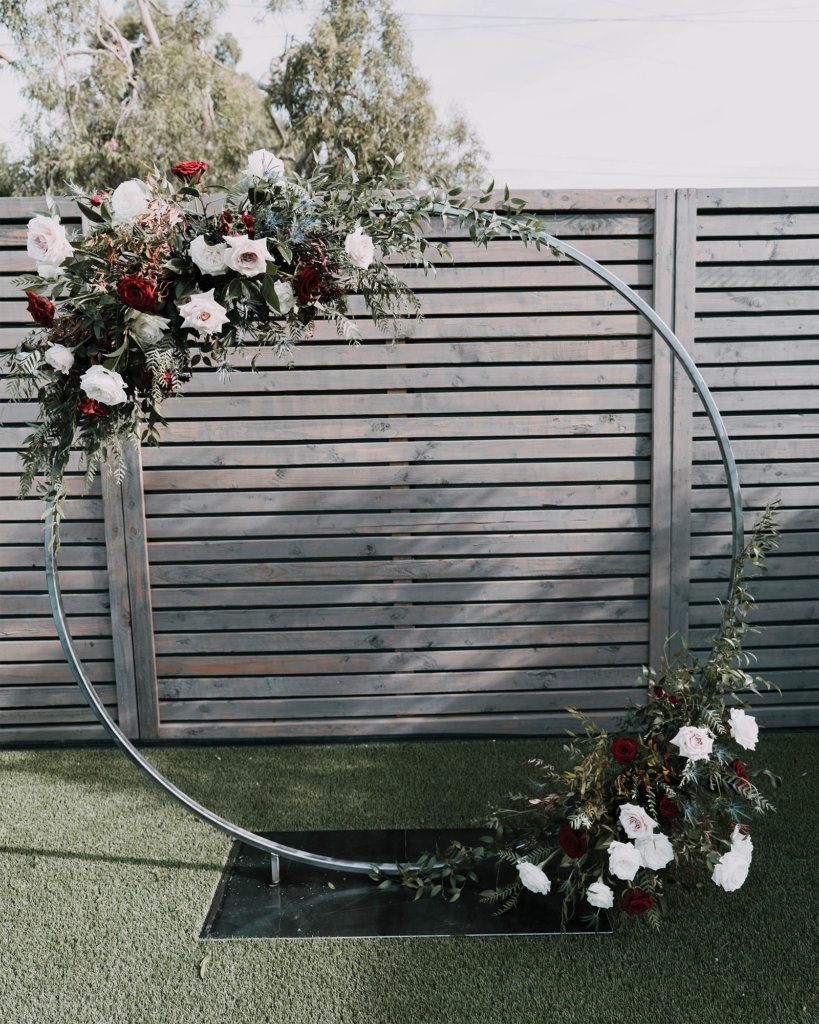 Image Credit: Chasing Light Photo & Video
3. Green initials
One great looking wedding decoration is initials made from greens. Various types of moss are an especially popular material for this type of decor. You can either have one monogram letter made featuring the initial for the couple's last name (more appropriate for the reception after the bride and groom have become a family) or a single initial representing the bride's first name with a second one for the groom. Hang your custom initials on the church or reception doors, on the backs of the bride and groom's chairs at the dinner table, or even on a tree for an outdoor wedding. Pick a pretty ribbon to suspend the initials, such as a yellow gingham for a country wedding or a silver satin if the bride is wearing a formal dress with crystal bridal jewelry.
4. Green centerpiece
Greenery can also be a lovely centerpiece in and of itself. A trio of moss globes perched atop stone garden urns is simple but elegant for either an indoor or outdoor wedding. Topiaries are a charming wedding centerpiece, and can be handmade, ordered from a florist, or rented from a design company. A topiary can easily be personalized with the addition of a ribbon in the wedding color, adding tiny spray roses, inserting crystal pins, or even pretty faux butterflies.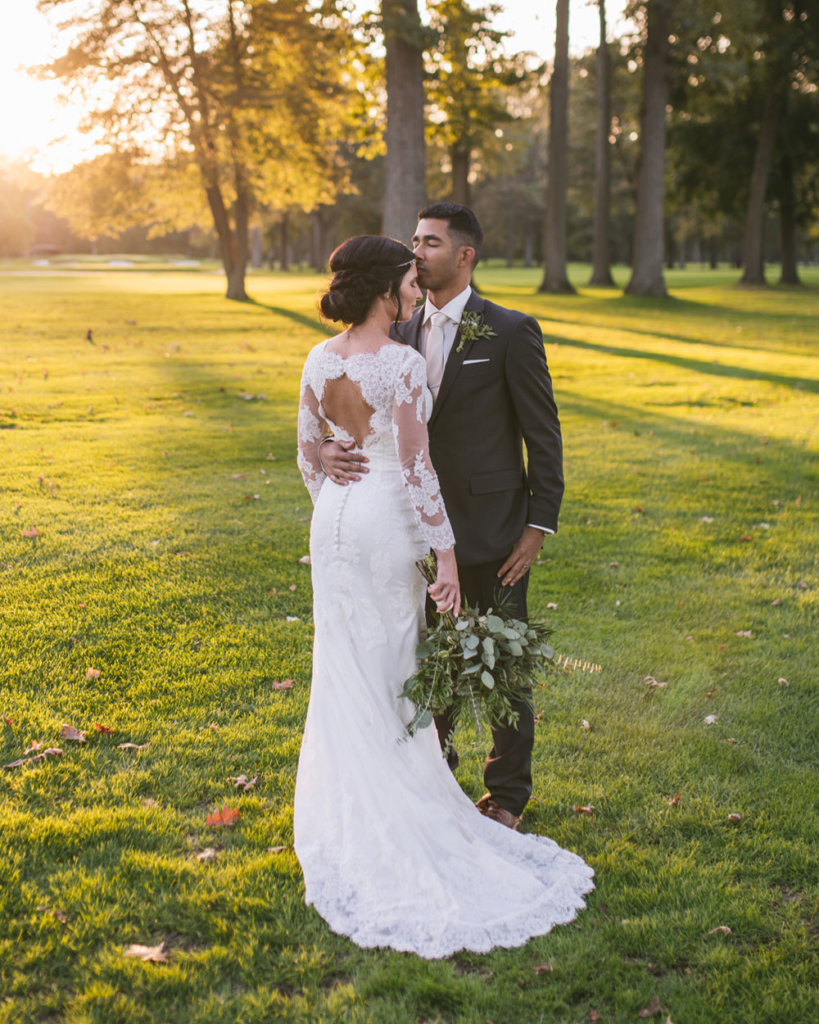 Style: #LWKF15003, Image Credit: Manifesto Photography
5. Wraps
Another idea for sprucing up your wedding with greenery is to wrap it around decorative elements like candelabras or hurricane lanterns. Myrtle, ivy, or pine greens would be lovely accents, whether your wedding is formal or casual. Without a doubt, greenery is an affordable way to add style to any wedding.
6. Green wedding dress
It is hard to find a bride wearing green from head to toe on her big wedding day, although it is not out of the question. There is a selection of pastel green backless wedding dress available for those who wish to have one. If you are a bride who wants to stick with the traditional white mermaid wedding dress but would like to somehow incorporate a little bit of green into your look there are some fun options available. A light green silk sash around the waist is a great way to wear the color, so is having a floral head wreath.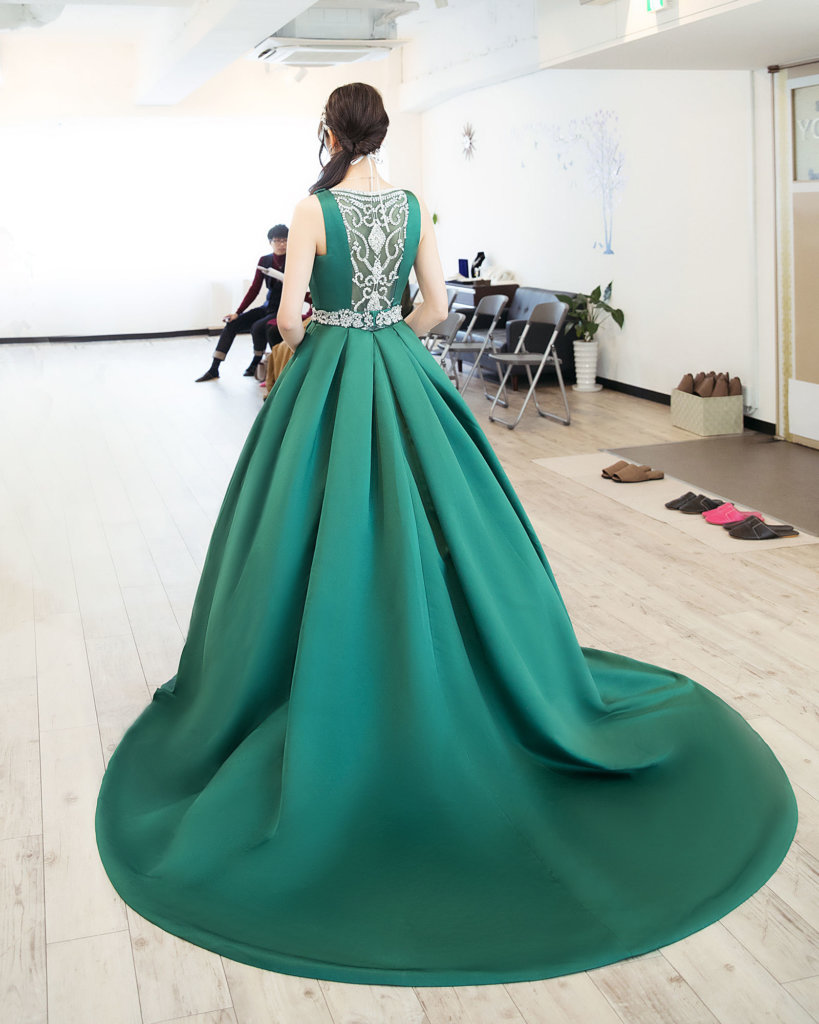 Style: #LD3845
They say that nature is reawakened during this season. The flowers start to bloom and the grass begins to grow again. It is the perfect season to say 'I do' to the person you love and a wonderful new beginning for any couple. Incorporating these greenery ideas into your big day is sure to make your wedding more delightful and memorable.