Military bride Hailey said "I do" to husband Zach in a classic and regal wedding mixed with something fun. They got married on Star Wars Day and held a ceremony in The White Barn at Happy Valley Nampa, Idaho. There was not a specific theme, they just decorated with terrariums, velvet, lights, pineapples, mirrors, and flowers. But we love the final results and Hailey was truly like a fairytale princess in her dream ball gown! Congratulations and wish them both happy forever!
All photos were taken by Gabe's Photography.
Wedding Dress Style: #LD5054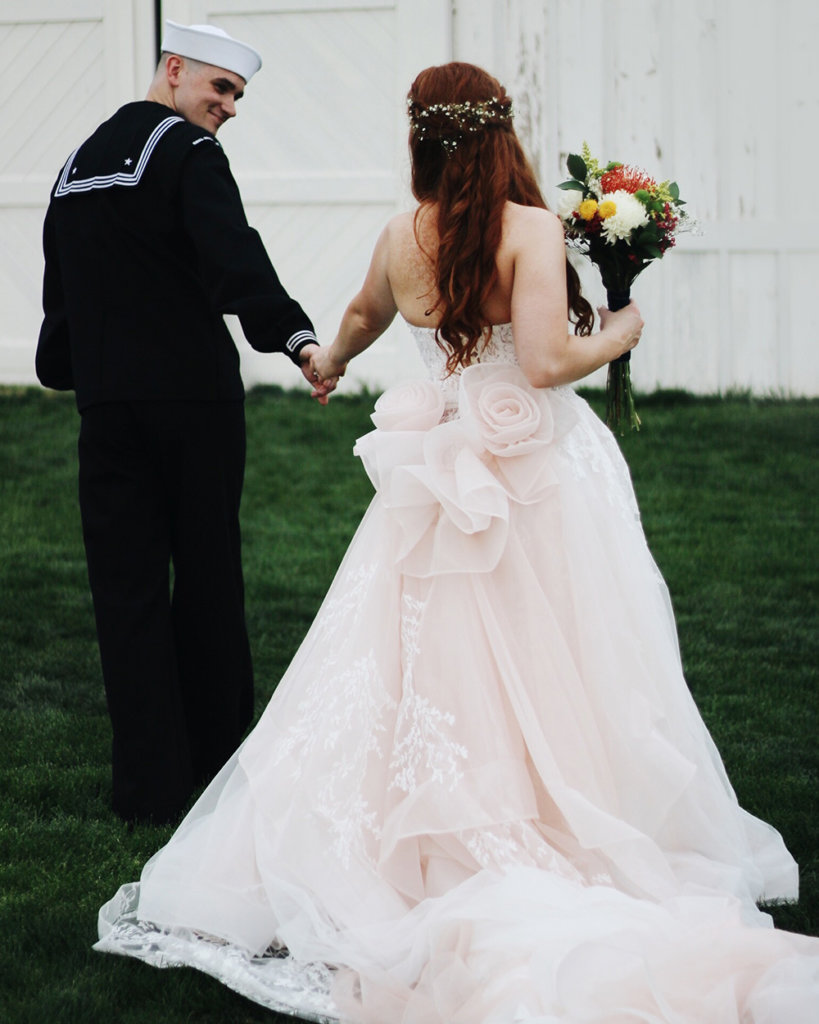 Q: Any advice or tips for future Mrs.?
Relax and try to have fun with planning. When you are angry or upset with your spouse try to remember things you love about them. Yelling never solves anything. Be best friends. Say I love you everyday. Set aside time every week to spend time together, so you remain friends and fall more in love. Continue the learn about your spouse. Support your spouse. Marriage isn't always easy, but it's worth it, and going through things together will make your relationship stronger. Never give up on each other. Take the word Divorce out of your vocabulary, because it's not an option.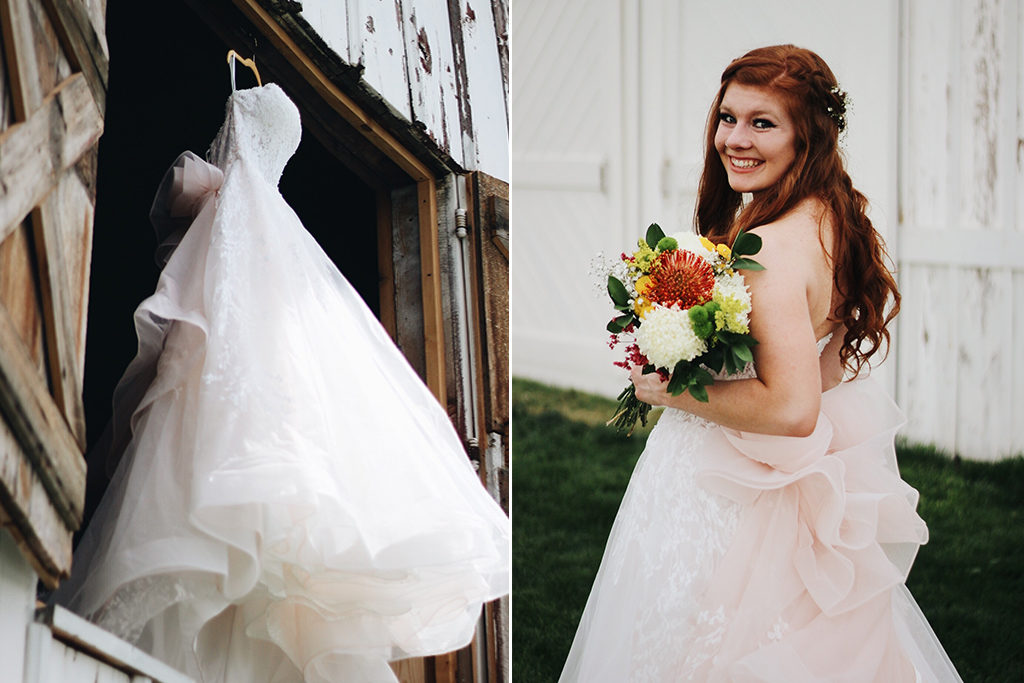 Q: Tell us your love story! Where & How did he propose?
We met at a concert in Boise, ID when he walked up to me and said "Hi, I'm Zach. You look really pretty." I was a little weirded out, so I just smiled then walked away. Later that evening he asked for my number, saying "Can I have your number? If this doesn't work out, at least you get a friend and a free meal out of it." I couldn't say no to that. We hung out a few days later. Our second time hanging out we went on a day trip to Twin Falls, which if you ask anyone in my family was odd for me to go anywhere with someone I barely know (my mom taught me better than that), but there was something interesting and fun about him. We started hanging out all the time after that trip, and started dating a month later (October 2014). He joined the Navy in January 2015, so our relationship was long distance for the most part except for visits to where he was and the times he came home for Christmas. He got stationed in Japan in February 2016, so I visited him in June 2016 for 2 weeks. We explored Tokyo, went to Tokyo Disneyland, went to some Buddhist Temples, went to the Sky Tree, and enjoyed our time together. On June 10, 2016 we walked through a garden next to a Buddhist Temple and he got down on one knee and proposed to me. I kind of froze in shock and excitement. He had a GoPro on his chest, so I was able to watch it back later. I was so happy to finally be able to call him my fiancé and know that I get to spend the rest of my life with him. December 2016, we visited his family in Arizona for Christmas and decided to get married at the court house on December 15, 2016 with our parents and his grandparents. We then planned a wedding for May 4, 2018 to celebrate with family and friends. Our love story has been a whirlwind and an amazing adventure!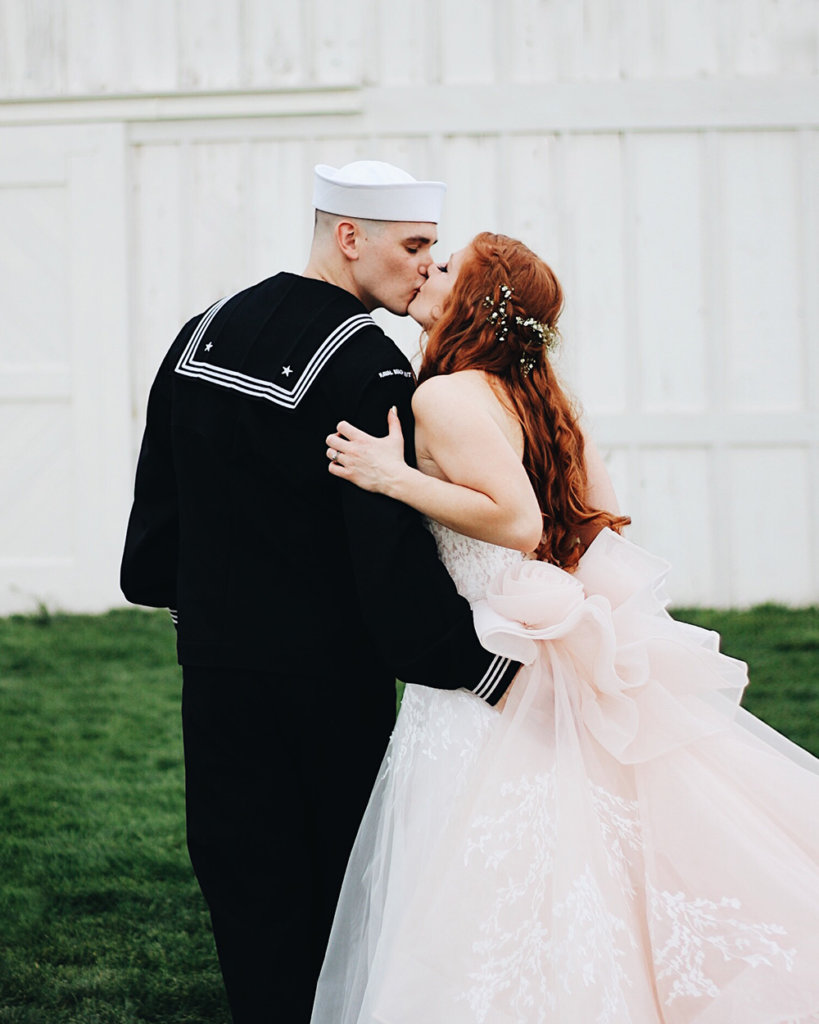 Q: How would you define the message "Dare to Love"?
Love can be scary at times, but if you love someone, love them fully with everything you have. Don't be afraid to love someone completely.
Q: What was the inspiration behind your wedding theme?
We didn't have much of a theme. We got married in a barn, but we wanted to stay as far away from the rustic look as possible. My husband wanted a classic and regal wedding and I wanted something fun, so we mixed our personalities and styles.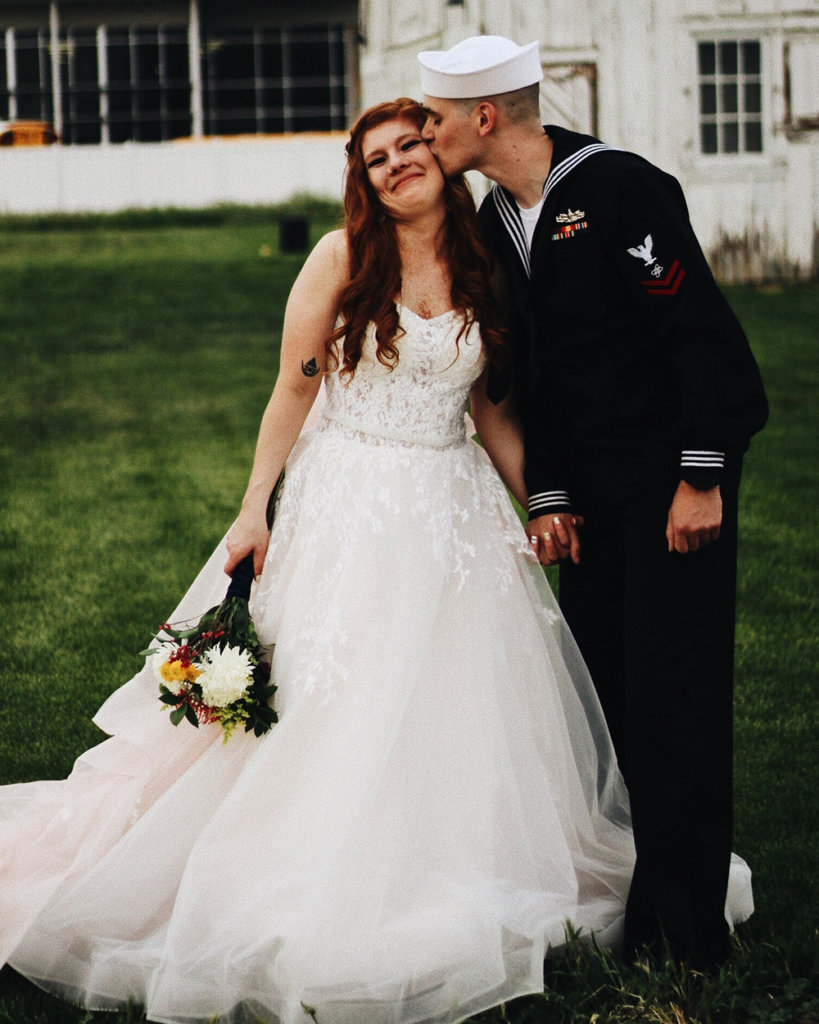 Q: Did you enjoy the wedding planning process? Why or why not?
I loved wedding planning. My husband let me make most of the decisions and I had wonderful bridesmaids and family to help me through the whole process. I loved picking colors, flowers, looking at venues, deciding on catering, trying on wedding dresses, making bouquets and center pieces, designing save the dates and invitations, and making the wedding playlist. It was stressful at times, but more fun than anything.
Q: What was your hubby's reaction when he first saw you on your big day?
He smiled at me and gave me a huge hug. He looked at me with so much love, and made me feel like I looked perfect.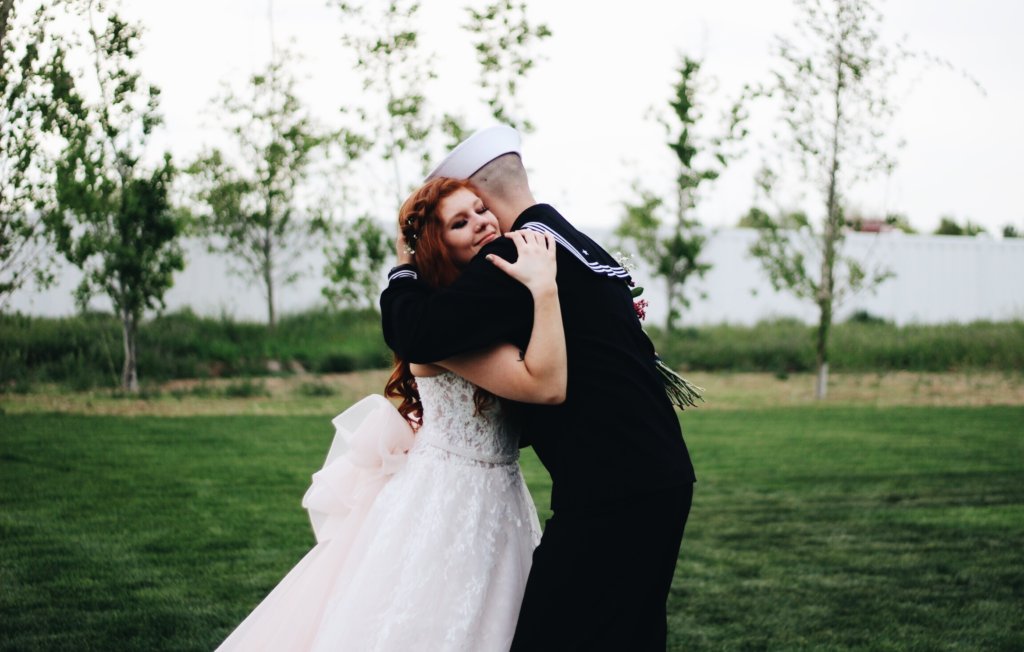 Q: What did you love most about your #Cocomelody dress (es)?
I love the bow on the back and the lace flower details. I was looking for a blush dress, and it was everything I hoped for in a wedding dress.
Q: What do you think about Cocomelody and the customer service?
Cocomelody is amazing! I had such an easy time ordering online. I went into the Los Angeles store to try on some dresses and felt a little rushed, but when I called to order my dress the lady on the phone was so friendly and helpful. I tell everyone to check out Cocomelody, because the prices are super reasonable, ordering was simple, and my dress came in quickly. Thank you for my dream dress!