When most people hear the word "wedding dress", they usually think of a white gown – and for a good reason. White has been the de facto wedding dress color for centuries. But, of course, there is no law mandating modern brides to wear white on their big day. Sure, whether you want to avoid white to be different on your Big Day or your decision is based on the fact that white simply is not your best color, you can wear a different color wedding dress.
Have you considered a blue wedding dress?
Blue – although not the norm – is a popular color for wedding dresses because it has that fairytale aspect to it that can turn any wedding into a dreamy affair. No matter if you choose a ball gown wedding dress or an A-line gown, blue is an elegant shade that can really amplify the uniqueness and charm of your wedding. For brides more focused on throwing the ultimate "talked about" wedding, blue is, in fact, the new white!
So, when it comes to blue bridal gowns, which one should you choose? Here are six fantastic blue wedding dress ideas that might come in handy!
1. LD4534 – A-Line wedding-dress with a cathedral train
This blue A-line wedding dress in tulle and lace fabric has a tapered top flaring towards the bottom, which makes it look like the alphabet 'A' – hence the name "A-line". The beauty of the A-line style is that it flatters all body types – so you do not have to dwell on whether the style would complement your figure or not. This wedding gown also has a cathedral train, which only adds to its flair and opulence. Planning on throwing a majestic wedding celebration? This wedding gown is perfect for you!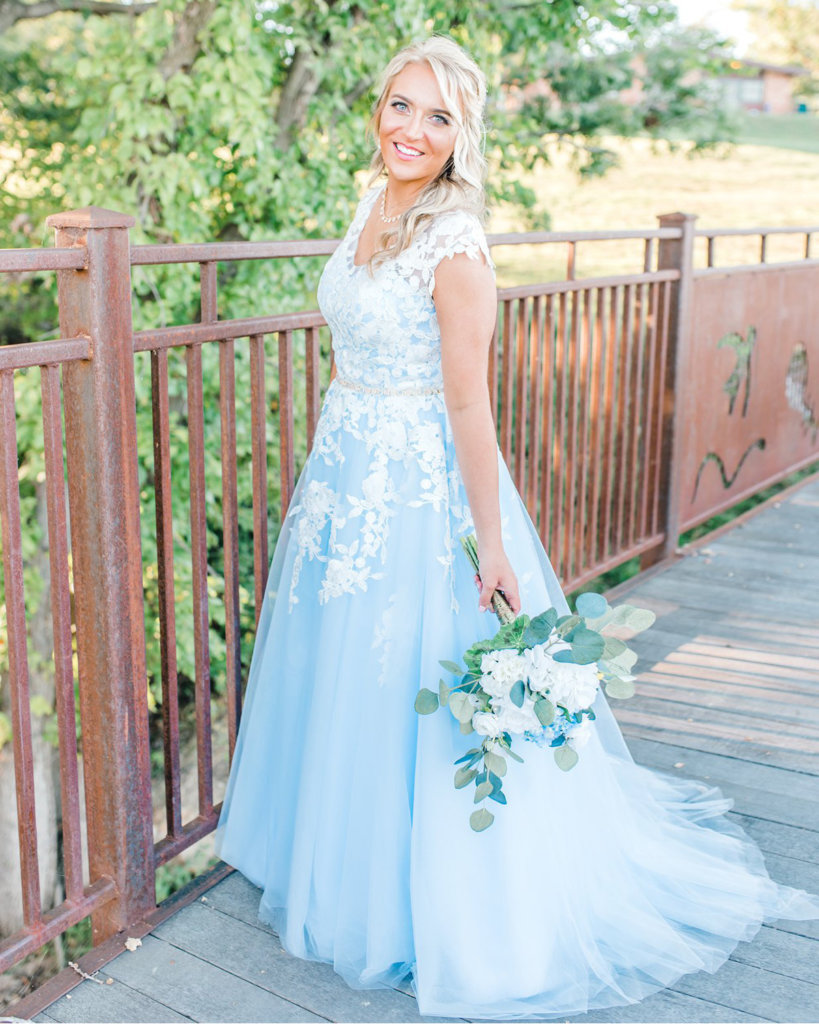 Style: #LD4534, Image Credit: McDonald Video & Photography
2. LD3454 – Off the shoulder Basque waist wedding dress
This blue off-the-shoulder wedding dress in tulle fabric is a hot wedding dress. Aside from looking playfully sexy without coming across as being indecent, this Basque waist wedding dress with beautiful appliqué detail is also very chic, sleek and elegant. If you want to showcase your beautiful collarbones and lovely shoulders on your big day, this is the dress for you!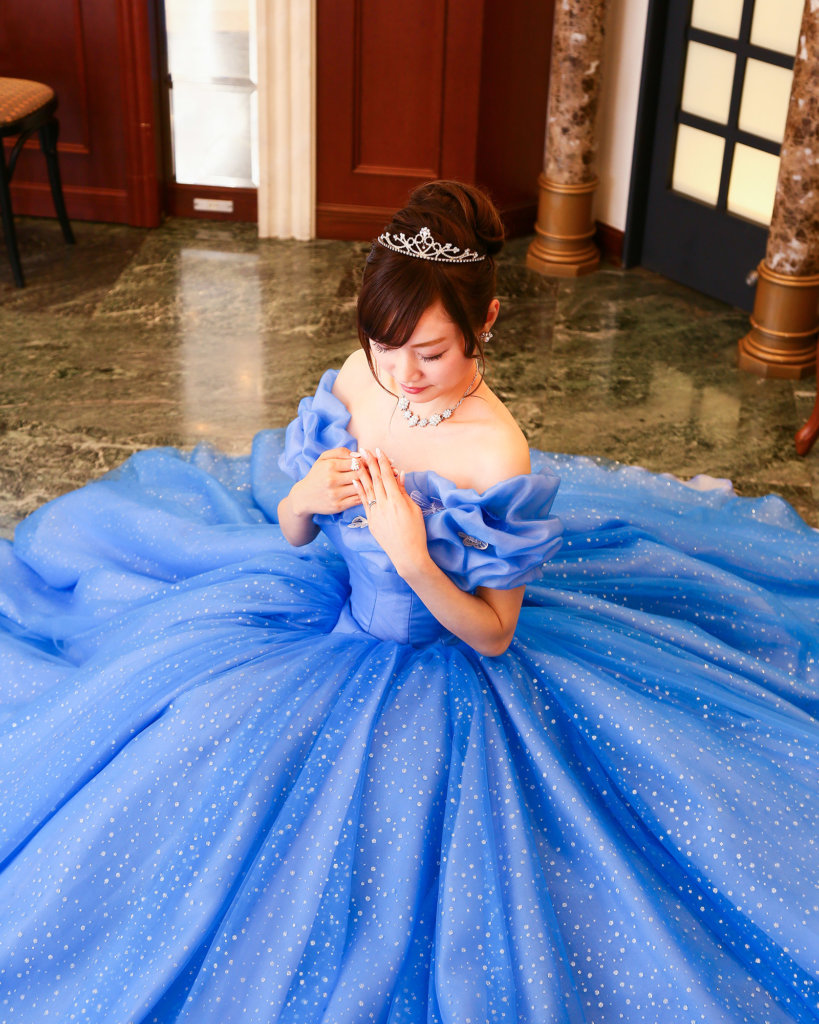 Style: #LD3454
This blue trumpet mermaid wedding dress in tulle and chiffon fabric is the choice of brides currently as it brings out that mermaid-like figure that every girl wants to flaunt. It also has a versatile chapel train that, like a cathedral train, looks very chic and regal and yet it is very easy to carry around – unlike a cathedral train! This sumptuous wedding gown is ideal for those brides who wish to make a bold and resounding statement when they walk down the aisle!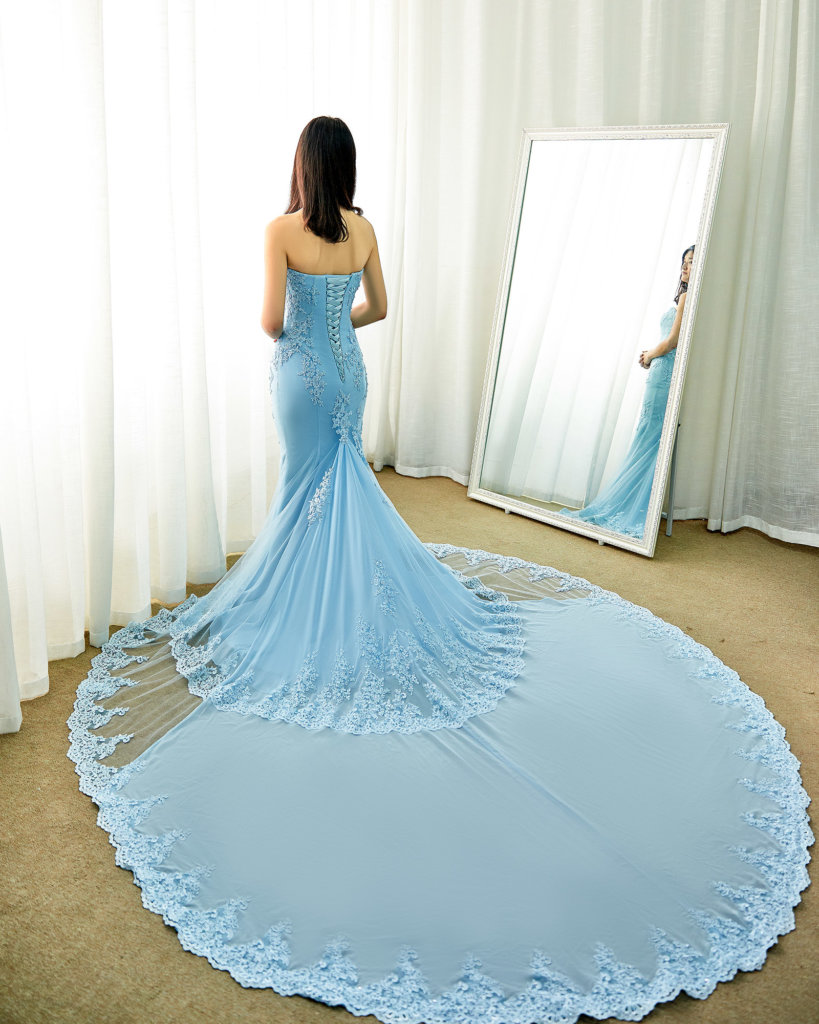 Style: #LD4240
4. LD3932 – A-line v-neck wedding dress with chapel train
If you want to add some luxurious sense to your wedding appearance, you are highly recommended this blue A-line wedding gown with a chapel train. Just as the name implies, the neck part on this gown looks like the alphabet "V". Although the accentuation on the cleavage in this sleeveless dress is much more temperate than other v-neck dresses, it is still very appealing with its open back design and magnetic appliqué details.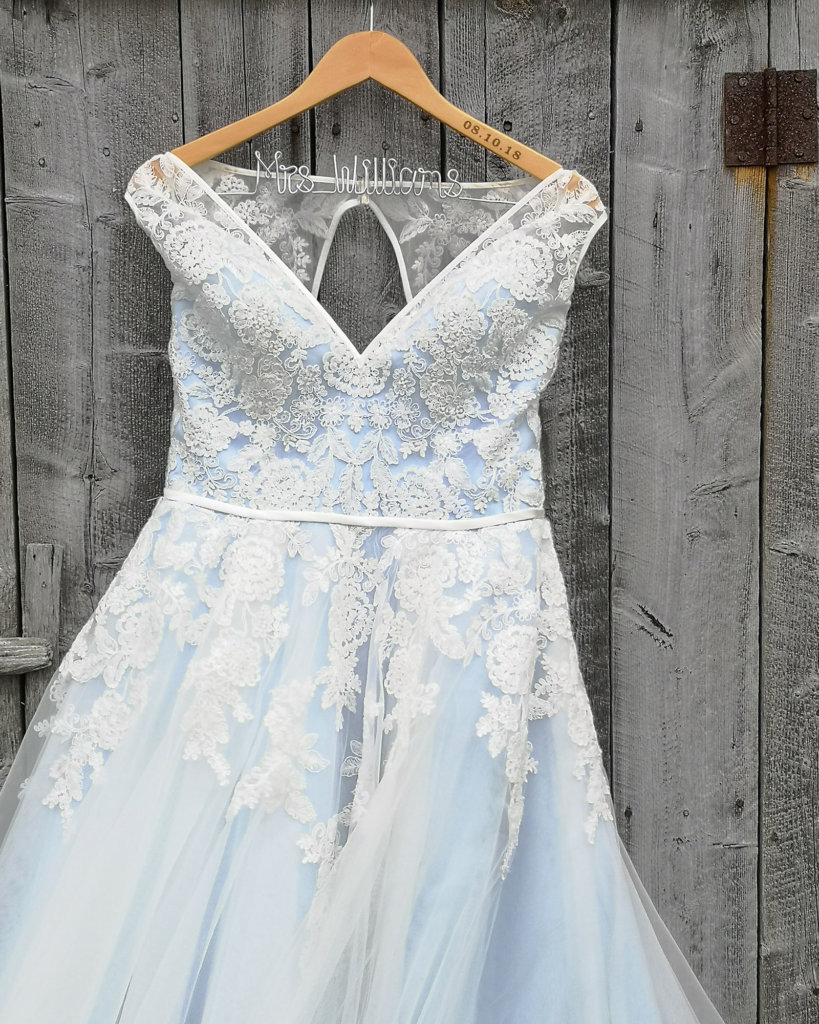 Style: #LD3932, Image Credit: Erica Flynn Photography
Women who are well endowed in the bust will find their assets played up in a classy way with this charming A-line gown with sweetheart neckline. The neckline on this sleeveless dress arches over both breasts and creates a "V" in the middle – much like the v-neck wedding dress we mentioned earlier. If you have the cleavage necessary to keep the neckline of this dress style up, this lace gown with exquisite appliqué details is perfect for you.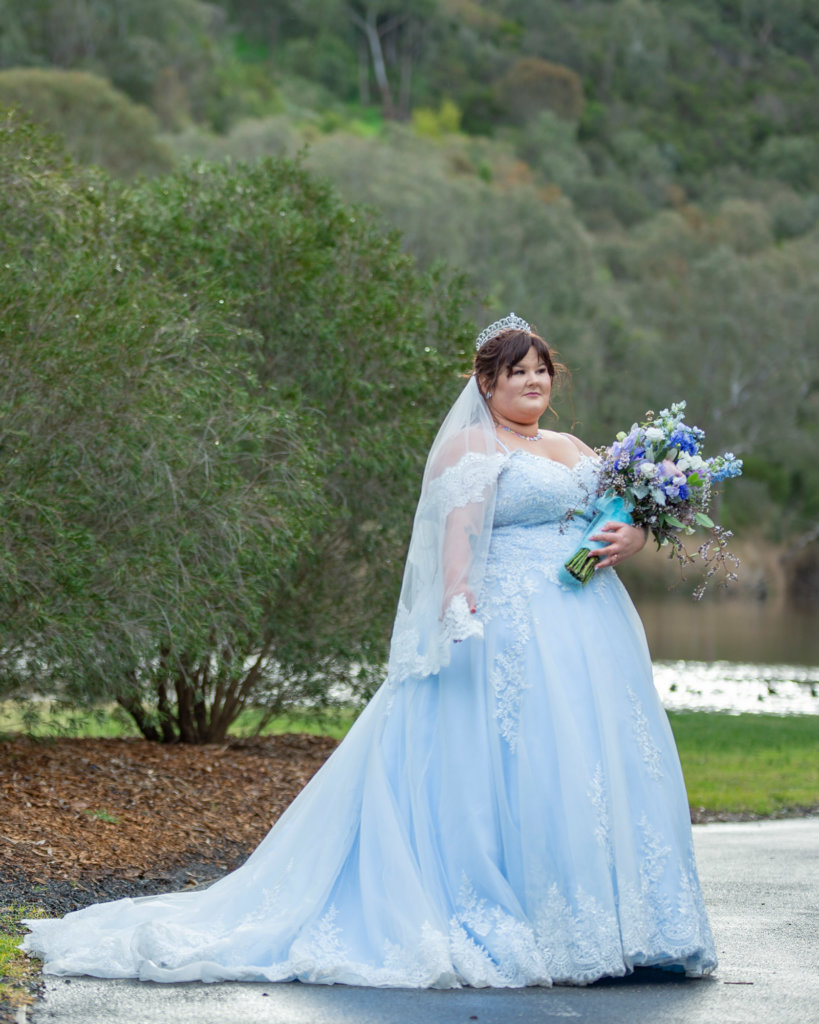 Style: #B14A0052, Image Credit: Duane Chilcott Wedding Photography
6. JUL015008 – A-line corset wedding dress
Regardless of your body type, this stunning A-line wedding gown in tulle fabric is certain to accentuate your figure and flatter your curves to the perfect hourglass figure. Blended with corset design to relay the modern modesty in a striking way, this sleeveless lace-up gown with a sweetheart neckline and alluring appliqué details will make you look breathtakingly beautiful as you glide down the aisle. No two ways about it!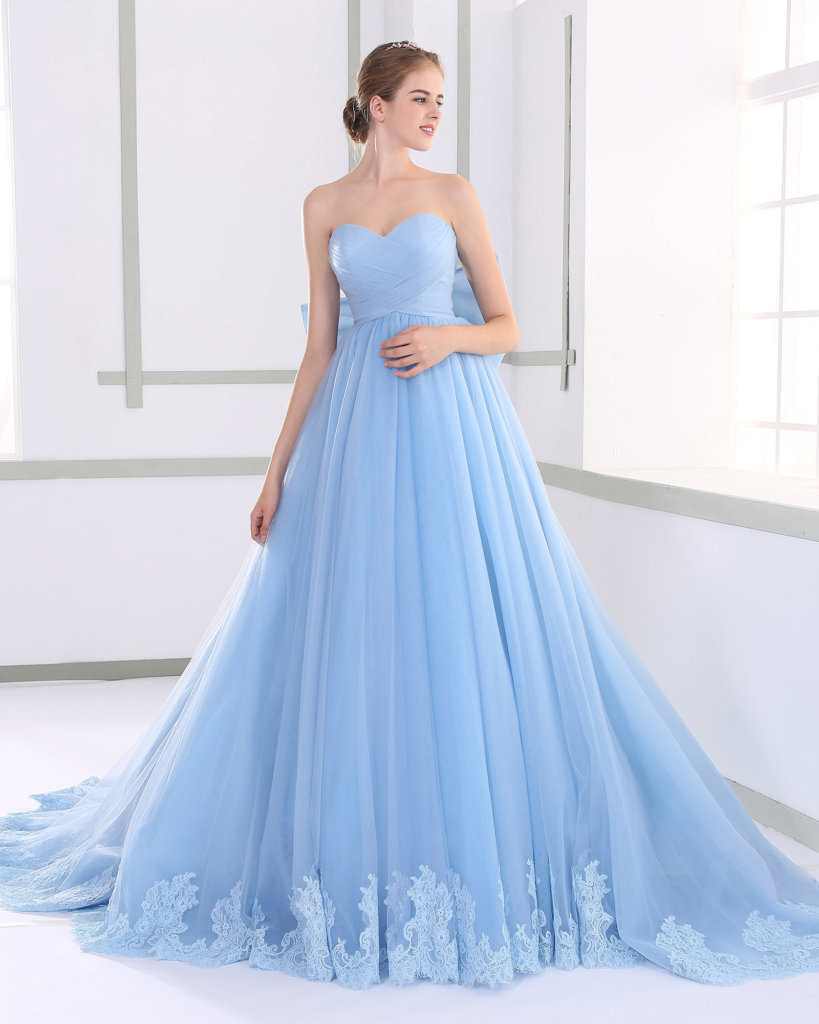 Style: #JUL015008
Your wedding day is perhaps the most important day of your life and everything about it should be about YOU, so why wear something that does not reflect your own individual style? If wearing a blue wedding gown on your big day makes you happy, go for it! Besides, with these six elegant and dreamy wedding dresses, you will surely transform the aisle into a runway!