"Always remember this: A kiss will never miss, and after many kisses a miss becomes a misses." – John Lennon
Remember your first kiss? You thought about it for weeks, rehearsing the day in your mind. You thought it would be spontaneous, meaningful and perfect. When the actual time came, you close your eyes and leaned in. Your mind was racing with nervous anticipation. The planets aligned, birds sang and it was everything you dreamed it would be. But then again, it may have been awkward and you may have chuckled, bumped teeth or just failed to hit the mark all together.
Fast forward to today.
You have a history together. Kissing has taken on a new meaning, and you just wish the birds outside your window would wait until 9 AM to start their incessant chirping so you could get some good sleep. And then he pops the question. Congratulations, you now have the perfect chance to redeem your long-lost kiss. Only this time, it's for the world to see… And it should be beautiful, worshiped… and unforgettable.
It's kind of funny to think about, but this is the kiss that will kick off your whole marriage. So, if your goal is to create a wonderful memory along with a memorable photograph, then here are six tips to have the perfect first kiss at the end of the ceremony.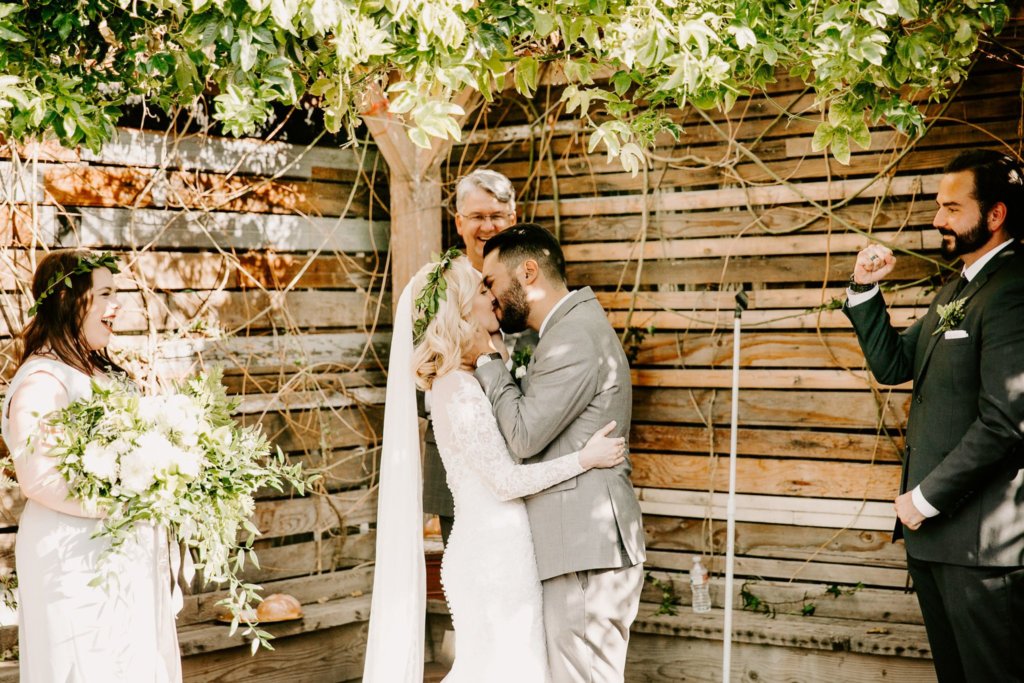 Style: #LD3906, Image Credit: McFarlane Photography
1. No Tongue, please
The most important rule regarding the wedding day kiss is the "No Tongue Rule." Save the bedroom kissing for the honeymoon. Here's a cardinal rule of weddings: "Don't gross out your guests." Not only is this rude to your guests, but the last thing you want on your wedding day is for someone to yell, "Get a room!" The only things you need to swap at your wedding are the rings and vows.
But don't do a little peck like you're kissing your granny, either. You want everyone to see the kiss and have the whole crowd have time to let out a collective "aww…" Just don't play tonsil hockey up in front of everyone, that's all we are saying.
2. KISS – Keep It Simple
Okay, the other "S" is just to make the acronym work, but just like your wedding gown, consider keeping your wedding day kiss simple. Gaze into each other's eyes, move in slowly and as your lips begin to make contact, close your eyes. It's important to talk about this ahead of time because you want to be on the same page for photo purposes. Make sure both of you agree to the eye arrangement because just having one of you with your eyes open won't be too photogenic.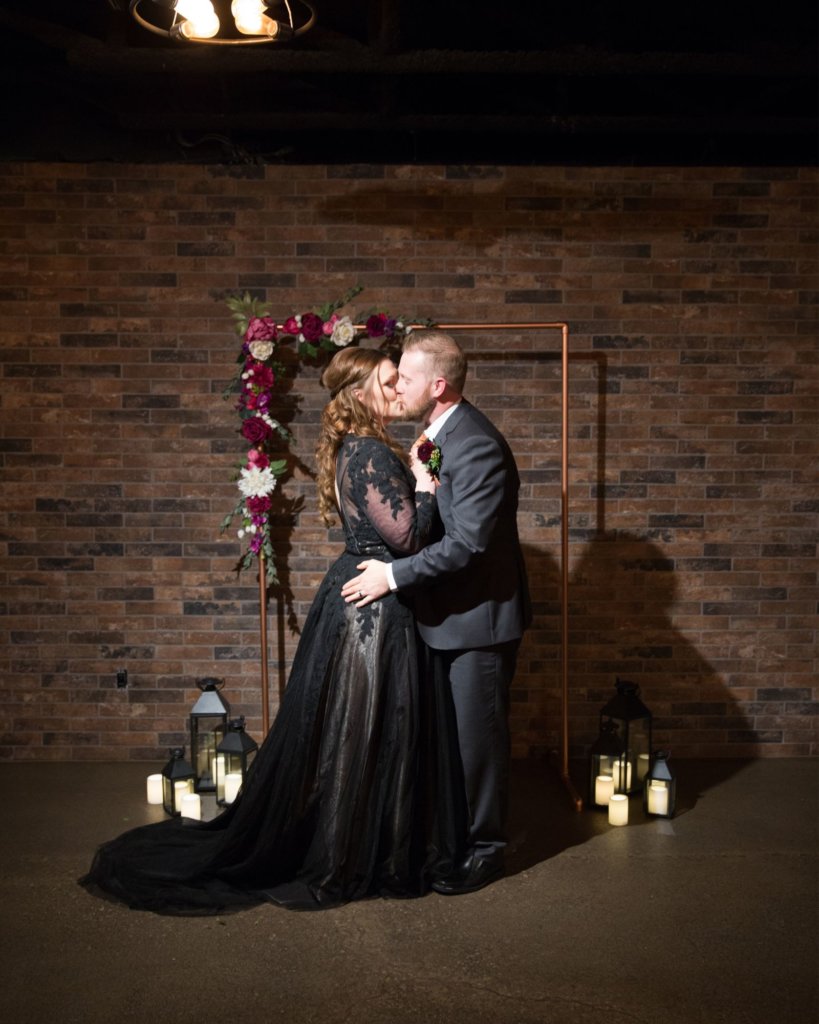 Style: #LD4432
3. Go easy on the lipstick
You don't want your soon-to-be husband to end up with bright red lips right after the kiss and look like a clown. You don't want him to have to wipe his mouth up there at the altar. And you certainly don't want your lipstick to be all smeared and smudgy right after the kiss. So, go with light lipstick or perhaps just a little clear lip gloss in order to avoid the situation where your partner slips and slides all over your lips on a thick coat of lipstick and things get… sloppy.
4. Take a mint!
Please be sure that you both have brushed your teeth with minty toothpaste the day of your wedding. If you've been snacking before your wedding so that you don't get lightheaded in the wedding venue, be sure to have a mint before your walk down the aisle. You don't want any bad breath going on during the kiss, do you?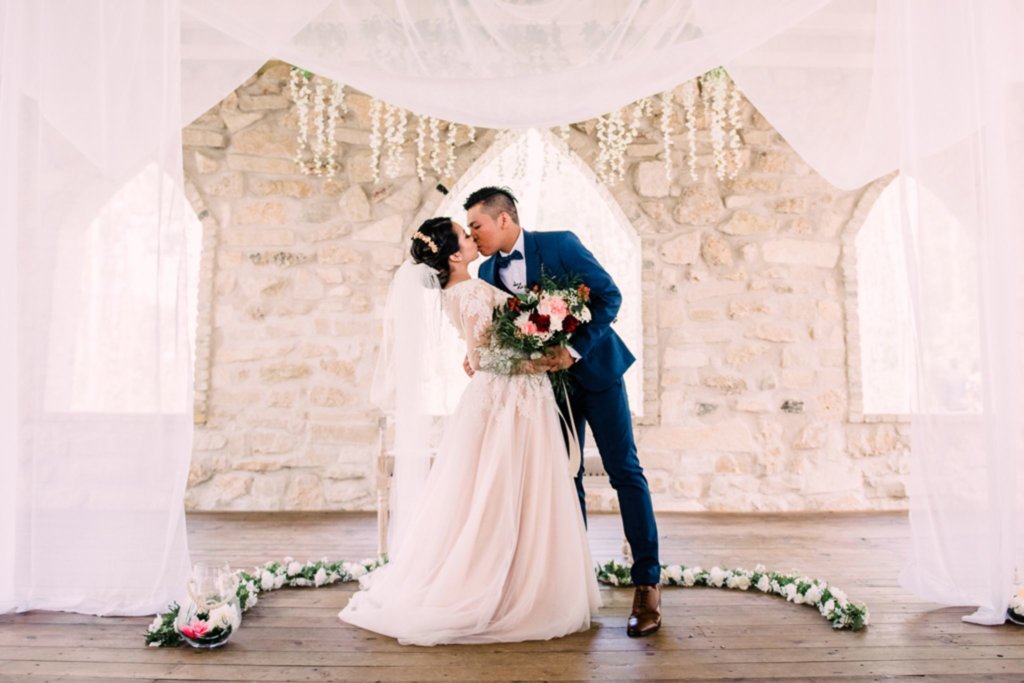 Style: #LD4567, Image Credit: Funny Stuff
5. Be comfortable
The big wedding kiss is a really fun part of the ceremony. It's also a part of the wedding that's completely up to the two of you! Don't try to do something that's out of character for you. Go with what feels comfortable and natural. That, and your wonderful A-line wedding dress, is what's going to make the moment special for you and your guests and make for the best pictures. And now comes the best part…
6. Practice, Practice, PRACTICE
Figure out which way your heads will lean. Work on hand placement. The more practice you get in before the wedding, the easier and more natural it'll be during the wedding. There also won't be any surprises. Surprises may be wonderful on birthdays and Christmas, but the last thing you want on your wedding day is a surprise!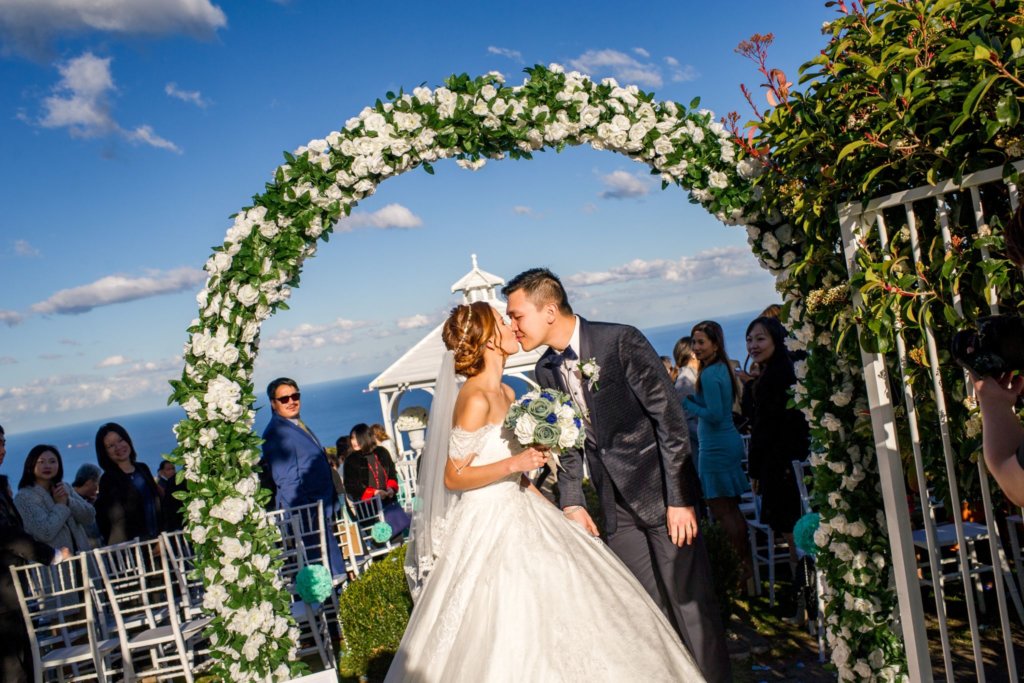 Style: #LD3832
Let's seal it
So, at the end of the day, pulling off that perfect wedding kiss is really easy – much like your elegant lace mermaid wedding dress. Keep your tongue to yourself, keep it simple, put on light lipstick (or none at all), smell nice, let loose and practice like there's no tomorrow. By practicing and perfecting your wedding kiss before the wedding, you can share with your guests just how important this day is to you and how you want everyone to remember it – beautiful, meaningful and unforgettable.