We're so in love with Cynthia & Greg's rustic, outdoor wedding in Carlsbad, CA. Their wedding embodied soft sophistication along with DIY glamour and Cynthia was so glowing in her dream #cocomelodydress. Read Cynthia & Greg's beautiful love story below, and get some helpful insights into how you can have a stress-free big day!
All photos were taken by First & Orange.
Wedding Dress Style: #LD4395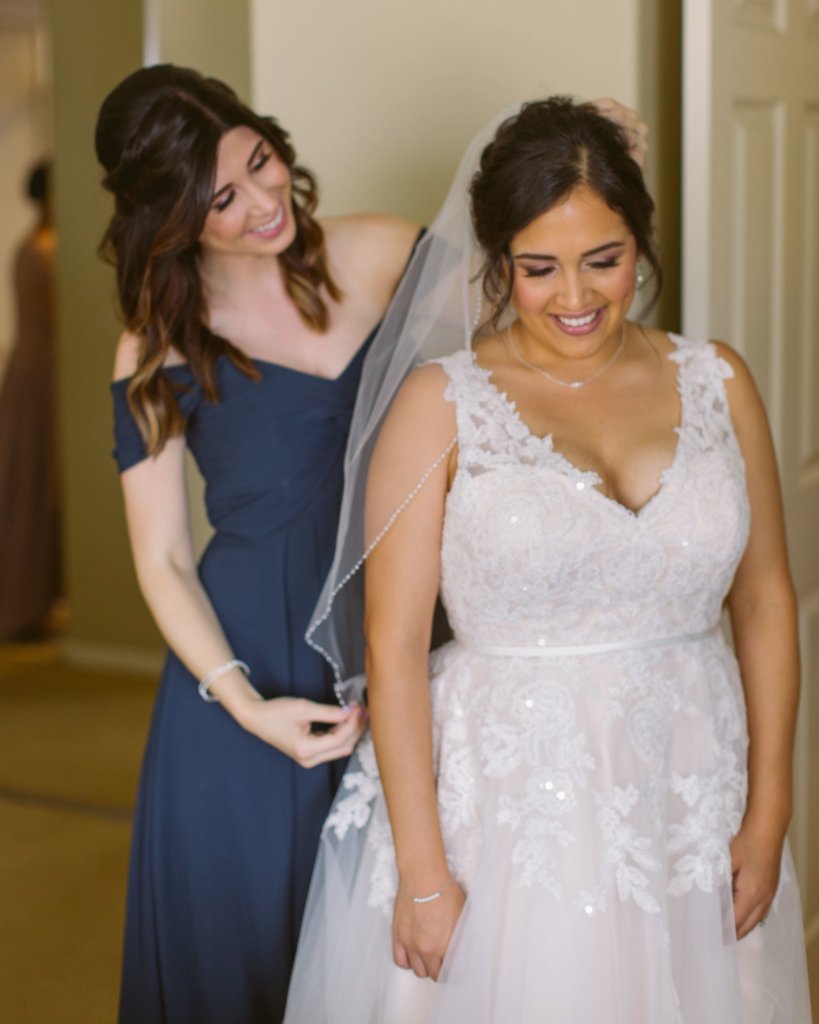 Q: Any advice or tips for future Mrs.?
If there are specific details you really want, plan ahead and let your coordinator/DJ/bartender/whoever it applies to know early on. The week of the wedding goes by so quickly, so if you didn't give those instructions beforehand it probably isn't going to happen. Planning ahead also means that the day-of you can stay relaxed! I was as cool as a cucumber on the day-of, and that's because I had let my vendors know all the important details that I wanted, so they could execute flawlessly.
Q: What was the inspiration behind your wedding theme?
We're very simple people and didn't want to go over the top. I also love to DIY, so that was a big inspiration for me. I loved doing the rustic, outdoor theme that also was very DIY, which was very us.
Q: Tell us your love story! Where & How did he propose?
We met on Tinder! I almost didn't go to that first date, but I am so glad I did. He proposed to me after 3 years on New Years Eve in front of all of my closest friends, which was my absolute favorite thing.
Q: How would you define the message "Dare to Love"?
Love can be hard. It takes a lot of work from both sides, but the best part is that every day you get to be with the person that knows you the best and loves you to your core. It's truly all about finding your best friend that you want to share so many laughs with and go through life with.
Q: What was the best/most memorable part of the day?
Sitting down at our sweetheart table and just looking out at all the tables of our closest friends and families. It's truly an amazing feeling to be able to bring two families together into one place for one weekend to celebrate your love. We also did a choreographed dance for our first dance, and getting all the cheers from our guests was so fun!
Q: Where did you hear/find CocoMelody?
My friend told me about CocoMelody. She had gotten married the year before, but found her dress before she went to CocoMelody. It was the best recommendation I ever got because without CocoMelody I would have never found the perfect dress for me… not to mention the prices cannot be beat!
Q: What did you love most about your #CocoMelody dress (es)?
The quality of my wedding dress is absolutely amazing, and the price makes it a no brainer.
Q: What do you think about CocoMelody and the customer service?
It's disheartening to walk into bridal boutiques and be told that your budget only allows you to try on maybe one dress. CocoMelody really makes it possible for someone to find a stunning dress without having to give up anything they dreamed of. Seriously, CocoMelody is a fairy god mother for dresses.