Summer is known for clear blue skies, flowers of all kinds, warm temperatures and longer daylight hours, making it the perfect time of year for outdoor nuptials. Summer weddings call for a bold, bright and cheerful celebration. Make your wedding stand out with an out of the blue color theme that totally works. Check out some of the hottest summer wedding colors that will compliment the season: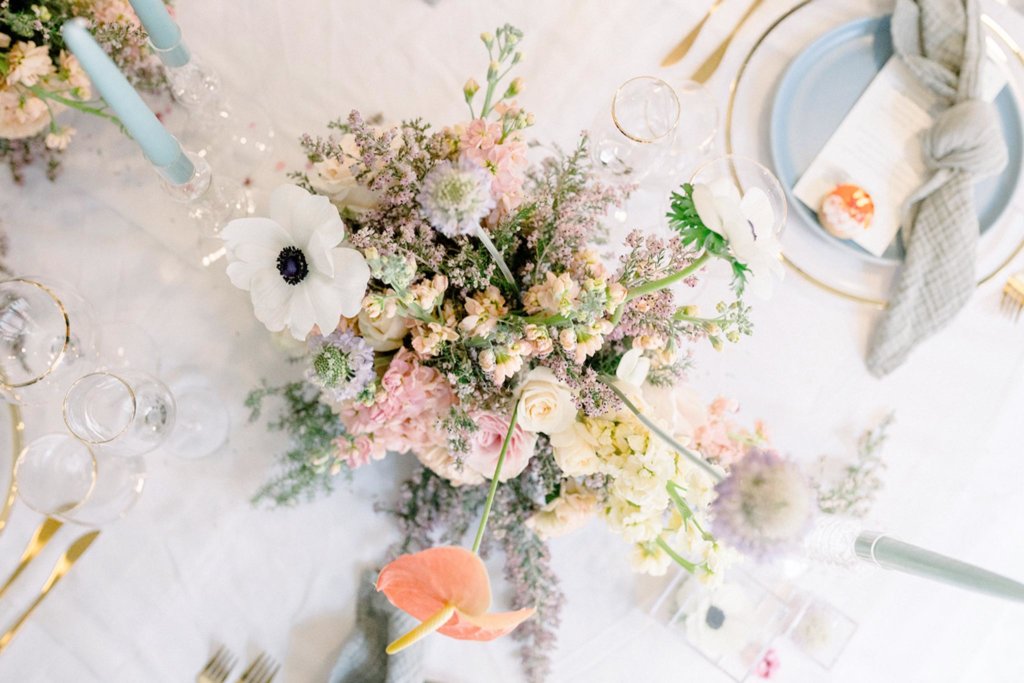 Image Credit: Orange County Photography & Video
1. Blue and Yellow
This color combination makes the perfect pair for a chic midsummer affair. Try this combo in your bouquets by combining hydrangeas with a variety of yellow blooms like sunflowers and yellow lilies. The bold contrast between yellow and electric blue will look lively and flamboyant. Navy suits and tuxes look as sharp as ever, making this color combo easier to incorporate. Keep the mood lighthearted and fun by incorporating bursts of blue blooms in a yellow backdrop.  
2. Coral and Green
Pantone's color for 2019 is "living coral" and we can't help but marvel at this intoxicating shade. An amalgamation of orange, pink and peach tones, coral can be intertwined with a variety of greens, ranging from dark green to olive, for a look that is calm and refreshing.  It's easy to set a romantic-meets-fresh tone with this summer color combo that is well suited for a garden or outdoor weddings. This elegantly romantic combination can be used for bridesmaid dresses, wedding accessories, banquet hall decorations, and wedding desserts.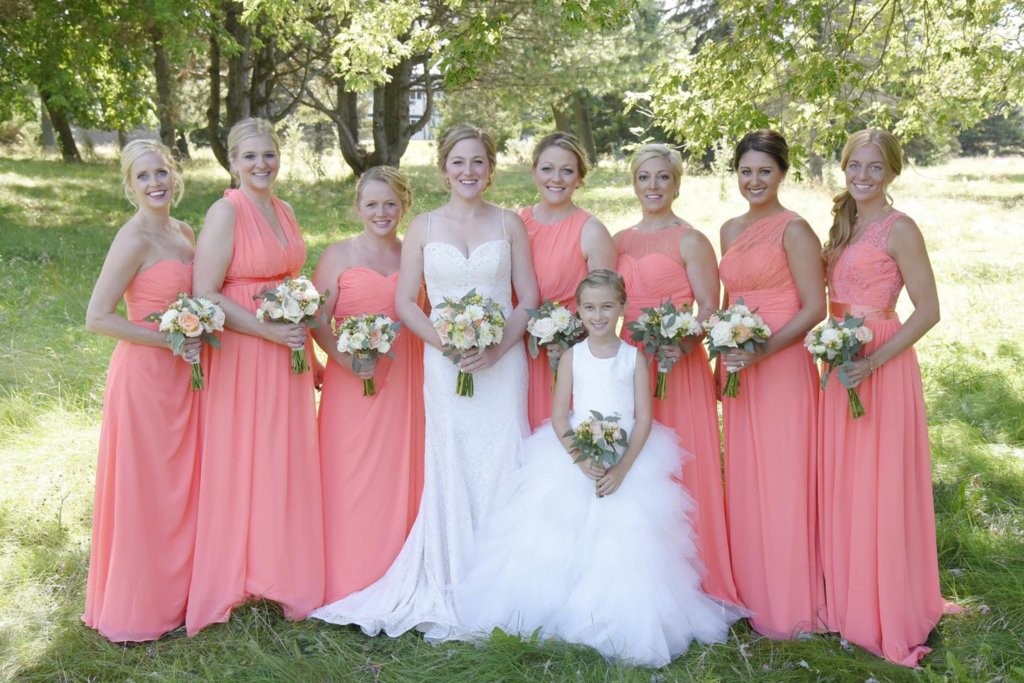 Styles(from left to right): #COZF1401D & #COZF140A1 & #PR17020 & #COZK16005 & #COZK16004 & #PR3263
3. Teal and Ivory
Another stunning wedding color scheme is a gorgeous jewel-toned teal balanced by a super-cool neutral like ivory. Teal accented by white and ivory is perfectly suited for indoor and outdoor summer weddings. Also, nothing represents a beach wedding theme more impressively than a touch of teal. Bold and vivid, teal does not need much to make a big, yet approachable statement. Balanced by subtle ivory, this color combination is modern, hip, and minimal and flows with beauty and sophistication.
4. Fushia and Aqua
Bring the tropics to your special day with island-inspired brights like bold fuchsia and ocean-inspired aqua. Keep the beach vibes going by opting for a wedding dress with tons of flow and movement. This color combo has a variety of inspirations for event decorations, including centerpieces, bouquets, boutonnieres and etc. You can even consider accenting centerpieces with fresh fruits and desserts of these colors for a taste of the tropics.
Styles(from left to right): #COZF140A1 & #LD3820
5. Soft Blush and Sage
A light minty sage comes to life when paired with a soft blush and the summer sky. Inspired by mother nature, this mellow combination of antique sage and dainty blush juxtapose in a way that is great across any summer wedding style, but especially one with a vintage flair. When combined, they both look soothing and appealing and evoke a warm feeling.
6. Tangy Orange and Pink
Nothing says summer like a juicy combination of punchy citrus hues ranging from tangerine, orange to hot pink. With such saturated and vibrant hues taking center stage, make sure to keep the backdrop light and neutral so that it's not overwhelmingly colorful. Make sure to include vivacious blooms in the theme's color here and there and offer a fruity signature cocktail to your guests.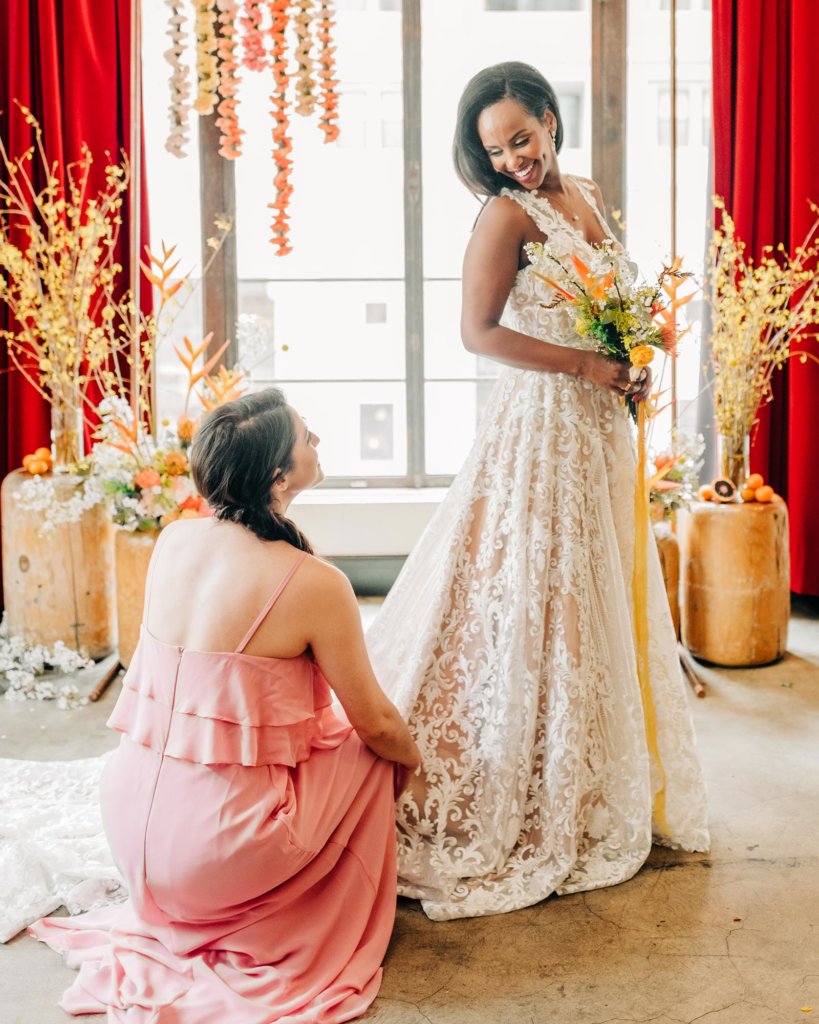 Styles(from left to right): #PR3577 & #LD5190; Image Credit: Elizabeth Burgi Photography
There's no time like summer to indulge in a whole lot of color and fun, so pick one of these trendy color schemes and get creative for your warm weather vows!