The Christmas season is filled with a sense of enchantment and magic (especially when it snows) It is a time when friends and family come together not only to deck the halls with fragrant boughs of holly but to gather in cheerful reminiscing of a year gone by and to share hopeful expectations for the coming year.
Why not add to the cheerfulness by tying the knot this Christmas season?
Having a Christmas-themed wedding is an excellent way to justly celebrate the peace and delight of the winter holidays, add a sense of 'togetherness' to your big day and a guaranteed route to make your wedding a memorable one for years to come.
Here are seven festive ideas for a Christmas wedding you can consider.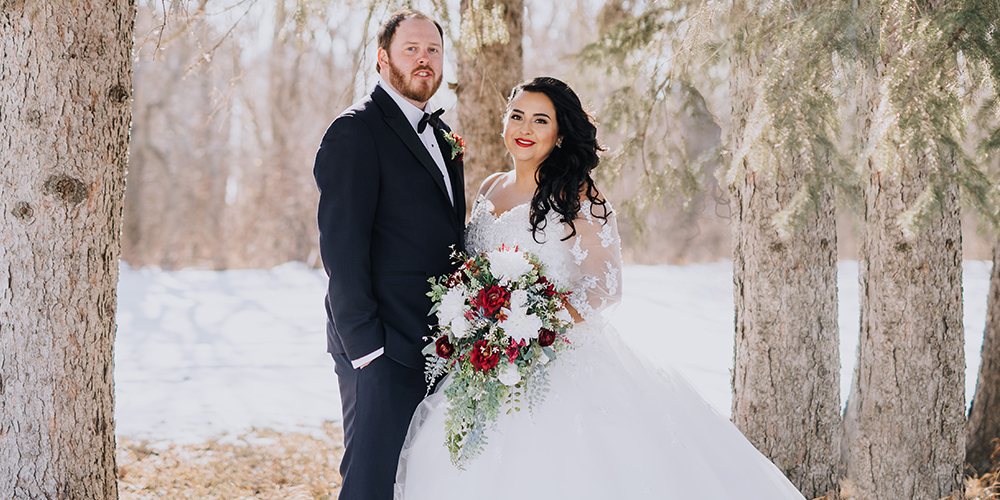 Style: #CWLT13093
1. Color scheme
Nothing screams, 'Christmas' quite like the color combo of rosy red and pearly white. A color scheme with varying shades of red and white will immediately evoke a sense of Christmas-y comfort to your lovely wedding.
2. Flowers
Make your wedding more exciting by using lovely Christmas flowers in your bouquets and decorations. Tulips, hyacinths, freesias, and Poinsettias are some of the most popular Christmas flowers. They can be used in bouquets or as potted plants to adorn the Ceremony and Reception areas. You can also use red roses. Red roses symbolize unconditional love and make stunning hand-tied bouquets, especially when the stems are wrapped with silver ribbons and graced with pearls.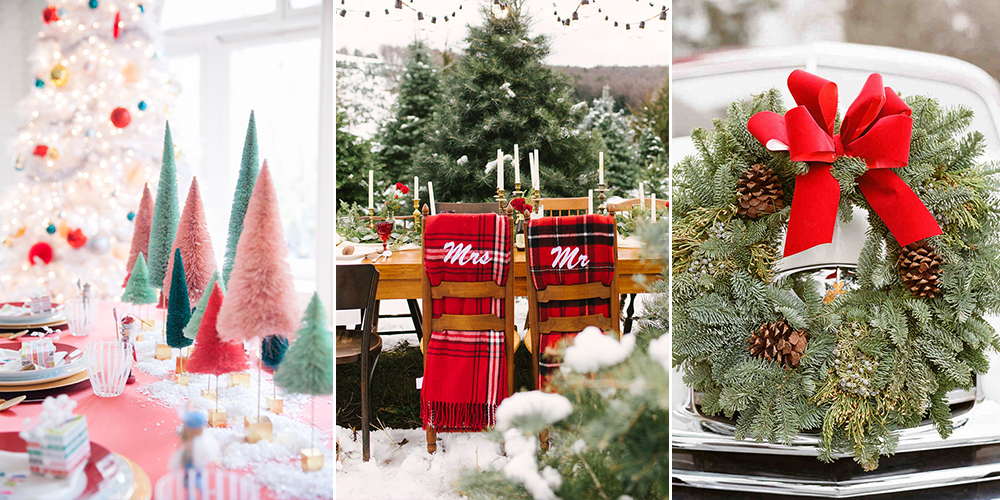 3. Décor
When it comes to your wedding décor, Christmas lights are a wonderful idea. You can also make use of angels, stars, decorated Christmas trees, Christmas balls, glass ornaments, polished gold or silver decors, or as previously mentioned, poinsettia flowers lined up on the aisle. Keep the décor elegant and avoid bold Christmas decorations like candy canes, reindeer, snowflakes, and Santa figurines.
4. Favors
Tree ornaments are always a must for holiday winter wedding gifts. They are great because many of them are quite affordable and they come in several designs so you can mix them up to give everyone something unique. Hot chocolate packages are another great option to give out to your guests. You can include personalized mugs with the hot chocolate, or you can just put name tags on the hot chocolate packages and then tie them to a candy cane with red or green ribbon. Some other great choices for Christmas-themed wedding favors include wreaths, poinsettias, Christmas coasters, or holiday candy jars.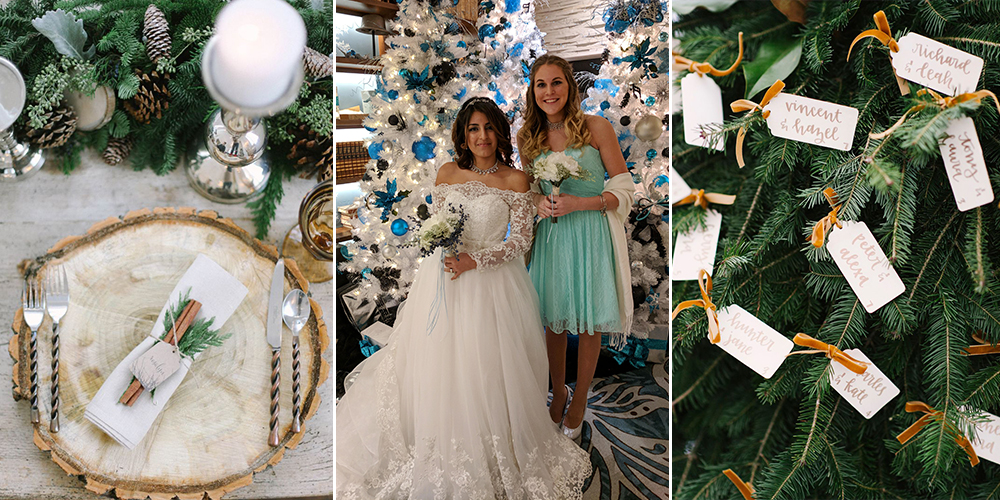 Style: #LD3436 
5. Food and Drinks
For your Christmas wedding menu, you can serve holiday favorites such as Turkey and roast ham. You can also serve traditional sides such as corn dressing, stuffing, potato salad, carrot salad, etc. For refreshments, you can serve warm apple cider and warm spiced wine. You can also have pumpkin pie, apple pie, and other sweet baked desserts that all your guests will absolutely enjoy.
6. Cake
You could have your wedding cake shaped like a fir tree with edible branches or a snow field with an abundance of pure white cream or icing. How about putting a tiny porcelain bride and groom couple in a dancing mode on top of the cake for added appeal? Your guests will love it. You could also have your tiered cake. This cake could be positioned on a small sleigh and further you can tastefully decorate it with models of Santa Claus and his reindeers. Such a decorated cake would certainly raise the solemnity of the grand occasion.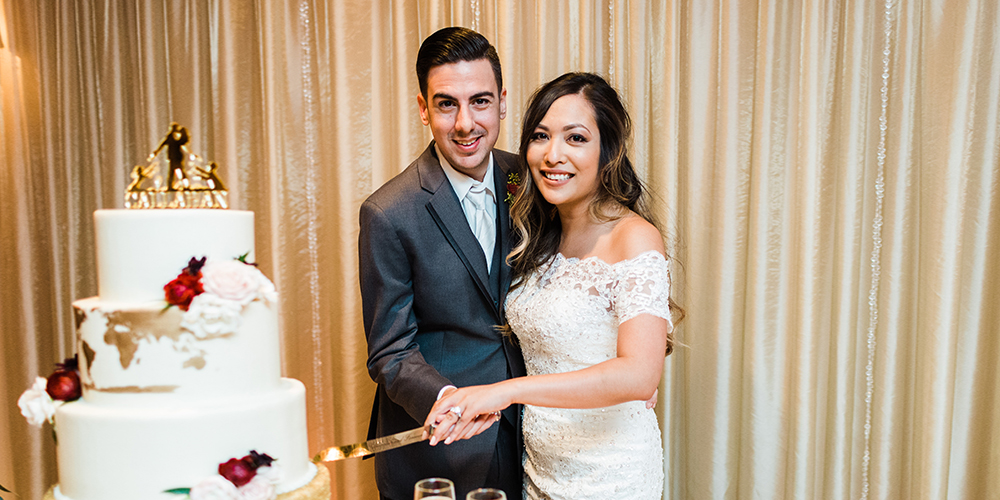 Style: #h1pn0352 
7. Dress
Your Christmas wedding gown has to be gorgeous, remarkable and unforgettable. Full, lush gowns are most famous with regard to Christmas wedding dresses. A-line and ball gown wedding dresses typically tend to be beautiful designs for many body shapes as they add fullness and enhance the smooth, graceful curves of the bride. What color to choose? Although white is the most popular color for a holiday wedding dress, off-white shades look just as beautiful if they contrast with the gleaming white winter environment. If you dare, pick a rich ruby, burgundy, or even emerald dress instead.
Conclusion
Having a Christmas wedding can be a lovely way for everyone to celebrate your marriage and the holidays at the same time. Use the excitement, joy, love, and happiness of the Christmas season to make your wedding a memorable one.