Are you going to have an elopement wedding? You must have a look at Emma & Rob's intimate wedding in Boho Cornwall, UK first. Everything was so cool and Emma totally rocked style #LD3932 in custom dark navy color! We're so honored to be a part of their important day and help make Emma's dream come true! Congratulations to this sweet couple!
All photos were taken by Adam Gibbard photography.
Customized Version of Wedding Dress Style: #LD3932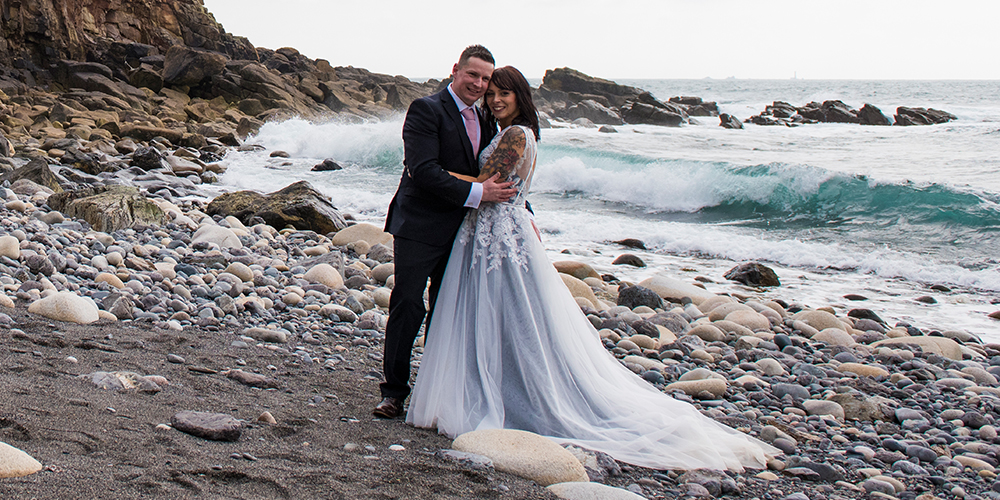 Q: Any advice or tips for future Mrs.?
My advice for future brides would be to relax. Do not turn into bridezilla as it's not worth it for one day. Enjoy the planning, be true to yourselves and what you both want and can afford. Don't try to please others, make the day about yourselves and the love you share.
Q: Tell us your love story! Where & How did he propose?
We had both been friends for many years, and both been married before. Once those marriages dissolved we slowly became close before getting together in early 2011. I had 2 girls from a previous marriage. Once together we moved in and had a son at the end of 2012. Our family was then complete and we decided it was time to buy a house. Shortly after was my 33rd birthday, 26.11.2016 Rob took me on a surprise helicopter ride over our local coastline. As we flew past our local beach, written in the sand was a giant 'EMMA WILL YOU MARRY ME?'. (He had arranged for 2 of his friends to go and write the message on the beach for me. The letters were enormous!). There was a crowd of people gathered on the beach below and as I turned in the helicopter to look at him he was on one knee with the ring in his hand. I said Yes! and the helicopter pilot bobbed the helicopter to signal  a Yes to the crowd below and everyone cheered! The proposal was truly amazing, and completely unexpected! He then whisked me away fort he night to a hotel by the sea.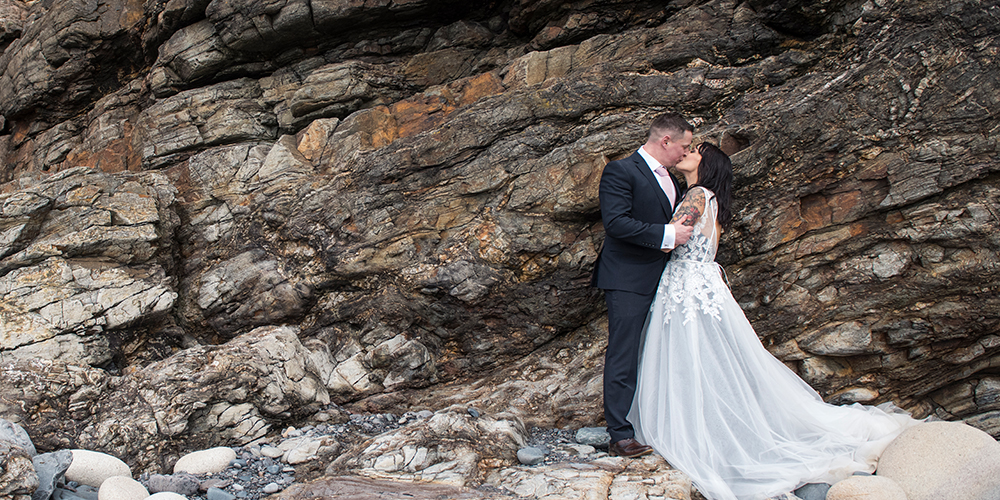 Q: How would you define the message "Dare to Love"?
Defining the message 'dare to love' I would say it means, be brave…follow your heart and trust in love!
Q: What was the inspiration behind your wedding theme?
Both my husband and myself had previously been married, and both at big weddings. We remember our first weddings as being about pleasing everyone else and making sure everything went without a hitch, but at the expense of our own happiness. We didn't spend any time with our respective partners and it was tiring, and not the most enjoyable day. It was also extremely costly. Whereas a wedding should be about love, and commitment and spending the day together.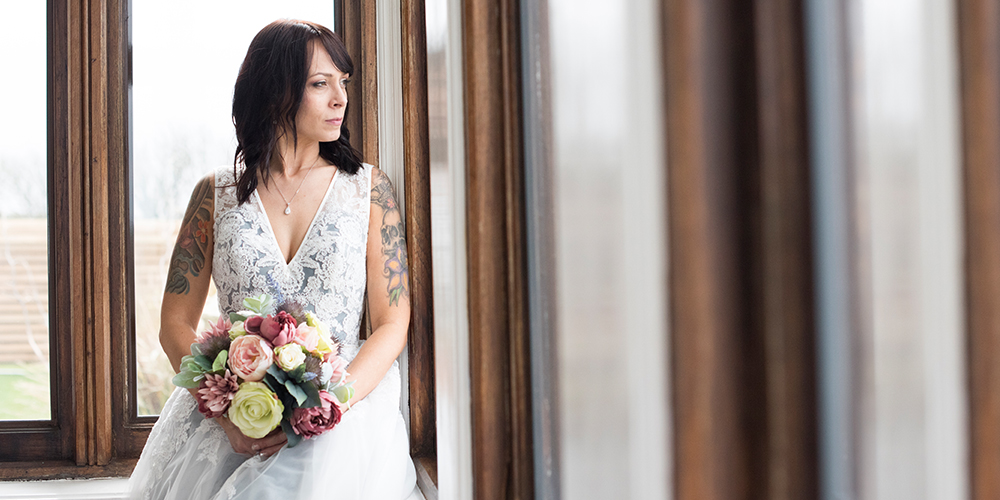 So for our wedding we decided to elope with just our 2 closest friends, our children and my brother. We found the venue first ( A small country house sat on the cliffs at the south western end of Cornwall, England) and then decided it was perfect for our elopement as it was situated on the rugged Cornish coastline about an hour from where we live. As we were eloping we wanted the wedding to be minimal fuss and expense and more about our love and commitment to each other. The venue organised everything so we only had to make sure we turned up in our outfits. We decided to keep costs to a minimal so I did all hair and make up and I made all the bouquets from artificial flowers I had gathered.
I tried to choose colours and outfits to blend in with the location and to help give a natural relaxed feel, I didn't want a stark contract between wedding theme and venue.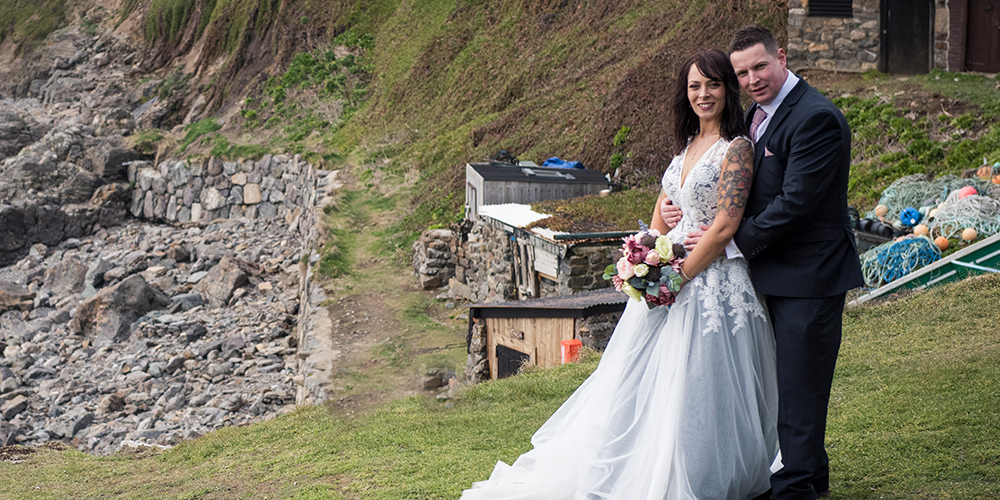 As a result of eloping the wedding was everything we wanted it to be. The emotion was heightened with not a dry eye in the house and we felt as though we were the only people in the world at that moment. The ceremony was intimate and romantic and everything we hoped it would be. We were not side tracked by formalities of the day and other guests and we could just enjoy each other and the commitment we were undertaking.
Q: Did you enjoy the wedding planning process? Why or why not?
I enjoyed the planning process as there was no pressure or expectation. Being just our nearest and dearest it didn't matter what anyone else thought. It didn't matter if something went wrong, the day was about our vows and love for each other. Eloping took all the fuss and stress away from the day and helped turn it into and exciting enjoyable day.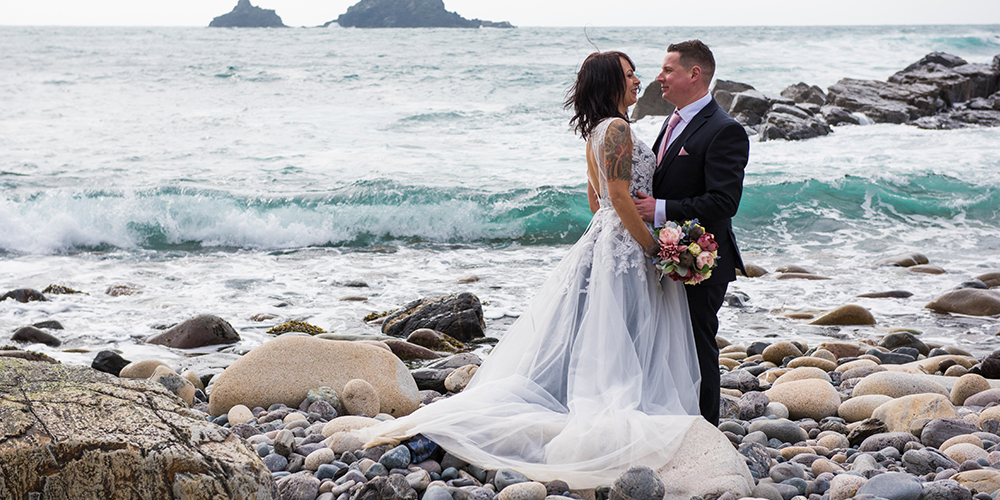 Q: What was your hubby's reaction when he first saw you on your big day?
I don't actually know what my husband first reaction was when he saw me, as when I walked down the stairs into the room, with our music playing in the background my own eyes were so full of tears of happiness and emotion that I could not bear to look up at him for fear of a complete emotional breakdown. I was aware that I had to compose myself to say my vows and I feared if I looked up into his face that I would lose my composure. He assured me he was blown away but how well I had scrubbed up!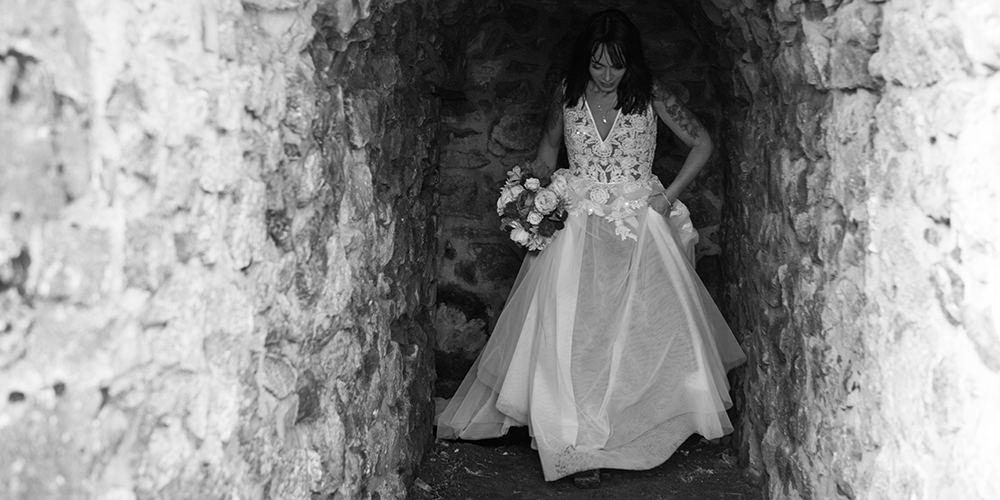 Q: What did you love most about your #Cocomelody dress?
It was made just for me! Being petite it can be impossible to find a dress that fits my body correctly so Cocomelody gave me the chance to have something custom made at an amazingly reasonable cost. It also allowed me to make my dress unique by adding a coloured underlayer. I don't like to be conventional and I like to add my own twist to things, so by adding a dark underlayer allowed me to bring my own style into a traditional wedding dress.
Q: What do you think about Cocomelody and the customer service?
I think Cocomelody's customer service was amazing. Contact was swift and relevant, with you guys double checking measurements before making the dress. The dress was make and sent within the given time and the dress was of an outstanding quality. It was better then the dresses I had tried on at the boutique and at the fraction of the cost.