A day flushed with happiness, goodwill, and prosperity, a wedding indicates the intertwining of two lives, and there is nothing quite as beautiful. A day as auspicious as this deserves a fitting celebration and a fest of merrymaking!
However, the world seems stuck in a time when it comes to weddings. There is rarely a sense of originality or freshness about the way most weddings are organized.
Bearing that in mind, we have compiled a list of go-to trends that will spice up and modernize any wedding and bring life and aesthetic to it!
1. Exotic Locations

 
Changing up the setting is truly blissful. A wedding set in woody highlands is charming to the core, and a fitting location for an occasion of such magnitude. Nature is supreme, and the mingling of souls in the midst of the soul of the Earth itself is poetically beautiful. You can even give your guests a sneak peek of the location with photo wedding invites to make things more exciting!
A wedding must have an aesthetically pleasing element to it. It should be an event people want to attend. A switch of scenery will ensure that people's minds are captivated and that they feel the beating of nature's heart in rhythm with their own!
2. Colour Schemes
Adhering to a common color scheme can really bring the best out of a wedding. Everything seems to fit right in place, and the mood around the scene gets a lift. Choosing color schemes that are trending such as rustic schemes, bright schemes, colorful schemes can contribute to the already festive atmosphere. Colour coded wedding banners can be drawn up, which are classy, graceful and provide a sense of occasion.
Another aspect a color scheme can bring is a sense of belonging. Due to the beauty of the occasion and, indeed, of the set, people who identify with the color scheme feel welcome, and at home. This makes for an elegant wedding and is pleasing to witness and experience.
3. Trending Choice of Fabric
Creativity is a limitless quantity. Innovation with fabric leads to excellent results. However, for an occasion as important as a wedding, it is better to stick with the tried and tested. When the right fabric is selected for the clothes, that is, one that blends seamlessly with the setting, it adds to the beauty and the finesse of the grand event!
 Clever use of timeless fabrics like tulle, chiffon and organza can make your wedding gown look exquisite. You can also try new prints and patterns like ombre, sequins, and embroidery to make your dress truly stand out from the crowd. Corsets are the latest trend and can be worn by the bride as well as her bridesmaids to achieve an enviable hourglass shape. Printed bridesmaid dresses are also hot this year and work well to add some color and character to the wedding vibe. The bride will definitely be the center of attraction but with these dresses, the bridesmaids won't be far behind!
4. New Means of Entertainment
However beautiful a wedding may be, if the guests aren't occupied, and are sitting idle, they won't enjoy the occasion. Entertainment of the guests is a crucial element of a successful wedding. Keeping the guests busy and engaging with them in conversation and activity goes a long way in making a wedding a memorable experience for both the couple and the guests.
A functional bar at a wedding never goes amiss. Interesting games can be arranged for entertainment such as bake-offs. Effective handling of guests makes for a fun and elegant wedding!
5. Floral Chandeliers
A new and trending idea, this ornate and articulate addition has become a mainstay in modern artistic wedding themes. Floral chandeliers provide a beautiful feel to any wedding with its mere presence. It shines light upon the scene, and illuminates, literally and metaphorically, the wedding!
The grace and beauty of flowers propagate to the audience because of the grandness of such chandeliers. It creates an atmosphere of grandeur and personality. It is a must-have for any weddings that want to provide an aesthetically pleasing experience for everyone involved.
6. Cheesecakes
 Regular cakes are a thing of the past. Cheesecakes are popular with the newer generation, and in order to cater to the fancies of the new generation, Cheesecakes must be made the primary wedding serving.
Modernisation helps to attract guests and provide them with an enjoyable experience, and in terms of desserts, nothing can beat a well-made cheesecake! Innovation and change are more often than not constructive when it comes to weddings!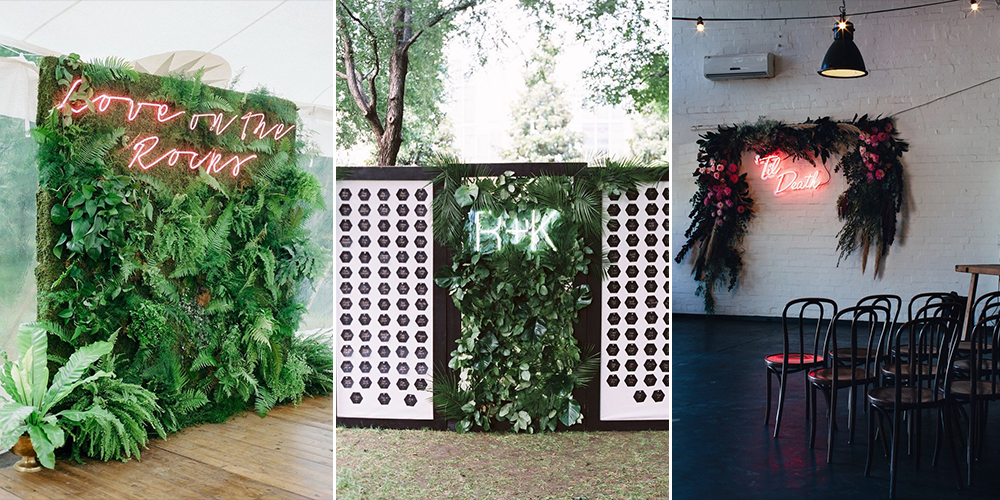 7. Neon Signs
When it comes to modern aesthetic, one cannot go wrong with neon signs and boards. In the modern world obsessed with Pinterest and Tumblr, neon aesthetics are always commonplace and find belonging in any social situation because of their overwhelming popularity!
Neon brings a sense of flashiness and style about a wedding. It can be used to display a social message, as it has a major influence on the current generation. They are a go-to for a modern wedding.
Weddings are a mainstay in society. From custom jewelry to glistening watches, brides can demand whatever they desire to make their wedding a day to remember. It is up to us to make it an enjoyable occasion for the newlyweds and spread happiness, which is exactly what weddings stand for. A well planned, modern and elegant wedding is a memorable and an enjoyable one, worthy of the grandeur of the occasion!