Many modern brides-to-be have the fancy for an extravagant wedding dress with lots of frills and laces, flowering robes, tails knitted together and what not. After all, they want everyone's eyes to be on them throughout the ceremony and reception – and that is not a bad thing. We mean, what bride would not want to be the center of attention of her big day? But… what if you are one of those women who prefer a simple yet elegant dress for your big day instead of an opulent wedding gown?
Let us begin by saying that we love simple and modest wedding dresses. And contrary to what many women think, we believe that modest dresses can indeed look sexy, gorgeous and sophisticated.  But with all of the modern wedding dress trends forcing hemlines higher and necklines lower, if you wish to wear something more modest and tasteful, what are your options? Well, here are seven simple and chic wedding dress ideas that you will absolutely love.
This long-sleeved A-line wedding dress from Grace Luxury Collection has a natural court train that looks absolutely marvelous. The smooth and clean lines of this wedding dress are truly charming and give it a sort of a classic appeal, yet its "V" neckline makes it quite glamorous as well. The lace and tulle fabric, the ornate appliquéd designs, the wonderful addition of a back zip, and the lovely colors (available in champagne and ivory) can help you merge this dress with just about every kind of bridal theme. On top of everything, its princess silhouette can flatter almost any type of figure flawlessly. So whether you are too slim, a little on the "plus" size, too tall or short, this wedding dress will fit you like magic!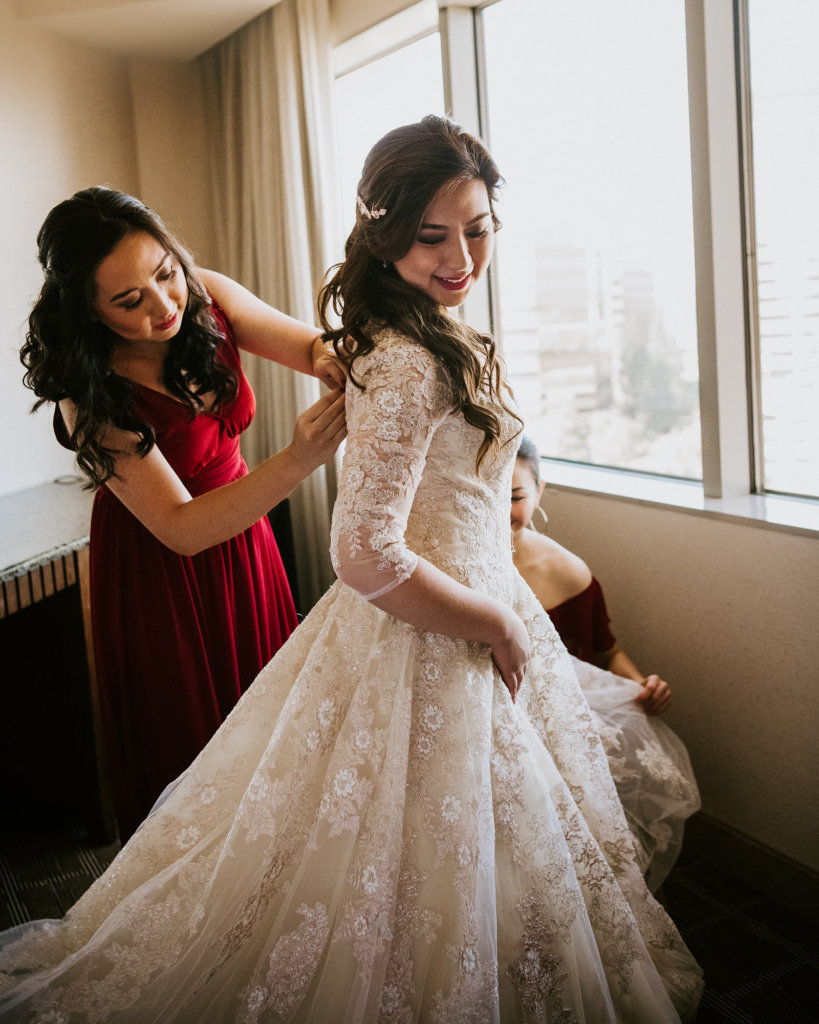 Style: #LD4622, Image Credit: Pretty Branch Photography
2. LD4432 – A-line dress with a chapel train
This is yet another A-line wedding gown in lace and tulle fabric that is both elegant and sophisticated. This long sleeve lace wedding dress with its dramatic chapel train looks timeless, but that is not to say that it looks ancient or vintage! It looks very contemporary and conveys the female modesty wonderfully. With its exquisite appliqué details, this dress can easily imply a highly ladylike and modest look regardless of its rather exciting neckline cut.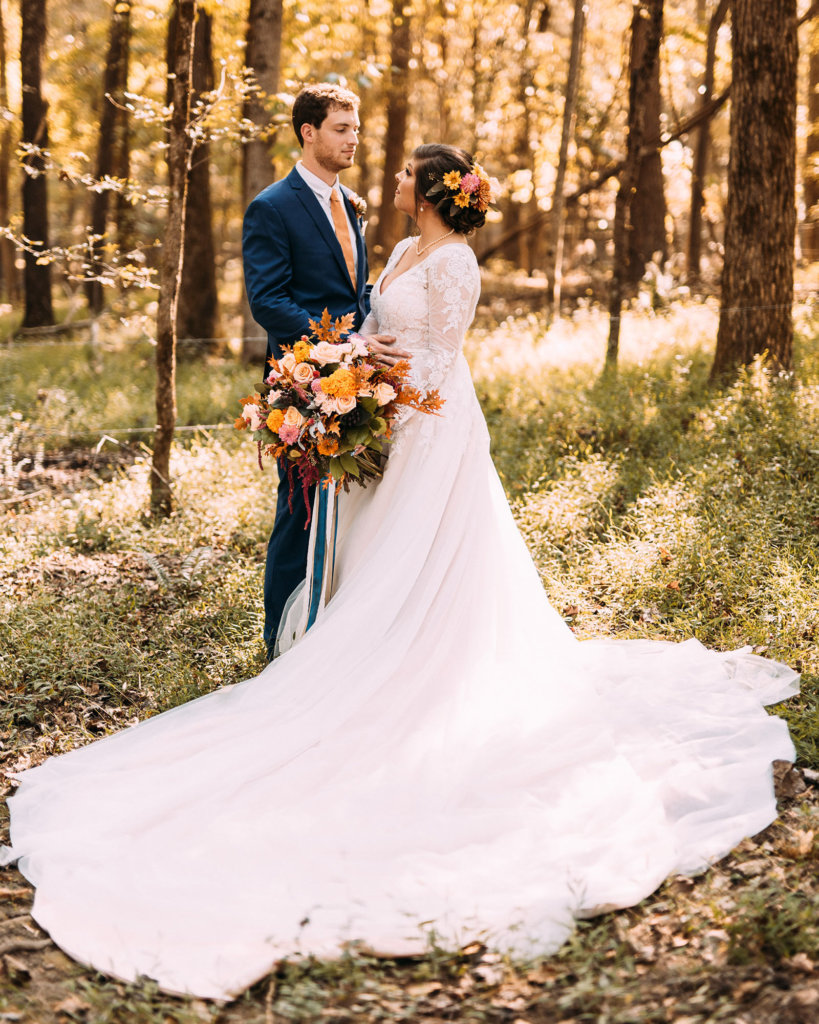 Style: #LD4432, Image Credit: Mary Claire Photo
3. LD2676 – Sheath gown from LB Studio Collection
Although this v-neck Grecian-style sheath gown with short sleeves and an elegant sweep brush train look very glamorous, it still has an air of simplicity and purity around it. Not to mention, it is designed with chiffon fabric that will flow over your curves gracefully, creating the look you are trying to achieve.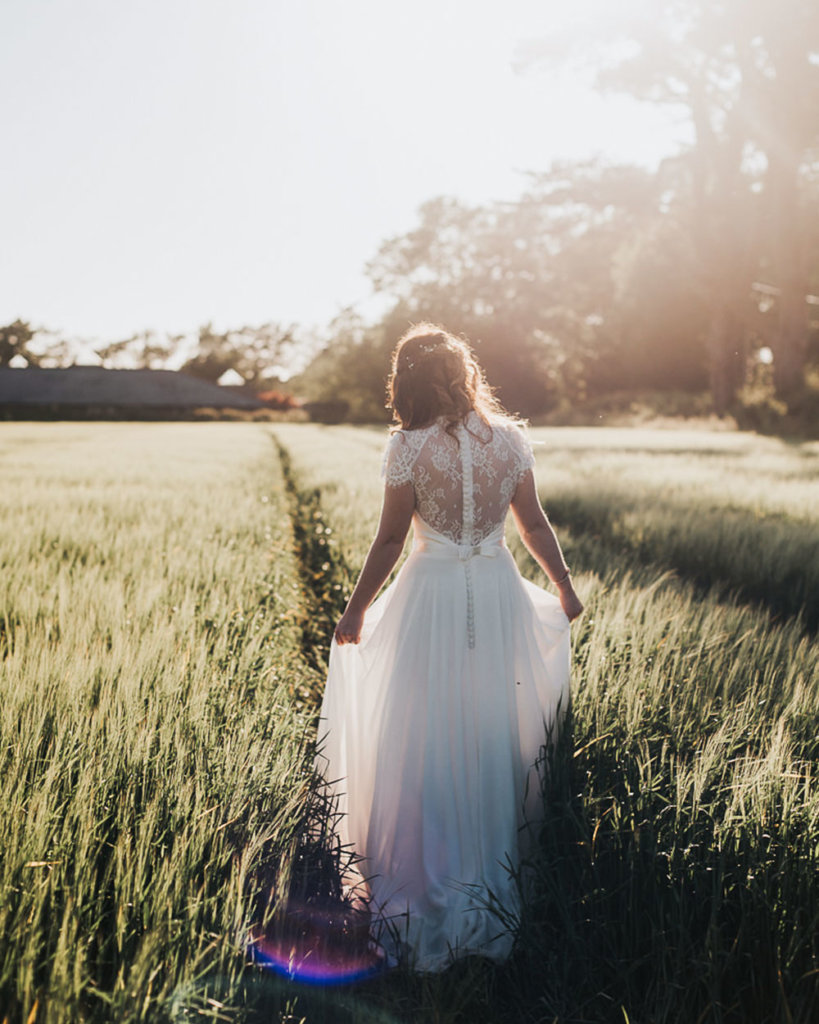 Style: #LD2676, Image Credit: From The Smiths Photography
4. LD3859 – Trumpet gown from LB Studio Collection
This spectacular slimming fit-and-flare wedding gown from LB Studio Collection is the perfect option for brides who are looking for an exquisite wedding dress that looks beautiful but is not too "in your face." This half sleeve wedding dress features a splendid scalloped hemline and train and a figure-flattering bodice with captivating appliqué details. The addition of a beautiful beaded belt will further enhance the elegance of your bridal look.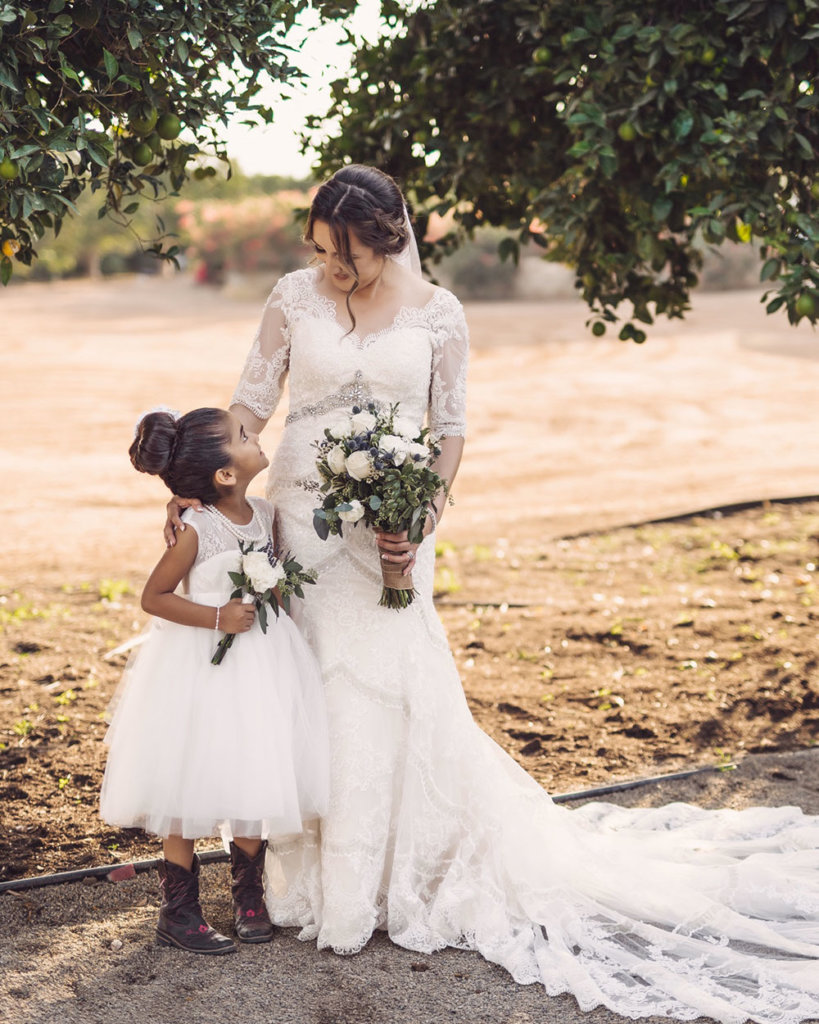 Style: #LD3859
5. LD5731 – A-line wedding gown with court train
This breathtaking A-line gown has an understated and charming style that is ideal for brides looking for something plain yet chic. The three-fourth length sleeves, a majestic court train, and a "V" neckline further add to its à la mode, magnificent and timeless appeal. Because it is an A-line style, it is also extremely figure-flattering.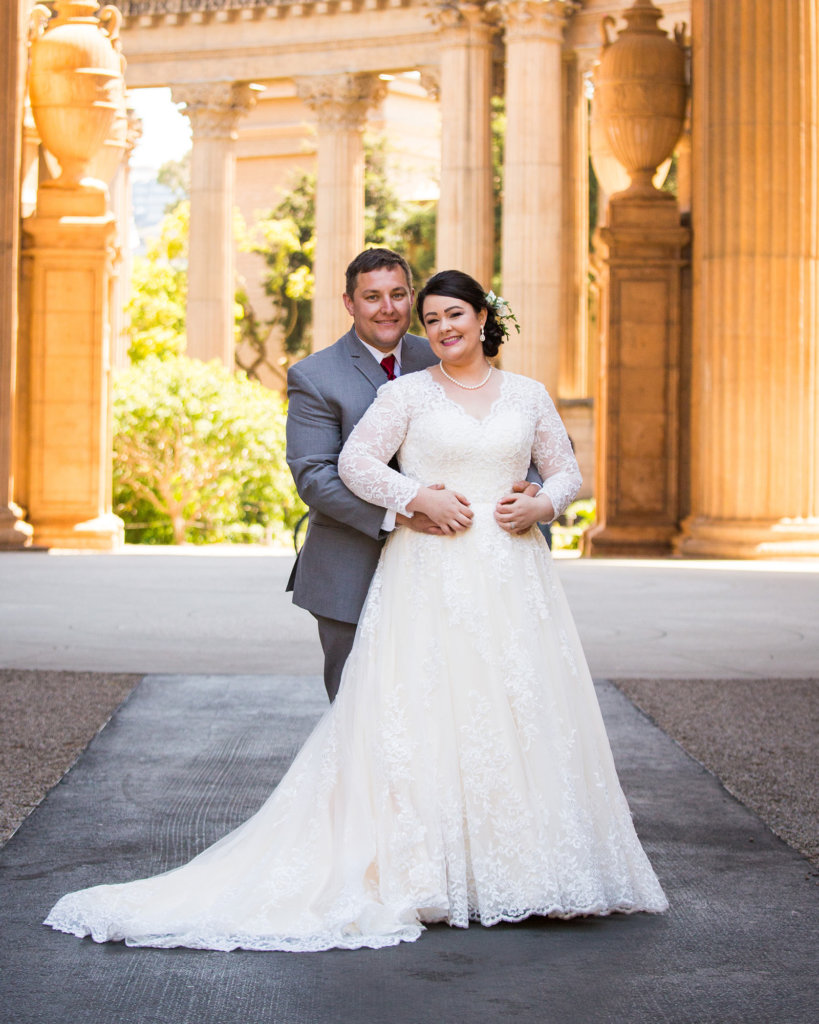 Style: #LD5731, Image Credit: Choco Studio Photography
6. LD5771 – A-line knitted fabric wedding dress
This drop-dead gorgeous A-line wedding dress is a modern take on the classic princess gown. Crisp, clean and chic, this dress features a bateau neckline and grand chapel train that will undoubtedly make you look flawlessly beautiful.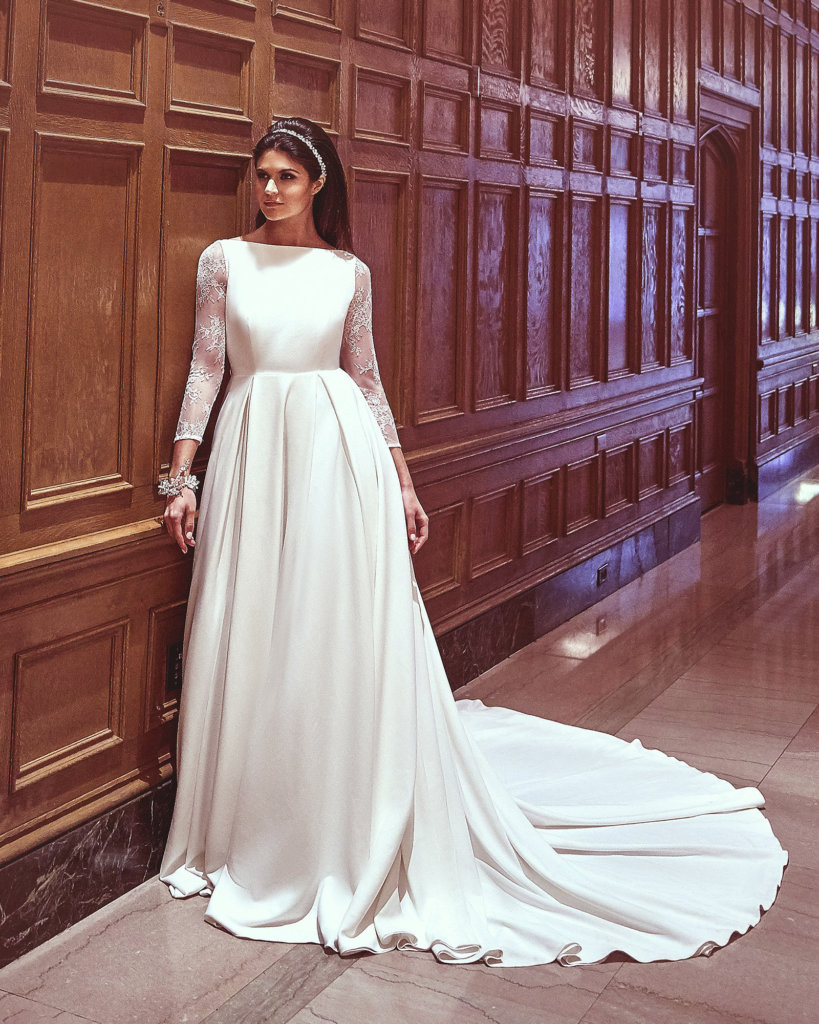 Style: #LD5771
7. h1ii0017 – A-line cap sleeve wedding dress
This wonderful A-line gown with cap sleeves is a hot wedding trend today and is likely to stand the test of time and stay in-trend for years to come. With its pleasing appliqué details and delicate tulle fabric, it carries an evergreen allure for brides who always expect to add some understated yet chic and incredibly delicate touches to their wedding look.
If you want to ditch the unflattering cuts and frills of today's wedding dresses and choose a gown that is simple and elegant, these seven dresses are perfect for you. So, go ahead, pick any one of these and showcase your feminine beauty flawlessly!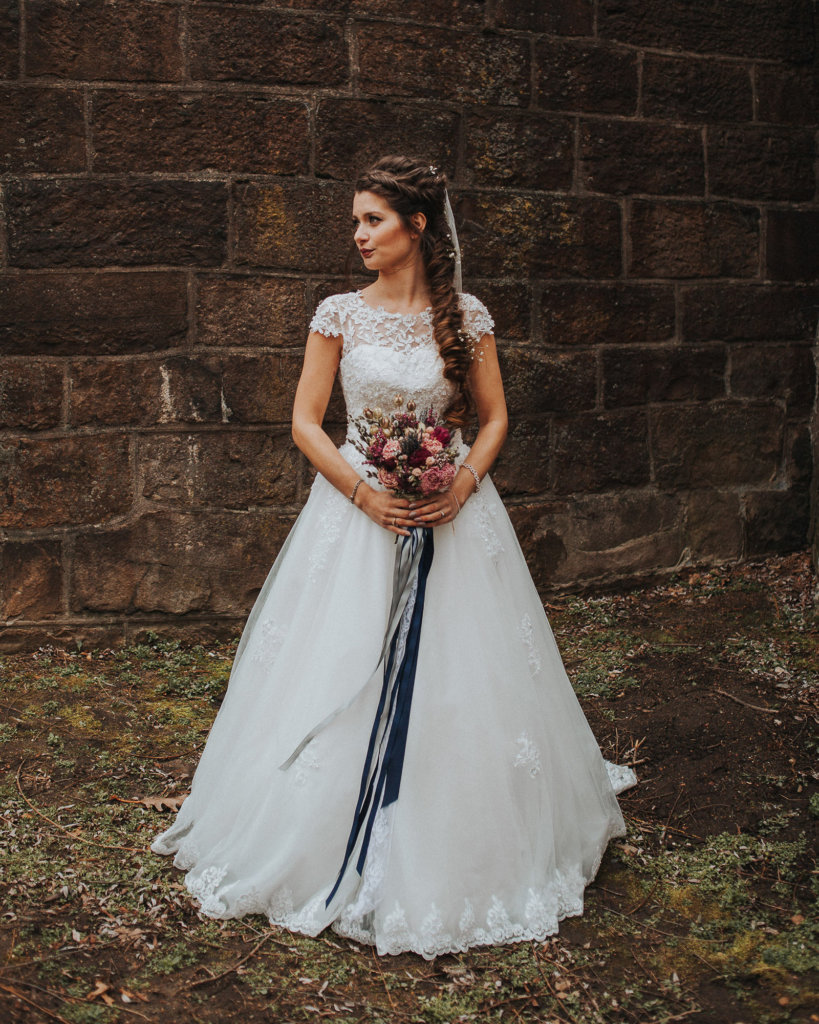 Style: #h1ii0017, Image Credit: HereNorth Photography