Many girls around the world grow up watching classical Disney movies about princesses, Prince Charmings and happy endings. Of course as we grow older we still have this want of a magical fairytale ending and riding in a carriage into the sunset, right?! This installment is about how to channel your inner princess with dresses that could be straight out of our childhood classics!
1. The Ariel
A maritime princess, who was a mermaid gave up her voice to be able to walk like a human and eventually married a man of the land, was one of my favorite childhood characters. Her spunky sidekicks Flounder, Sebastian and Scuttle certainly made everyone laugh. This elegant A-line bridal gown is from the Grace Luxury collection. It is constructed in a princess silhouette and contains intricate appliqués. This long-sleeved dress is truly the definition of glamorous and whimsical.
Dress Style: LD4622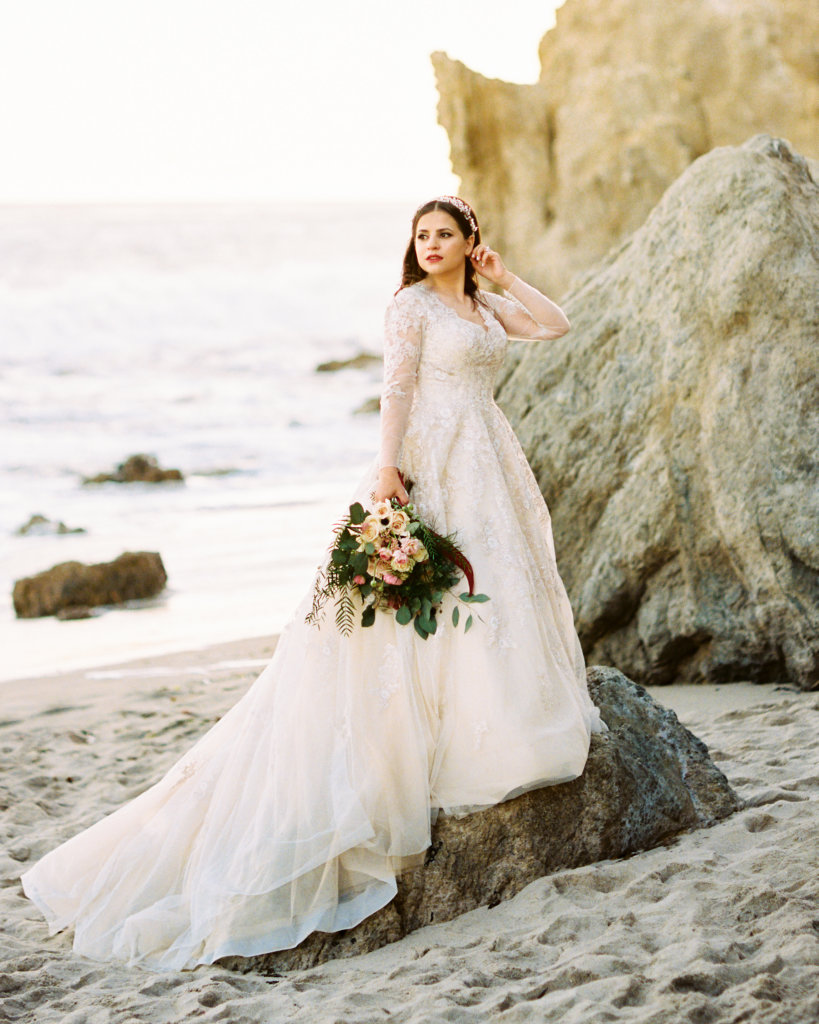 Image Credit: Dennis Roy Coronel Photography
2. The Belle
The first time I laid eyes on this dress, I automatically knew this one was for Belle from Beauty and the Beast. Embrace all your femininity in this princess gown. With a face-framing sweetheart neckline, silver-heavily beaded lace bodice and detachable tulle off-the-shoulder straps, this style is perfect for a modern fairytale wedding. I am sure Gaston would be very jealous to see you off.
Dress Style: LD5066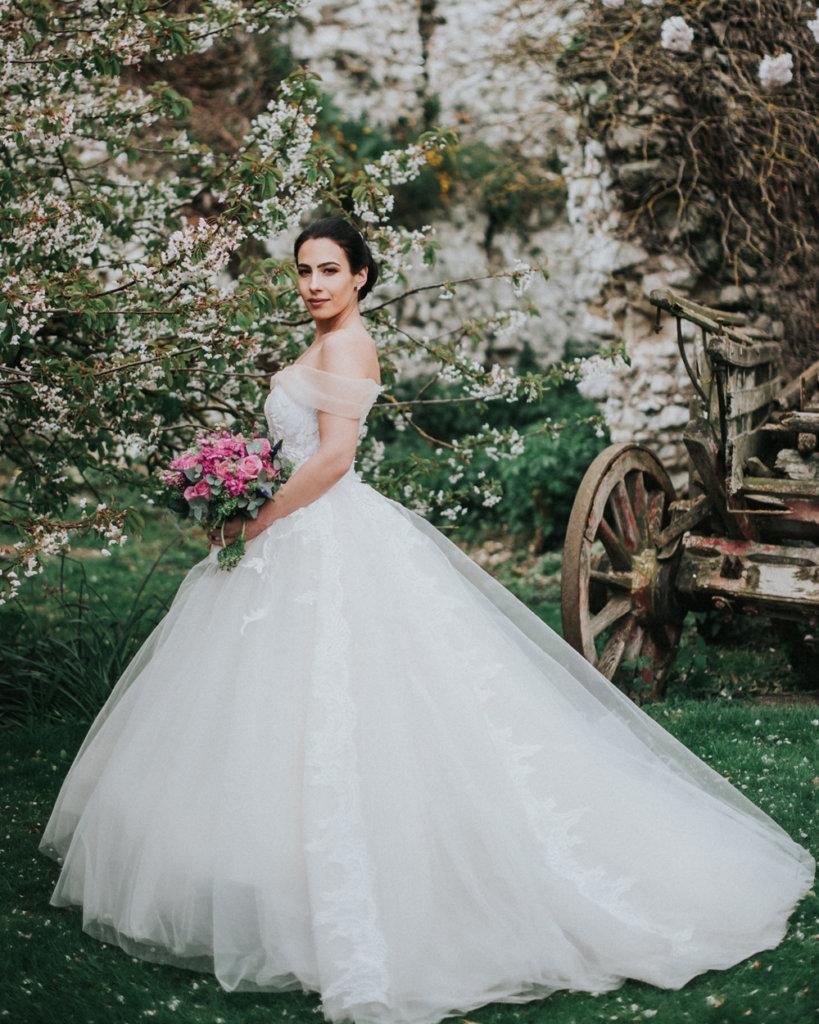 Image Credit: Kristine Krupenny Photography
3. The Aurora
With a prick of a needle, this princess fell into a deep sleep until her Prince Charming came along and woke her with a kiss. This vintage inspired dress features a lot of detailing including appliqués, beading, and flowers! The 3D flowers are sewn on individually giving them a lifelike effect. This dress also has an off-the-shoulder neckline which is very common for princess dresses and is very classical. A gorgeous veil can certainly frame the face and bring your beauty to shine.
Dress Style: LD4349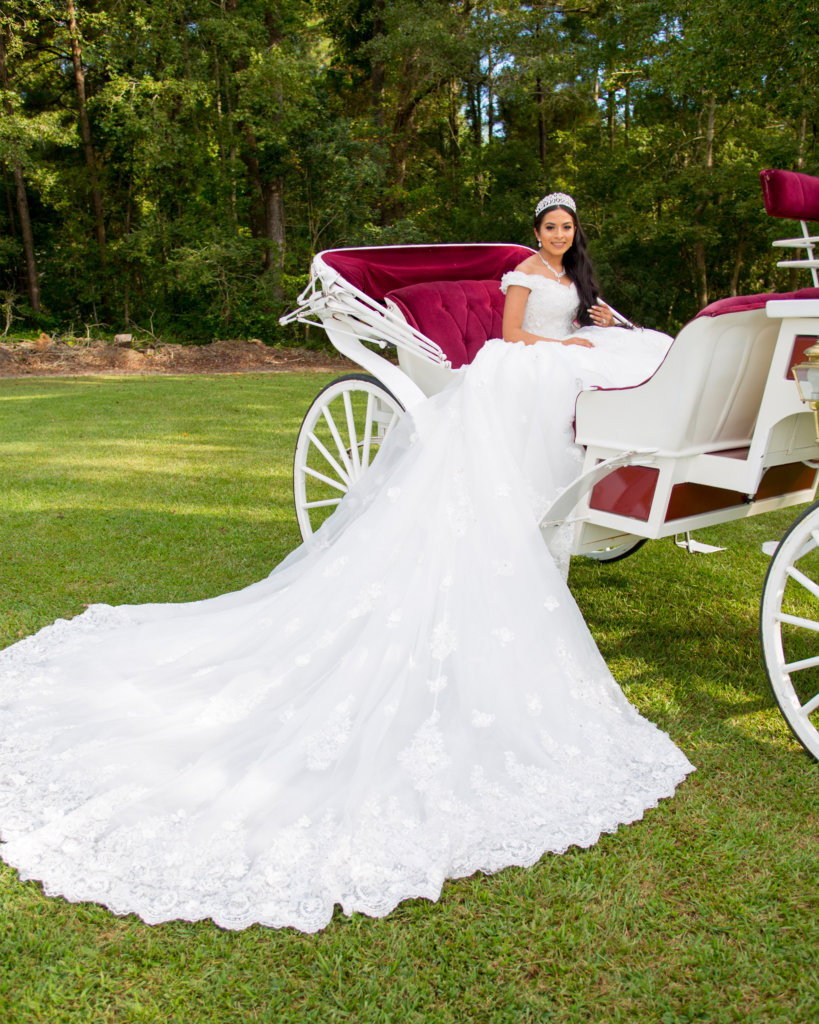 Image Credit: Lamar Borius
4. The Jasmine
Who didn't want to be swept away on a magical carpet ride with Prince Aladdin? This beautiful dress reminds me so much of Jasmine's classic turquoise two pieces that she wore in the movie. This stunning dress is covered with so many appliqués and beading that it will transform any bride into a mysterious character from 1001 Nights. A beautiful tiara gives this dress it's princess-y touch, the only thing missing is your genie, who will grant you any wish.
Dress Style: B14TB0007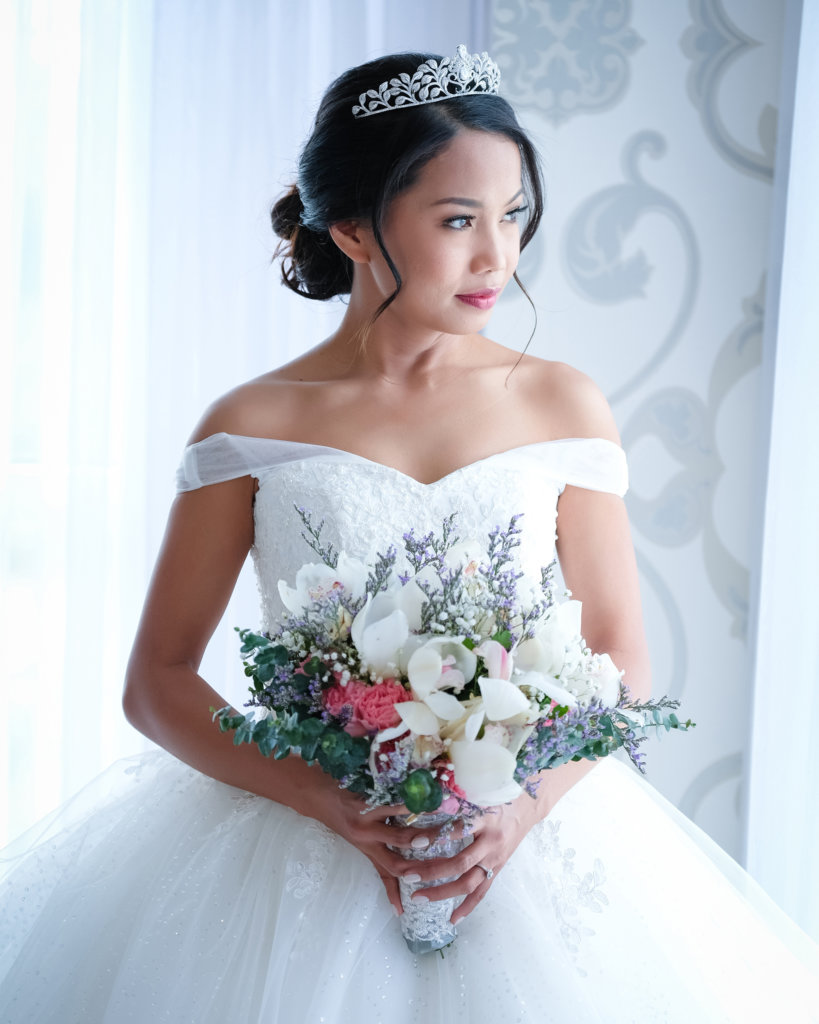 5. The Snow White
One of Disney's first princesses was Snow White, who had skin as pale as snow and hair dark as ebony. I am sure that if she was real, she would choose this beautiful long sleeved dress. What I love about this dress is how it focuses on the lace appliqués on the top and tulle on the bottom, giving it a dreamy, whimsical feel. This dress features a bateau neckline, a dainty sash at the waist and an open back. I think the seven dwarfs would approve!
Dress Style: LD4481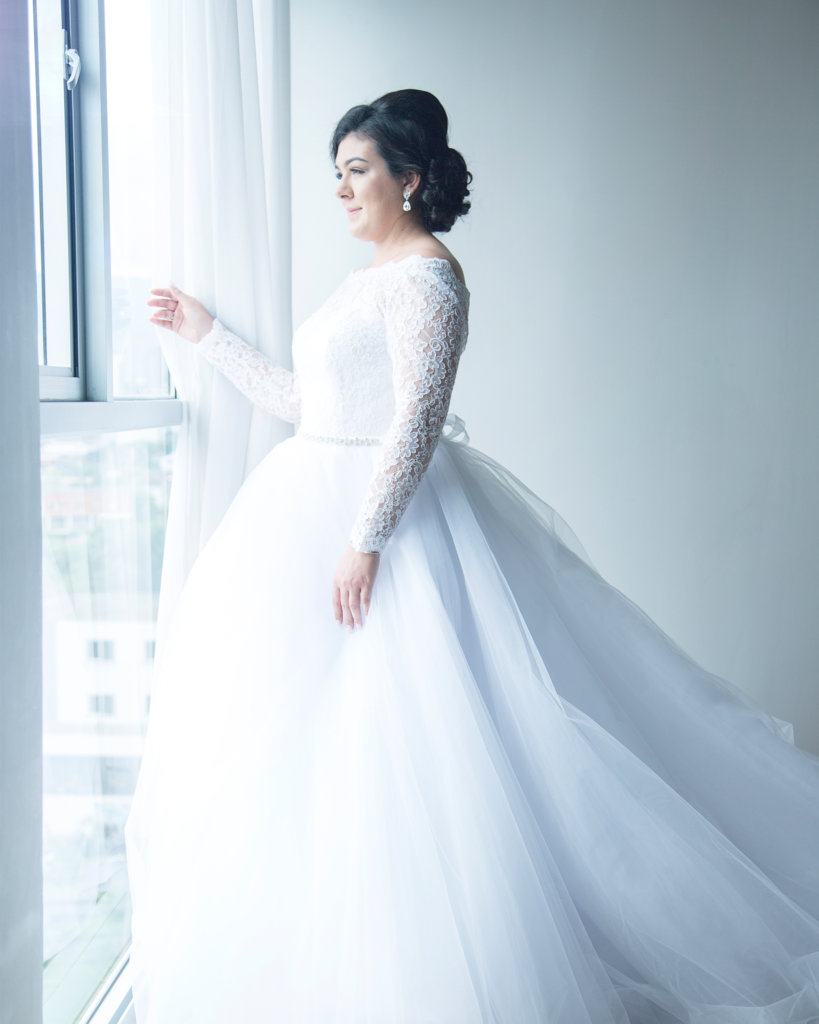 6. The Rapunzel
Rapunzel, Rapunzel, let down your hair! Or should I rather say train? The train of this gorgeous wedding dress is a stunning 160cm long and reminds me of the long golden locks of the princess, who was hidden away in a tower. This dress is covered with intricate lace designs and has a lace up corset. In addition, it also features a classic strapless sweetheart neckline.
Dress Style: LD5787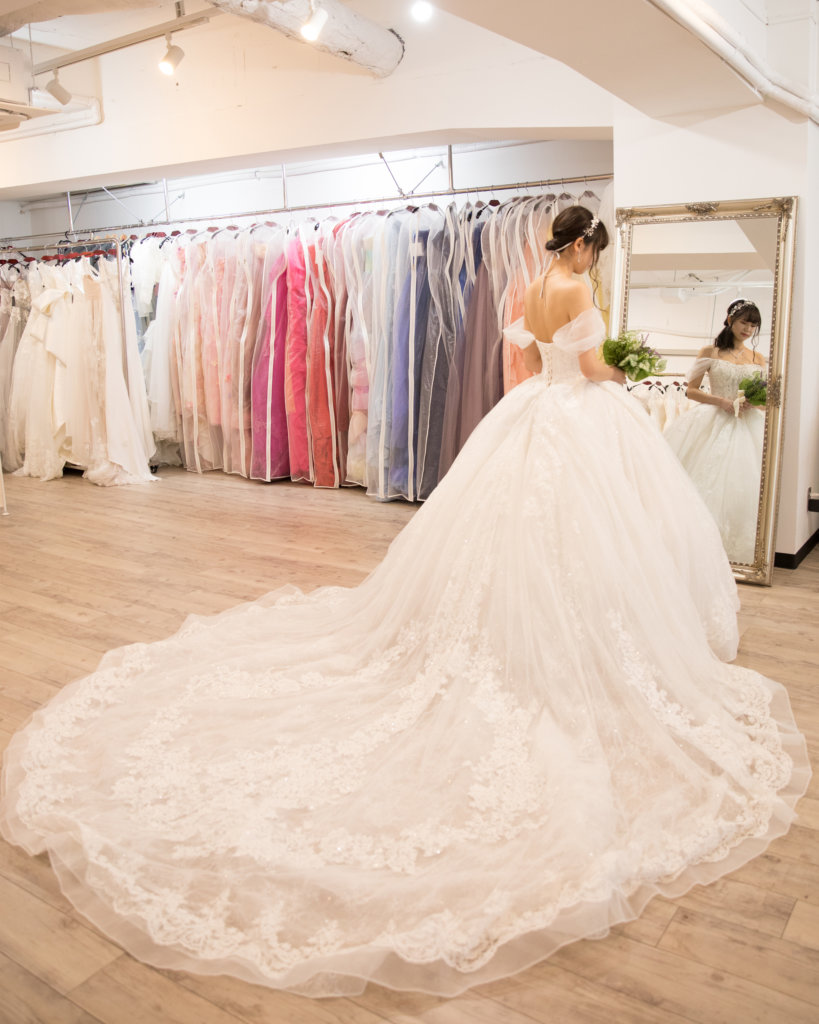 7. The Cinderella
The true beauty of this dress is the appliqués on the gown which sparkle, shine and shimmer whichever way you move. We can certainly see Cinderella dancing the night away (at least until midnight) with her Prince Charming in this breathtaking dress. Layers of tulle give this dress the extra oomph without exaggerating. This dress features a classic scoop neckline and keyhole back detail. To add a bit more princess, pair this dress with a dainty tiara and gloves.
Dress Style: B14TB0056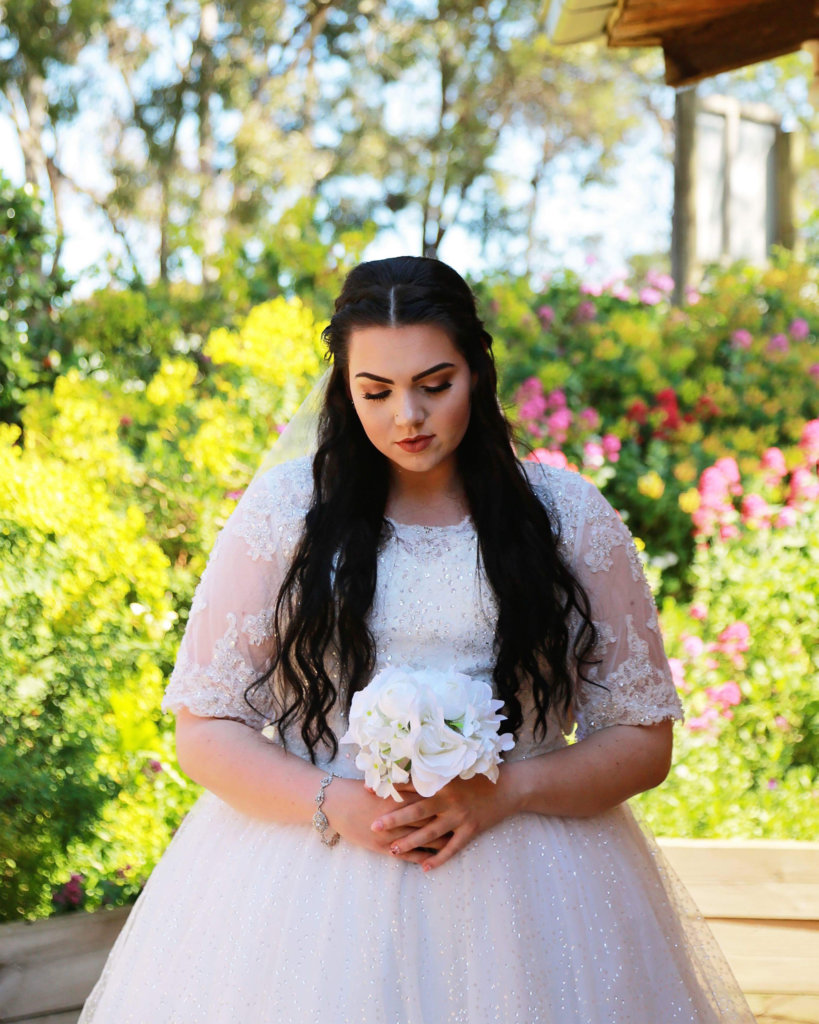 Image Credit: Zen Photography
8. The Pocahontas
This dress would certainly be something for our adventurous Native American princess who searched for love beyond her own tribe. Thanks to tulle and satin this dress has an airy and carefree feel about it. The feathery structure of the dress certainly pays homage to elements found in nature. This elegant two-piece dress has a beautiful sweetheart neckline and is adorned with a beaded belt at the waist.
Dress Style: B14TB0017