White has always been the standard bridal color and will forever be classic and beautiful. Be that as it may… the appeal of a few colorful pops cannot be denied, can it? Not only are colorful wedding dresses, well, non-traditional and unique, but they also allow the bride to express her personal style on her big day. No wonder why wedding gowns in an unexpected hue are having their moment today. More and more brides are favoring non-whites these days, and we're 100% on board with the trend.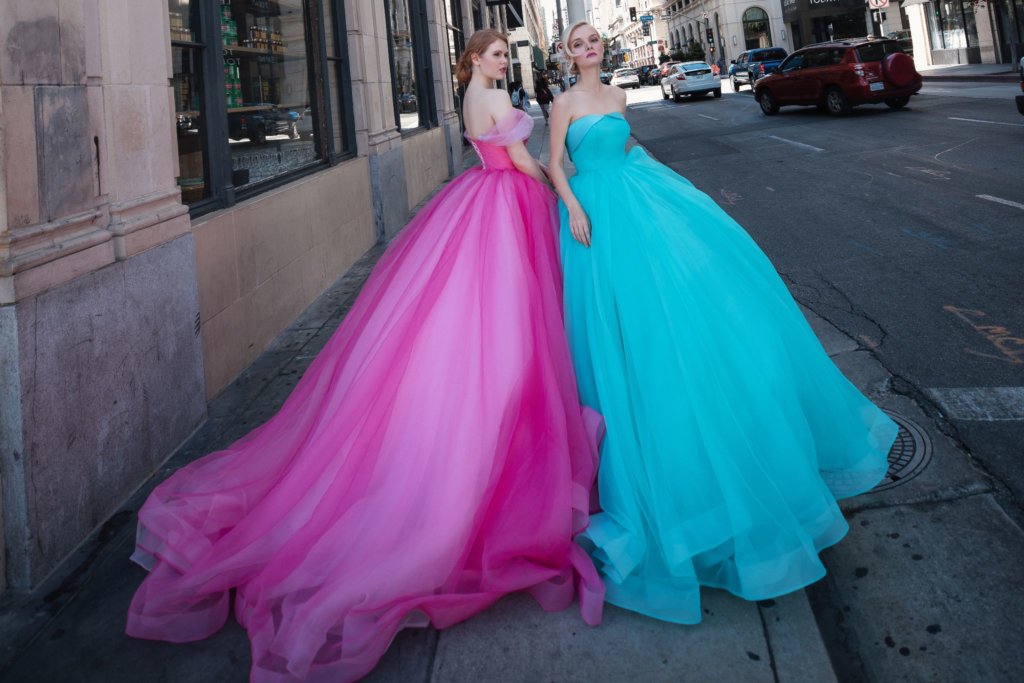 Styles(from left to right): #CW2099 & #CW2097
Love the idea of wearing a dress that's saturated in color? Here are 8 colorful and statement-worthy dresses from our Grace Luxury Collection that will surely capture your heart.
1. Style #CW2101 – Scarlett Dress
Truthfully, green has been a common wedding dress color for ages. The catch is, it's only common with the Pagan, Celtic and Middle Eastern brides. This fabulous princess gown in Dark Green is an excellent option if you're throwing a 'green', eco-friendly wedding or you just happen to fancy the green shade. If the color isn't a statement enough, this dress also features a stunning lace up-corset back and a spectacular court train that will leave all your guests gasping for breath.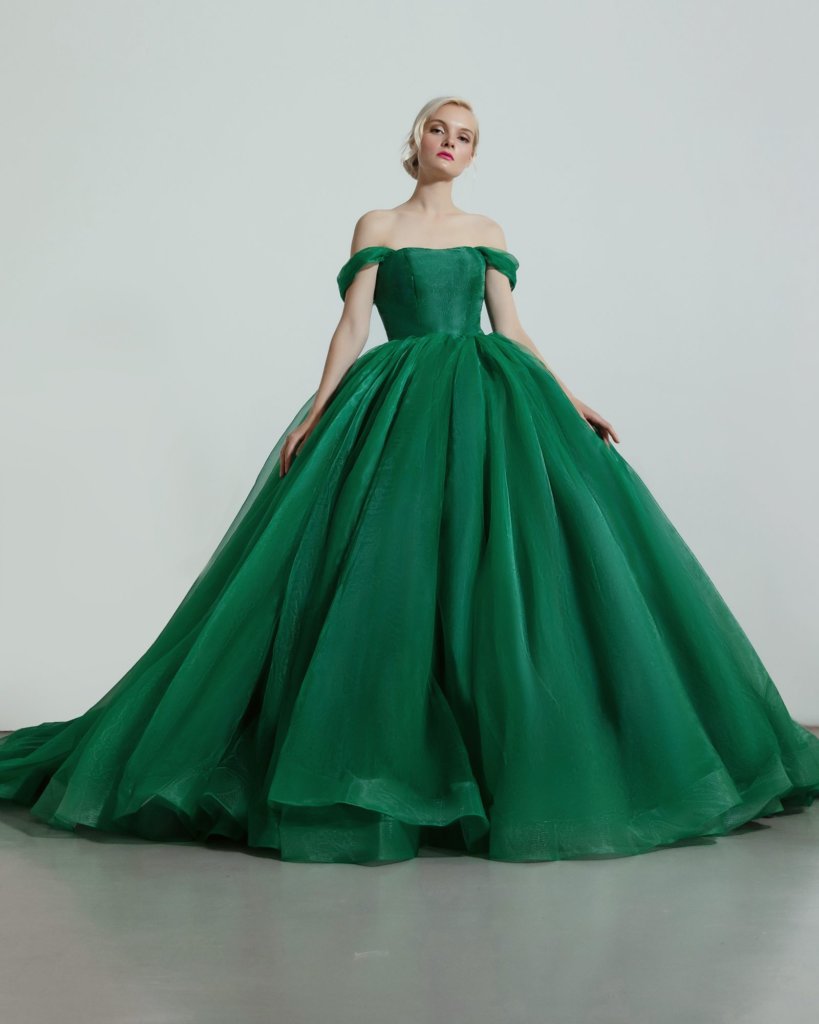 Style: #CW2101
2. Style #CW2097 – Rebel Dress
Whereas green can truly be considered 'unexpected', blue is sort of a common wedding dress color in the West already. Why? Because it symbolizes love, faith and loyalty (an apt shade for a bridal gown)… and also because it's a very dreamy and utterly romantic color! This princess gown in Blue Turquoise echoes the romance of the affair while looking all elegant and voguish – what with its trendy strapless neckline and aristocratic court train.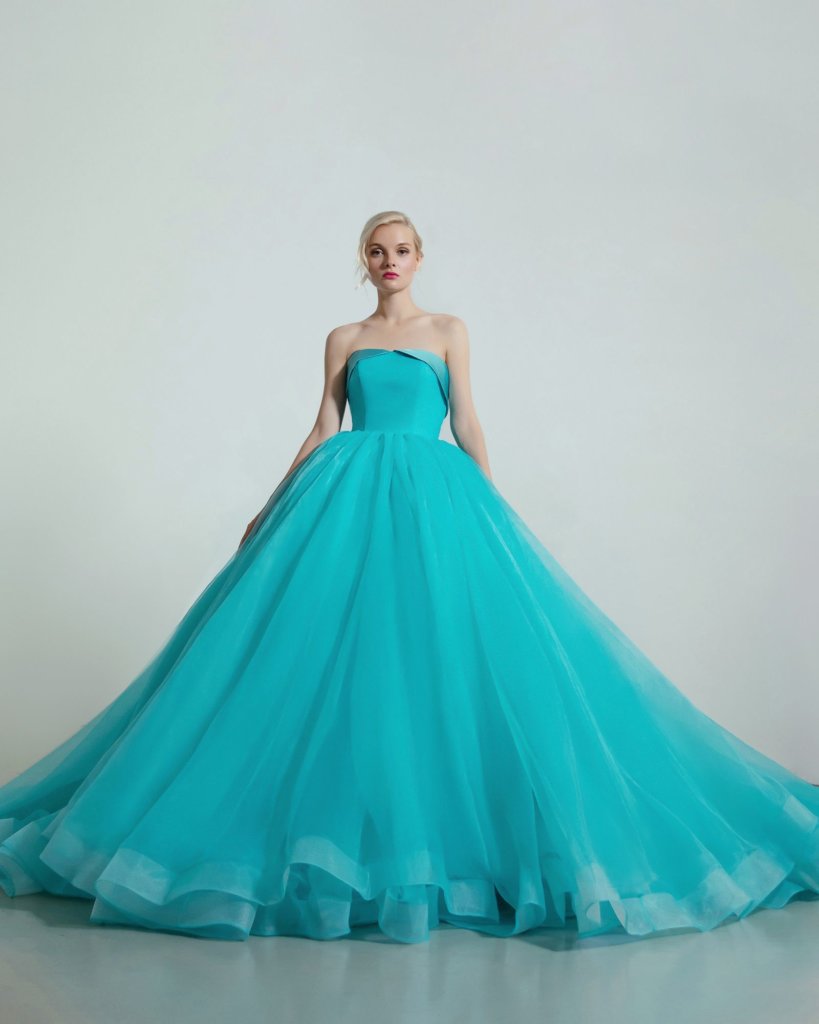 Style: #CW2097
3. Style #CW2156 – Freya Dress
If blue turquoise is too striking a shade for you, this lovely ball gown wedding dress in Angel Falls (a softer shade of blue) is for you. Featuring pleating and an elegant bowknot in the back, this truly special 'something blue' is all you need to get all eyes on you as you walk down the aisle.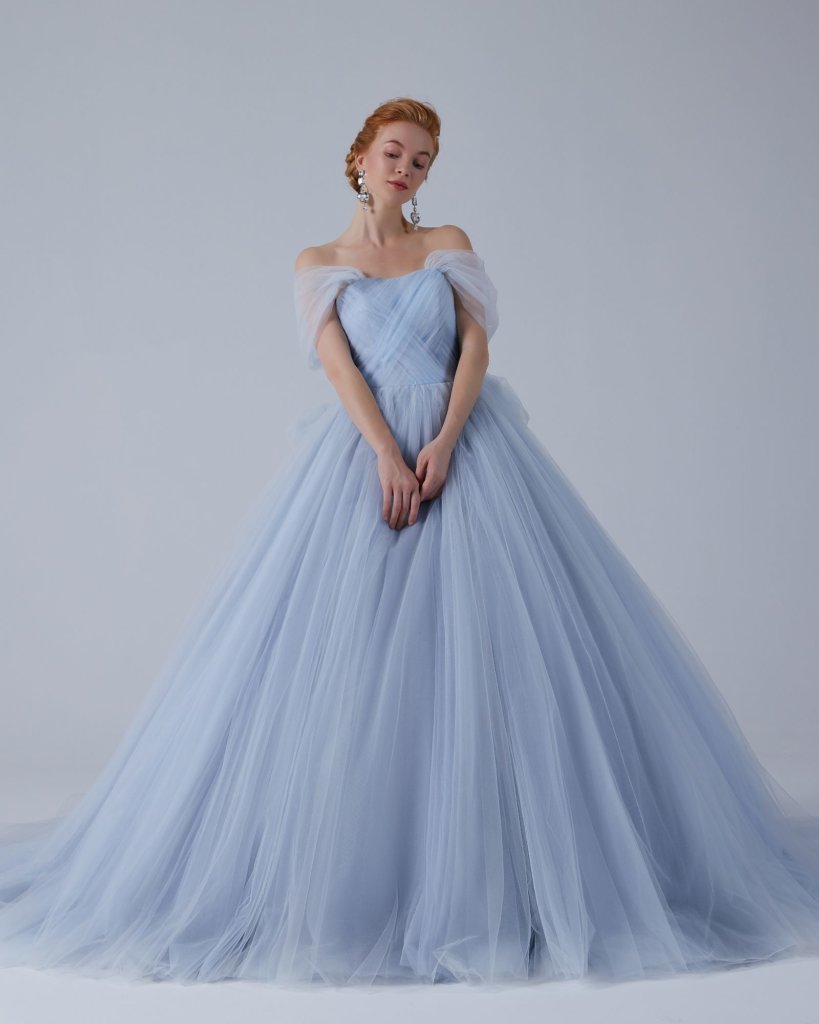 Style: #CW2156
4. Style #CW2142 – Juniper Dress
Purple is a color that's mostly associated with bridesmaid dresses, but if you want, you can totally rock it on your big day. When you think of it, everyone loves purple – unlike other bold shades which might split opinions. Besides, purple is a pretty regal shade, so if you're throwing a 'Grand' affair, there's no better choice than this elegant ball gown in equally elegant Paisley Purple. To add to the grandeur of your wedding look, the dress also features compound ombre fabric, intricate lace up-back details and crystal beading at the front.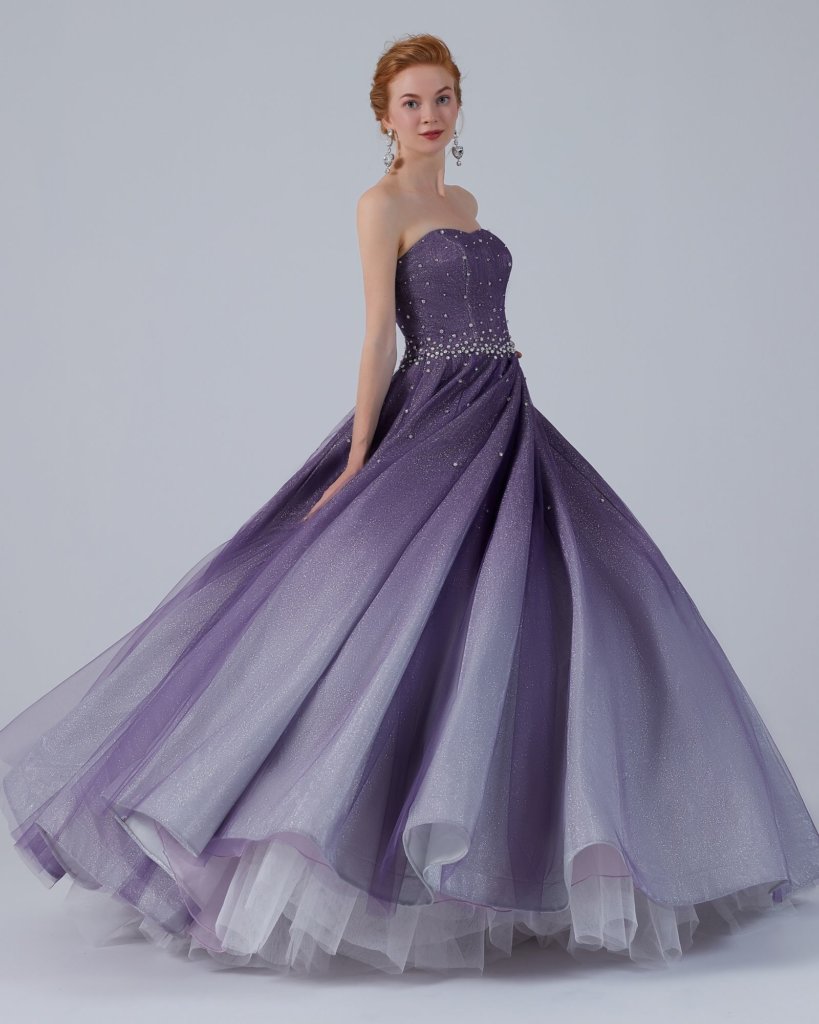 Style: #CW2142
5. Style #CW2102 – Eleanor Dress
Navy is a darker and more sophisticated version of blue. A wedding dress in navy blue can make a huge statement (much like purple), but without so much drama (very much unlike purple). This off the shoulder ball gown has all the right ingredients for a perfect dress fit for an elegant wedding – the color (of course) and embellishments that include intricate appliqué detailing, beading, pleating and a fabulous bowknot at the back.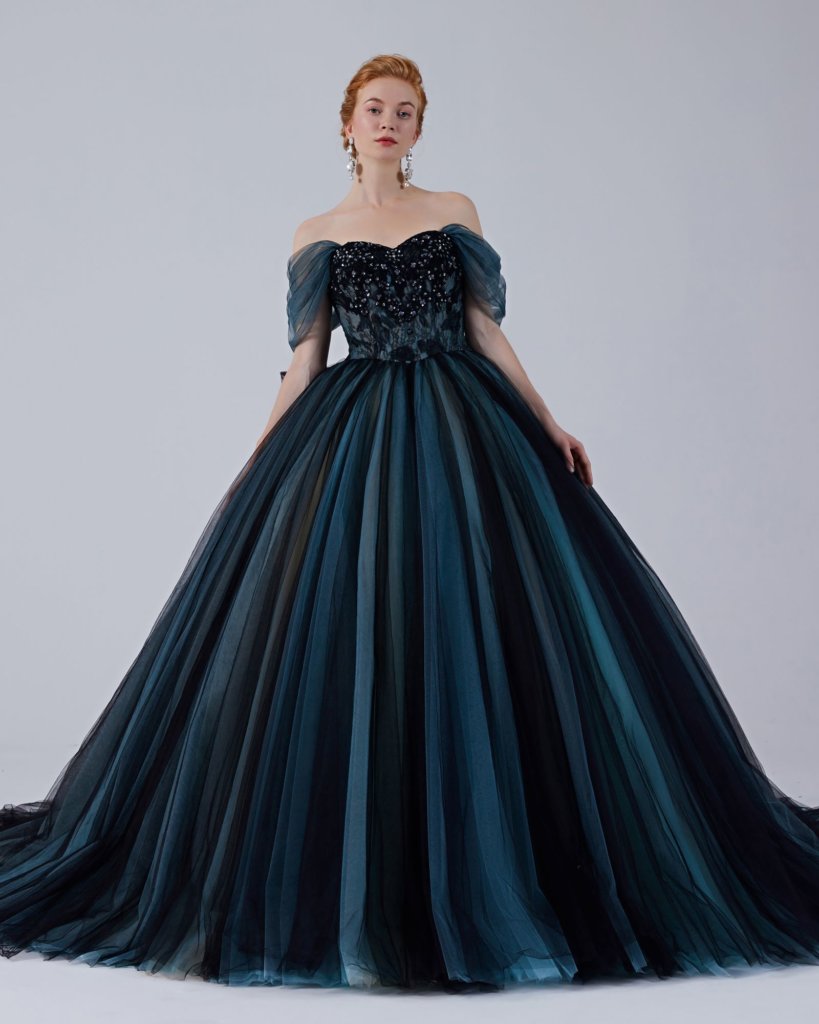 Style: #CW2102
6. Style #CW2155 – Everly Dress
After white and ivory, pink is perhaps the most common wedding dress color. In our opinion, pastel pink is the prettiest color there is and this wonderful ball gown in the shade of Veiled Rose validates it. This blushing gown is perfect for brides who want to add a romantic twist to the traditions but still look effortlessly bridal.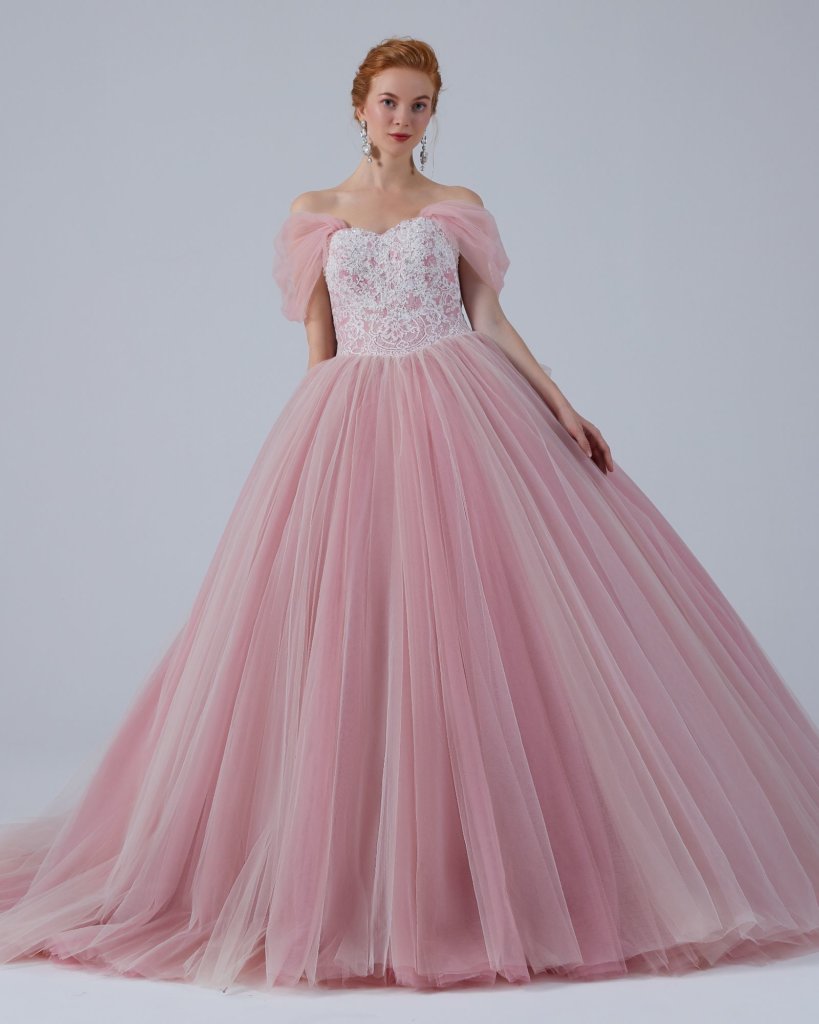 Style: #CW2155
7. Style #CW2099 – Rowan Dress
Fandango Pink is basically Hot Pink and as the name implies, this color is HOT! While still carrying the romantic allure of pastel pink, this princess gown in Fandango Pink also adds a touch of seduction to the bridal look.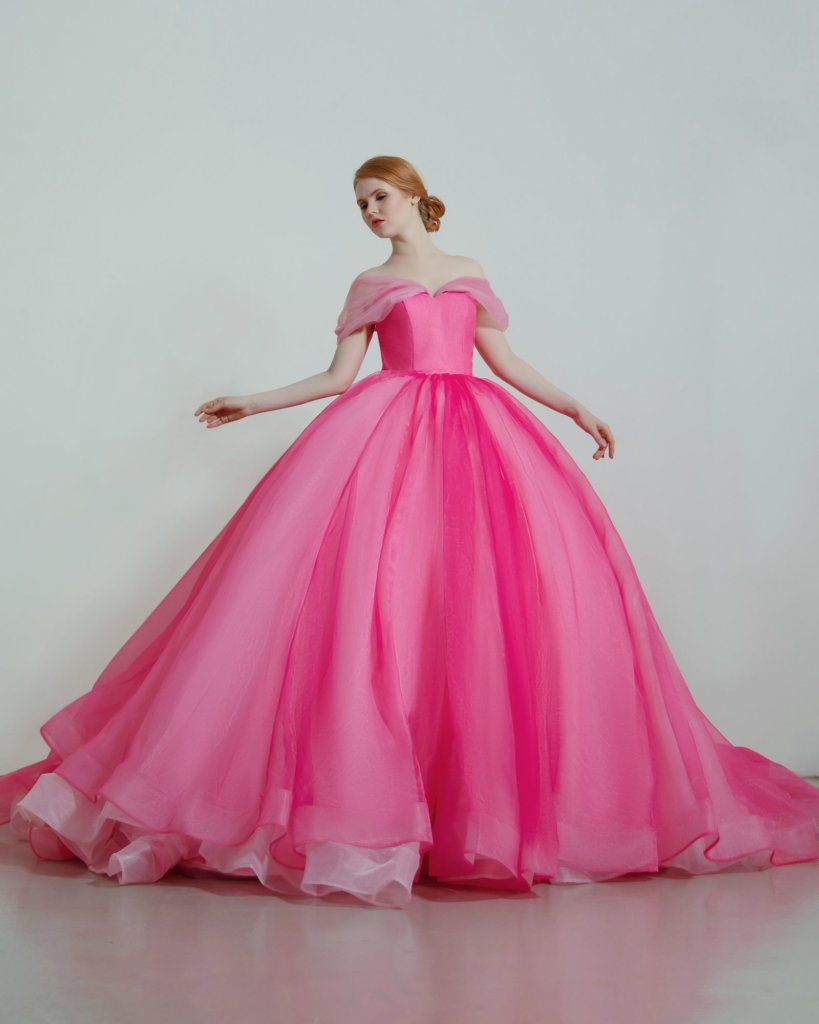 Style: #CW2099
8. Style #CW2107 – Harper Dress
The fashionista in you is going to LUVVEE this stunning, ramp walk-worthy gown. With a black top, champagne + blue skirt and elements such as a stylish lace up-corset back, a contemporary strapless neckline, beading, pleating and a crystal sash, this dress will make you feel like a runway model.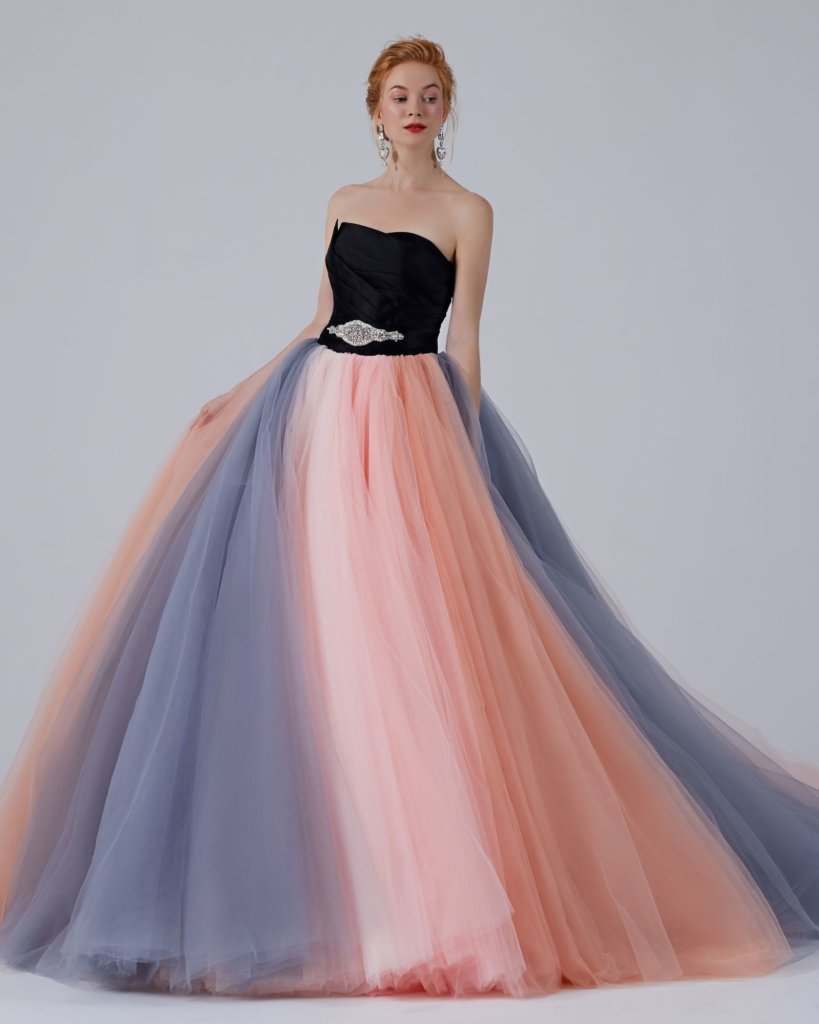 Style: #CW2107
We hope you'll find what you were looking for in your wedding dress in these eight chic and colorful gowns. No matter what season, type of celebration and venue, these colorful dresses will surely make your big day uniquely yours and have your guests (and groom) swooned over your bridal look.
What makes white the standard wedding color? Learn about it in our two-part history lesson on white wedding dresses – Part I & Part II.