Erika and Christian exchanged their vows at Camp Rim Rock in Yellow Spring, WV, a gorgeous celebration filled with rustic outdoor charm. Erika wore a full-lace a line wedding dress and looked incredibly gorgeous! Now, take a look at some of our favorite shots from this one-of-a-kind wedding:
All photos were taken by Sandie Narvaez Photography.
Wedding Dress Style: #LD5190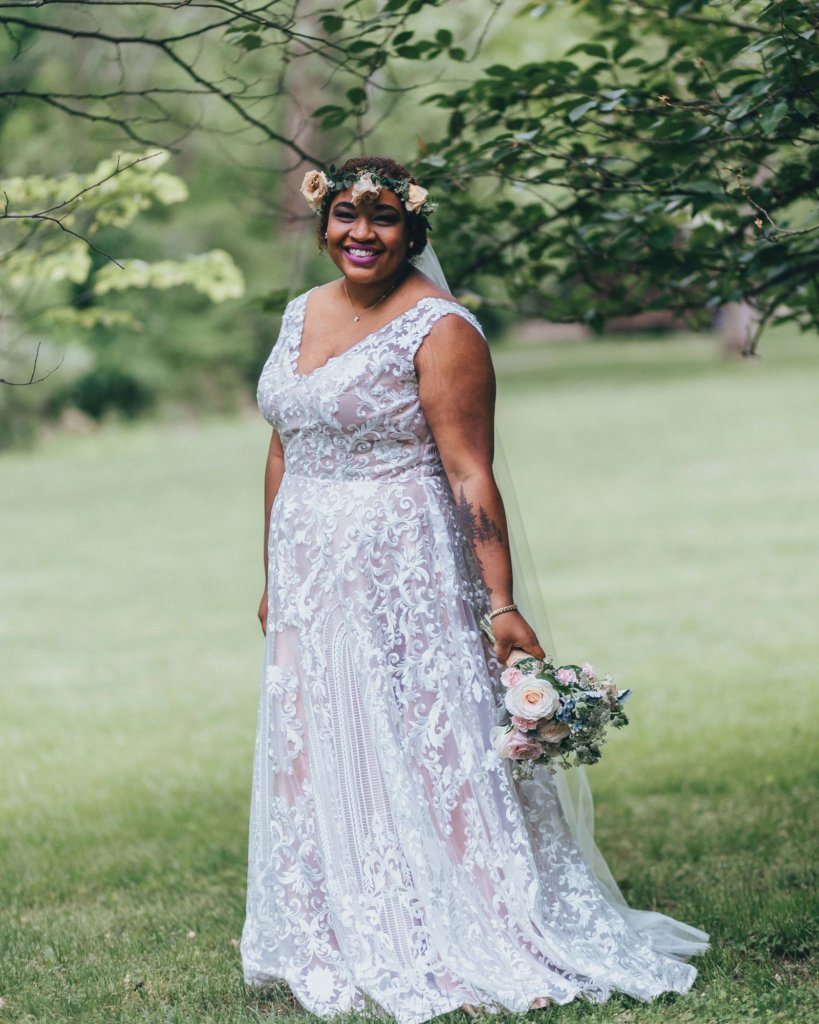 Q: Any advice or tips for future Mrs.?
Even though it's something little, I had one of my bridesmaids take my phone for the night. She took pictures, videos, and snapchats of the whole night. Because I couldn't really have my phone on me, it was so nice to go back through the memories the next day on my personal phone. Also, take it easy! It's okay to plan a wedding by yourself, but make sure to ask for help. Also, it's okay to buy decorations from Amazon, eBay, Walmart, second-hand websites, etc. It's WAY cheaper, and no one at the wedding knows where you got your decorations from anyways. Enjoy the day as much as possible, because it goes by WAY TOO FAST!!
Q: What was the inspiration behind your wedding theme?
I work at Camp Rim Rock as the assistant director, so when I knew I was getting married, I knew I wanted to have it here. Summer camp is such a big part of my life (I've been working here for 10 summers), and I wanted to share that love with all of our friends & family members. From there, the rest of the planning was easy.
Q: Tell us your love story! Where & How did he propose?
Christian and I met through Tinder. Yes, Tinder really does work. We dated for about 4 years until he popped the questions. We relived our first date of dinner & a movie. He then popped the question at the place we had our first kiss. Even though we come from two totally different backgrounds, I think that's what makes us love each other any more! You can also check out our story on our Zola website: https://www.zola.com/wedding/erikaandchristiantarsney.
Q: How would you define the message "Dare to Love"?
Dare to Love means to get uncomfortable. It's so hard to start sharing your life with someone else, but it's totally worth it! To be able to receive someones entire self & love back is something that can't be defined. But first, you have to allow yourself to get uncomfortable & fall in love.
Q: What was the best/most memorable part of the day?
The moment I saw Christian at the other end of the aisle. I honestly did not know who attended the wedding until the ceremony, because 99% of the time, my gaze was on Christian. I felt like the walk slowed down & stopped completely because I was in such a trance of "I can't believe I get to marry this man".
Q: What did you love most about your #CocoMelody dress (es)?
I love the lace style & the undertone color. The wedding dress was perfect!
Q: What do you think about CocoMelody and the customer service?
I thought CocoMelody did a great job in processing & delivering my dress to me.