Pets are love, and they are family.
Your big day would certainly feel incomplete without this particular member hopping around at the party.
So, whether you own a dog, cat, rabbit, or horse, there are numerous ways to include them at your wedding. But, it isn't always feasible to do so. Does that mean you must drop the idea of inviting your pet to the wedding? Not at all!
Before moving on to the oh-so-amazing pet wedding ideas, here are a few things to help you smoothly sail through the wedding planning process.
Things to Keep In Mind
Consider your pet's personality because you'd not want to stress them at the wedding. Ask yourself how well your pet does in gatherings, around strangers, and in unfamiliar environments. It will only help you determine the best ways to include them at weddings.
Next, plan for their schedule beforehand, like yours, and make the necessary arrangements accordingly. Let all wedding vendors and guests know your pet will be part of your wedding, so everything runs smoothly.
Furthermore, it will be best to hire a professional pet sitter or designate someone trustworthy to care for your pet's needs. This will ensure your pet has the time of its life.
Super-Cute Pet Wedding Ideas
Looking for ways to get creative with your pets? Here are some incredible pet wedding ideas for crazy animal lovers: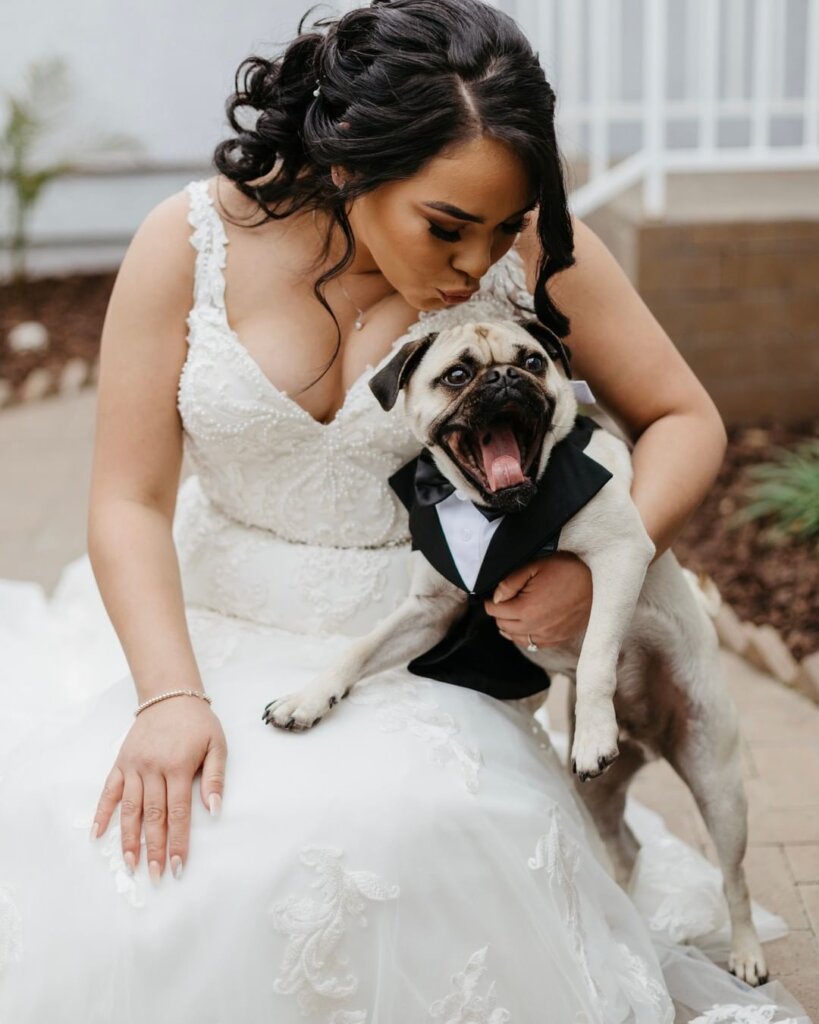 Photo credit: @fatimaelredaphoto; Dress Style: Melany CW2123
Invite Your Pets to Attend Your Wedding
Having your pet can feel like a wild card entry to the party. Just like kids, pets too can go a little off-script. But trust us on this, invite your pets to your wedding, make appropriate arrangements, and you will not be disappointed.
Photo Credit: De Joy Photography ;  floral designer: Laura Vollset of FieldSketch Farm
Dog of Honor
Much like your significant other, your fur baby has always been there for you. So, why not pay the much-deserved homage to your four-legged friend during your nuptials? Have your dog escort you down the aisle, be the flower girl, ring bearer, or even better, dub them the dog of honor. Of course, you will have your bridesmaids and groomsmen by your side, but your furry buddy deserves a spot next to you too.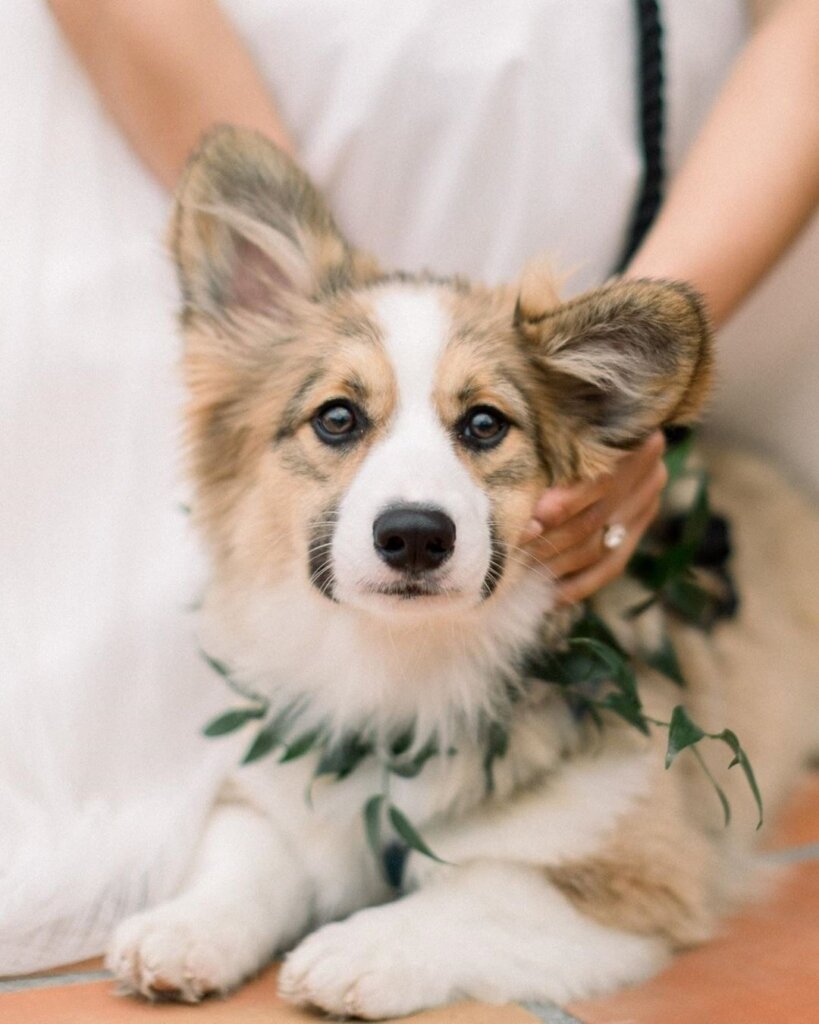 Photo Credit: @madeleinecollinsphoto
Pets Wedding Outfits
Your pet must look just as dapper as the squad. So ensure your furball is dressed to impress and to have pawfect pictures. Get their outfits ready well in time – you can order customized tuxedos, bow-ties, jackets, or design something yourself. Also, don't forget to schedule their grooming appointments a day prior to the wedding, so they are all prim and proper.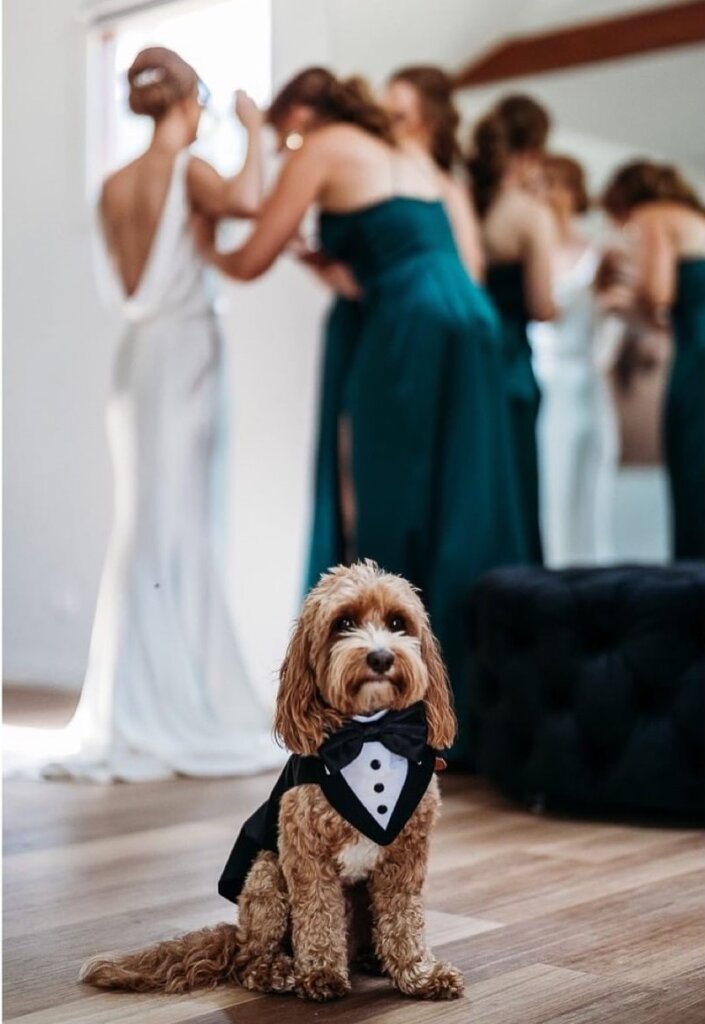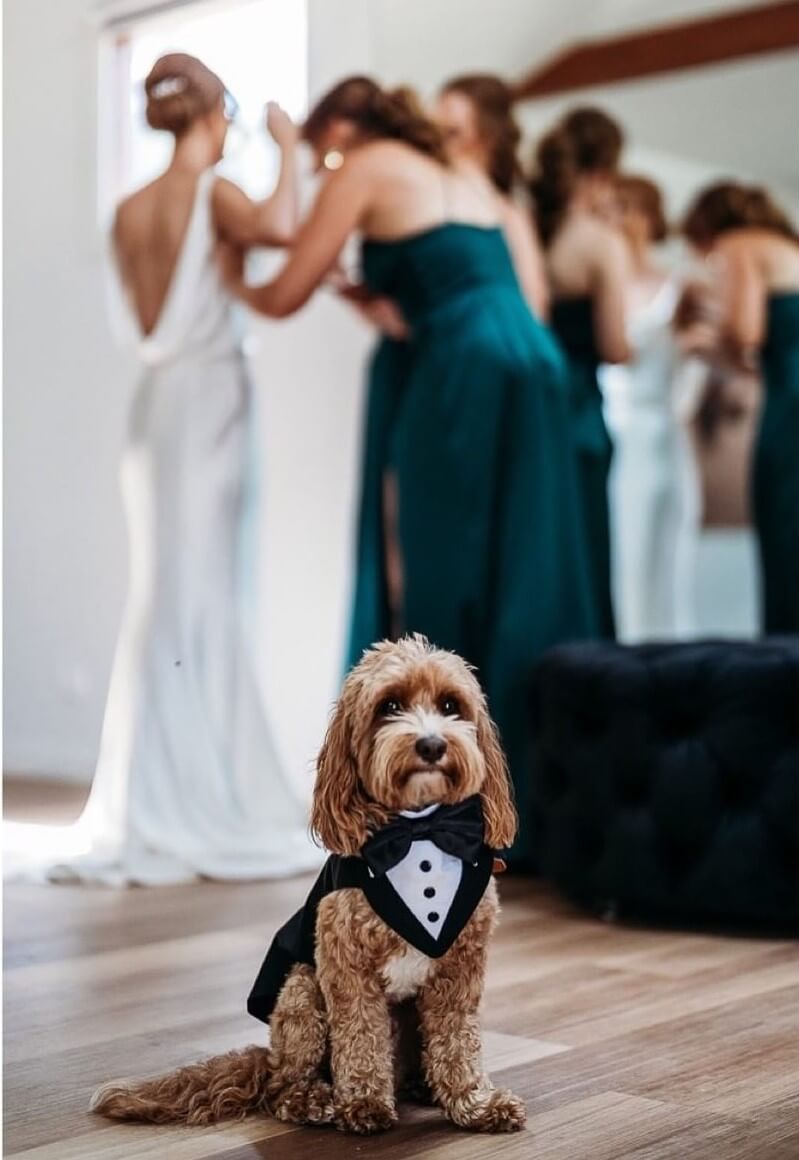 Photo Credit: marganphotography
Wedding Services: Ring Bearer
Did you know dogs make the best ring bearers? They can be trained to walk on cues, listen well, and look adorable too. But that doesn't make cats any less! You can have your close friend, a child, the best man, or the maid of honor to accompany the dog and enliven everyone's spirits. Get your pets matching outfits, cute accessories, a sturdy ring holder, and watch them steal the show.
Pawsitive Vows
Prepare some genuine, pet-inspired readings to make the ceremony more personal and heartwarming. Take your pawsitive wedding vows confidently and say I Do(g). Believe us; it will be the best moments of your life.
Photo Shooting
At weddings, two become one, but it is probably three or more in your case. So, why not let that show in your pictures too. Go the canine style and have a doggy-themed Save-The-Date to announce your big day adorably. At the wedding, you can probably even get ready together. A good luck kiss and some calming moments with your sweet pooch also make the best photos. Capture the first dance together (and your pet might just steal the show). Take an official family photo of you two and the pupper or a just-married stroll around the venue. You can also carry printed photos of those pets who couldn't attend the wedding or those who have crossed the rainbow bridge.
Looking forward to your wedding? We wish you the best. And just in case you need help with bridal outfits, bridesmaid dresses, or bridal accessories, book an appointment with the Cocomelody team right away. We currently have some special discounts storewide, and there is something for every taste. Click here to browse through some mind-blowing options online.