Celebrate the WEDDING OF THE YEAR! Congratulations again, Meghan and Harry! From Meghan's "the simplest royal wedding gown in history" to her fanciful all-white bouquet hand-picked by Prince Harry, the newly-wedded royal couple have once again won thousands of awws around the globe.
Can't get enough of the royal wedding? Then a detailed analysis upon 3 of the most celebrated iconic royal wedding dresses in history must feast your eyes.
1. Princess Diana, 1981
Princess Diana's magnificent wedding dress defined a decade of brides in the 1980s with its incomparable gorgeousness. Say one single glimpse at the gown and no one can ever doubt that this must be the perfect dress for a princess. Featured by the hand-embroidered sequins and an estimated 10, 000 pearls, this silk and taffeta creation must be the wildest dream of every young maiden.
2. Kate Middleton, 2011
Not to mention, Kate Middleton's iconic Sarah Burton for Alexander McQueen gown sent immediate shockwaves throughout the bridal industry on her big reveal. Kate brought the dramatic long train back into fashion with her regal entrance, igniting the long-forgotten girlish notions of romance deeply hidden in the mind of every bride-to-be. The Duchess of Cambridge somehow collaborated deep V-neckline with long sleeves and exquisite lace detailing, which soon became the most popular choice of brides-to-be throughout the world.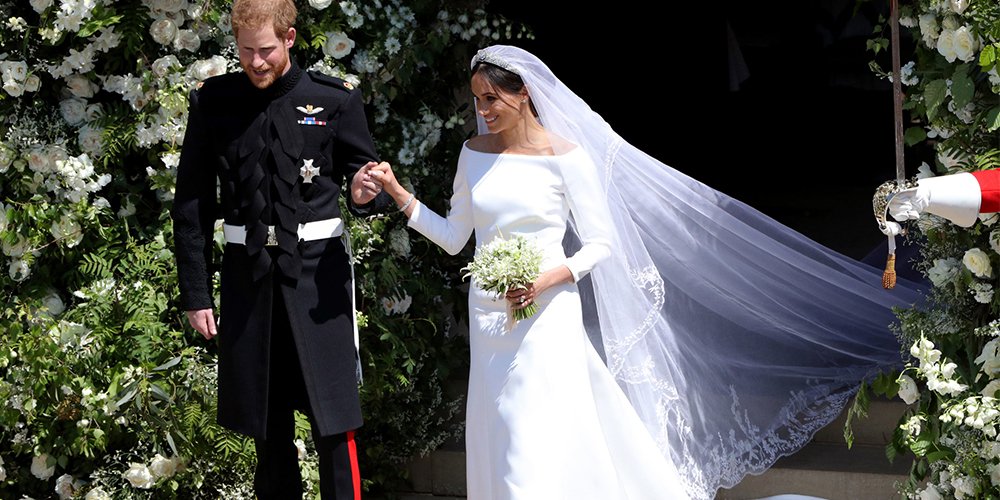 3. Meghan Markle, 2018
Of course, we can not miss out Meghan Markle, the former actress and now princess that has brought a desirable feast to the eyes with her stunning bridal look. Meghan's refined silk wedding dress became an instant classic as soon as it was released, stealing countless media attention both at home and abroad. The minimalist pure white wedding gown, featured with graphic open bateau neckline, is the perfect interpretation of timeless elegance. Meghan said no to intricate embroidery and lace patterns and decided to embrace the beauty of extreme simplicity, which turns out to be an excellent choice, considering the fact that compliments literally flooded the screen when the wedding went live.
Meghan, now the Duchess of Sussex, enlightened the next era of fashion with her slender sculpted look. Paired with Queen Mary's diamond tiara, her distinctive floral veil representing all 53 countries of the Commonwealth, hand-embroidered carefully by workers spending hundreds of hours, provoked another round of endless applause when revealed.
Just imagine how many knockoffs are going to hit the market after the royal weddings! Supposing that you're a fashion lover just as we are, there is no way for you to indulge yourself in the sea of copycat design. Of course, not many girls can afford the original edition, but yet there's still an alternative. Inspired by the greatest royal wedding dresses of all time, Cocomelody's chief designer Puey Quinones proudly presents his latest design collection.
Starting with the gown of pure sincerity, Puey explained that it is a tribute to Meghan's fashion concept of minimal grace. While the sincere look is perfectly retained, long sleeves are removed from the original design and replaced with cap sleeves. If you're a lady of timeless classic, then this delicately sculpted white gown should be a perfect choice.
Inspired by Kate Middleton, the second design is a creative combination of both Kate's and Meghan's wedding dresses. According to Puey, with the top part of Kate's gown attached to the skirt of Meghan's, two silhouettes are combined into a new creation of fantasy.
The inspiration of design 3 is indeed all three royal wedding dresses mentioned above. In Puey's words, the bodice of this dress is inspired by Meghan Markle's gown, the lace sleeves are inspired by Kate's wedding gown, and lastly the ball skirt comes from no other than Princess Diana, the people's princess long beloved and missed.
Why these 3 royal wedding gowns but not others? We're pretty sure many of you are asking the same question. From his perspective, Puey regarded Princess Diana, Kate Middleton, and Meghan Markle as "iconic women who changed the world", which is exactly why the gowns they chose became the inspiration of Cocomelody's new capsule collection.
"To be honest, " said Puey, "the reason why I really want to design these dresses is that it was my dream to design a wedding gown to a royalty. " But of course, it didn't happen yet, so it became his vision to design for all our Cocomelody brides whom we considered to be our very own Princesses and Queens, resulting in this fabulous collection.
What makes this collection special, as was recorded in the interview with Mr. Quinones, is to be able to share the sense of royalty to all future brides and make their wedding dream come true. Puey wanted to be part of this experience and share happiness to all brides-to-be by creating splendid white gowns, presenting them with a regal entrance at the wedding as Royalty without breaking the bank.
You don't need a crown or a prince charming to be a princess. What we believe here at Cocomelody is that all girls deserve to become Royalty, no matter what family background they come from or what budget they're trying to fit. After all, you are born to shine and sparkle. Have faith in that, and Cocomelody will fulfill!