You have just gotten engaged and after you have found the perfect dream wedding gown, it is time to shop for your bridesmaids' dresses. If you have not sat down to think about this until now, you should know that just like your own gown, there is certainly a timeline for bridesmaid dress shopping.
Although the process is not going to be as overwhelming as shopping for your wedding gown, it would still be taxing to some extent. But do not fret! From flipping through magazines to the final dress fitting, we have got the entire bridesmaids' attire timeline outlined below.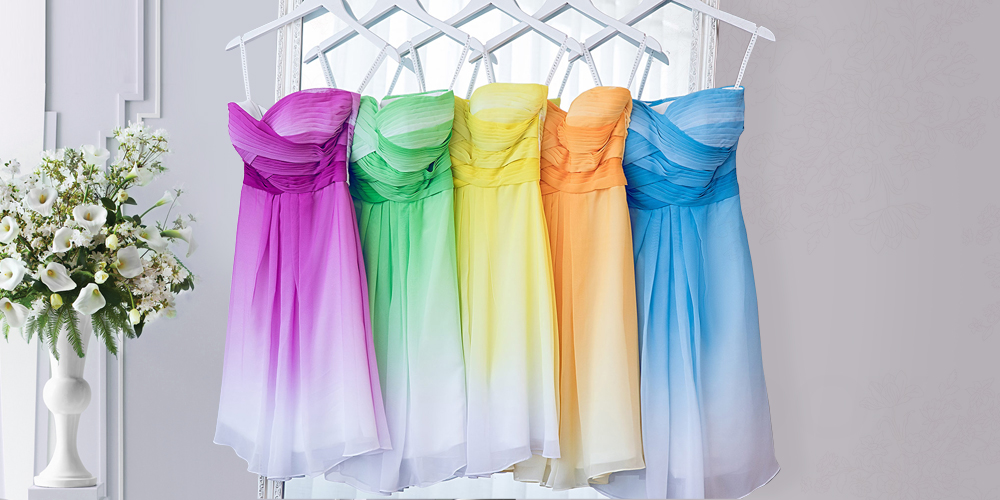 1. 9-12 months before the wedding date:
This is the point where you will start hunting for potential affordable bridesmaid dresses in bridal magazines and online. Start envisioning how you would want the members of your bridal party to look while keeping in mind your own wedding dress. Start exploring the various styles and try to find the perfect one; you may want to give thought to convertible bridesmaid dresses as they are a hot trend right now.
Set a budget and elect who is going to pay for it – you or your bridesmaids or both. Keep in mind; the budget should include the cost of the dress, accessories, and alterations. Either way, you can find an enormous range of wonderful, inexpensive, perfect bridesmaid dresses online.
2. 8 months before the big day:
At this point, you will want to start scheduling appointments for your girlfriends to try their gowns on. Settle on a bridal salon (online or on-site) that carry designs that you feel blend with your bridesmaids' individual style. If you have no idea as to where a reliable bridal salon is, ask other brides for recommendations or check different salon reviews online.
When it is time for the appointments, take your entourage along. Take notes on the styles your bridesmaids love and the ones that complement your own wedding dress style. Don't forget to buy color swatches online.

3. 7 months before the big day:
Now is the time to start getting serious. Your bridesmaids (along with your opinion) should have pegged down the choices to a select few. Schedule second appointments with the salons to have your bridesmaids try on the dresses one more time. This way your bridal party can ultimately make the absolute decision based on what they want.
4. 6 months before the big day:
Now is when you will want to order their dresses. Before you buy bridesmaid dresses online, be sure to get the following written into the contract somewhere: style number, color palette, size, body type, designers name, approximate delivery date, the deposit amount, the remaining amount and date it is due by. Do not forget to ask about any cancellation policies in case your bridesmaids (or you) have a change of mind at the last-minute about the dresses.
5. 5 months before the big day:
You will want to call the salon to get a confirmation on your bridesmaids' delivery date at the five-month point. You will also want your bridesmaids to choose all the accessories they plan to wear with their gowns now.
6. 6 weeks before the big day:
Now is the point where you schedule the first fitting for your bridesmaid dresses. Make sure there is someone who has a sharp eye and can be trusted to give your bridesmaids an honest opinion on how they look.
7. 4-5 weeks before the big day:
At this time you will schedule the second and/or third fitting session. It is here that your bridesmaids will make sure all alterations are perfect: the length, the fitting, the comfort, etc. Have them go in for fittings until the gowns are absolutely perfect and are up to your bridesmaids and your standards.
8. 3 weeks before the big day:
Three weeks ahead of the wedding you will want to schedule the date and time the bridesmaids' dresses are going to be picked up. It is recommended that you have your bridesmaids try the gowns on one last time to double-check every single thing. If the gowns look perfect, then take them home.
Once you get all your bridesmaid dresses home, lay them out somewhere flat, removing all the wrinkles. Be sure wherever it is stored, it will be safe from pets, young children and smoke. Just think the next time your bridesmaids will put their gowns on, it will be for the big day!
When the wedding day comes, your bridesmaids will be all glammed up and ready for the big occasion!