It has been almost a year since the last Royal Wedding was televised… and oh boy, was it grand! Did all of the media attention get you toying with the idea of planning your own Royal Day, though? Yes? We thought so! Well, if you are wondering how to tastefully add some grandeur into your own wedding day (and what bride would not), we have rounded up several à la mode wedding ideas that you can incorporate in your big day to royally impress your guests.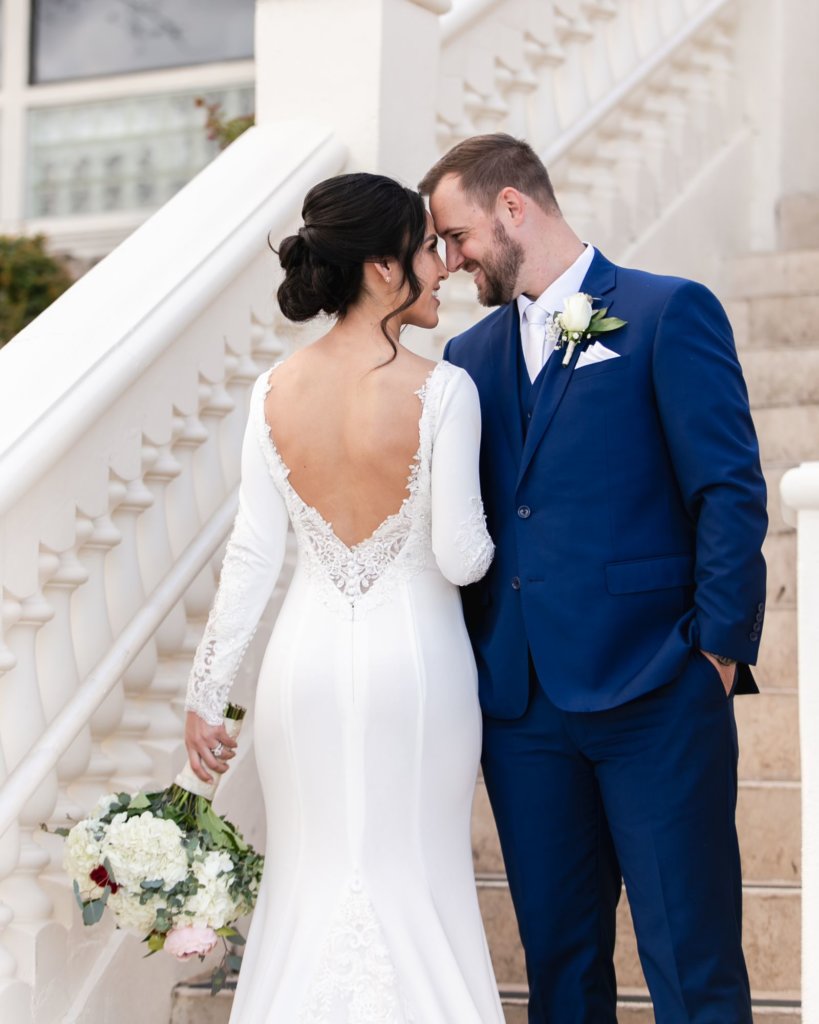 Style: #1038 & #8006, Image Credit: David Torralva Photography
1. Pick a grand and impressive wedding venue.
While you may not be celebrating your royal-themed wedding at Windsor Castle like Prince Harry and Meghan Markle, there are many stately homes and historic castles that you can book to add to a regal atmosphere for your big day. On the other hand, if you are working with a tight budget, you can even choose a ballroom reception venue. The best part is that some ballroom reception venues have sweeping spiral staircases that you can use for that grand entrance. And speaking of grand entrance…
2. Set the tone with the right entrance music.
Sure, you may not be capable of mimicking the Royal ceremony down to the T because of financial restraints, but you can still select music that speaks of royalty. But how? Well, instead of playing the traditional "Here Comes the Bride" song, you can try a classical piece that exhibits majestic sounds. There are an impressive array of artists that compose pieces in the modern day that adequately reflect the unique traditions of Beethoven and Amadeus, so it will not be difficult to find these artists. If "Here Comes the Bride" is chosen instead of a more majestic piece, it would be great to have a live orchestra playing as you enter the grand ceremony in your beautiful wedding gown. Although this option is rather expensive, it will undoubtedly contribute to the perfect royal atmosphere if you can afford it.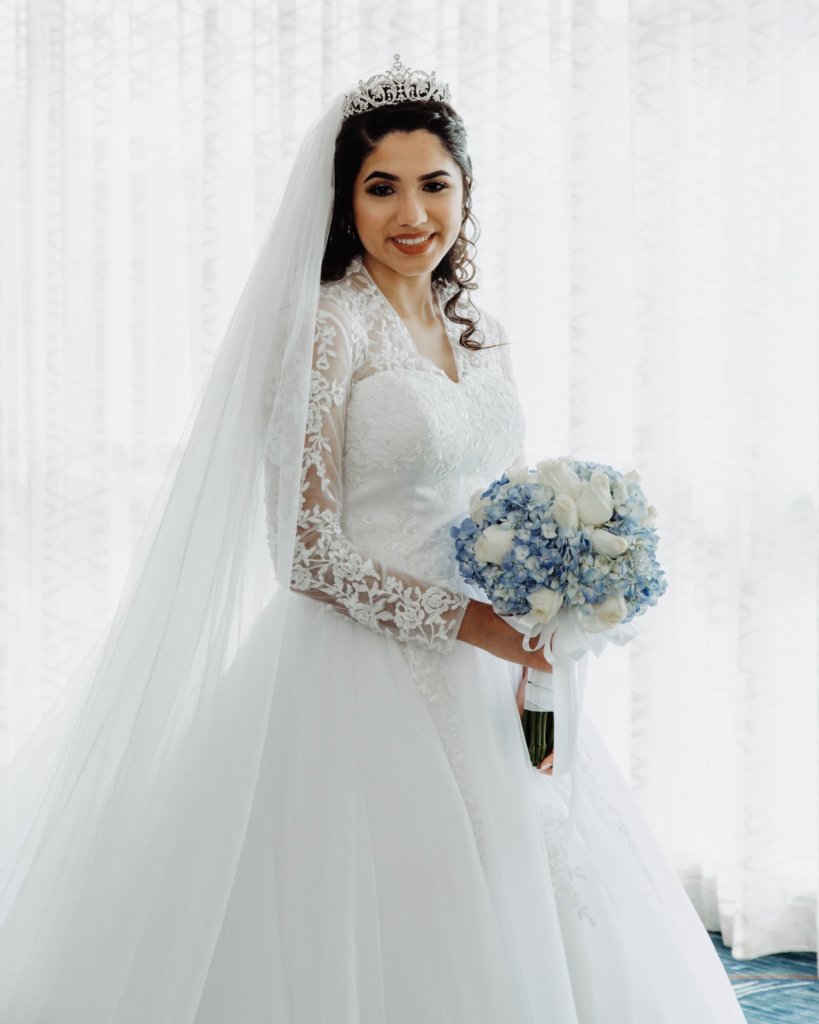 Style: #CWZT14013, Image Credit: Wild Clover & Honey Photography
3. Pick tasteful and chic décor reflective of a royal setting.
Your wedding décor is something you need to be very careful about as it will set the stage for the whole big affair. For your royal wedding, you do not want your wedding décor to be tacky or gaudy, but chic and sophisticated. Decorative items in the shapes of swags, crowns or fleurs-de-lis or any image of symbolism that can remind your guests of your royal wedding would be best. You can also decorate your venue with red roses, ribbons, and bows or have an ice sculpture in the center of the buffet table and a tall cake topped with crystal decor or a castle figurine. These understated yet elegant decorations will look right in place in your royal wedding.
4. Use royal-themed wedding stationery.
When it comes to your wedding stationery (invitations, seating charts, menu, etc.), instead of the in-trend romantic floral prints, you can try a lovely vintage pattern that is reminiscent of Victorian class and charm. You can add a damask pattern throughout the program – these bold yet pleasing patterns will give your wedding programs a charming and antique personality and are essential for a royal themed wedding.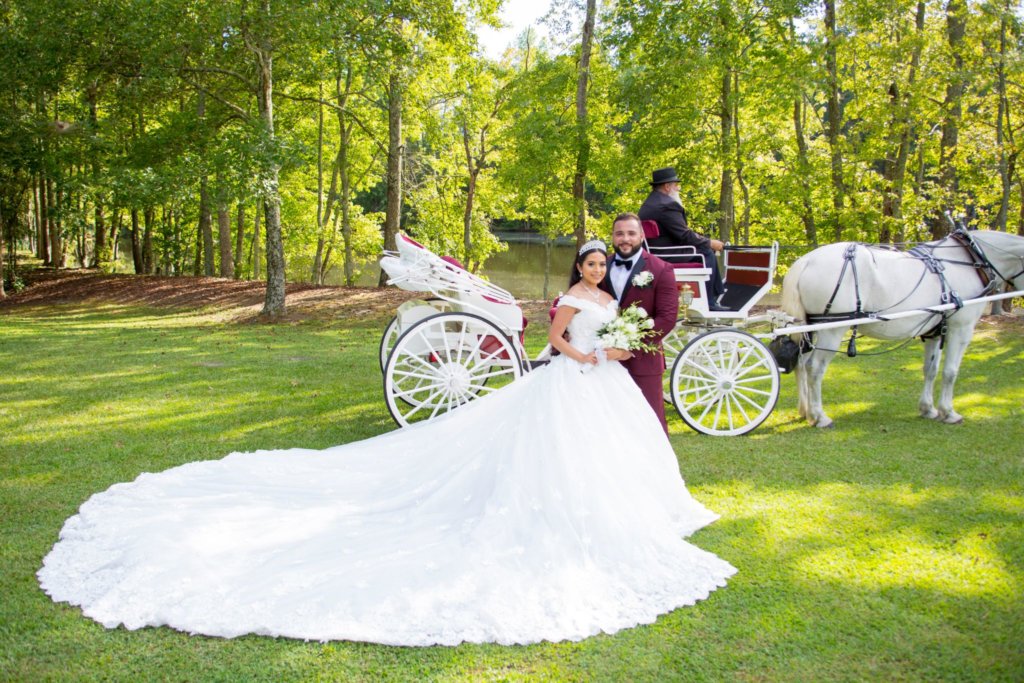 Style: #LD4349, Image Credit: Lamar Borius Photography
5. Wear a spectacular wedding gown
A royal bride should wear something that is more traditional than trendy. A grand ball gown wedding dress featuring sumptuous silk satin or silk taffeta, fine lace and metallic embroidery is exactly what you need to look for in a bridal gown fit for your royal wedding. Perfect finishing touches such as a tiara, a veil, wrist length gloves and a pearl necklace for that classic royal and princess-like look will top off the grand effect.
The last word
Having a royal wedding does not require a royal family's budget. With a little bit of creativity and practical tips, you can welcome your family and friends to a royal wedding and make your wishes of a "happily ever after" come true. This is the best time to feel like a princess, act like a princess, and most of all, be treated like a princess. Getting married to your prince charming and having a royal theme can make you feel special and regal every step of the way.