Whether your beloved father has passed away and you can't imagine anyone else taking his place or you just don't think this old-school tradition of "handing over the bride" is right for you, you can choose to walk down the aisle alone. However, you should know that walking down the aisle alone can make even the most relaxed and confident brides frazzled and anxious!
Marriage is a very big step in one's life. The decision to get married is a decision that's likely to change your life forever. You'll stop being single and, in the words of Carrie Bradshaw from Sex and the City, you'll become one of the "smugly-married." You'll stop thinking for one and start thinking for two. After the priest proclaims you man and wife, your life will never be the same again. On this account, it's only normal that you get those pre-wedding jitters about walking down the aisle alone…
Does the inevitability of the jitters scare you? Well, you don't have to be scared anymore! Here are some tips that will help you ensure that you'll be a cool, calm, and collected bride when you walk down the aisle alone.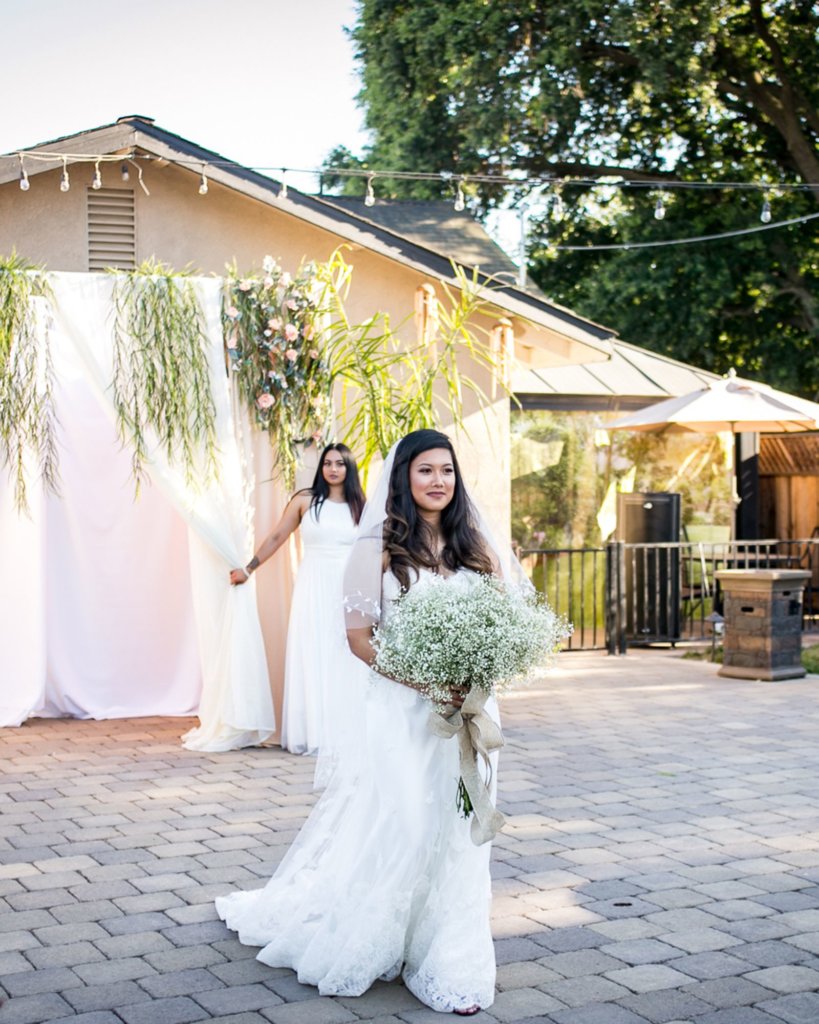 Style: #CWZT15008
1. Get organized!
One of the biggest reasons why brides end up all stressed out is because they didn't get everything organized well in advance. If you still need to give final instructions to the caterer, can't remember where you put your bridal jewelry or haven't taken your princess gown to the seamstress yet, then you're going to be a mess. So, get everything in order well before the wedding day by making use of detailed checklists and keeping good notes. This way, you won't wake up the morning of your big day and realize that you have forgotten to take care of an important detail.
2. Practice makes perfect.
All eyes will be upon you as you walk down the aisle alone and during the ceremony, which can be a nerve-wracking experience for you. Wear your wedding shoes to the rehearsal to get a feel for walking down the aisle in heels. Recite your vows in front of a mirror until they feel natural rolling off your tongue. Bring your maid of honor to your final wedding gown fitting so she can be trained in how to help you into your gown, veil, and bridal jewelry. Make sure she pays special attention to the bustling techniques so that no one will panic about how to tie up the bride's train after the ceremony (that happens more than you'd like to believe!). When everyone knows just what to do, the entire day will progress like clockwork.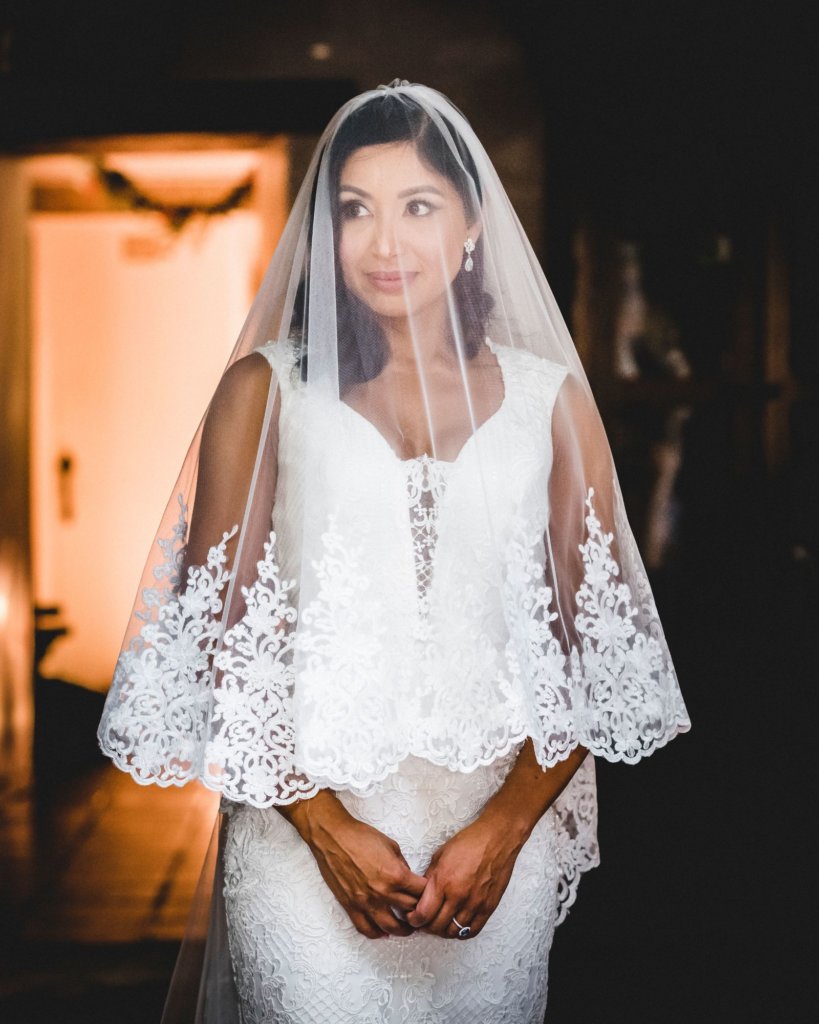 Style: #1066; Image Credit: Jason Burns Photography
3. Accept help.
You know all those people who ask if they can help you with your wedding? Don't politely decline – take them up on their offer! One of the big reasons why brides end up at the end of their tether and stressed leading up to the wedding day is because they have too much on their plates. This is an even more common occurrence with DIY brides who may have more ambitious ideas than they have time to execute them. Be willing to give up a little control and delegate tasks so that you don't spend every last minute before your wedding rushing around trying to put the finishing touches on the favors, centerpieces, or the programs. It might be true that no one else can tie a bow as perfectly as you, but at least the job will be done and you can loosen up.
4. Take care of yourself.
This applies to both the months and weeks leading up to the wedding and the actual day of the event. Exercise is a great stress-reducer, so find plenty of opportunities to get moving. The day before the wedding, be sure to call it a night nice and early so you can get your beauty sleep. No matter how anxious you are, make sure to eat some breakfast the morning of your big day. Far too many brides have skipped a meal and ended up feeling woozy at the altar. Last but not least, don't overlook how calming a couple of deep breaths can be when you start to feel like your nerves are on edge when you walk down the aisle in your lovely lace mermaid wedding dress.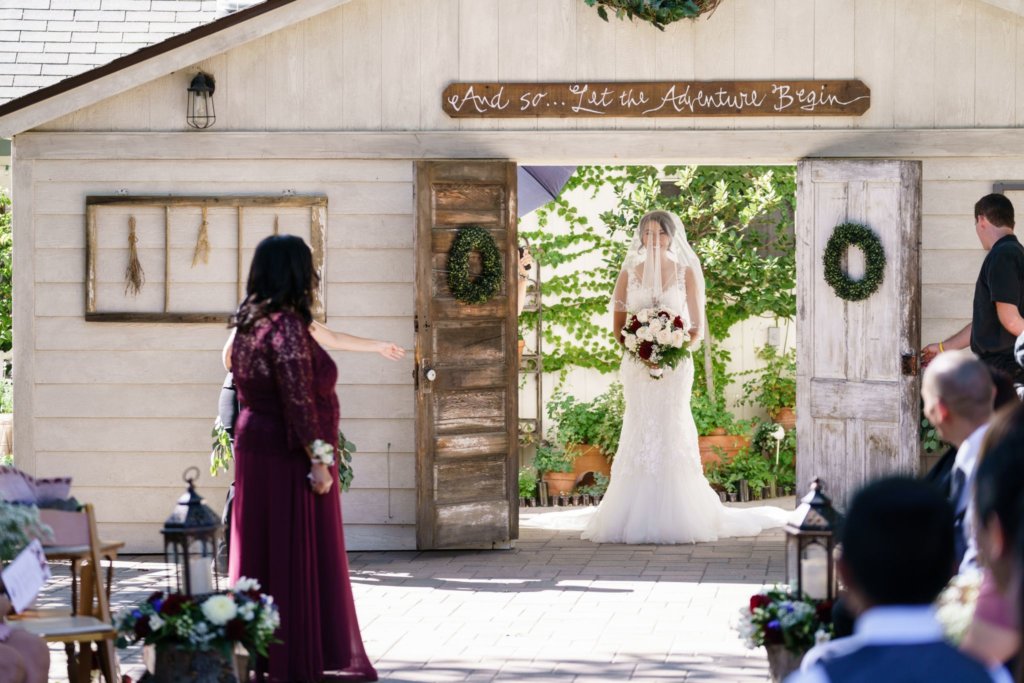 Style: #LD5058; Image Credit: A Touch Of Soul Productions
When you're prepared for your wedding mentally and physically, it's much easier to remain calm and in control when you're walking down the aisle alone. Not only will the whole day go more smoothly when everything is under control, but you'll also find that you're actually able to let go and enjoy your wedding when you feel free and easy.