Melissa & Robert's rustic wedding in Motte Historic Car Museum was an absolute dream! Melissa was truly like a fairytale princess in her gorgeous #cocomelodydress and all her 'maids were stunning in shade of #TawnyPort. Can't wait for you to read more about Melissa & Robert's love story and check their amazing wedding pics below:
All photos were taken by Bianca Navejar Photography.
Wedding Dress Style: #CWXT14061
Bridesmaid Dress Style: #PR3570
Q: Any advice or tips for future Mrs.?
Do it yourself. It will be stressful but when you see it all come together it will be totally worth it. Stand your ground, it's your big day don't let anyone other than your spouse tell you how to plan your big day. Choose vendors you personally know if possible, it's more special that way.
Q: What was the inspiration behind your wedding theme?
My inspiration was straight from Pinterest. However as time went on we would find rustic pieces and make it our own. After going to a few weddings we defiantly knew what we loved and wanted at our wedding and knew exactly what we didn't want. Our friends and family helped us so much with making Pinterest become reality.
Q: Tell us your love story! Where & How did he propose?
Robert was actually one of my cousin's best friends. It didn't take long for us to know that we wanted to marry each other some day. He proposed at San Clemente Beach with a hidden photographer and friends and family. It's a day I will never forget and am forever grateful for. We got married 10.26.19 at Motte Historical Car Museum. Which was a perfect fit for us because I wanted a barn wedding and he loves cars.
Q: How would you define the message "Dare to Love"?
I believe Dare to Love means to love deeply everyday despite your differences. As long as you state grateful for each other and keep God in the center I believe a relationship will remain strong. I am thankful for the deep love we have for each other as years go by I only fall more in love with this man.
Q: Did you have a particular theme or color scheme? Is there a story behind this color theme and why you chose it?
My color scheme was gold and burgundy. We wanted a rustic theme and with our wedding being in the fall the burgundy went perfect with my favorite flower, Sunflowers.
Q: What was the best/most memorable part of the day?
The best part of my day was seeing my husbands expression when I first walked down the isle. It was unforgettable. I also loved taking all our pictures with our photographers they made us have the best experience ever.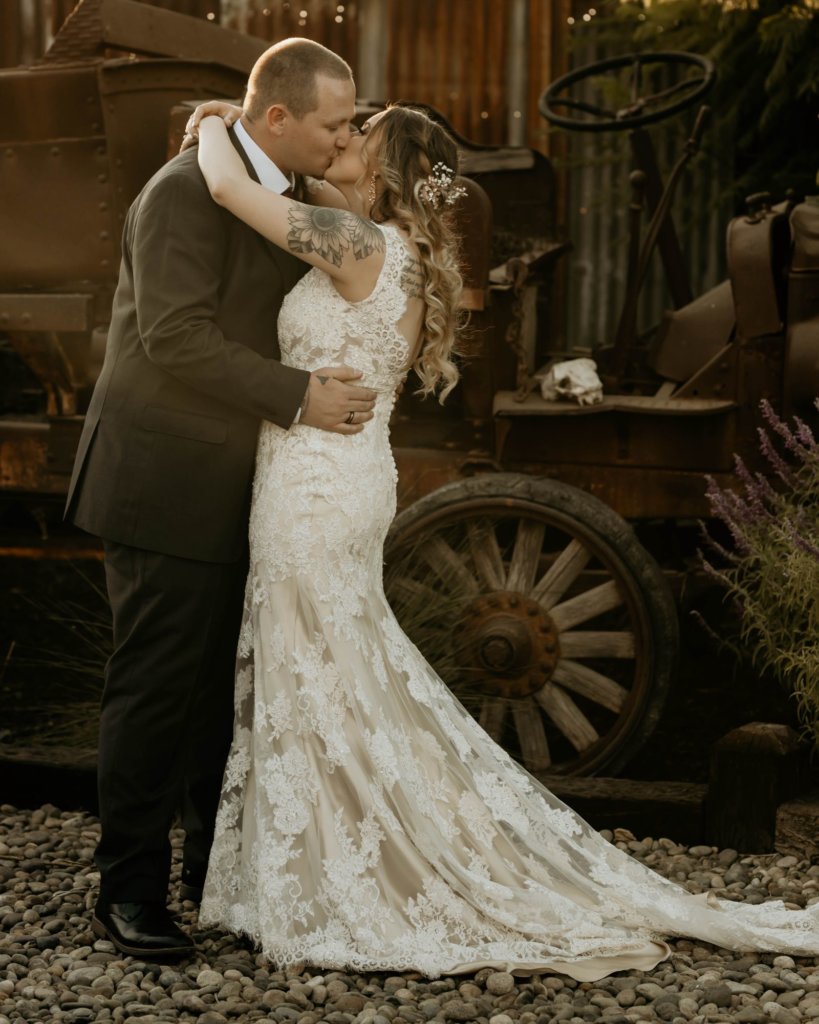 Q: Where did you hear/find CocoMelody ?
My hairstylist actually bought her wedding dress through CocoMelody. I was telling her how I didn't want to go to a basic bridal store like David's Bridal and CocoMelody ended up being the perfect fit.
Q: What did you love most about your #CocoMelody dress (es)?
The dress I picked was the same one I had my eyes at online. The price is unbeatable and the dress was gorgeous. Nobody would have ever guessed I spend less than 600$ on my wedding dress.
Q: Why did you choose #CocoMelody for your bridesmaids?
CocoMelody made it so easy to get both my wedding dress and our bridesmaid dresses on the same day. We found my dress first and then went right downstairs to look at a bridesmaid dress that all the girls felt comfortable in. They even worked around FaceTiming one of my bridesmaids who lived across the country. I wouldn't of wanted to go anywhere else to choose a bridesmaids dress. The price was perfect for our budget too! We seriously got so lucky finding this company!
Q: What do you think about CocoMelody and the customer service?
I would defiantly recommend CocoMelody to anyone I know. If you can make it to the actual store that's probably best but I heard they also have a great shipping arrangement to try on dresses from home.