They say choosing a bridal dress is the toughest decision to make. "They" clearly haven't seen the bridesmaid dress drama in weddings. Picking the right fit and fabric for your besties is undeniably challenging. They probably all have different body types, preferences, and budgets, making it difficult to figure out the perfect looks. But all brides have been making the decision, and so can you – after all, your squad must stand out from the crowd in their own unique ways. So, here are some tips from Cocomelody stylists on choosing the best flattering style and fabric for your besties.
Navigating the World of Bridesmaid Dress Fabrics
Style and color choices are cool. But did you think about the kind of fabric your girls might want? Because when you find the finest fabric, the result is magical. It may seem a bit of work, but your besties are worth every effort. So, make sure your bridesmaids don't hate their dresses. Here are some popular options that make the choicest bridesmaid dress fabrics.
Chiffon
If you and your besties want the dresses to be flowy, whimsical, and like that of Greek goddesses, chiffon is to go-for. Thin and delicate yet strong and bold is what chiffon is all about. It is a versatile and dreamy bridesmaid dress material best for evening celebrations.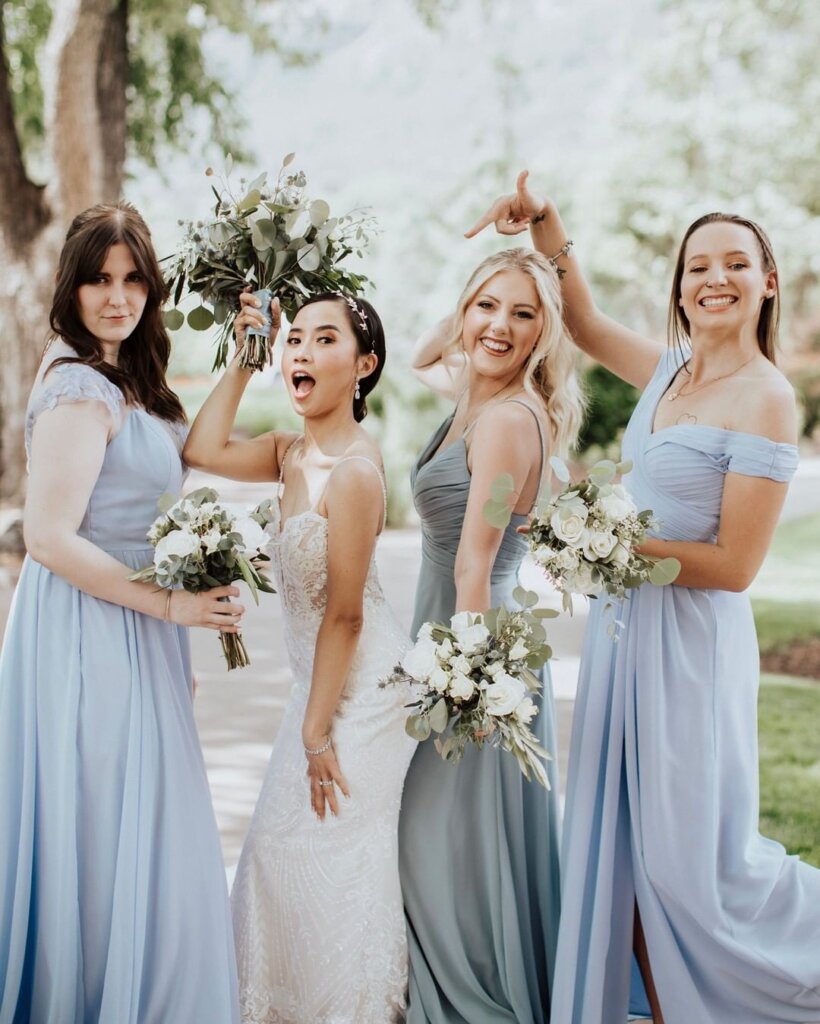 Photo credit:  @touchofgracephoto; dress style:CB0248, PR3536
Satin
Satin can really make anyone feel like a diva. It is a super soft and an oh-so-dreamy weave with no rough edges to annoy the one wearing it. While it is apt for those full-glam feels and an evening wedding party, make sure your squad feels the fabric firsthand. Some satins are much silkier than others, just like some taffeta that feel much stiffer. So be very careful when choosing a satin bridesmaid dress.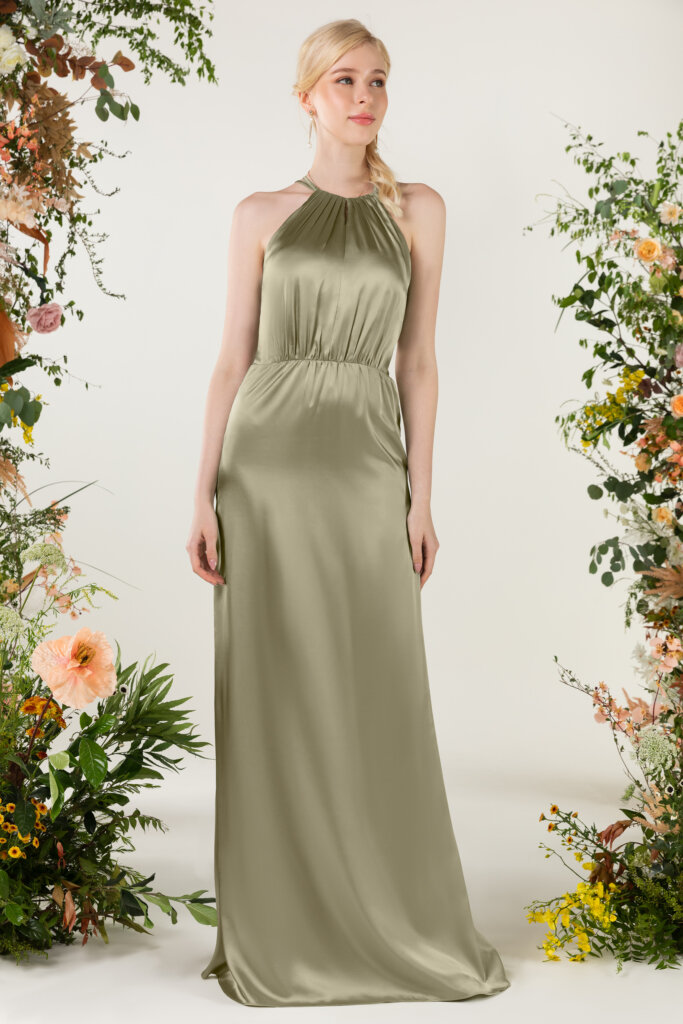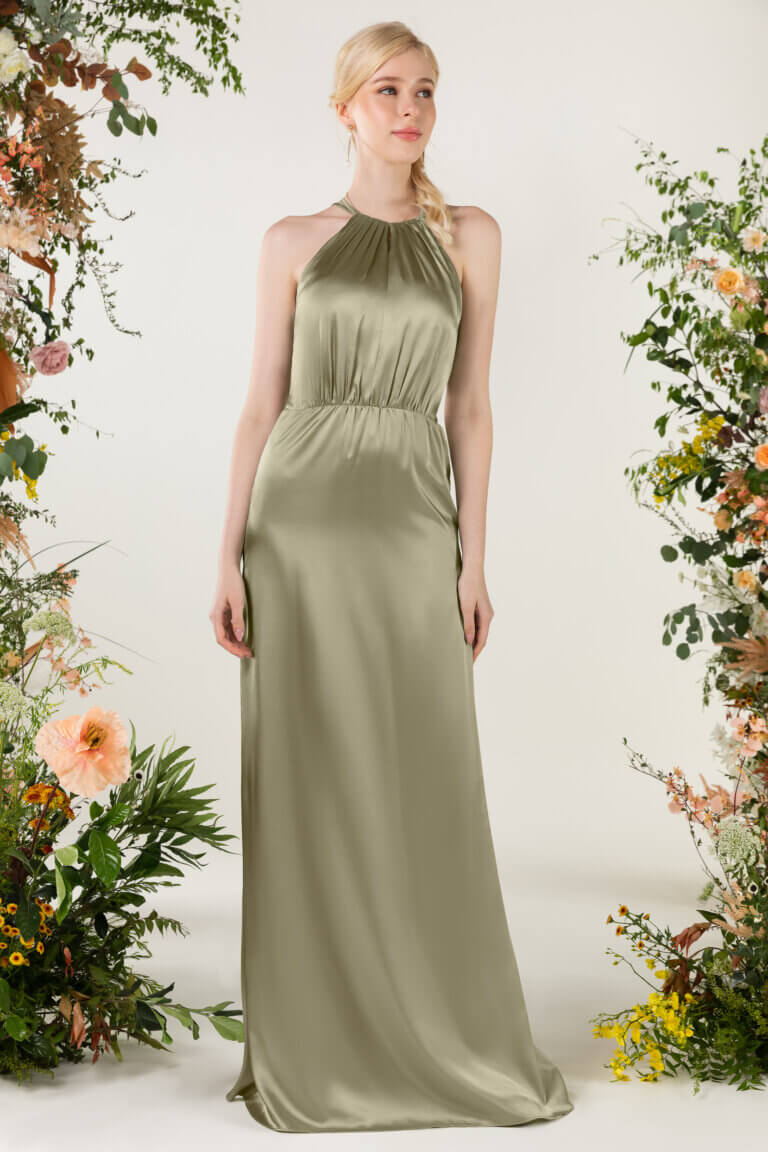 Dress style: CB0501
Lace
You think lace is only for the brides? Think again! Lace may be a bit tricky fabric but can add class and femininity to even your besties' dresses. Chantilly lace, sheet lace, and lace appliqué are popular lace variations. Also, choosing good patterns make the dress easy to wear and even re-wear. Remember, keep it minimalistic, and you'll find the right lace bridesmaid dress.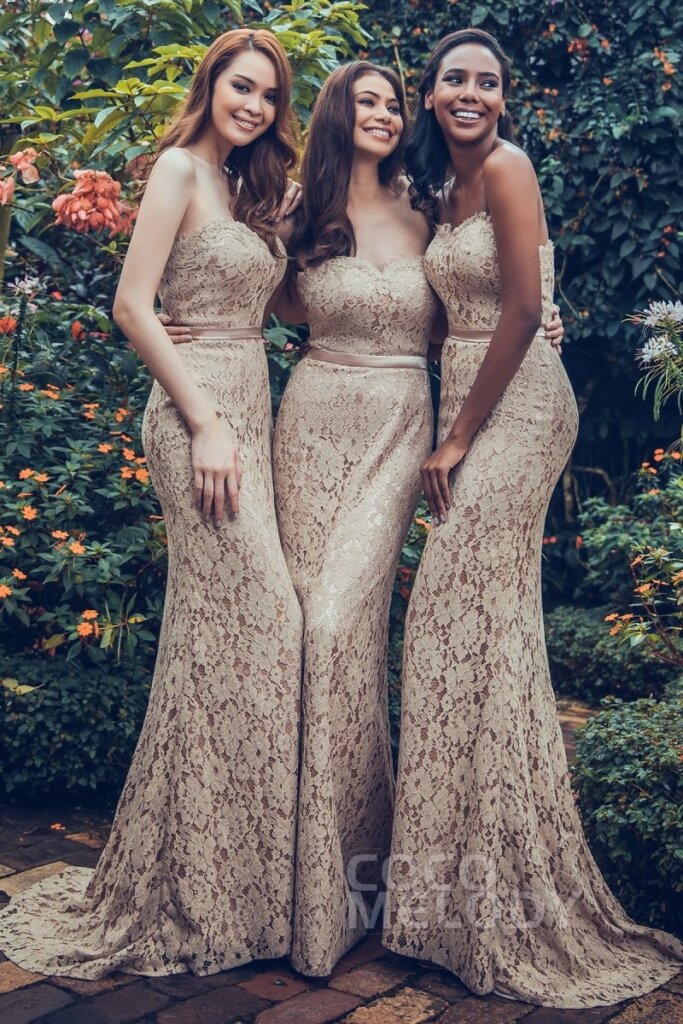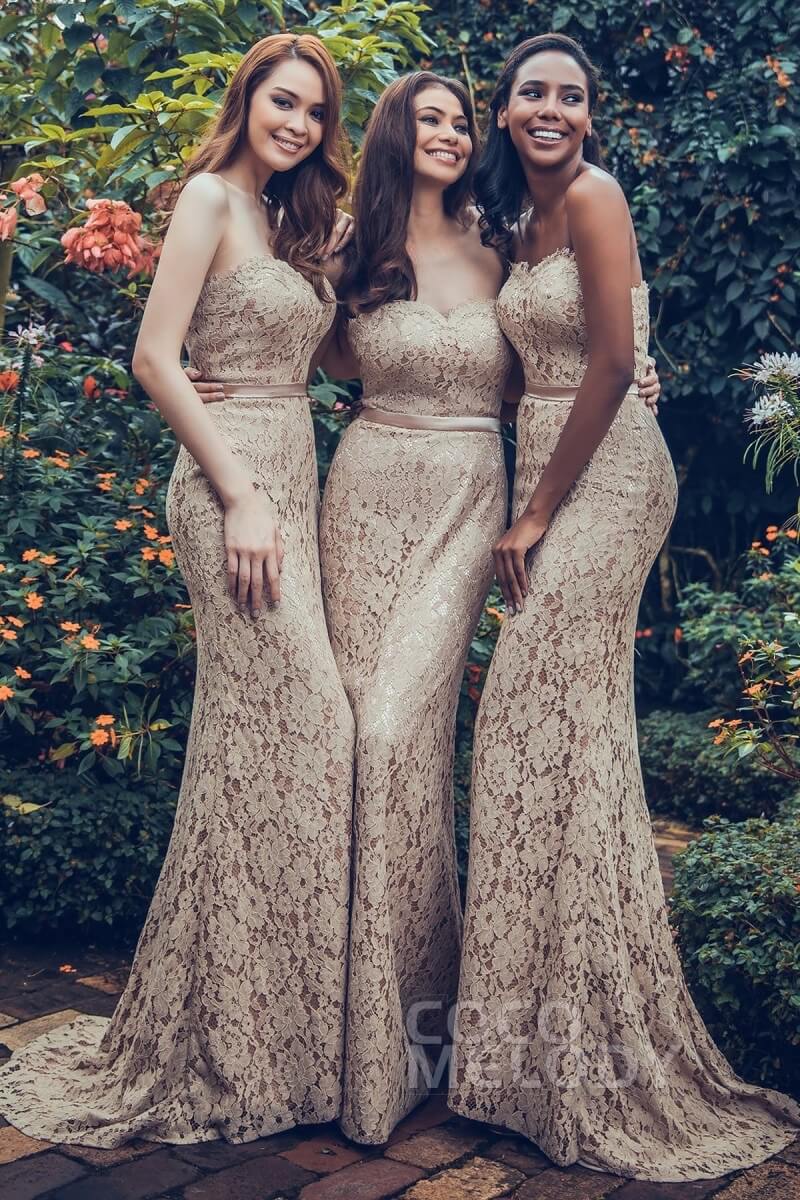 Dress style: PR3584
Tulle
When thinking of tulle, think of layers! Tulle is a lightweight, breathable, netting fabric that adds a much-needed texture and romance to any bridesmaid dress. Although tulle is most common in wedding gowns, it makes gorgeous bridesmaid dresses. Thin tulle is incredibly flattering, flexible, and feminine and creates a slightly more traditional bride tribe.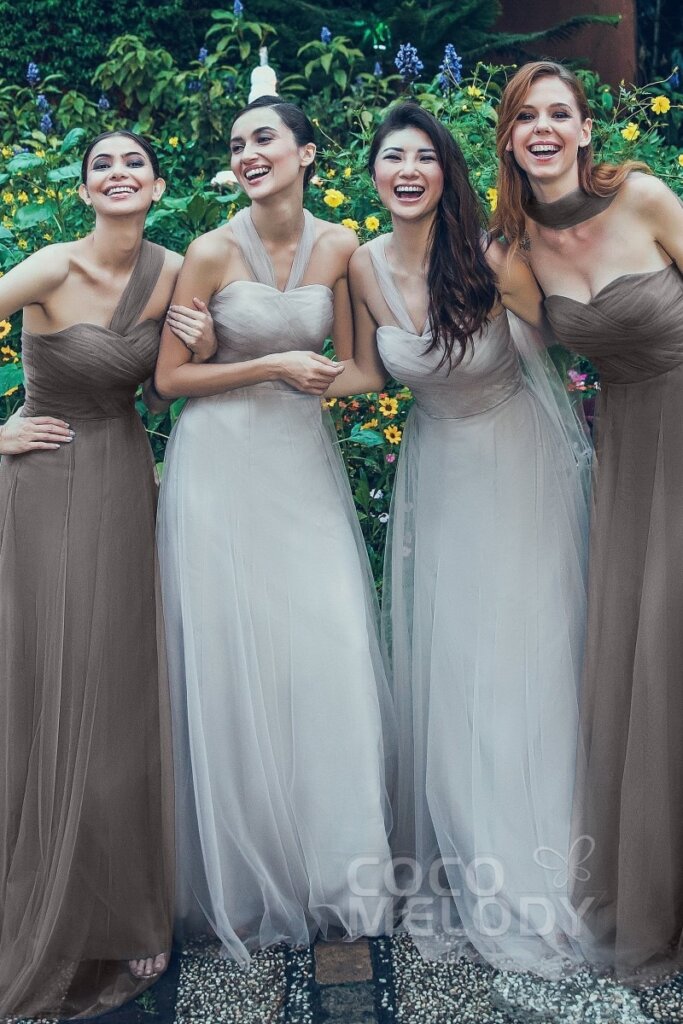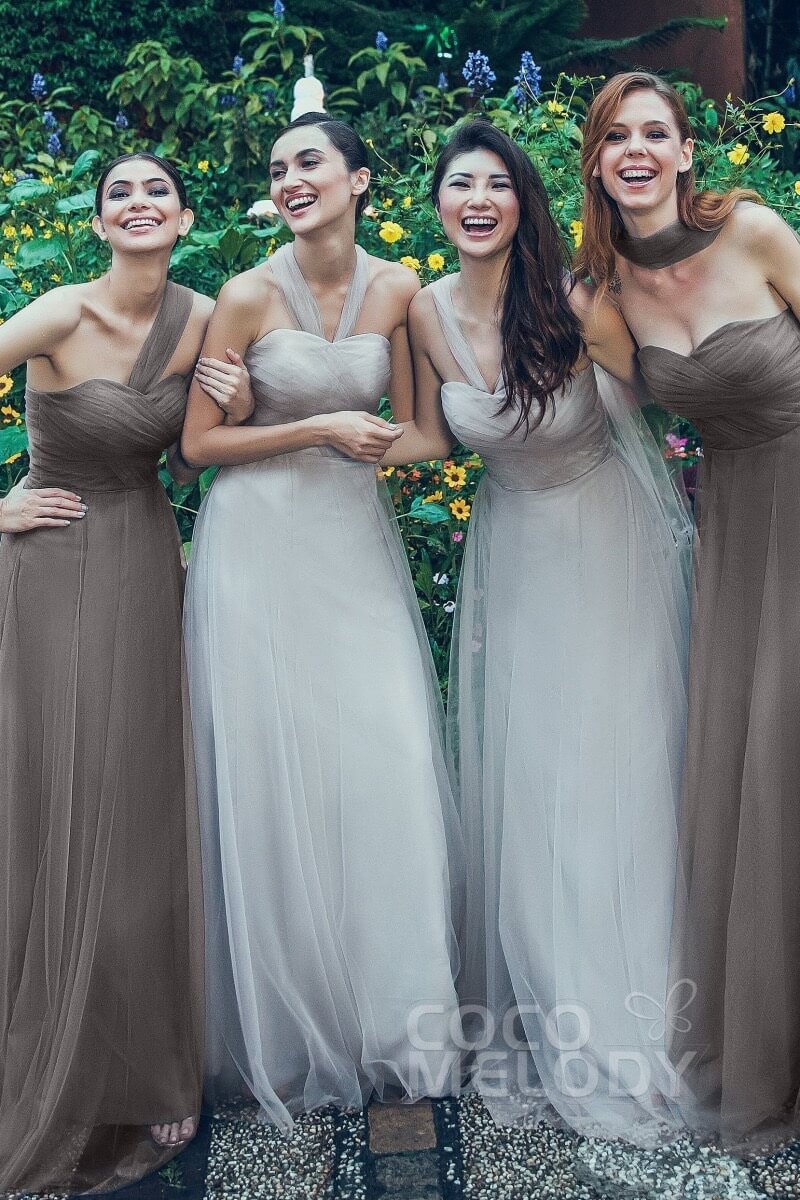 Dress Style: PR3502
Sequin
The sequin fabric is all glitzy glam. It is a festival staple and adds sparkle to any creation. Designers sew different types of sequins onto fabrics like organza, velvet, tulle, or tulle. Most commonly used is non-stretch woven sequin fabric as it's suitable for bridesmaid gowns or bridal dresses. Sequin dresses make a show-stopping number, and your girls might want to opt for clean lines and simple designs.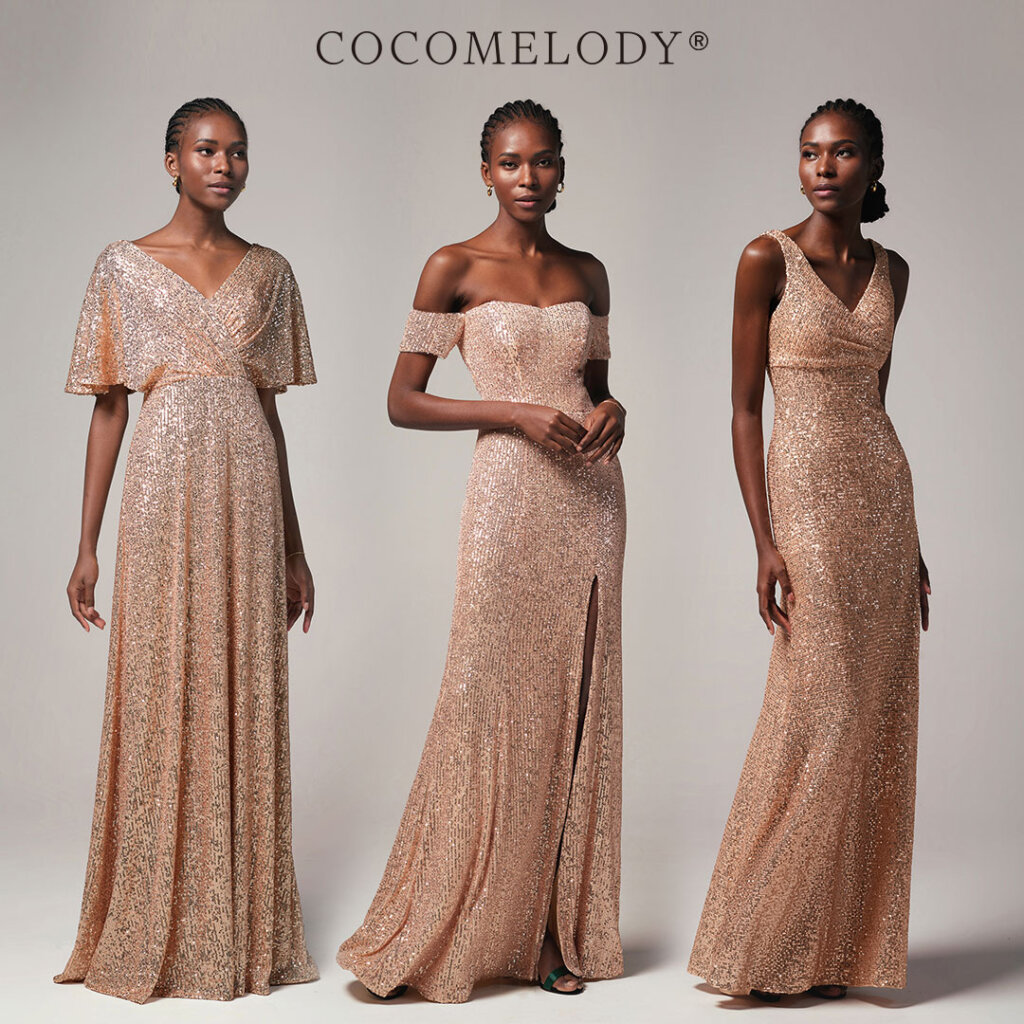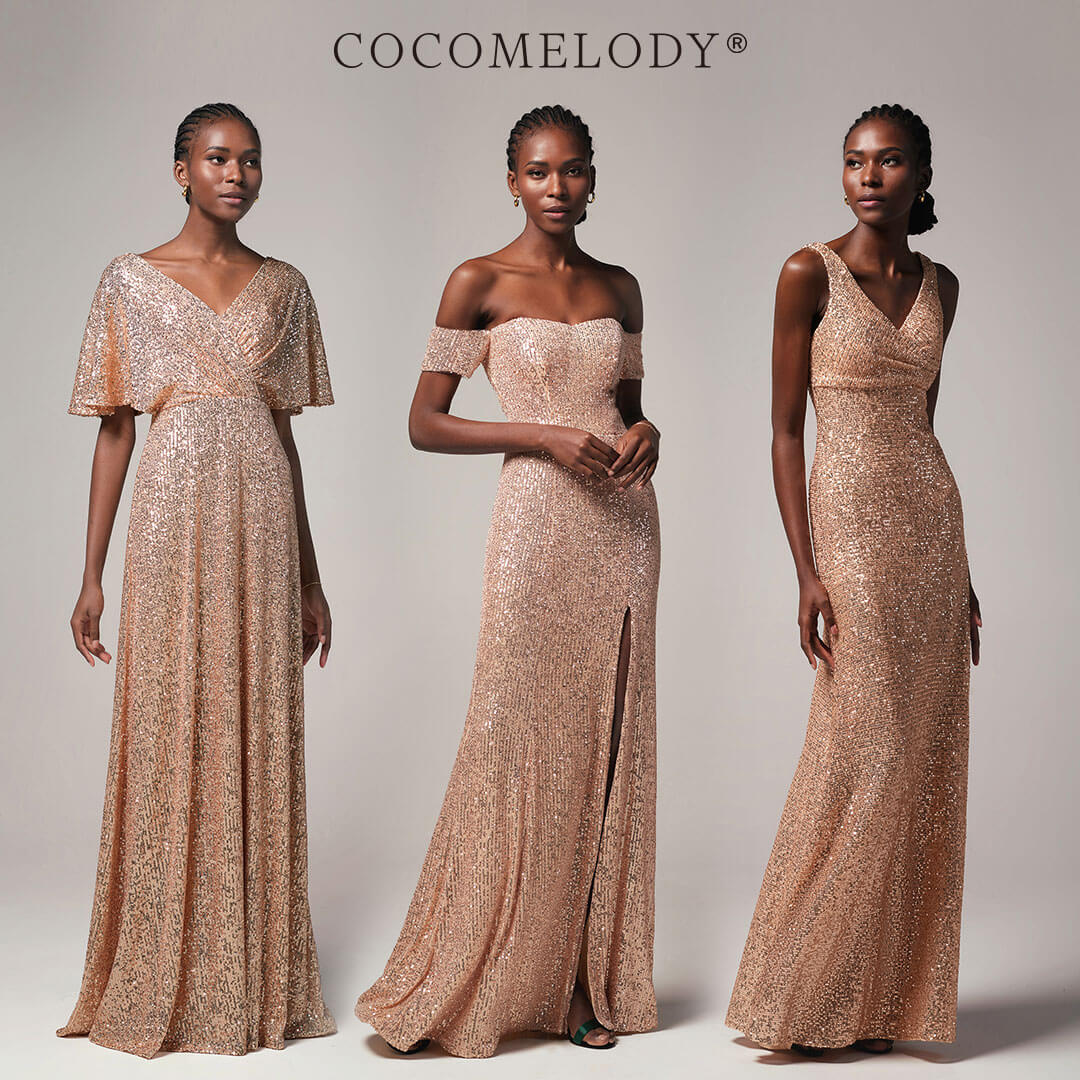 Dress styles: CB0399, CS0265, CB0404
Velvet
Velvet lends a very regal look and is a careful blend of silk, rayon, polyester, and viscose. This soft and luxurious fabric is sophisticated, with a felted face, a little weighty, and expensive compared to other fabrics. The drapability is excellent, and it makes a perfect choice for evening functions and formal bridesmaid dresses.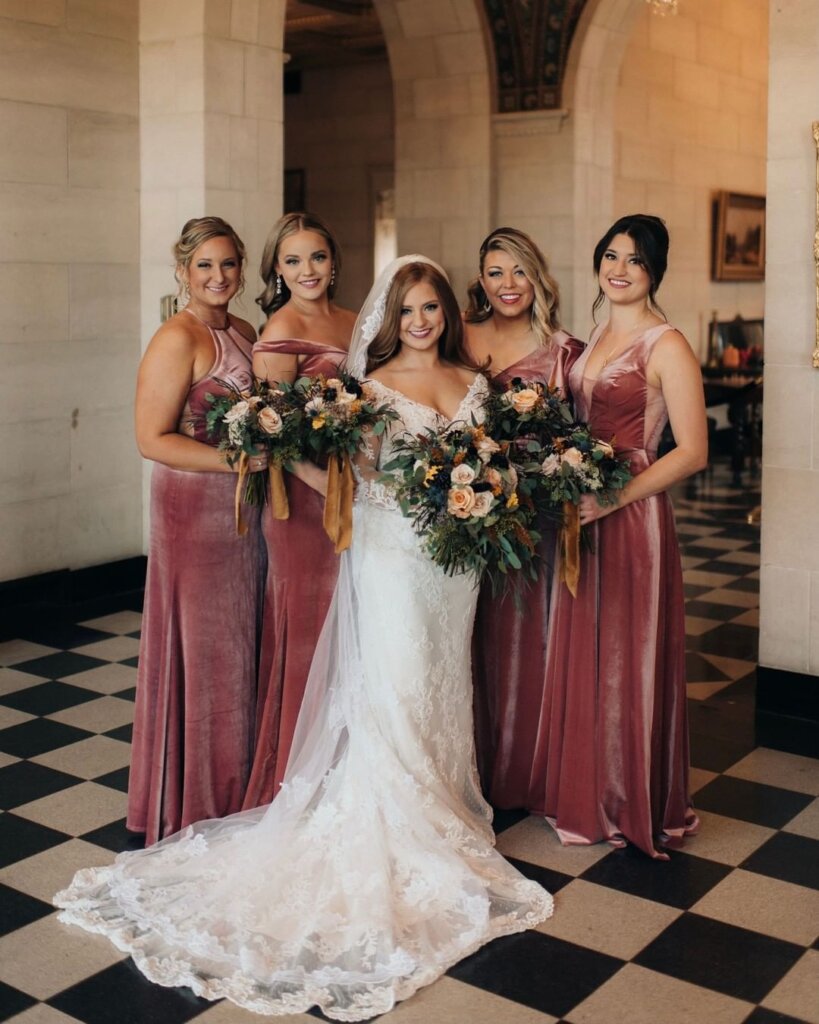 Photo credit: @maktographymk ; dress style: CB0362, CB0271, CB0367, CB0364
Choosing Suitable Styles
Your bridesmaids are your besties. They're the girls you can rely on. In turn, they trust you to make them feel themselves on your wedding day, and not just wear plain identical gowns.
You can certainly pick individual colors and shades for their outfits. For example, your besties can go for an ombré effect and choose colors like fuchsia, pink, and yellow.
What you'd also want to think of other than colors and fabrics are the bridesmaid dress length, neckline, and innerwear. The finish and drape of the dress also help highlight the best features of your girls. Shoes and accessories are again equally important.
Not all bridesmaids are the same neither are their choices. So, you'd want to consider everyone's likes and dislikes to make them feel their best on your big day. Choose styles and fabrics that are comfortable and budget-friendly for the girls.
Let's Get Shopping!
The fabric and style of a dress speak volumes. But, you aren't sure which your girls will like the most? Order swatches from Cocomelody to help you decide the best for your girl squad. You can also check out our online selection to ease your decision-making. Wait no more, get to shopping right away!