One of the most popular tips associated with effectively choosing the right wedding flowers is taking the season of the year into consideration. Matching a flower selection to the season of the year greatly embellishes the visual impact that they deliver. Conversely, mismatching the flowers and the season can have a very negative effect, which is why it certainly helps to look towards those seasonal flowers that go with the time of the year. This will greatly aid in making the flower selection look impactful.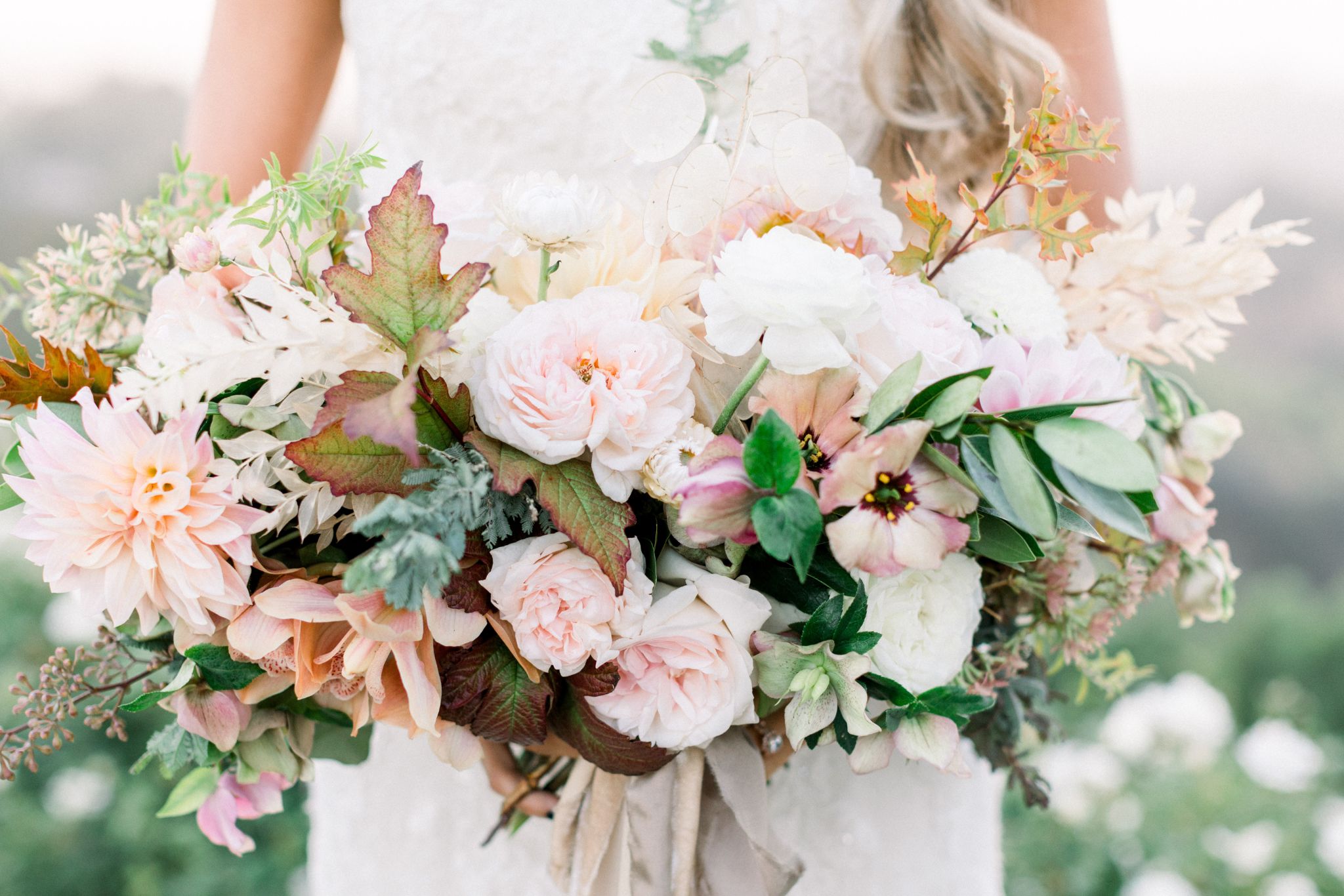 Style: #CWVT15002; Image Credit: The Lockharts
1. Wedding flowers for summer
Summer wedding flowers are as varied and vibrant as the rainbow, so choosing the blooms for your bouquet and other wedding flowers is truly an adventure. Summer is when most of the traditional, romantic flowers such as roses are in bloom, as well as a grand assortment of tropical flowers from around the world.
Most summer weddings call for bright, vibrantly colored flowers, so make sure you accentuate your wedding by choosing an array of wildflowers and bold, cheerful bouquets containing daisies, sunflowers, Queen Anne's lace, and other hardy blossoms. You can also focus on just one or two flowers that can be showcased for their elegance if you're wearing a ball gown wedding dress. The most traditional summer wedding flowers have always been roses, and in the hot months of summer, you can find them in every color imaginable, from deep crimson to pure white. Also traditional in many bridal bouquets are flowers such as stephanotis and freesia, both of which are popular for their rich scents as well as their beauty.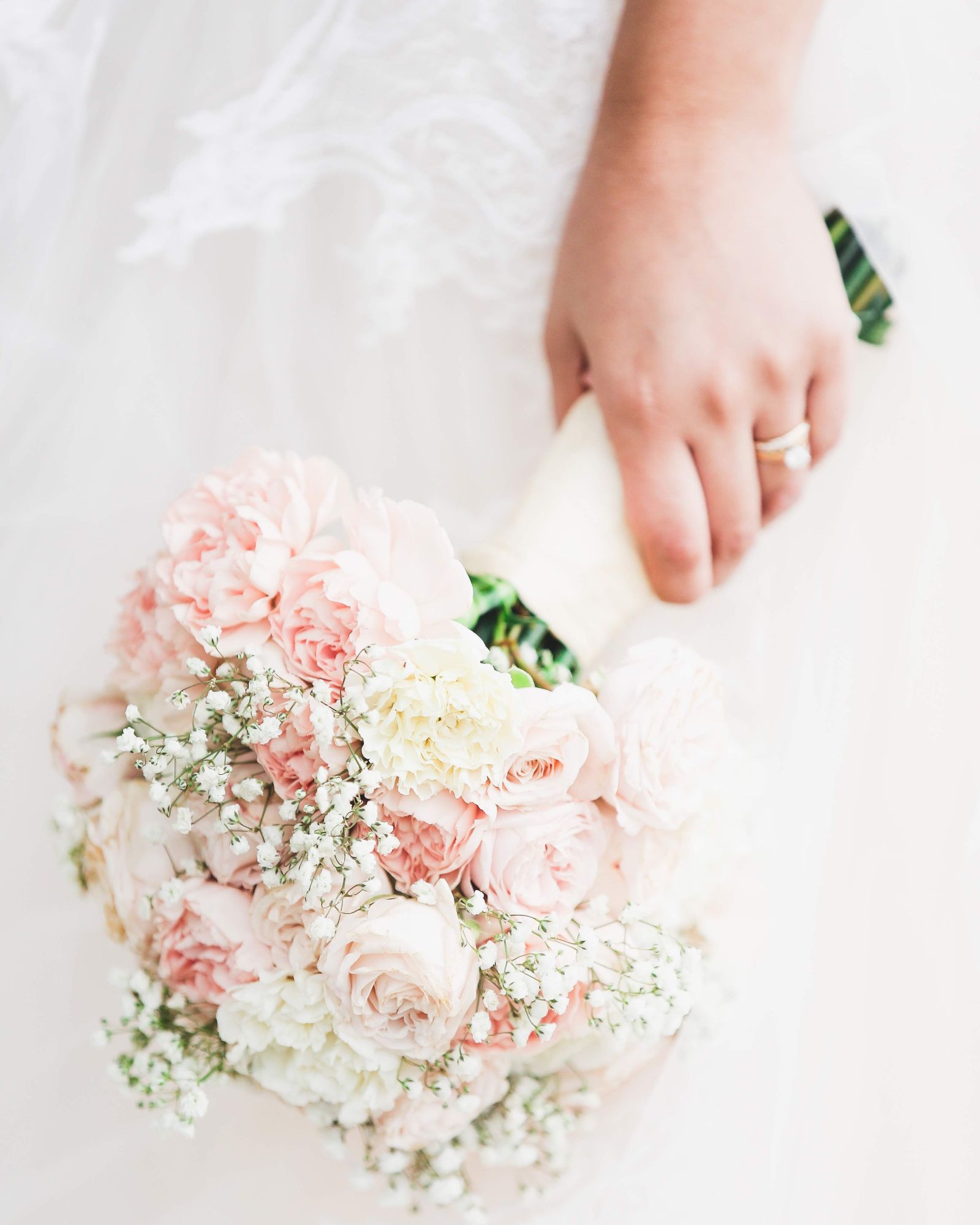 Style: #LD5066; Image Credit: Pauline Nicole Photography
2. Wedding flowers for winter
As the cold approaches in most parts of the world, some people can't help but wonder: will the winter brides have enough flower choices for this very special event? Well, the answer is…Yes, a lot! Flowers that bloom in winter may not be as much compared to those that grow in summer yet we still have to realize that it's not actually the season but the personal preferences of the couple getting married play the biggest part.
When choosing wedding flowers for your winter wedding, try to find flowers that reflect the warmth of the events associated with the season (Christmas, New Year and Valentine's Day). Christmas-themed red or burgundy flowers like roses, carnations, calla lilies with accents of white, green and silver are perfect for a winter wedding and would look spectacular with your wedding gown.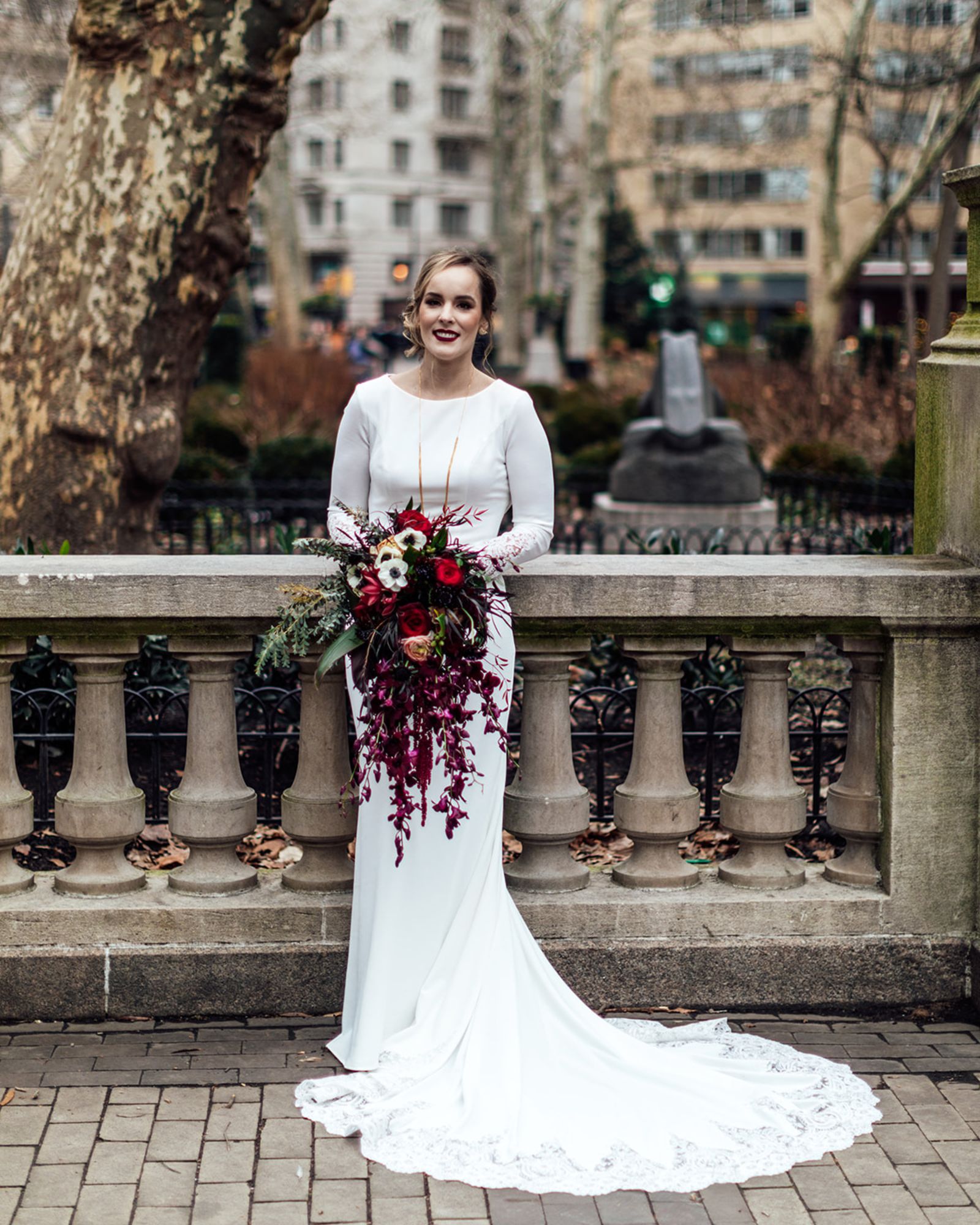 Style: #1064; Image Credit: Jessica Manns Photography
3. Wedding flowers for spring
Spring can be an uplifting time to wed. The season itself symbolizes new beginnings and as the days start to get longer, everyone seems to have more energy. Suddenly, the frosty landscape is dotted with tulips, bluebells, crocuses, and daffodils joyfully trumpeting the end of winter. Incorporating these familiar blooms into your bridal bouquet can add a cheerful, authentic quality to your floral arrangements without losing that delicate feel. Other spring flowers include snowflakes, which are similar in appearance to snowdrops; their bell-shaped blooms have small green dots at the end of each petal and each flower offers a subtle, fresh fragrance to bring a scent of spring to your wedding day.
For a delicate, natural look – and an incredible aroma – sweet peas hold a real charm. They have a long season and come in a wide range of colors. Sweet pea flowers are small and feminine and their stalks send out curled, green tendrils that coil around the bouquet in ringlets. This might even tie in with your hairstyle, if you have opted for a soft, ringlet 'up' do. Another flower with an incredible aroma, lavender can add a calming perfume and a touch of color to cream arrangements. Countryside blooms such as these create a natural, unfussy look and are best suited to a hand-tied bouquet.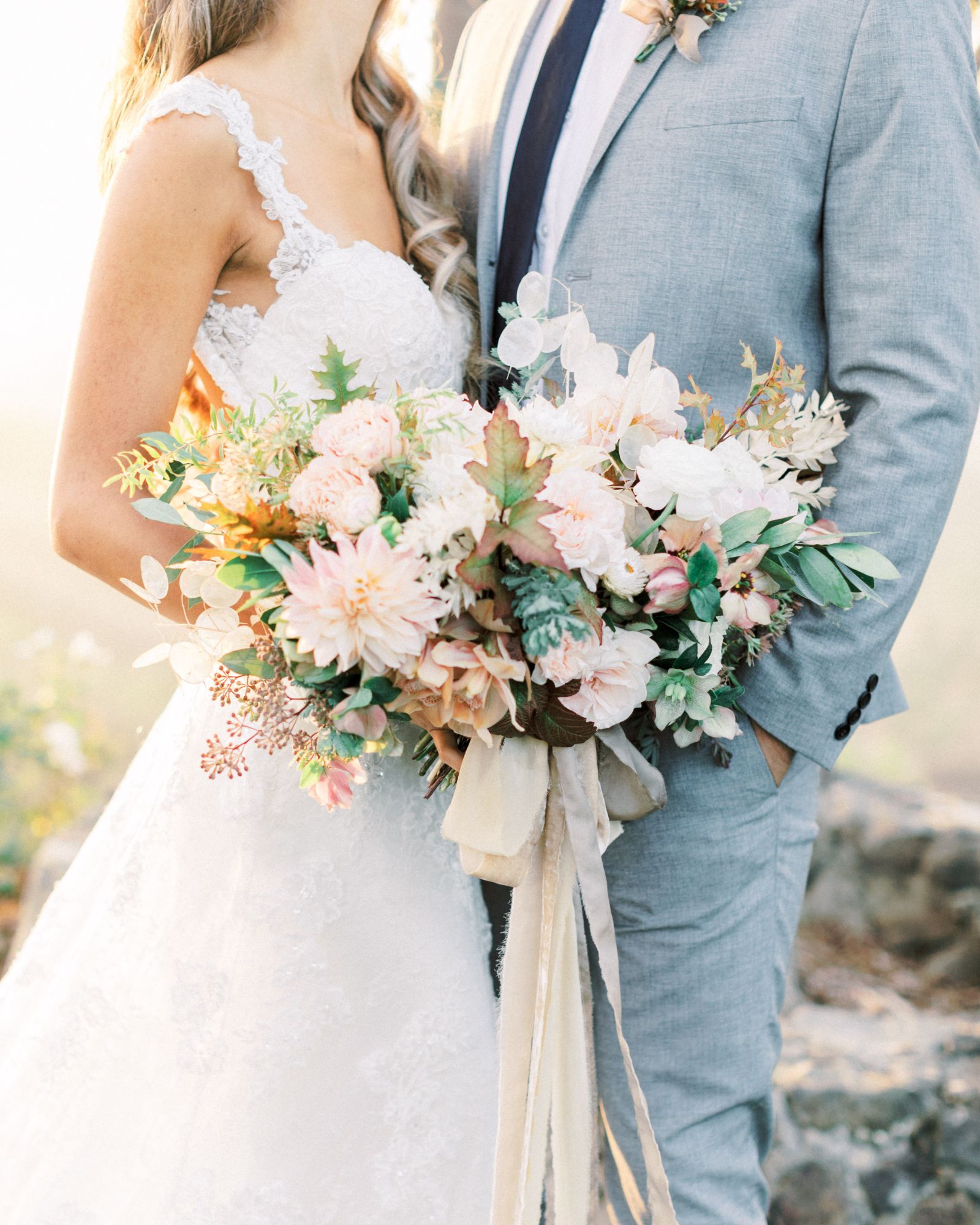 Style: #CWVT15002; Image Credit: The Lockharts
4. Wedding flowers for fall
Fall wedding flowers make for arguably the best wedding arrangements. Certainly, in terms of distinct coloring and rustic resonance, no other season of wedding flowers compares. Essentially the fall color is encapsulated on a rich auburn abundance of the striking coppery golds, rich burgundy reds, golden yellows, and burnt oranges, interspersed with a dash of a mauve pink.
In terms of popular and appropriate fall wedding flowers that will complement your lovely A-line wedding dress, the list would include, although not be restricted to, roses, sunflowers, asters, hydrangeas, carnations, poppies, zinnias, gerberas, mums, dahlias, statice, marigolds, calla lilies, and fuchsias.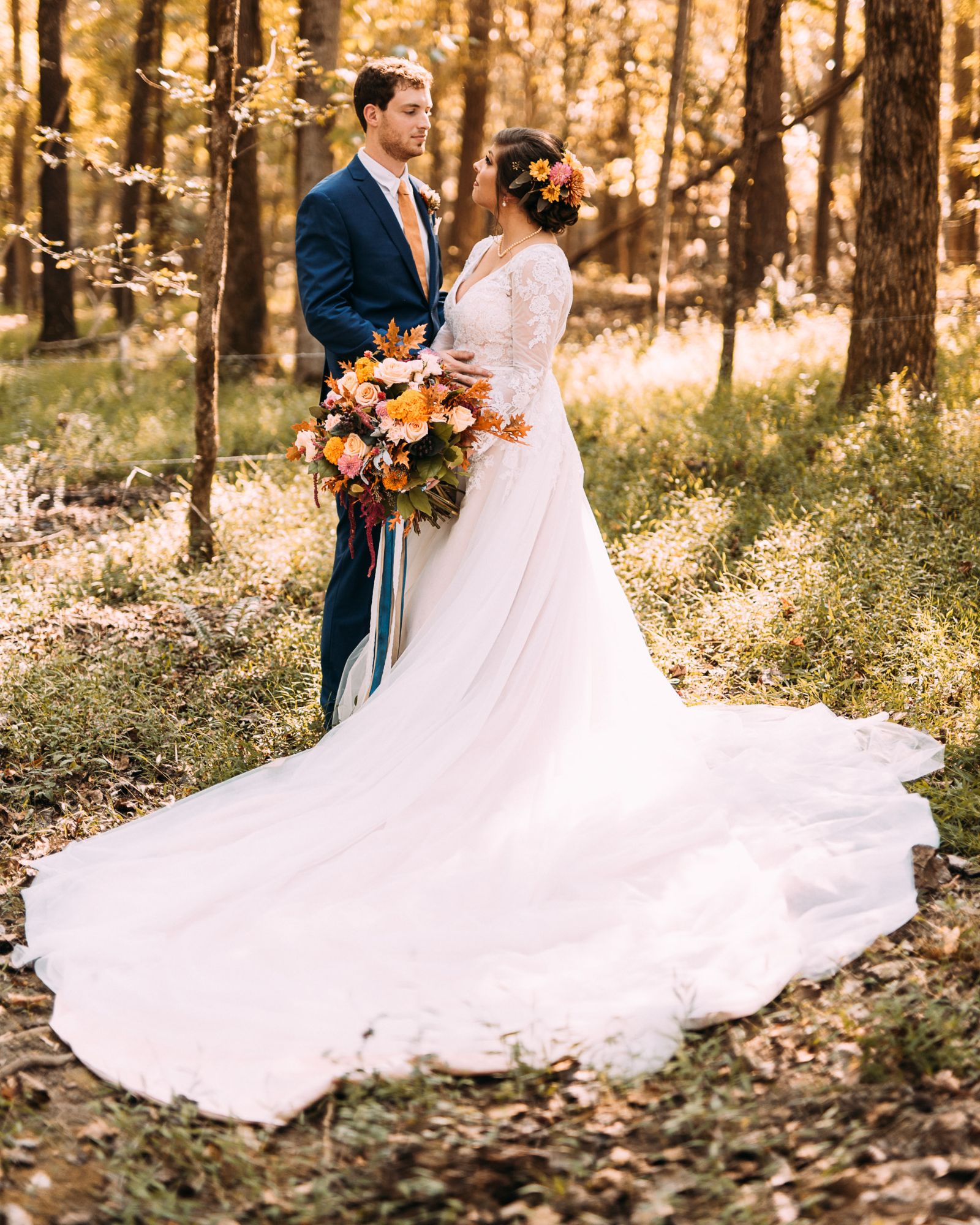 Style: #LD4432; Image Credit: Mary Claire Photo 
Conclusion
With these tips on choosing wedding flowers depending on the season you're getting married in, you can underline the importance and elegance of your special day. That being said, your personal preference and the colors you've chosen for your wedding party and the décor should always be the most important considerations when choosing your flowers.