When picking out their bridal ensembles, many brides focus only on the wedding dress and veil, losing sight of the rest of the supporting cast. The right dress, though, can be spoiled by the wrong undergarments. Yes, your undies can make or break your wedding look, so it is important to select the appropriate styles for your wedding gown.
You might want your wedding undergarments to be pretty, but really it is the comfort that matters the most. Weddings are long and stressful and bad underwear is as painful as bad shoes! The last thing you need is to have to ignore bones that stick into you or be unable to breathe on what is supposed to be one of the happiest days of your life.
Well, you need not to get worked up! Here, we bring you some tips that you can consider when shopping for your wedding undergarments.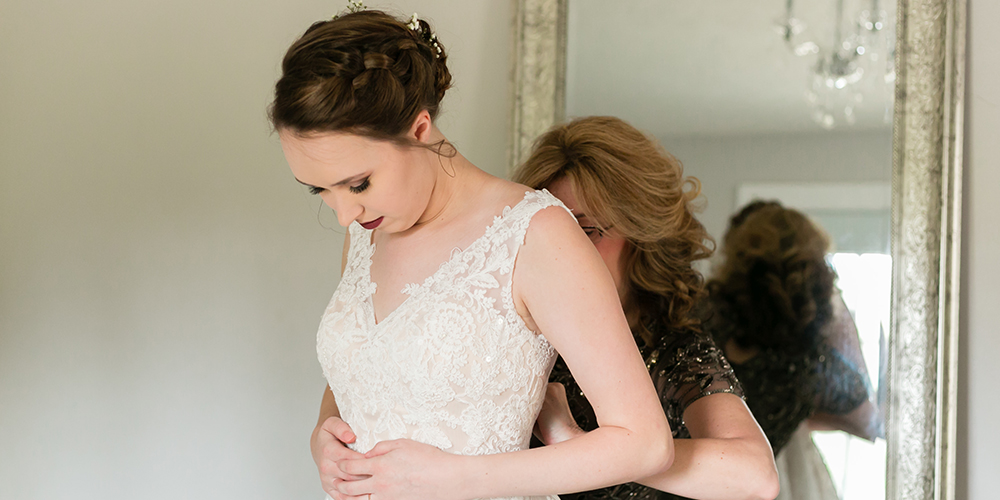 Style: #LD4395, Image Credit: Joyfully Lauren Photography
It is very important to ensure that the undergarments you pick out will fit perfectly underneath your wedding gown. The last thing you need is for your straps to keep falling down and for your knicker elastic to dig into your flesh. No matter how stunning your wedding ball gown is, undergarments fitted properly will make a huge difference to how you look and feel on your big day. Here's a hack: Try your undergarments out whilst standing up and sitting down as they may restrict your movements or even bunch up and look unsightly.
2. Traditional or Sexy?
Wedding undergarments come in many forms. If you want something traditional and formal, you can go for a bridal bustier, demure panties and stockings with a garter belt. This type of elegant bridal undergarments will provide excellent coverage and body sculpting underneath your wedding gown. You can also choose to wear more erotic undergarments underneath your dress. Many erotic undergarments for brides feature variations on the demure bridal theme, such as tight corsets with plunging necklines in place of more conservative bridal bustiers.

Style: #LD3832 
3. Consider your legwear.
Do you opt for tights, stockings or hold ups? This is purely a personal choice and one which your wedding dress may dictate. Again, if you are wearing a tight fitting gown like a mermaid wedding dress, you may want to opt for hold-ups or tights. They can provide a comfortable and streamlined look that will help you avoid having the edges of the undies show on your tush.
4. What color?
White is the traditional color for brides, and many women choose to carry the color through to their bridal undergarments as well. Whether you have set your sights on traditional, elegant bridal undergarments or more erotic lingerie pieces, you can find a wide range of those in white. On the other hand, if you lean towards more daring colors, you can go for black. Black is especially popular for bridal lingerie, as many women relish the juxtaposition of a modest wedding gown with racy undergarments. Black bridal lingerie will no doubt make your new husband sit up and take notice as well.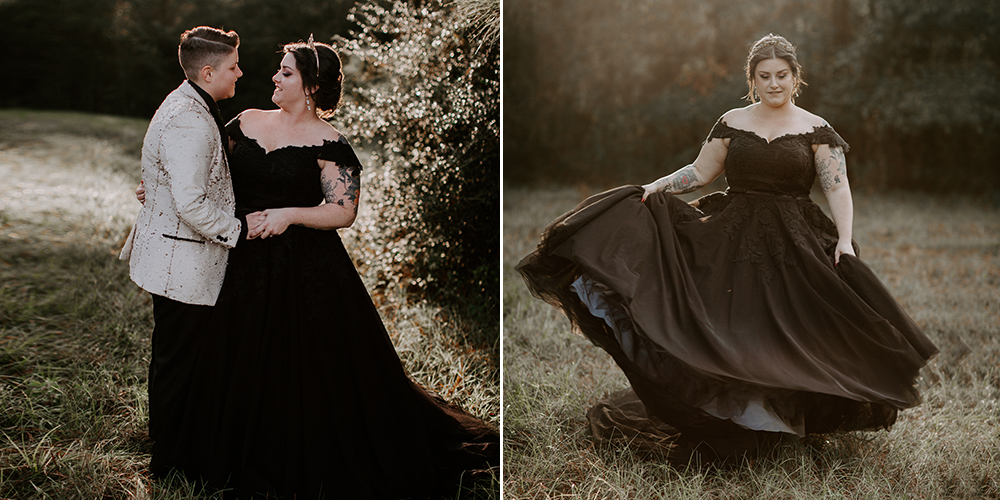 Style: #LD4902, Image Credit: Sabrina Fattal Photo
5. Choose two sets of bridal lingerie.
One set to wear underneath the wedding gown and a second set for the wedding night. This is a great solution if your wedding gown requires specific garments that do not necessarily go with your personality. This also allows the gown undergarments to be a part of the costume of the wedding dress, separate and distinct from the romance of the wedding night.
You want to look beautiful on your wedding day. And you will because you are going to be blazingly happy. But you want to look beautiful as you, not as someone you have seen in a magazine. So the moment you come by the perfect wedding gown, find the foundation garment that keeps everything right where it is supposed to be, beautifully and comfortably. (Wow, a great metaphor for good wedding vows!) Then go have a marvelous wedding ceremony and wedding day.
Start your marriage confident in your beauty!