As the four seasons tread on the heels of one another in a cycle, it's necessary for you, as a bride-to-be, to choose the right dress to stay in the spotlight. Your dress shouldn't only be attractive and trendy, but should be comfortable as well.
Below are some tips on finding the most suitable wedding gown for different seasons.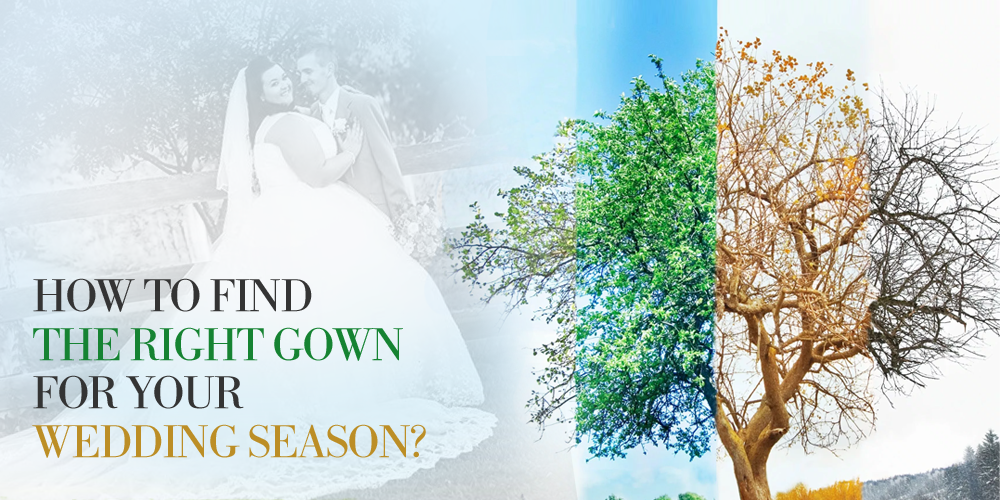 1. Summer
Planning a summer wedding? Having an outdoor wedding smothered in the sunshine? In that case, you need a wedding dress to keep you cool, composed and refreshed even on the most sweltering summer days. With the glaring sun, the aromatic gardens and the blue sky, summer is a wonderful wedding season. And for you, things do get even better; whether you want to rock that flowy chiffon wedding dress on the beach or don a lovely ball gown for a fairytale ceremony, you absolutely can! 
If you are going to be outside on a sunny afternoon, then you can easily avoid the summer heat by siding with natural, light fabrics like chiffons or satins. Summer is also the best time of the year to pull off a short bridal gown look, of course. However, if you are not sold on short wedding dresses, a removable long train may be your best bet, though be sure to get a matching shawl to keep you warm as the weather may cool down later in the day.
2. Fall
When planning a fall wedding, you need to get everything set for the weather as it might be a little cold and choose a heavier material for your bridal gown. A perfect gown for a fall wedding would ideally be made of heavy silk or satin. A silk gown with long sleeves and a high neck or a halter style, which covers the chest well, might considerably help in holding out against the chill.
Ivory and antique gold shades look particularly charming in fall, blending effortlessly with the heavenly copper casts of the fallen leaves and early, glowing sunsets. Keep in mind that most chapels are rather freezing during the fall season and even if the wedding arrangements have been made in a hotel or resort, there will be times when covering yourself will be indispensable. Layer up lace for some extra warmth and comfort, or add a gorgeous faux fur shrug in case of cold breezes for the perfect accessory.
3. Spring
With flowers blooming and birdies chirping, springtime has perpetually been a metaphor of renewal and fresh beginnings. Past the symbolic representations of spring, this is a season when there is always a good chance that the weather will be in your favor. If you hit the perfect day, you can count on a lovely sunny afternoon for the ceremony and a cool, cozy night for the reception.
And for a celebration in what is undoubtedly the most beautiful season of the year, you will wish for a wedding gown that complements this enchanting time of year. Floral print, delicate lace or long sleeve wedding dresses in romantic, pastel shades are perfect for a spring wedding. If things do get cold, these dresses will still look breathtaking when paired with the lace shawl of your choice. Even your girls can don lace bridesmaid dresses and complement your spring wedding.
4. Winter
Just in case you have already made up your mind for a gown meant for summers, you can now easily customize it for the change in weather and season. You can embellish your look with attractive shrugs or wraps of faux fur in plain white or bold shades like red, depending on what your style statement is of course. Alternatively, you can also go for a princess-like A-style gown with chic elbow-length gloves.
If gloves, hoods, and shawls are not your thing then you do not have to compromise on your individuality. Instead, wear a warm cardigan with a design that blends seamlessly with the rest of your dress.
No matter what your wedding season, just make sure that you do not let it get you down. You can be hopeful of a perfect day but even if the weather conditions do not help, you still need to make the most of this special day. And when you are wearing a fabulous wedding gown, it will be hard not to.